Robert "Berti" Coffman
STONEWALL Rebellion Veterans' Association
S.R.V.A. First Vice-President and former Treasurer
and current S.R.V.A. Executive Committee Member
plus
Zappalorti G.L.B.T. Society Founder and President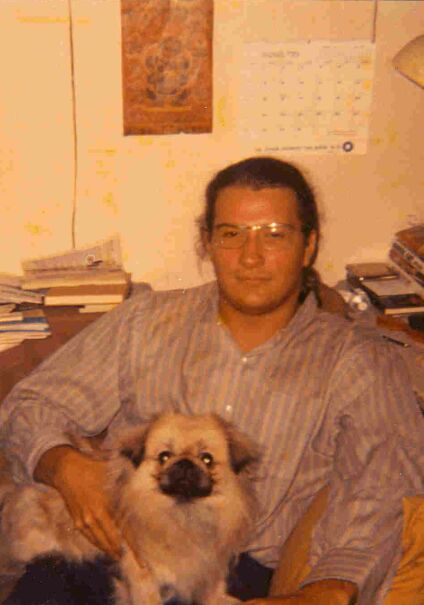 Wimpi (left) and Berti Coffman (circa 1971)
[Photo by Sidney Morris Finklestein]



Robert A. "Bert" Coffman

was born on March 3, 1949 at 8:27 a.m. in the Harkness Pavillion at Columbia Presbyterian Hospital in Washington Heights at West 168 Street and Broadway in Upper Manhattan, New York. He grew up in The Bronx on the Grand Concourse at Fordham Road. Bert also lived in Brooklyn near DeKalb and Flatbush Avenues on the campus of Long Island University in the 1970s. In the 1980s, Bert moved to Staten Island to Von Stueben Street and lived there throughout the 1990s. He moved back to Manhattan for 2000. The only N.Y.C. borough Bert missed was Queens yet he was there many Junes leading the annual Queens Gay Pride Parade with the

STONEWALL Rebellion Veterans' Association

("S.R.V.A."). In the photo above in early 1971, only one-and-a-half years after the Stonewall Rebellion, Bert is shown with his little Pekingese dog Wimpleton aka Wimpy at their Bronx apartment. Bert graduated from Long Island University in Brooklyn, NYC in 1974.





---
"

1969

was the most exciting year of my life. It was my Gay 'coming out' year. Greenwich Village was the Gay mecca. In 1969, I went to The STONEWALL Club to dance, to Christopher's End to meet guys and to old Julius' Bar to be treated to free drinks by aging or old queens! The spirit of protest started to arise in the Gay community. "Gay Power!" "Gay Unity!" There was much from the anti-Viet Nam War protests, the civil rights demonstrations and the women's rights movement." "Gay Rights!" Bert nutshells saying: "I went from moonlit Stonewall to rainy Woodstock in the Summer of 1969, with many protest demonstrations in between." "Gay Power!"
---
After the brutal Gay bias murder of Jimmy Zappalorti, a disabled Viet Nam era Navy veteran and psychiatric survivor who was Gay, in Staten Island in 1990, Bert founded the Zappalorti Society ("Z-Society"), named after Jimmy Z. Bert was its first and only leader. The organization provides peer group, psychological and social support for Gay, Lesbian, Bisexual and Transgender ("G.L.B.T.") members of the mental health community. Many call themselves "Gay consumers". As the perennial 'big wig' of the Z-Society, Bert chairs their weekly Saturday sessions from 1 p.m. to 3 p.m. formerly at the ambivalent New York City G.L.B.T. Community Centre and now at the welcoming St. John's Evangelical Lutheran Church on Christopher Street in Manhattan, New York.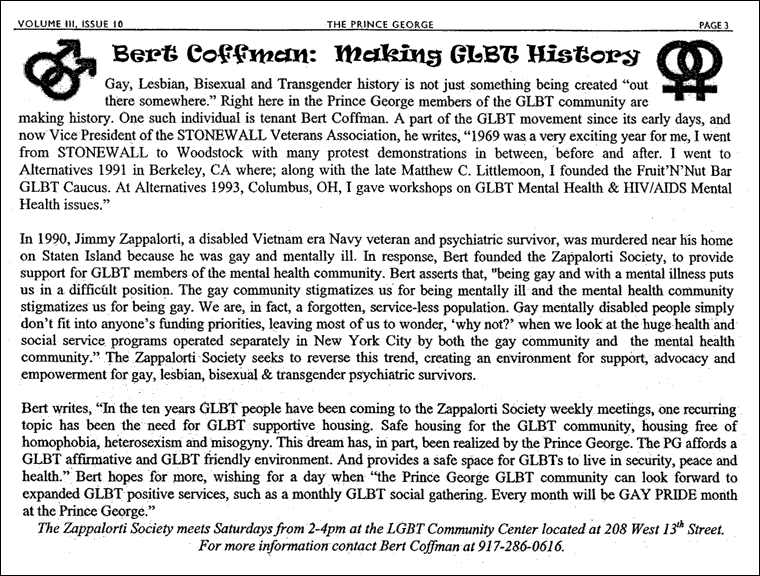 ---
After winning an election in December of 2000, Bert became a Vice-President of the STONEWALL Rebellion Veterans' Association ("S.R.V.A."). Bert has been back to Brooklyn many times with the S.R.V.A. in June leading the annual Brooklyn Gay Pride Parade with the famous blue 1969 convertible known as the "Stonewall Convertible"! On December 12, 2002, Bert went to Brooklyn, ironiacally, back to his alma mater Long Island University, to witness S.V.A. President Willson L. Henderson receive a Gay, Lesbian, Bisexual and Transgender ("G.L.B.T.") Pride on stage Award from New York City Councilman Jed E. "Jed" Davis. There was also a City Council Citation to the S.R.V.A. that was presented to Willson, Dave West, Leigh McManus, Reverend Magora, Bill Saltzman and Bert on stage by Councilman Davis to a standing ovation!.
---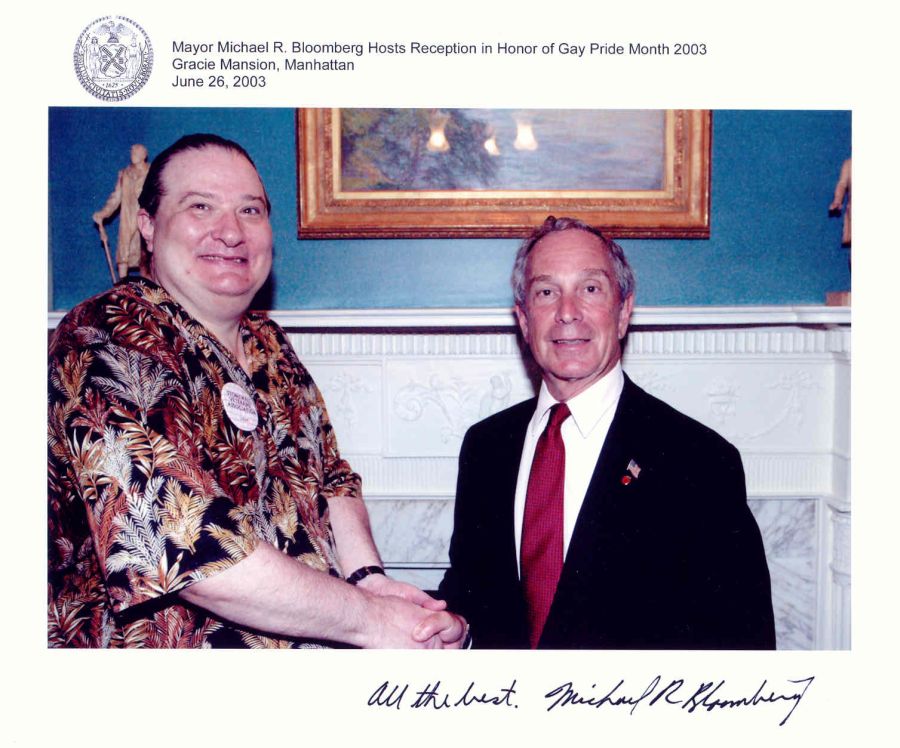 Lotsa mazul to SRVA's Bert Coffman from N.Y.C. Mayor Bloomberg
[Photograph by Office of the Mayor at Gracie Mansion]




---
Bert Coffman

was re-elected S.R.V.A. 2nd vice-president for 2003, 2004 and 2005. "Berti" has been from City Hall to Bryant Park to Gracie Mansion and has joined S.R.V.A. president

Willson Henderson

at many meetings with public officials such as U.S. senators Hillary Clinton and Charles Schumer; U.S. congressmembers

Carolyn J. Maloney

, Jerrold X. Nadler and Anthony 'Hot Dog' Weiner; N.Y.S. Attorney General Eliot L. Spitzer; N.Y.C. Mayor Michael Bloomberg, N.Y.S. Senators David Paterson, Liz Krueger and Tom Duane; N.Y.S. assemblymembers

Keith L. Wright

, Jonathan Bing,

Hakeem S. Jeffries

, Brian Kavanaugh and openly-Gay Matthew Titone; Manhattan Borough presidents Virginia Fields and Snott Stringer; and many N.Y.C. councilmembers such as

James Jed Davis

, Margarita Lopez, David Weprin, Eva Moskowitz, Eric Gioia, Jessica Lappin, David Yassky, Melissa Viverito, Dan Garodnick, Rosie Mendez, John C. Liu, Danny Dromm, Ben Kallos, Keith Powers and Carlina Rivera. Bert observed that "All of these diverse City Councilmembers that I have met via the S.R.V.A. and Willson are in all five New York City boroughs. They all are respectively supportive of the citywide STONEWALL Rebellion Veterans' Association!


---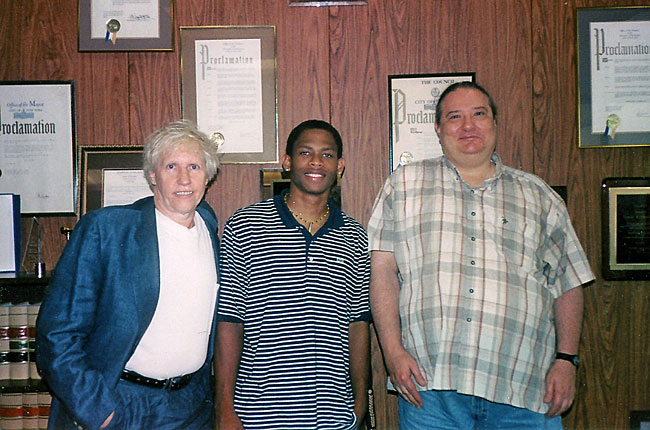 Representing the STONEWALL Rebellion Veterans' Association,
Willson Henderson, AnDre Christie and Bert Coffman in the
office of then N.Y.S. Senator David A. Paterson,
who went on to become N.Y.S. Governor
[Photo by David Paterson - August 2004]

For more 411 on SVA's Youth-4-SVA AnDre Chrisite, visit:


www.STONEWALLvets.org/AnDreChristie.htm







---


"Happy Gay Times" pictured: Jenni Egan of the Imperial QUEENS & Kings of NYC, Berti Coffman of the S.R.V.A. and the Z-Society, Willson Henderson, Director of the S.R.V.A., and Jeremiah Newton, Vice-President of the S.R.V.A.
[photo by LIz Abzug, a Gay daughter of former Congresswoman Bella Abzug]





---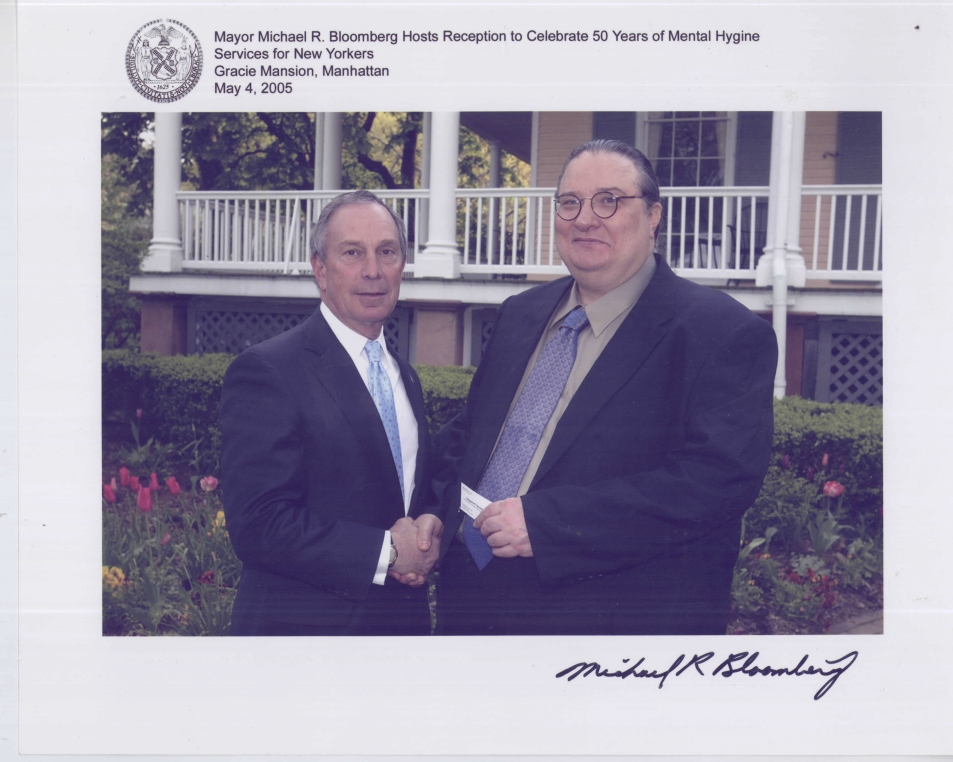 SRVA's 2nd V.P. Bert Coffman big handshakes with N.Y.C. Mayor Bloomberg
[Photography by the Office of the Mayor of the City of New York]
---
For 2006, with Cally Mark Zatlow's completion of S.R.V.A. Treasurer, Bert reluctantly agreed to be his follow-up. Berti enjoyed calling prosepective supporters with his "X-Y-Z" (meeting/letter/support) menu. On General Election Night in 2006, as an elected S.V.A. officer, Bert was invited as an SRVA-er to the Sheraton Ballroom in Manhattan for the victory parties of U.S. Senator Hillary, N.Y.S. Governor-elect Spitzer, Attorney General-elect Andrew Cuomo and Congressmember Carolina Maloney -- all avid S.R.V.A. supporters. Bert was joined by other S.R.V.A. officers such as Emile Griffith plus Luis Rodrigo and Willson plus AnDre Christie. Quoting Bert: "Ohhh, what a great night and all the winners are S.R.V.A. supporters! It was ecstatic to witness the final demise of Marc "Gang" Green. A schunda to New Yorkers is he!"

---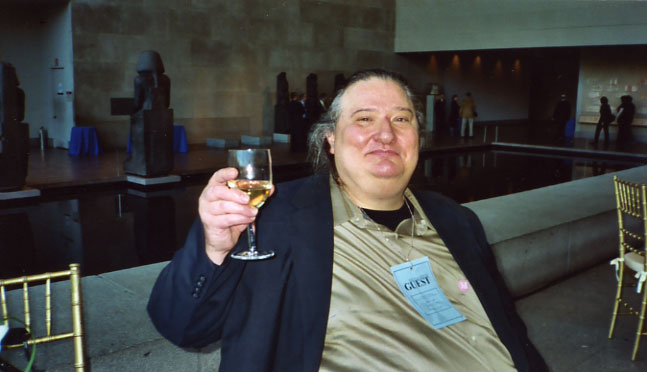 Berti at N.Y.S. Attorney General Andrew Cuomo's Inaugural Party
[Photo by Ruthybird]
In 2007, with no other candidates, Bert was re-elected the S.R.V.A. Treasurer. He tripped off the new year at an S.R.V.A. meeting with a 'prognosis negative' for the group's non-finances. In February, Bert represented the S.R.V.A. at a political candidates forum in Manhattan. On the 3rd of March, the S.R.V.A. held its "Big Berti's Biggi Birthday Bash at Bruxelles Bistro & Bar" on Greenwich Avenue in Greenwich Village hosted bi Willson Henderson and AnDre Christie and attended by Storme DeLarverie, Leigh McManus, Joni Sobel and Ramon Bellido among other Stonewall veterans and guests!
---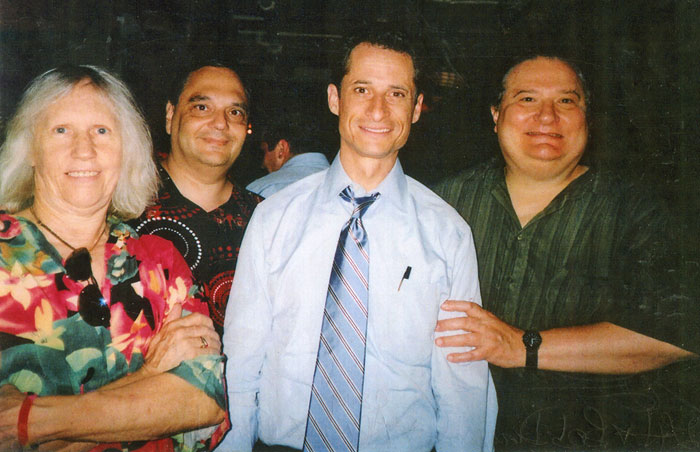 Congressman Anthony M. Weiner rendezvous with a few S/W-Vetz including Bert Coffman (right)
S.R.V.A. director Willson Henderson (left) and "Brooklyn Bob" Diamond of The NYC Trolley Project
[Photo by Phil "Micah" Jones]
---
Berti Coffman, along with many other Stonewall veterans, represented the STONEWALL Rebellion Veterans' Association ("S.R.V.A.") during Gay Pride Month 2007 with planning sessions at The STONEWALL Club, leading the Brooklyn Gay Pride Parade, acknowledged at Gracie Mansion by Mayor Michael Bloomberg for his Gay Pride celebration, on stage in Bryant Park in Manhattan for the Gay Pride Rally sponsored by Heritage of Pride, the "Stonewall Tribute" at St. John's Evangelical Lutheran Church in Greenwich Village, the Stonewall Rebellion 38th Anniversary Party and S.R.V.A. Fun/Fund-raiser at The STONEWALL Club in Greenwich Village, NY, and the annual S.R.V.A. Stonewall Veterans Reunion at the New York City Gay Community Center. In late June on Gay Pride Weekend, however, Berti chose a 'free' trip to a Gay mental health forum in Cally-fornia rather than as an S.R.V.A. officer proudly leading the NYC Gay Pride Parade with the S/W-Vetz and the "Stonewall Convertible". Uh-oh! Ta-ta! Suddenly, there were two paths!! The other cleared a jungle path for the pacoderm return of Berti's ancient, Stonewall Era nemesis: The Gay Grincha! By Fall, Berti's S.R.V.A. officership tenure was relieved by an S.R.V.A. resolution during "Autumn Leaves". Meanwhile, Berti still has his paws full with the likewise worthwhile Zappalorti "Z" Society and remains an active member of the S.R.V.A.
---
*
[To be placed: 3rd in a series of pix of SVA Bert Coffman and NYC Mayor Bloomberg]
---



2018

Bert Coffman's "Stonewall Rebellion" speech at Jamestown Community College:


www.Facebook.com/SUNYJCCcab/videos/188104901996231







---
2019
Berti Coffman re-elected as the First Vice-President of the STONEWALL V.A.
---
2022
Original Message -----------------------------
Subject: Birthday Wishes for Berti!
From: "Stonewall Vetz NYC" <SVA@StonewallVets.org>
Date: Thu, March 3, 2022 10:19 am
To: "Bigga Berti" <RoBertCoffman1949@Hotmail.com>
-----------------------------------------------------

To our inimitable and dedicated S.V.A. Vice-President Berti Coffman!

The legendary STONEWALL Rebellion Veterans' Association wishes
you a happier and healthier new year than the pat two COVID years!

Https://www.StonewallVets.org/BertCoffman.com

Your contributions and efforts for the S.R.V.A. are appreciated, Bert,
year-round! Enjoy your birthday today and throughout your new year!

Pridely,

Leigh P. McManus, Chairman
S.R.V.A. Executive Committee

cc: Law Office of Gay Perry Mason
Drake Detective Agency
Gerti's Gardens
Margo's Motel
Della's Diner
---

STONEWALL Rebellion Veterans' Association ("S.R.V.A.")


3rd March ("3/3")
2023
Berti's Birthday
*
SRVA's Newzletta and Current + Upcoming Events:
Https://www.StonewallVets.org/upcomingevents.htm
*
21 July
2014
Photo-Op with S.V.A. for OUT Magazine
on location at The STONEWALL Club, N.Y.C.

*


=====2023: 54th Anniversary of the Gay Stonewall Rebellion in NYC=====
[Friday night, June 27 ~through~ Thursday evening, July 3, 1969, Greenwich Village, New York City]