National

STONEWALL

Veterans

Association


2020 S.V.A. Supporters

U.S. Congressmember Carolyn Jane Maloney


Former S.V.A. Honorary Chairperson

(2014-2018)
(elected 2014 as newly-created {5-year} S.V.A. Honorary Chairperson)
S.V.A. Honorary Female Chairperson
(serving two 5-year terms from July 1, 1999 thru June 30, 2009)

*
2020

Congresswoman Maloney's Support Letter to the STONEWALL Veterans


*

---


2018

Congresswoman Maloney's Annual Letter of Applause to the STONEWALL Veterans





*

Congresswoman Carolina Special Guest of S.V.A. leading New York Pride Parade

U.S. Congresswoman

Carolyn Jane Maloney

will appropriately be, as the S.V.A. Honorary Chairperson, the special guest of the

STONEWALL Rebellion Veterans Association

prominently (and actually) leading the "New York City 49th Annual G.L.B.T. Pride Parade" with the famous and beautiful blue 1969 convertible known as "

Stonewall Car

" on Sunday, June 24th @ 12 noon! ASll of the arrangemennmts and accommodations are arranged by the SVA's director

Willson Henderson

. You will see the happily-smiling and pinkly-dressed congresswoman on television as the event is televised 'live' statewide by ABC-TV and locally by New York-1 T.V. News.

*

Congresswoman Carolyn's St. Patrick's Breakfast & Bash - 2018

Manhattan's entire East Side congressmember

Carolyn Maloney

hosts her 'fun, fun, fun' annual St. Patrick's Week breakfast and bash on Sunday, March 11th from 10 a.m. to high noon! The S.V.A. is represented by

Willson Henderson

,

Leigh McManus

,

AnDre Christie

,

David Leong

(in the Congresswoman's district),

Bert Coffman

(from Midtown East, also in CJM's district) and

Brooke Lynn

(from Greenpoint, Brooklyn, yes, in this congressional district)! Event flyer is the same as last year - except for the date! Fave drink: green apple martini! Get it? Wear something green!



*



Cheery and Congressional Birthday Greetings, Queen Carolina! -- February 19




---


2017

Congresswoman Carolina Maloney's Great Letter to the History-Making Stonewall Veterans


---




Connect with Congresswoman Carolyn J. Maloney on Social Media!



Representative Carolyn Maloney at FaceBook:


https://www.FaceBook.com/RepCarolynMaloney


-----
Rep. Carolyn Maloney at Twitter:


Twitter.com/RepMaloney


-----
Rep. Maloney on Instagram:


www.Instagram.com/RepMaloney


-----
Carolyn B. Maloney on You Tube:


www.YouTube.com/user/CarolynBMaloney


-----
SVA's Director Willson Henderson at S.V.A.:


https://www.StonewallVets.org/WillsonHenderson.htm




-----


SVA's General Manager AnDre M. Christie at S.V.A.:


https://www.StonewallVets.org/AnDreChristie.htm








---


Congresswoman Carolyn Keynotes the Stonewall Veterans Conference in New York

As the Honorary Chairperson of the

National STONEWALL Veterans Association

(S.V.A.), the beloved Congresswoman

Carolyn Jane Maloney

has the honor, the knowledge and the credentials to be the female keynote speaker of the "SVA's Annual Conference & Stonewall Veterans Reunion + Testimonials". Event happened on Saturday, June 17th, 2017 at the Manhattan G.L.B.T. Community Centre in Manhattan, NYC.



---


Congresswoman Carolyn Maloney's 2017 St. Patrick's Day Breakfast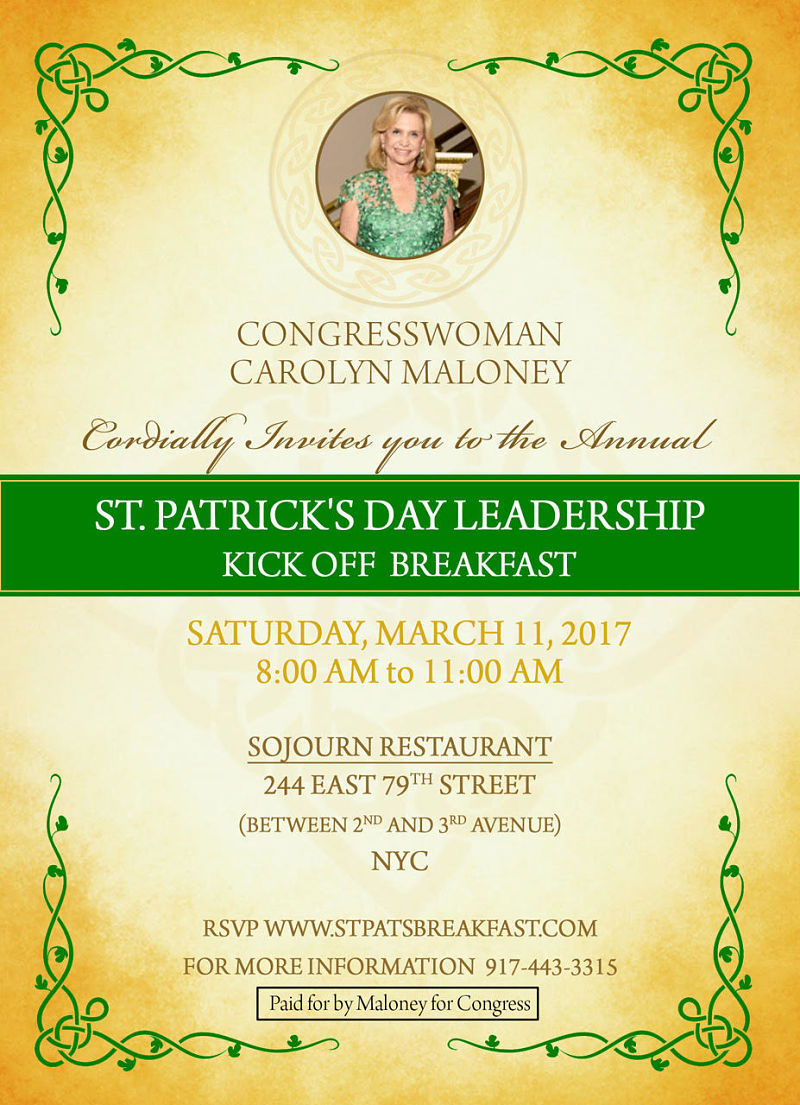 ---


2016

Congresswoman Carolina Maloney's Historically-Timely Letter to the S.V.A.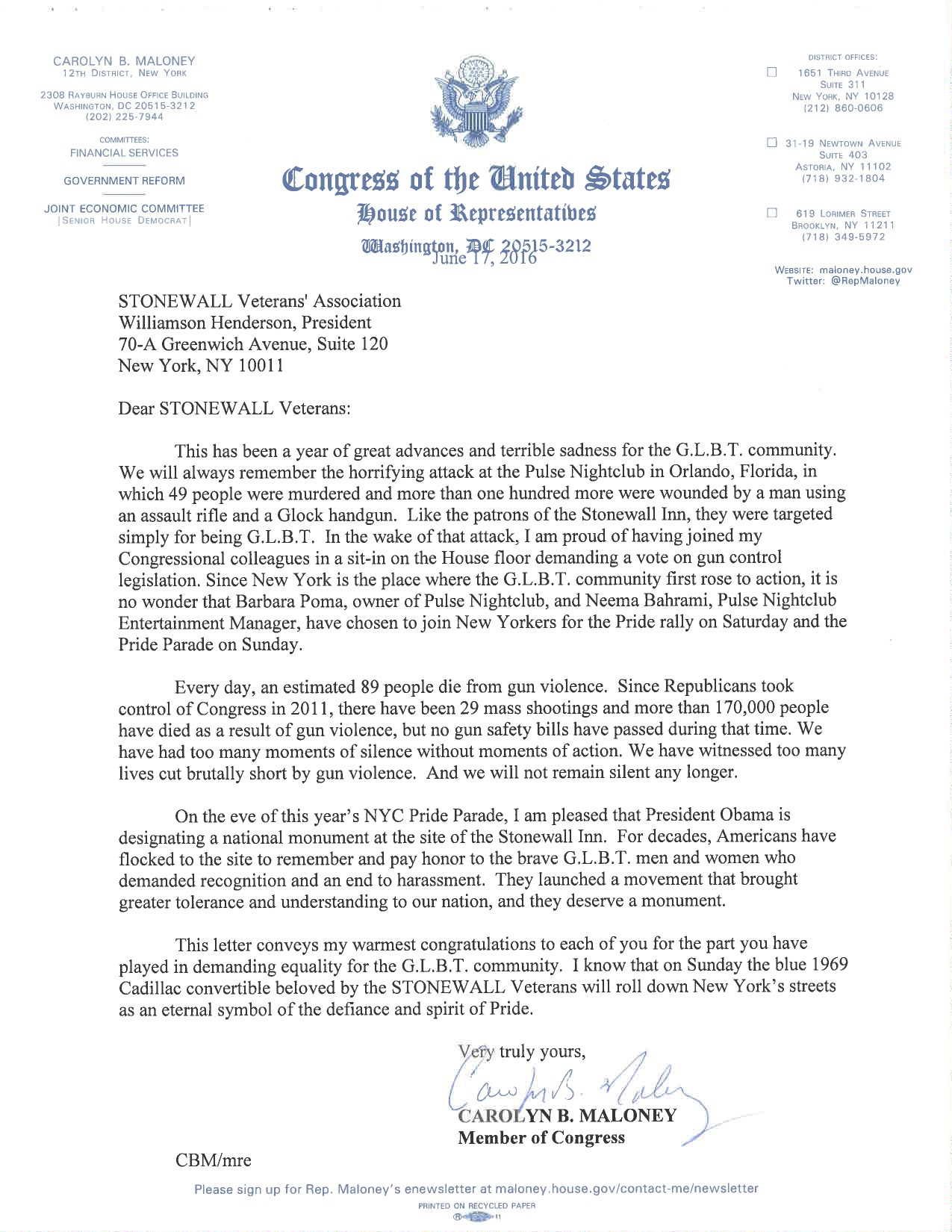 *

Congresswoman Carolina Rounds Up Billionaires for The Pandas!


www.PageSix.com/2016/03/10/Billionaires-helping-to-bring-Pandas-to-Bronx-Zoo






---


2015

"Queen Carolina" Visits the S.V.A. Stonewall Veterans

On the occasion of the worldwide release of the new movie "

STONEWALL

", for which

Congresswoman Carolyn Maloney

was invited to the film premiere and movie party in Hollywood, the Queen visits her loyal yet prominent subjects at the monthly meeting of the

STONEWALL Rebellion Veterans Association

! For this authentic Stonewall-themed event, the special guest speakers are three of the original New York City Police Department "

Stonewall Cops

". The congressmember has always been extra supportive of the NYC police department and the Stonewall vets! Meeting at the Manhattan GLBT Community Center is @ 4:15 p.m. until 6 p.m. in Greenwich Village, NY

*

Congresswoman "Carolina" Maloney Wishes S.V.A. a Happy 46th Anniversary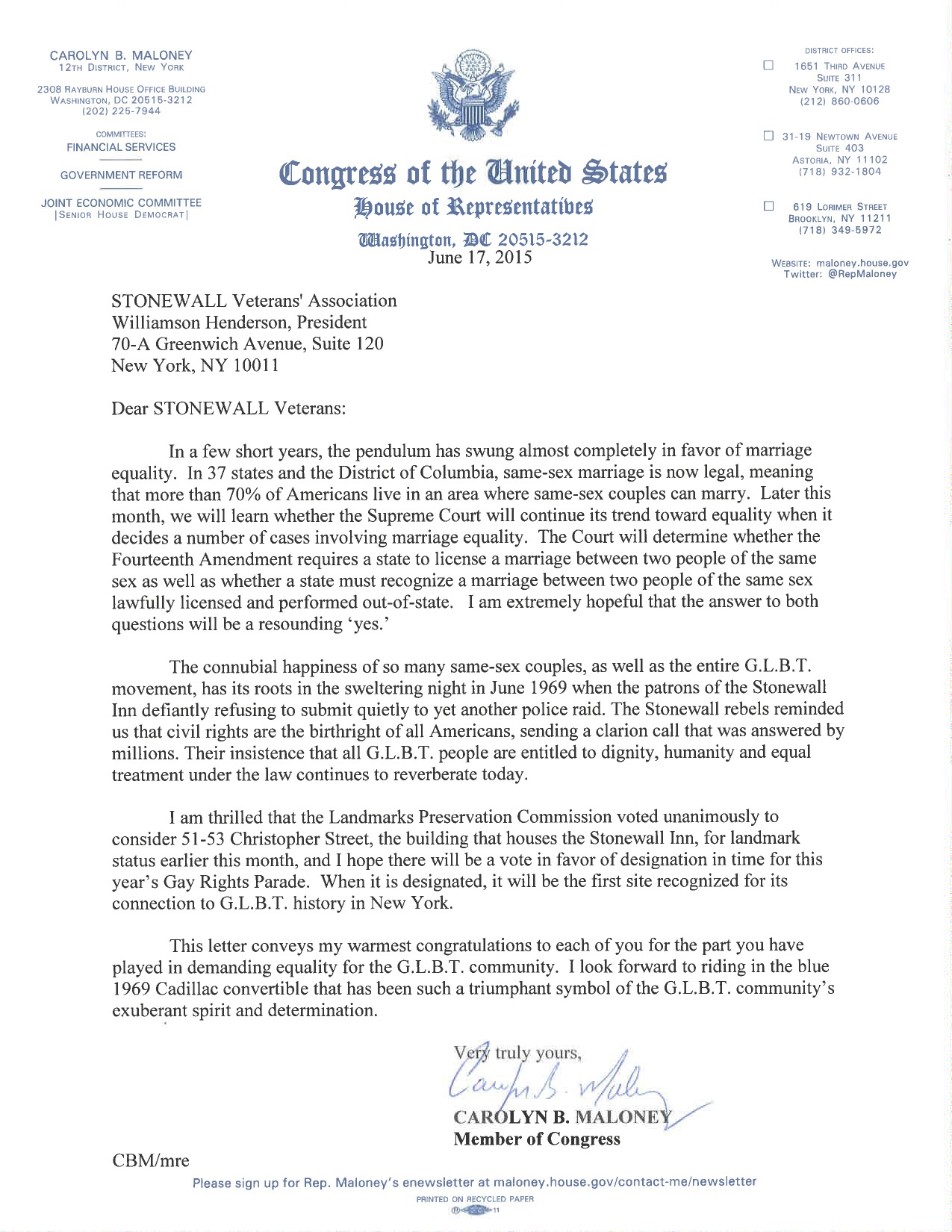 *




Congresswoman Maloney Rallies for Endangered Pandas

Congressmember Carolyn Maloney proudly promotes pandas at New York Governor Andrew Cuomo's Second Inauguration with his welcoming and smiling approval:
www.NYDailyNews.com/politics/Rep-Carolyn-Maloney-lobbies-pandas-1.2063221




---


2014

Congresswoman Maloney's Annual Letter of Recognition to the S.V.A.



*



*

Congressmember Carolyn Maloney proudly holds press conference on occasion of the first time that married Gay couples can file "joint tax returns" with the Internal Revenue Service

Congresswoman

Carolyn Maloney

splendidly handled this significant outdoors press conference lauding the historic Gay rights milestone of married Gay couples being able to finally file federal joint tax returns from any state in America with the

Internal Revenue Service

("IRS"). Imagine, a civil right for a married Gay couple to file taxes together as a couple? It's true! The press conference was held appropriately out front of an IRS building at 110 West 44th Street in Midtown Manhattan, NY, on April 14 the day before National Tax Day! Ironically, it is located in the "theatre district"! The

STONEWALL Rebellion Veterans Association

was represented by its founder and director

Willson Henderson

and the SVA's FaceBook administrator

Sanjay Petersen

, the

PRIDE Democrats of NYC

by its president

Marlon Hunter

and first Vice-President

Steven Gradman

, and the

Imperial QUEENS & Kings of New York City

by their Vice-Chair Princess

Jenni April Egan

. Special guest was openly-Gay and gayly-married

Randy

Jones

from the iconic Gay singing group

The Village People

! The fun congresswoman persuaded Randy to sing some lines -- on mic -- of their number one Gay song "Y.M.C.A."!


*



Congresswoman Maloney Holds Press Conference for Gay Couples Tax Equality in front of IRS Headquarters in New York



http://www.TimesSquareGossip.com/2014/04/carolyn-maloney-announces-same-sex-tax.html




---


2013

Cong. Maloney annual letter to the STONEWALL V.A. and trumpeting
the two monumental Supreme Court Decisons favoring Gay Marriage

*






---


2012

Congressmember Carolyn Maloney's Letter to the S.V.A.
on the Eve of the Organization's 43rd Anniversary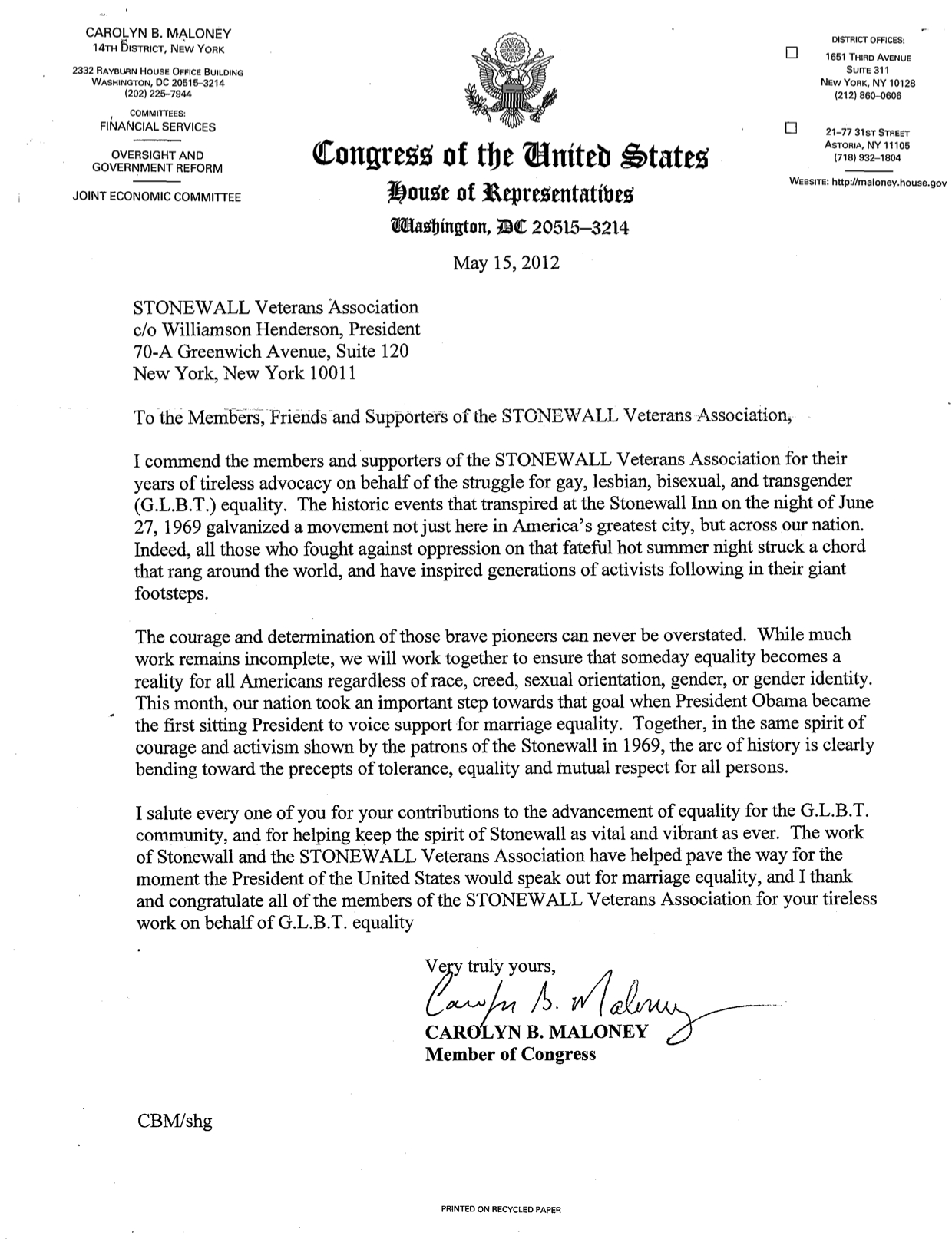 ---


2009



=Family Transition=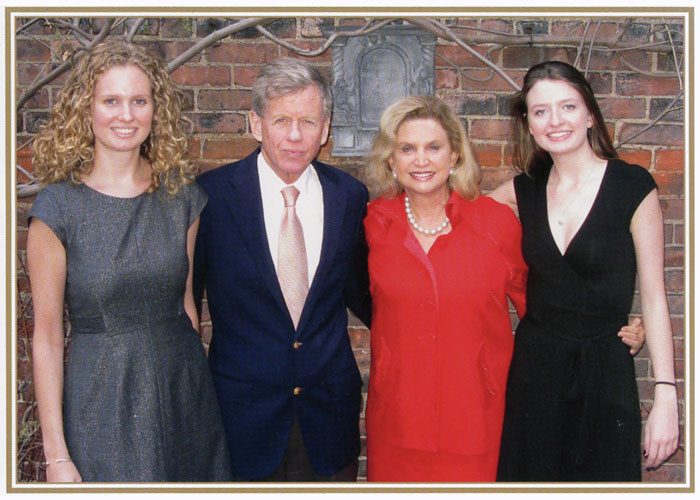 Clifton H.W. Maloney

, the renowned husband of Congresswoman

Carolyn Maloney

for over 33 years, died suddenly from a heart attack after mountaineering on Cho-Oyo, the world's sixth-tallest mountain, globally located between Tibet and Nepal in The Himalayas in China on the morning of September 25, 2009. With handsome, happy and athletic looks that belied his age, "Clif" would have been 72 in less than three weeks on October 15th. He has been an accomplished mountain climber, hiker and marathon runner. Besides his incredible Wall Street financial career acclaim, Clif Maloney was known as a wonderful, wise and witty guy. Several

STONEWALL Veterans' Association

members had the pleasure of knowing him for years. Clif was a supportive in all ways husband of his successful wife Carolyn's illustrious career as a former NYC councilmember and a current U.S. congressmember (since 1993). While they both were on vacations in 1975, he from New York and she from North Carolina, they met in the West Indies in Jamaica and married in New York in 1976. They still own a house in Montego Bay, Jamaica. In addition to his wonderful wife Carolyn, at home, Clif has two lovely daughters

Christina

(29) and

Virginia

(22). Even their daughters have been to S.V.A. events. Due to the complicated international nature in China, which involved the assistance of U.S. Secretary of State Hillary Clinton and the U.S. Embassy in China, and the mountaintop location of Mr. Maloney, all arrangements were delayed.



Congresswoman

Carolyn Jane Maloney

received mourners for her husband

Clifton

at their townhouse in the Upper East Side of Manhattan. The Wednesday, October 7th evening session from 6 to 8 p.m. was attended by New York City mayor

Michael Bloomberg

, former Congresswoman

Geraldine Ferraro

, NYCPD Commissioner

Ray W. Kelly

, NYC Comptroller

Bill Thompson,

NYC judges

Lucy Billings

,

Rick Braun

and

Kathryn Freed

,

East Side NYS Assemblyman

Jonathan

Bing

, New York City Councilmembers

Gale A. Brewer

,

Dan Garodnick

and

Jessica Lappin

, community activist

Liz V. Abzug

, and, representing the S.V.A,

Willson L. Henderson

and

AnDre M.

Christie

, among many other guests. A funeral mass for Clifton was at Brick Presbyterian Church at 1140 Park Avenue between East 91st and 92nd Streets in Manhattan, New York. It was held Friday, October 9th, 2009 @ 11 a.m.




---
U. S. Congressmember


Carolyn B. Maloney


congratulates


the


STONEWALL


Veterans'

Association


of the historic

1969 Stonewall Rebellion

I have been so proud for a decade to be the
S.V.A. Honorary Female Chairperson.

I truly enjoyed leading the yearly New York Gay Pride Parade with the legendary Stonewall veterans and riding in the beautiful 1969 Stonewall convertible.

Thank you to all of the S.V.A. members and friends who supported me as the Congressmember for the 14th District in Manhattan and Queens, New York City.
---

2008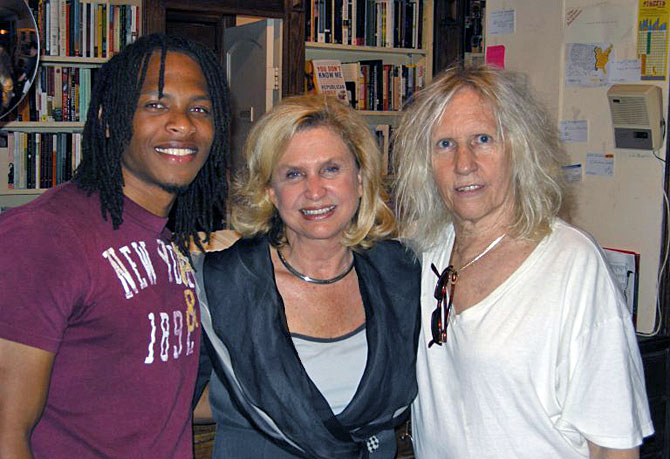 AnDre Christie, Congresswoman Carolyn and Willson Henderson
[Photo by Cong. CBM staffer Brice Peyre]
Congressmember Carolyn Maloney had an extra busy summer with her "Rumors Of Our (Women's) Progress Are Greatly Exaggerated" book tour in between all of the Congressional goings-on (e.g., Wall Street financial bail-outs). The above casual photo of the Congresswoman (the S.V.A. Honorary Female Chair) with AnDre Christie (the S.V.A. Assistant) and Willson Henderson (the S.V.A. Director) is at one of the book receptions in Manhattan. Everyone had a wonderful time as is clearly exemplified by this happy photo!

For more 411 on Congresswoman Carolyn's Jamaican-American friend AnDre, see
https://www.STONEWALLvets.org/AnDreChristie.htm
For more 411 on Congresswoman Carolina's Irish-American, openly-Gay friend Willson, view:
https://www.StonewallVets.org/WillsonHenderson.htm
---
2008
CBM's Book: "Rumors of Our Progress Have Been Greatly Exaggerated"

The eagerly-awaited Carolyn Maloney book about
the women's movement and women in power titled
"Rumors of Our Progress Are Greatly Exaggerated"
is subtitled "Why Life Isn't Getting any Easier for
Women and How You Can Make Real Progress for
Yourself and Other Women". US Congressmember
Carolyn's main New York book-signing event is on
Monday, May 19th at Barnes & Noble Bookstore on
Fifth Avenue and 46 Street in Midtown Manhattan
from 6 to 8 p.m. Come greet the Congressmember!
Visit the book: www.RumorsOfOurProgress.com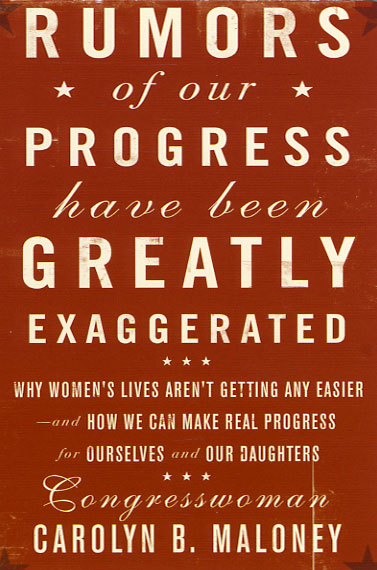 Members of the S.V.A. have gladly participated in all of the various book forums,
discussions, receptions and/or signings. Another book signing in which the S.V.A.
participated was Monday, September 16 from 6 to 8 p.m. at the Corner Bookstore
on Madison Avenue at East 93 Street in Manhattan. Monday's October 20th book
event was at 6 p.m. at the prestigeous Cornell Club with Congresswoman CBM!

*
About The Book "Rumors".... About The Author "Carolina"
*
filename: Carolyn_Maloney_Book-Author
---
2008 - "Let's Twist Again" with Carolyn Checker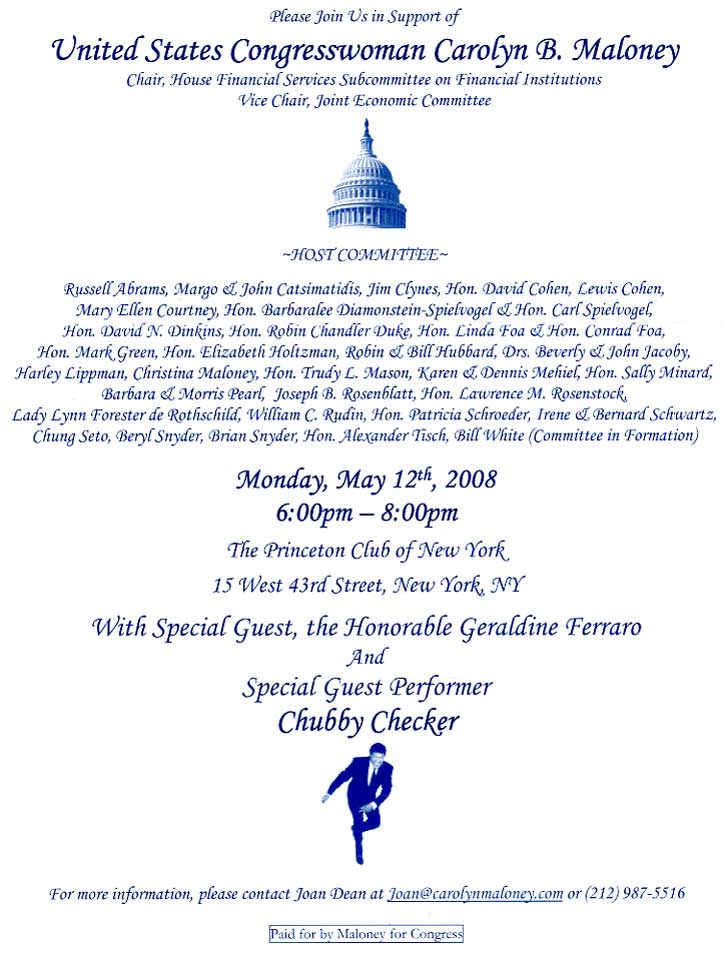 ---


2007

Congressmember Maloney's 2007 Letter to the S.V.A.






Update: It has been located from a vaulted file in the Summer of 2012
and it will be eventually posted!





[Cong. CBM annual letter to S.V.A. is long received and n progress to be placed here.]






filename: Carolyn_Maloney_2007








---




2007 Movie: "A Life Interrupted - The Debbie Smith Story"

featuring CBM

New movie "

A Life Interrupted

" premieres on Monday, April 23, 2007 at 9 p.m. on Lifetime television (Channel 12 in New York). It is the story of housewife Debbie Smith who was dragged from her own home in Williamsburg, Virginia, brutally attacked and raped in a wooded area of her own backyard. The film is also the powerful story of Debbie's subsequent turn to activism against rapists and increase the chances of justice for their victims. Six years after Debbie's devastating experience, her assailant, already in prison on other convicted charges, was identified. Congressmember Carolyn Maloney proposed the original legislation which would fund evidence-gathering "rape kits" and help put more rapists in jail. Carolyn ensured that this legislation in the interests of rape victims was passed by Congress. The legislation is named the Debbie Smith Act of 2003. President George Bush, Jr., wholeheartedly signed the act into law in 2004. Debbie Smith became the face of this anti-rapist law. The movie is also a profile in determination how Debbie survived her ordeal, persevered for the better and accomplished greater goods despite her life being turned upside down. In the riveting film, Debbie is played by Lea Thompson and Carolyn is portrayed by Lynn Adams. After the conclusion of the film, both Debbie Smith and Carolyn Maloney personally appear in public service announcements regarding rape victims.

Congratulations to Congressmember Carolyn for once again making a big and better difference in the well-being of the lives of her constituents and far beyond to all Americans -- females and males.



---

2006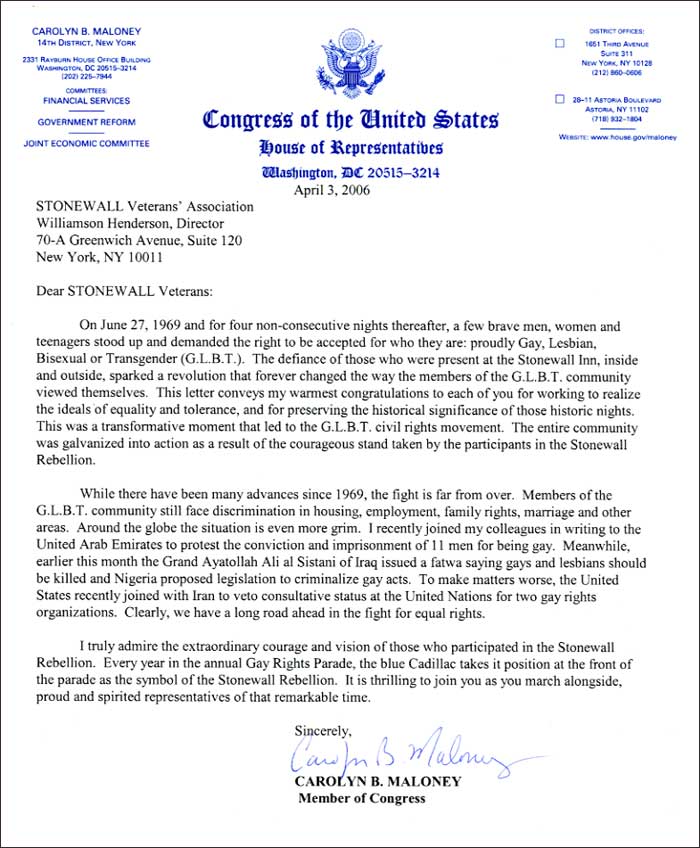 ---

2005

[Congressmember Maloney's original 2005 letter was received by the S.V.A. Assistant AnDre Christie; however, when located by him, it will be scanned and placed here! Even years later, we definitely have it. Luckily, Carolyn -- who met her New York husband Clifton in Jamaica -- loves the "beautiful and polite" Jamaican-born AnDre!]




---


2004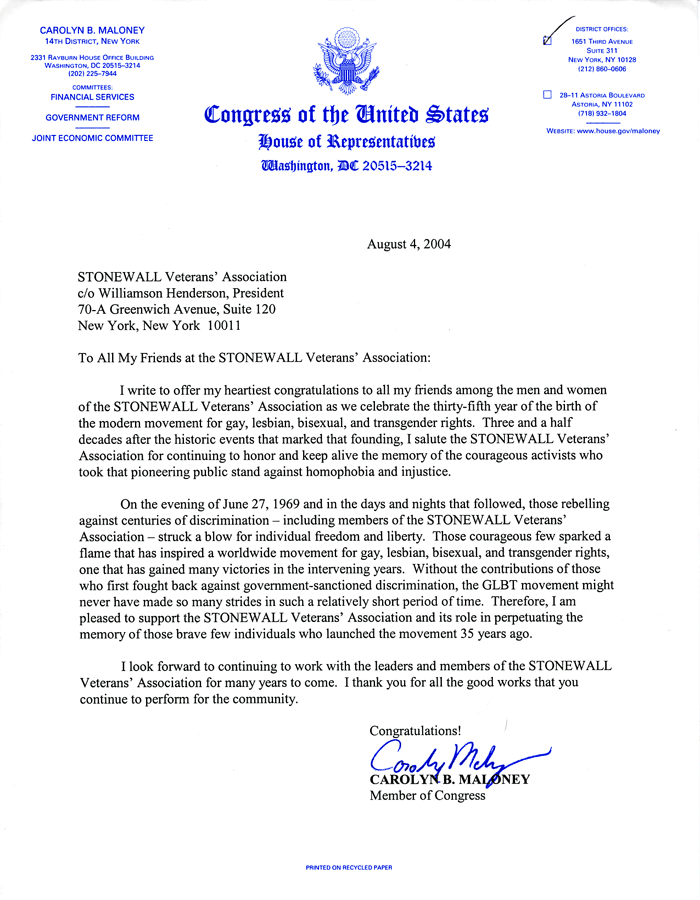 ---
2004 -- St. Patrick's Day Breakfast Party
Congresswoman Carolina near TGIF's getting ready for a St. Pat's press conference
[Green photo by Philip Craft]

Greenly pictured above are (l-2-r): (half-Irish from Greenpoint, Brooklyn)

Raymond J. McCaffrey,

S.V.A. Financial Secretary (back to camera with white hat); (half-Irish-American from Flatbush, Brooklyn)

Willson Lee Henderson

, S.V.A. Founder and Director; (non-Irish)

Millie "Eminem" Margiotta

, Front Office Manager of the congressional office (placing big green banner, "St. Patrick's Day Greetings from Congresswoman Carolyn Maloney"); the gregarious Congressmember herself (also half-Irish)

Carolyn B. Maloney

(in green with beautiful green bouquet and pretty green corsage); and (Irish-for-a-Day) Mrs.

Juanita "Querida" Reyes

, the Congressmember's longtime district manager and scheduler, both in the New York City Council and in the U.S. Congress. The location is in front of Thank God It's Friday (TGIF)'s on East 42 Street off Madison Avenue in Manhattan, New York. Moments later, the Congressmember held a well-attended St. Patrick's Day pre-Parade "street" press conference at the site pictured. Carolyn's longtime chief-of-staff, (non-Irish)

Minna "Miss Mouse" Elias

, is not shown as she was inside the venue rounding up participating public officials for the CBM press conference. Carolyn's handsome press secretary (half-Irish)

Philip Craft

was behind the camera.
---
2003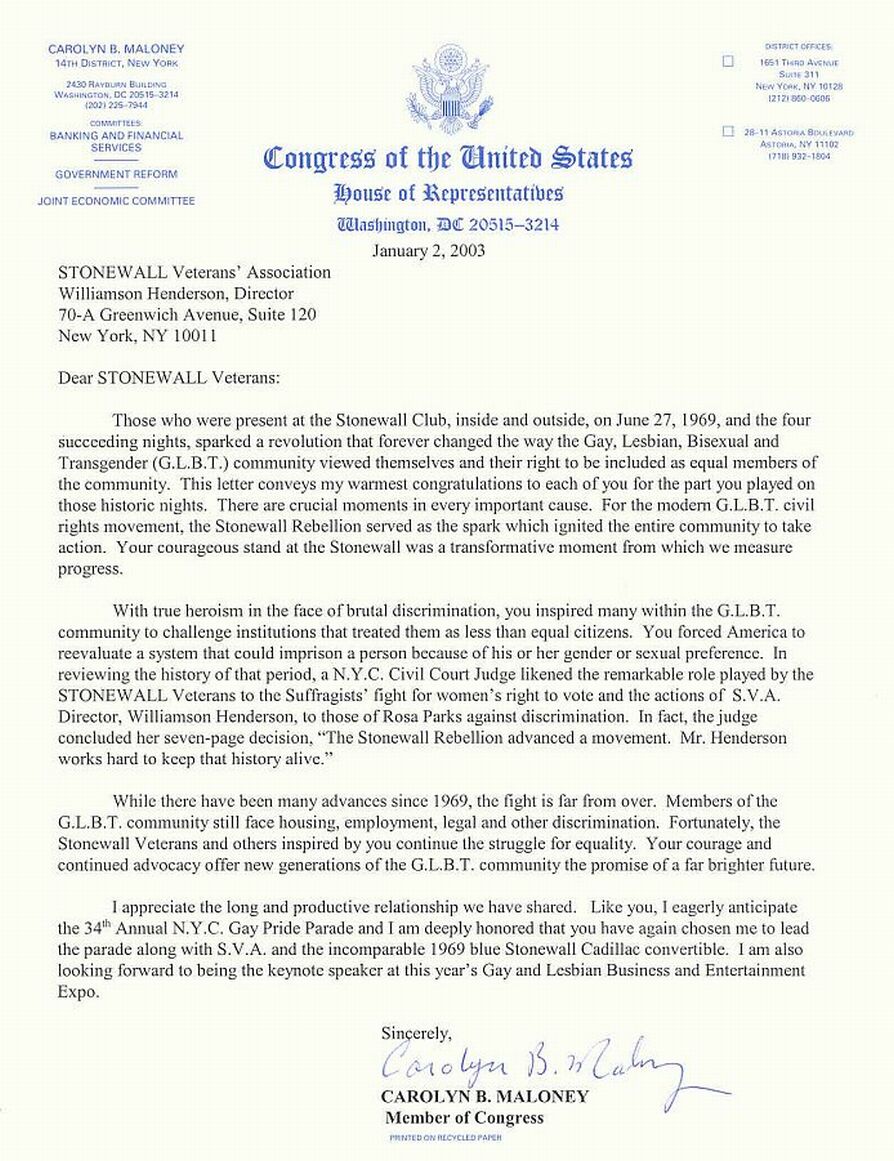 ---
Congressmember Maloney is honored by Manhattan Democratic Club




Pictured floweringly are Congressmember Carolyn and S.V.A. President Willson
[Photo by Raymond J. McCaffrey]




---
2003 - Congressmember Carolyn's Note to the SVA's Willson Henderson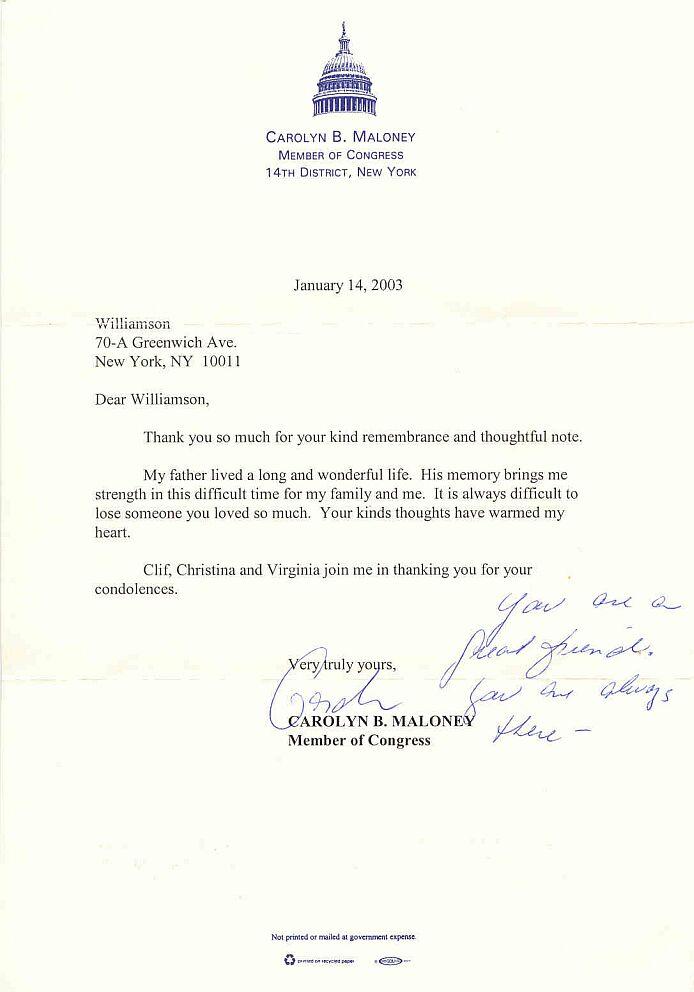 ---



2002 - Merry Christmas from The Maloneys


*




filename:

Clifton_Carolyn_Maloney-2002







---





2002 - Queen of the Pride Parade: Carolyn Bee Maloney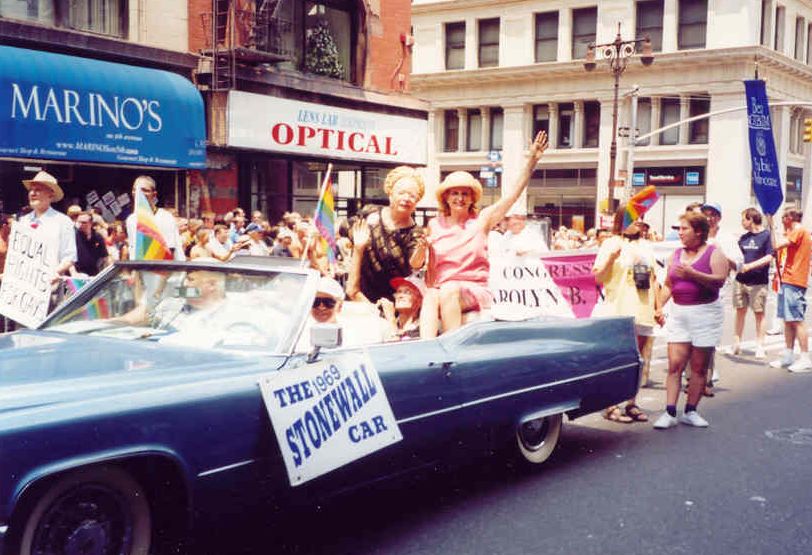 The S.V.A. leads a Gay Pride Parade with Congressmember Carolyn and the 1969 "Stonewall Car"
[Photo by Willson L. Henderson]



*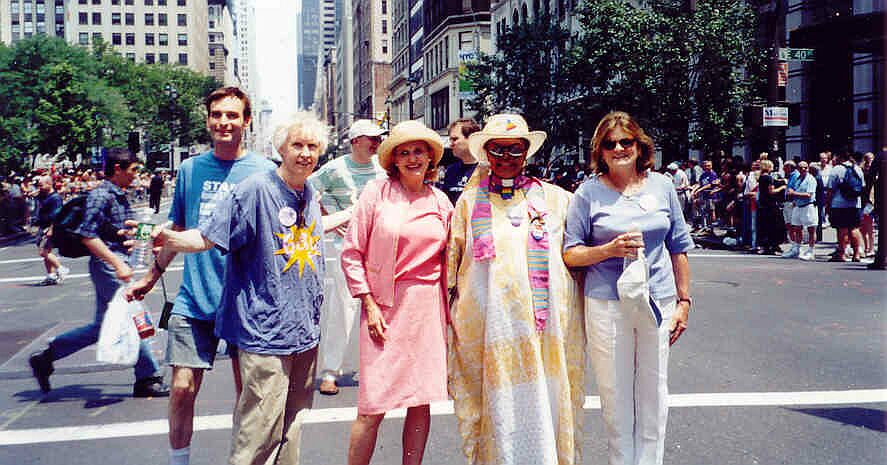 Willson Henderson, Congresswoman Carolyn, SVA's Chaplain
Rev. Magora Kennedy and NYC Public Advocate Betsy Gotbaum
[Photo by Rick Rodrigues]






---
2002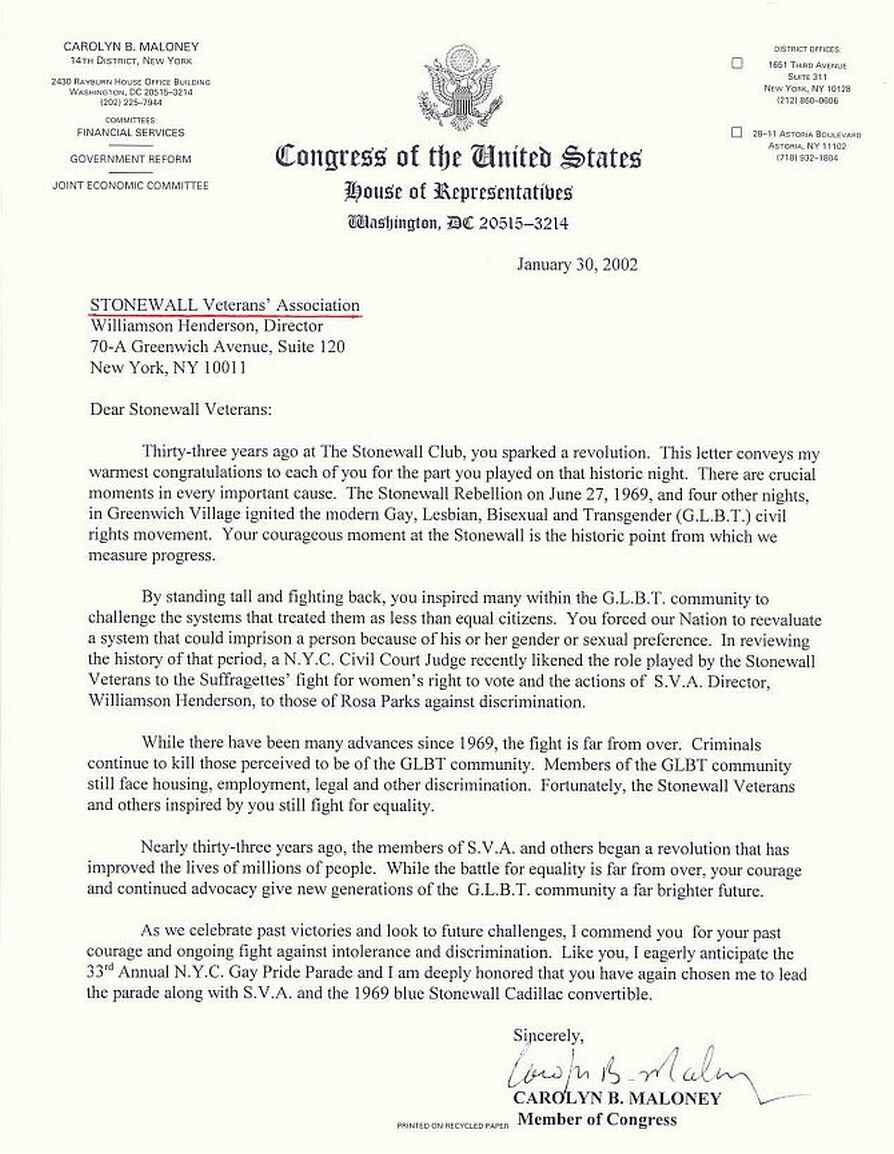 ---
2001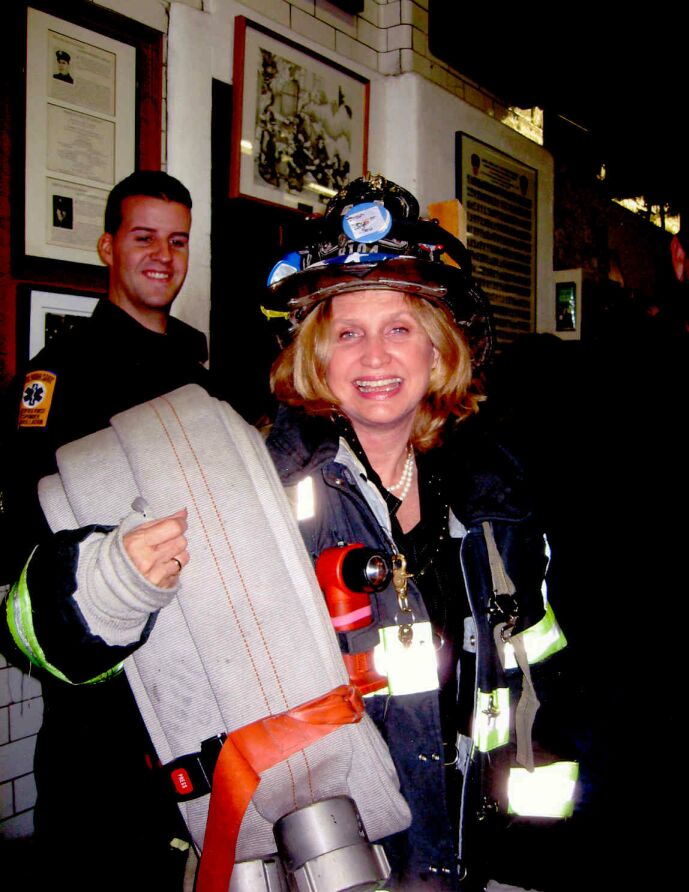 Honorary New York City Fire Dep't Fireperson Carolyn Maloney
[Photo by NYFD Firefighter]
---
2000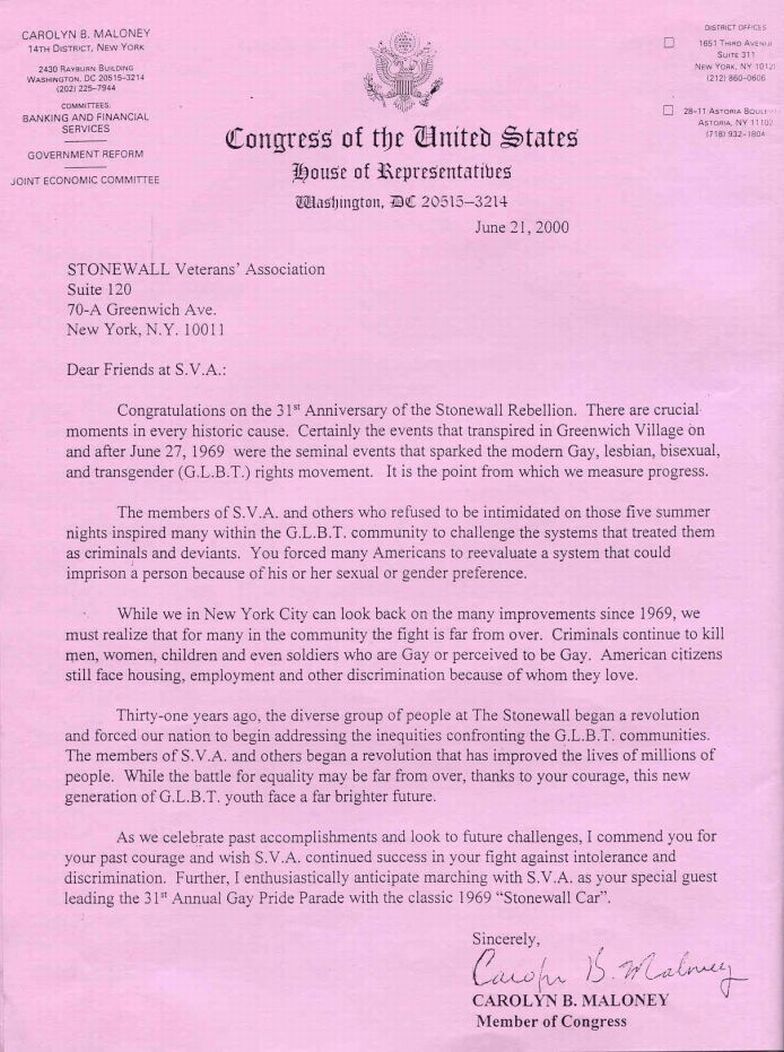 Note

: Reproduced in lavender from the

STONEWALL

Newzletta


"New Millennium Gay Pride Edition" (2000) as this
letter was selected as one of the "SVA's Top 5 Best Letters"..




---
1999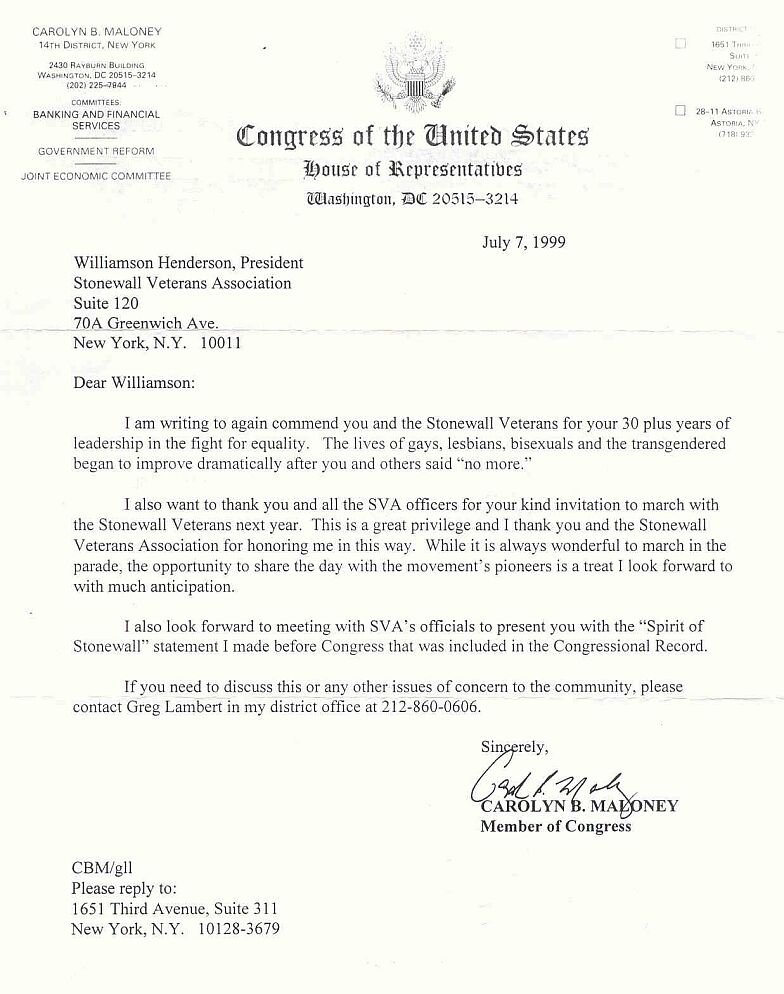 ---
1998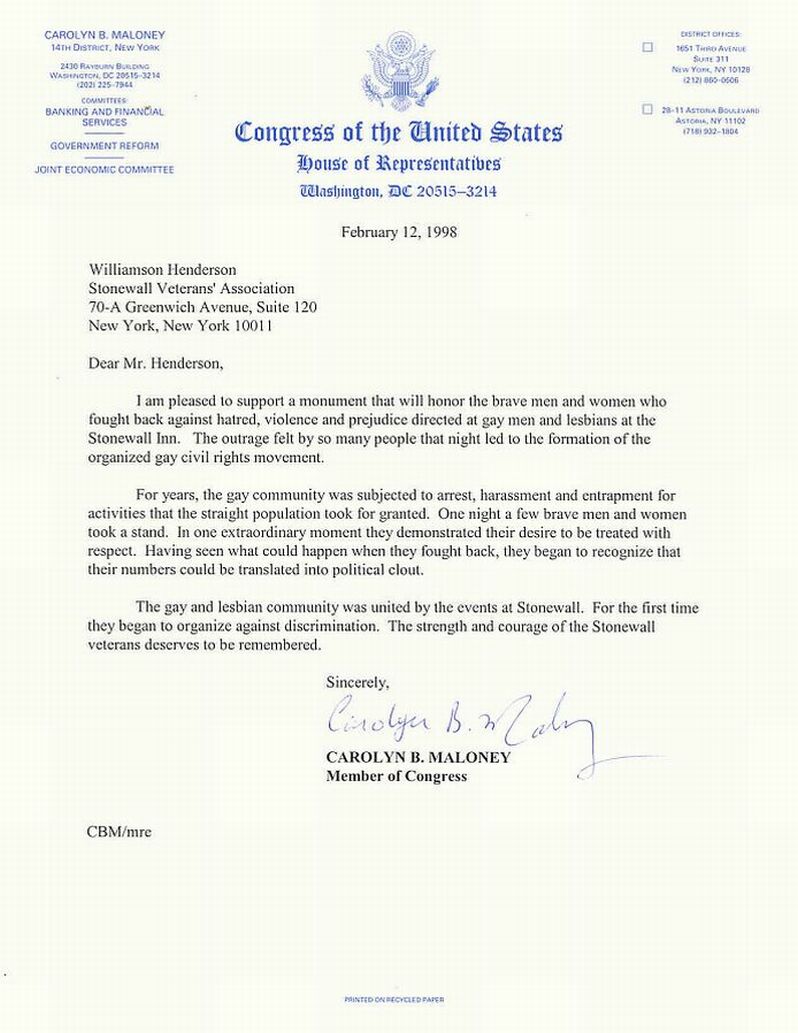 ---



Congressmember Carolyn B. Maloney

Carolyn Jane Bosher-Maloney was born on the 19th of February in 1948 in Greensboro, North Carolina. After meeting her future husband

Clifton H. Maloney

while they were both on separate vacations in Jamaica, West Indies, Carolyn smartly moved to Manhattan. Carolyn was elected to the New York City Council in 1982 and took her seat in 1983. While in the Council, she demonstrated political courage (at the time) when she introduced the first measure in New York to legally recognize "domestic partnerships", including those of same-gender, i.e., Gay couples. Carolyn was the first woman to give birth while serving as a City Councilmember. The baby (her second child) was named Virginia!

In June of 1999, Congressmember Carolyn Maloney was unanimously elected by the membership of the STONEWALL Rebellion Veterans Association ("S.V.A.") to be its next Honorary Female Chairperson. She succeeded Liz J. Abzug who held the post temporarily for one year after we lost her mother, former Congressmember Bella S. Abzug. Bella was the S.V.A. Honorary Female Chairperson for three decades! Congressmember Carolyn is most honored by that distinction as she greatly admired Bella! In fact, Carolyn was the only sitting public official invited to speak at the tribute at Bella's memorial services at Riverside Chapel on April 2, 1998.

For 2006, just relating to the STONEWALL Rebellion Veterans Association, Congressmember Carolyn is the featured speaker at the Bella Abzug Leadership Institute, hosted by Bella's daughter and S.V.A. Honorary Member Liz Abzug, on Wednesday, February 8th @ 10 a.m.; the keynote speaker at the annual International Gay Business Expo on Saturday, March 25th @ 11 a.m.; and leading the annual New York City Gay Pride Parade with the S.V.A. and the 1969 "Stonewall Car" on Sunday, June 25th @ 12 noon. In addition, the favorite U.S. Congressmember was the special guest speaker at the monthly S.V.A. meeting last January. This year Carolyn is also running for re-election to Congress and she deservedly has the full support of all of the members of the S.V.A. of which she is the beloved Honorary Female Chairperson.

In the Spring of 2008, Congresswoman Carolyn's book, "

Rumors Of Our Progress Are Greatly Exaggerated (Why Women's Lives Aren't Getting Much Easier)

", about the women's movement and the real and perceived progress of women today and how it can be improved, was released to critical praise. On May 29th, the Congressmember appeared on popular New York 1 News television to tell about her book in a great interview! At the end of 2008, disappointingly, the Congressmember decided not to have her annual holiday party. At the "SVA's 40th Annual Conference & Veterans Reunion" on Gay Pride Weekend in New York City in 2009, surprisingly, the Congressmember was absent although many public officials and the media were present. (Who gives her this wrong advice?) Carolyn was missed! Nor was the Congressmember present at the SVA's "40th Anniversary Party at The Stonewall Club". (Who gives her this bad advice?) "Carolina" was missed again!

On the 26th of September in 2009, Carolyn shockingly lost her wonderful husband of 33 years, Clifton H. W. Maloney. He died suddenly in his sleep, and at peace, after a rugged mountain climbing expedition in The Himalayas in China! Clif had reached the 27,000 foot peak! Clif has been a very supportive, creative and loving husband to Carolyn and her careers at the NYC Council and currently in the U.S. Congress and to their two lovely daughters Christina and Virginia.

For more biography on Congressmember Carolyn B. Maloney:
www.WashingtonPost/WhoRunsGov.com
---



3rd November
2020

American Election Day

Congresswoman 'Carolina' Maloney re-elected!

*

30 June 2018
SVA's 49th Annual Conference without Congresswoman Carolyn
-and-
NYC 49th Annual Gay Pride Parade w/o Cong. CJM w/ the S/W Vets
-and-
Congresswoman Carolyn's Completion as S.V.A. Honorary Chairperson

*

Tuesday, June 28, 2016
Congressional Primary Election Night Party
at the Congresswoman's Upper East Side Townhouse

*

4 November 2014
Election Night Party at The Sheraton Hotel, NYC

*

14 April 2014
Congresswoman Carolyn Maloney's IRS Gay Couples Rights Press Conference


*

19 January 2012
Congressmember Carolyn B. Maloney and S.V.A. Officials at
NYC Mayor Michael Bloomberg's "State-of-the-City Address"
at Morris Memorial High School Campus, South Bronx, N.Y.
on Thursday, January 12, 2012.

*

28 August 2012
Congresswoman Carolyn Maloney special guest at New York County
Democratic Committee "Pre-Convention Party" hosted by N.Y.S.
Democratic Chairman Keith L.T. Wright in Chelsea, New York.

*

4, 5 and 6 September 2012
Congresswoman Carolyn "Carolina" Maloney back in her homestate:
North Carolina -- for the National Democratic Convention in Charlotte, NC!

*

4 February 2013
S.V.A. Honorary Male Chairperson Mayor Ed Koch's Funeral Services
at Temple Emanu-El on Fifth Avenue, Manhattan, NY

*

==2020: 51stAnniversary of N.Y.C. Stonewall Rebellion==
[Friday night, 27 June ~through~ Thursday evening, 3 July 1969]