STONEWALL

Veterans'

Association


2000 S.V.A. Supporters

U.S. Senator Daniel P. Moynihan
---
Moynihan Station in New York, NY
An updated story about U.S. Senator
Daniel Patrick Moynihan
's perseverence and dedication to making Pennsylvania Train Station in Manhattan an expanded, accommodating and prominent transporatation center is outlined. It includes the senator's ideas back in the 1970s until the time he passed in 2003. There are vintage photos of Senator Moynihan including President Richard Nixon and DPM's chief-of-staff
Tony Bullock
, who is also quoted for this article. Comments about the massive transporation headquarters' plans are quoted from the senator's loyal daughter
Maura
. Upon completion, the new transportation structure is to be appropriately named "Moynihan Station"!
www.MoynihansAmerica.blogspot.com
---
2003

Passing of S.V.A. Supporter retired U.S. Senator Moynihan

Transition

: The

STONEWALL Rebellion Veterans Association

("S.V.A.") really regrets the unexpected passing of former four-term U.S. Senator from New York (1977 through 2000),

Daniel Patrick Moynihan

("DPM"), on Wednesday, March 26, 2003, at the age of 76, as a result of medical complications in a Washington, D.C., hospital. Senator Moynihan personally and publicly described the

STONEWALL Veterans' Association

as "...a group of New Yorkers with a lot of guts". He further laughingly declared: "And I love their blue Cadillac convertible!" What smartly succinct, activist reflective and relevant compliments! In 1976, although the S.V.A. was notoriously linked with supporting his opponent for the Democratic Primary Election nomination, Congresswoman Bella S. Abzug, nonetheless, Senator Moynihan warmly welcomed and gladly supported the S.V.A. without question for over two decades. DPM was a bona fide S.V.A. sponsor for over two decades. The S.V.A. greatly appreciated his unconditional respect for what we did for Gay rights and what we continue to do in that regard, as evidenced in all of his correspondence (more than is on display) to the S.V.A. over the years.

In 1998,

Tony Moore

, a special assistant to the Senator, invited S.V.A. President

Willson L. Henderson

to come to their senatorial office, located at 405 Lexington Avenue up on the 42nd floor in midtown Manhattan East, for a new tour, a nice chat and to personally be given the newest letter for the S.V.A. Willson was quite surprised and pleased to read -- after he got back to his own office -- that the Senator singled him out for praise in the letter. On one of the occasions when Senator Moynihan's office called in 2000, his last year in office, they said, "Your letter is ready". Caught off guard, S.V.A.'s

Leigh McManus

, a favorite of the Senator's (hello, Irish-American from Long Island), replied, "What letter?" They explained, "The testimonial letter that Senator Moynihan gives to the STONEWALL Veterans' Association each and every year! I have the new one right in front of me". In other words, the S.V.A. not only had the renewed support of the legendary Senator but didn't even have to ask for it! That is tremendously unique.
Mention must also go to the senator's longtime and always accommodating and informative chief-of-staff

Tony Bullock

.

As a lasting tribute to the STONEWALL Veterans' Association, Senator Moynihan succinctly and astutely later decribed the famous blue 1969 Stonewall convertible as "That Stonewall car is a rolling symbol of Gay Pride!"

---
2000
Senator
Daniel P. Moynihan
's letter to the STONEWALL Veterans' Association in 2000 has been happily located in a hidden file at a storage facility of the S.V.A.
[DPM's 2000 letter will be posted here by the Summer of 2012!
There are dozens of boxes and files to search to locate the letter.]
.
---



1999



U.S. Senator Moynihan's Letter to STONEWALL Vets' Assn.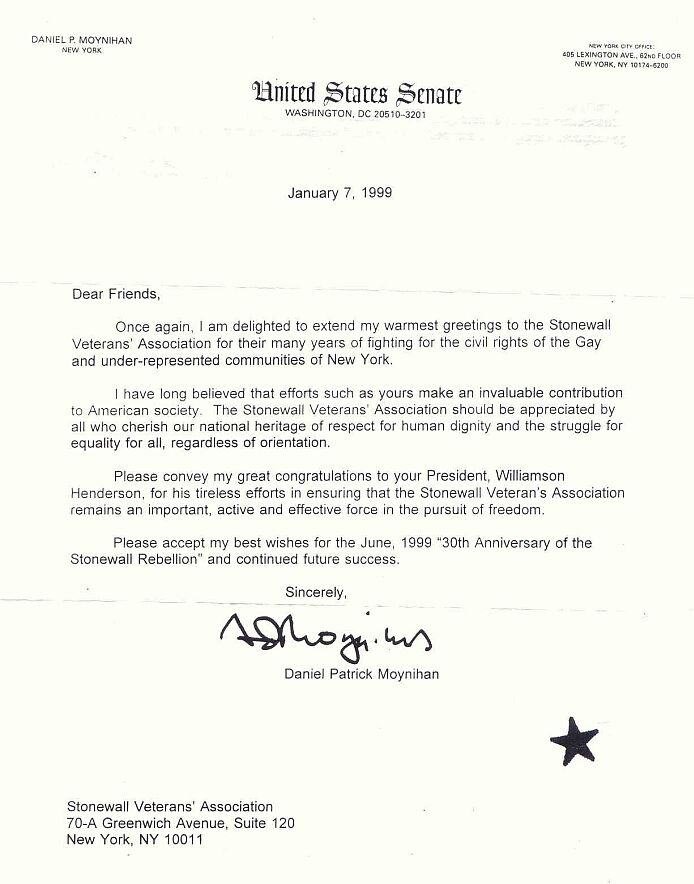 ---
1998
U.S. Senator Moynihan's Letter of Praise to the S.V.A.