STONEWALL Rebellion Veterans Association
S.V.A. Supporter: 1969 - 2013 (44 years!)

New York City Mayor Edward I. Koch
N.Y. City District Leader 1965 to 1966
N.Y.C. Councilman 1967 to 1968
U.S. Congressman 1969 to 1977
105th Mayor of New York City 1978 to 1989
elected N.Y.C. Mayor in 1977 and re-elected big time in 1981 and 1985
S.V.A. Honorary Male Chairperson, In Memorium
---
2018

Five Years after His Death, Ed Koch's Legacy Gets Stronger Than Ever!

www.CrainsNewYork.com/article/20180201/Op-Ed-Five-Years-after-his-Death-Ed-Kochs-Legacy-is-Stronger
---
2013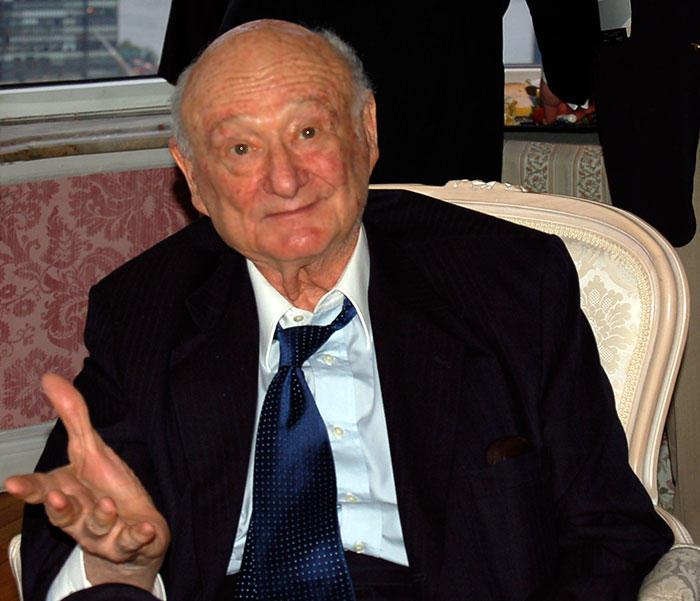 Kotcha! A warm and witty Koch look in his mid-80s!

[Photo courtesy of STONEWALL Veterans' Association Archives
-- and it must be permissed and credited for anyone else's use!]

*

"Koch" the NYC Movie Opens... Koch the Living Person Exits!

Unlike anyone else, Mayor-for-Life -- until Friday, February 1st -- Ed Koch is New York City's all-time greatest public official and the most dedicated and consistent supporter and inspirer of the STONEWALL Rebellion Veterans Association ever! He supported the S.V.A. as a councilmember, a congressmember, a mayor and as an individual spanning four decades.

Some of the words to describe Ed Koch include, but are not limited to: extraordinary, intellectual, flamboyant, determined, outspoken, friendly, charismatic, wisdom, outrageous, insightful, decisive, mensch, innovative, compromising, able, energetic, humorous, unifying, controversial, workaholic, colorful, optomistic, warm, self-depricating, candid, brash, witty, dynamic, funny, persistent, exhuberant, independent, chutzpah.............



---
2012
Mayor Ed's Holiday Thank You to Willson Henderson & AnDre Christie
*
filename: Ed_Koch_2012
*
--------------------------------------------------------------
Mayor Koch named Grand Marshal of NYC Veterans' Parade
NewYork.CBSnews.com/2012/10/22/Ed-Koch-named-Grand-Marshal-of-Veterans-Day-Parade
*
------------------------------------------
Mayor Ed Koch's 43rd Anniversary Letter to the S.V.A.
---
2011
Mayor Ed's Thanks for his 87th Birthday Card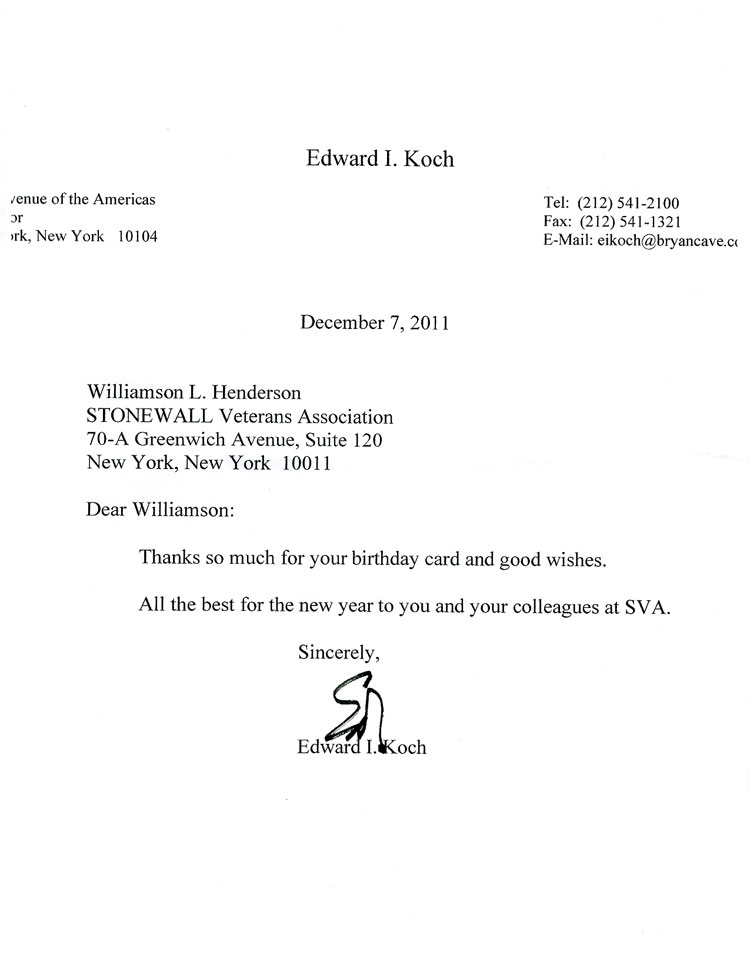 [enlarged version]
---
"Koch Over Troubled Water"
The landmark Queensboro Bridge from Manhattan at East 59th Street to Queens at Queensboro Plaza was officially renamed the "Ed Koch Queensboro Bridge" after a living legend former NYC mayor Ed Koch! The bridge is one of the key links between the New York City boroughs of Manhattan and Queens. The tribute is significant. As a successful U.S. Congressmember, Ed Koch's district included the East Side of Manhattan and a western portion of Queens. He travelled to Queens regularly and had a district office in Queens. As N.Y.C. Mayor, Ed Koch greatly brought the entire City of New York, including Queens, back from the depths of financial crisis, crime waves and image chaos. While campaigning for mayor, New York City experienced the horrors of "The Blackout of '77" and the resultant looting turmoil and crime wave. Ed Koch was the symbolic "Bridge Over Troubled Water", a #1 song by Simon & Garfunkel in 1970. Once he was mayor, Ed Koch signed an immediate and historic Executive Order banning Gay employees of NYC from discrimination in employment, housing or education. After actively campaigning for Gay rights, in 1986 as mayor, Ed Koch signed the New York City Gay Rights Law. Fast forward: This eternal Ed Koch bridge tribute was 'signed into law' -- with Mayor Ed Koch getting the first pen -- by Mayor Michael Bloomberg at City Hall on April 11, 2011. Mayor Ed is truly singing "Feelin' Groovy", the hit song sub-title for the "59th Street Bridge Song" written by Paul Simon and recorded by his group Harpers Bizarre in 1967 commemorating the historic bridge.
---
2010
Korrect Koch Kommentary: "Don't Ask, Don't Tell"
"Don't Ask, Don't Tell" Should Be Relegated To The Dustbin of History"

"Don't Ask, Don't Tell" should be repealed by the Congress, as requested by President Barack Obama. Gays and lesbians should be permitted to serve in the United States armed forces without concealing their innate sexual orientation, as they do in 20 of the 26 NATO countries, including England, France and The Netherlands, as well as in Israel.

Secretary of Defense Robert Gates testified before the Congress, according to The New York Times, "that he was carrying out Mr. Obama's policy of moving to repeal 'Don't Ask, Don't Tell.'" But he also said, "any change in policy would require a deliberate review and cautioned that a Pentagon panel might take up to one year to study how to put into place any changes approved by Congress."

Admiral Mike McMullen, Chairman of the Joint Chiefs, said, "It is my personal belief that allowing Gays to serve openly would be the right thing to do." Senator Carl Levin, Chairman of the Senate Armed Services Committee, commenting on the proposed study, according to The New York Times, "asked whether it would be possible to suspend all discharges under the policy pending congressional action that might repeal the ban."

The Times reported that there is no unanimity on this issue in the armed forces, stating, "The top generals from the Army and the Air Force expressed deep concern about moving rapidly to lift the ban on openly Gay service members, saying it could make it harder for their forces to do their jobs while fighting two wars. The comments by General George W. Casey Jr., the Army Chief-of-the-Staff, and General Norton A. Schwartz, the Air Force Chief-of-Staff, may provide political cover for members of Congress who oppose President Obama's call for repealing the policy known as 'Don't ask, don't tell'".

It seems to me that Chairman Carl Levin's proposal of suspending discharges pending further congressional action is a rational, common sense approach. However, "Don't Ask, Don't Tell" should be relegated to the dustbin of history -- the sooner the better!
---
Visit Mayor Ed Koch's popular film reviews:
*The Mayor* at The Movies"
www.MayorKoch.com
---
2009

Former Mayor Ed Koch as the Special Guest of New York Civic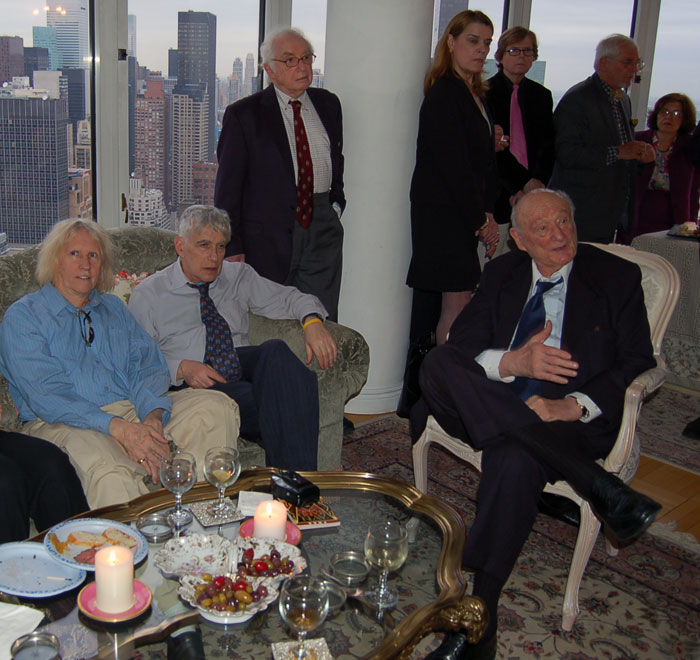 Willson L. Henderson, Commish Henry J. Stern and King Koch holding Court
[Photo by Salmon Thacker of New York Civic]




---




=weekly television show=




Mayor Ed Koch

appears on television every Tuesday evening @ 7 p.m. and encores that night @ 10 p.m. on New York-1 television's weekly segment "

Inside City Politics

" on channel 1 in New York City. Mayor Ed's television teammate is former U.S. Senator Alphonse D'Amato. As a team, with a different, third male public official added weekly, Ed and Al and the guest are known as "The Wise Guys".





---


Mayor Koch Meeting with S.V.A. Founder Willson L. Henderson

The official, semi-annual meeting between the SVA's Honrary Male Chair

Mayor Ed Koch

and the SVA's Director

Willson

Henderson

was on Friday, March 20, 2009. They have known each other over 40 years since before Ed Koch was a congressman. This get-together was at the mayor's law office on Avenue of the Americas in Manhattan. Also attending the private event was the SVA's office manager

AnDre M. Christie

. Thus, three generations!!!



---
Note to the S.V.A. from Mayor Ed Koch.
*
---
2008


Annual Letter from Mayor Koch to the STONEWALL V.A.





[Letter to the S.V.A. from Mayor Ed Koch shall be placed here soon!]



---
2007
The S.V.A. has Mayor Ed Koch's congratulatory letter to the STONEWALL Rebellion Veterans Association for 2007; however, several dozen letters from public officials and organizations were sent to SVA's Archives in our secure storage spece before they were posted on the S.V.A. website. They will be unearthed sooner or later (probably later). Look for that letter and many more to be posted!
---
2006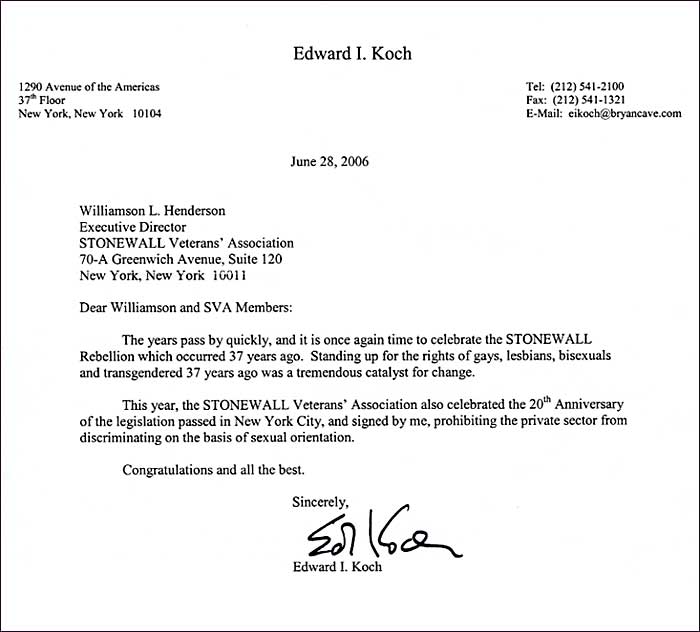 Mayor Ed Koch's annual praise letter to and renewed support of the S.V.A. has been thoughtfully and appropriately received during Gay Pride Month. As always, we deeply thank and appreciate our longtime friend -- the international and the unique Mayor-for-life Ed Koch!
---
2005
*
---
2004 - Appreciation and Best Wishes from Mayor Ed Koch to the S.V.A. President Willson Henderson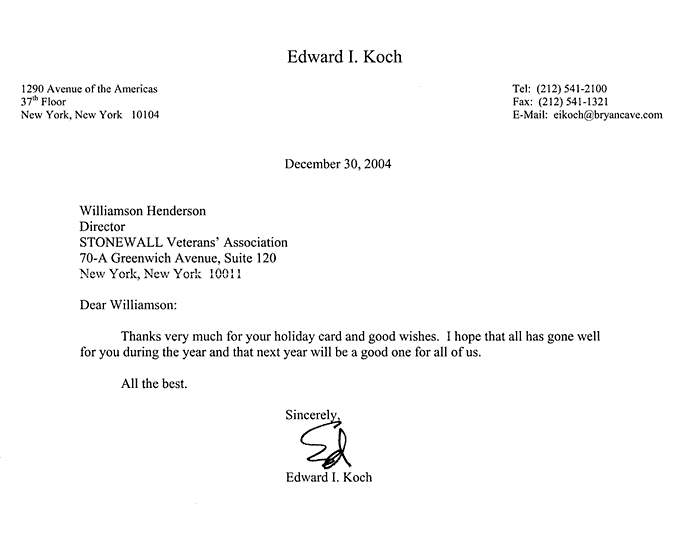 2004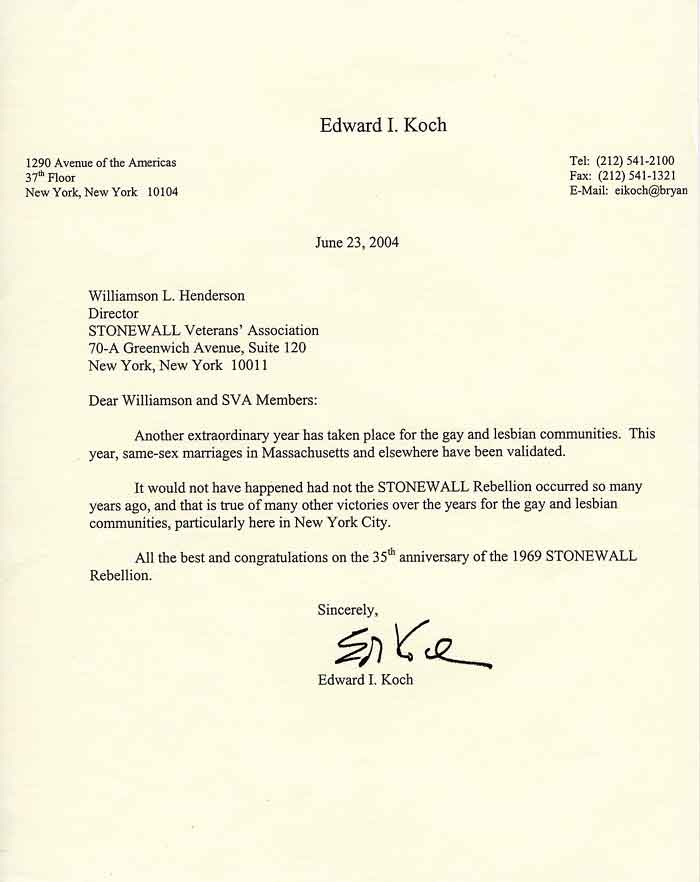 ---
2003 - Willson Henderson receives Mayor Ed Koch's Holiday Greetings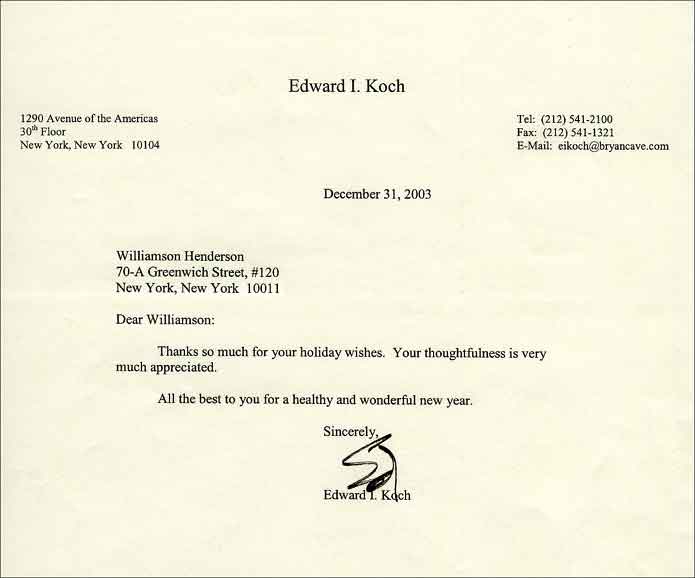 2003 - Mayor Ed Koch's Personal Note to the S.V.A. Founder's Mother Helen Henderson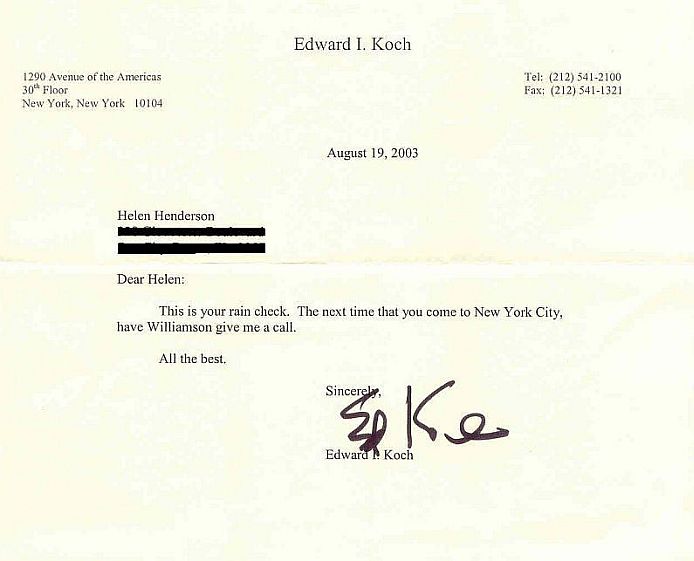 2003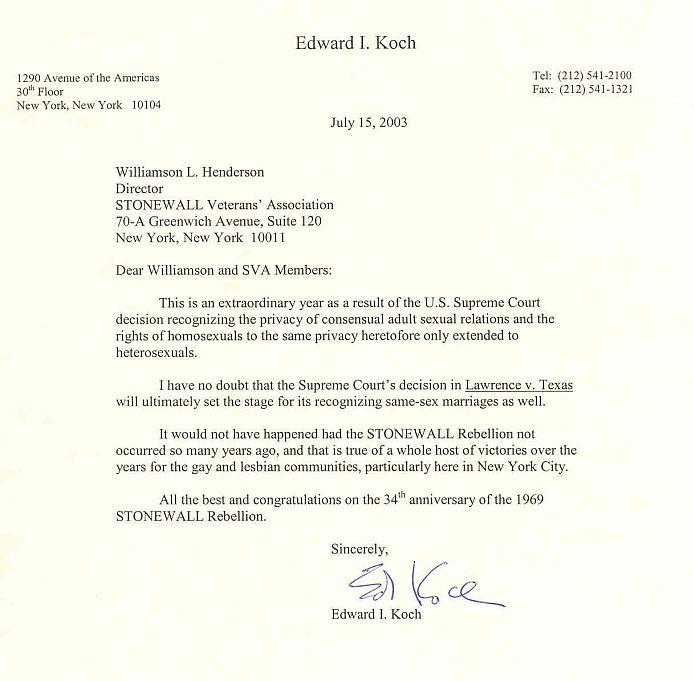 ---
2002 - Mayor Ed Koch Note to S.V.A. Director Willson Henderson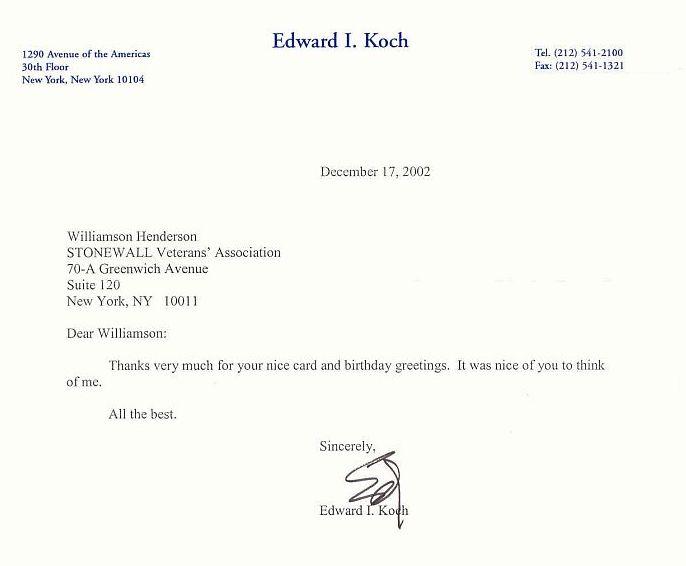 2002 - Mayor Koch Note to S.V.A. Treasurer Terri Van Dyke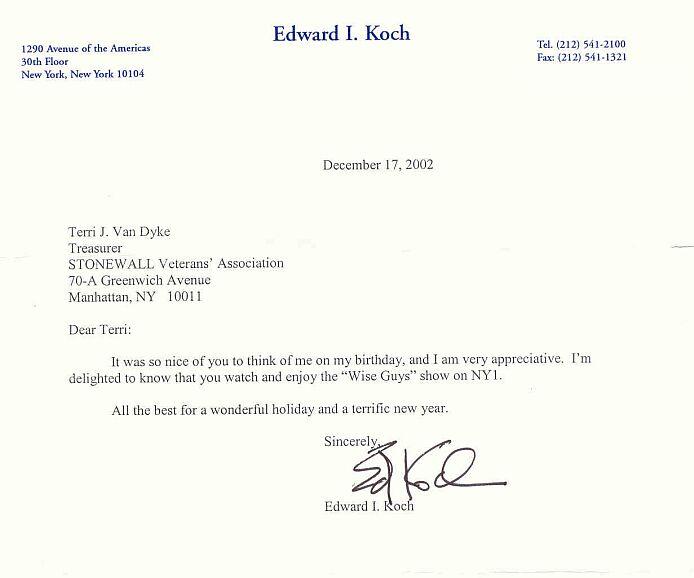 2002 - Special Visit to Mayor Ed from a Stonewall Mom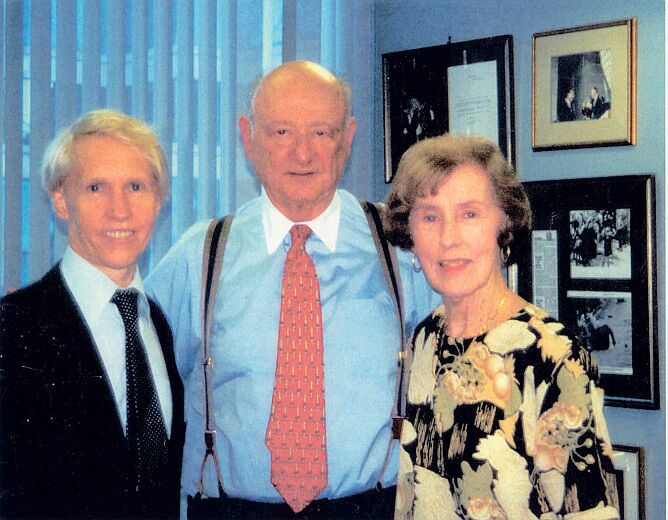 Native New Yorkers
[Photo by Jodi Getman]



Former New York City Mayor Edward Koch is visited at his scenic Avenue of the Americas in midtown Manhattan office by the STONEWALL Veterans' Association's Founder Willson Henderson's mother, Helen Henderson, a Floridian now, but always glad to be back in New York, especially with her favorite mayor and her favorite son!!



2002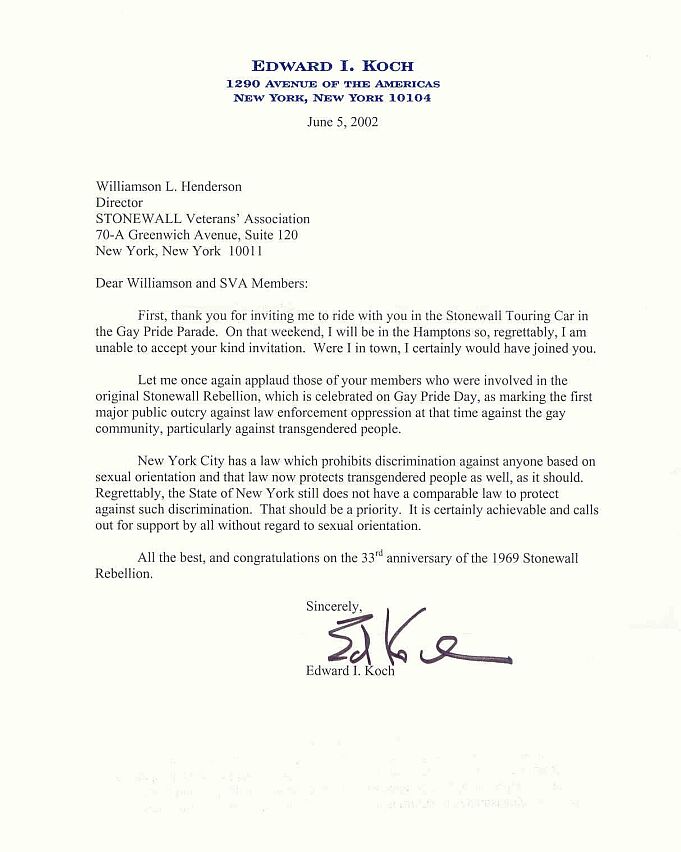 2002 - "Kotcha" Note to S.V.A. Director Willson L. Henderson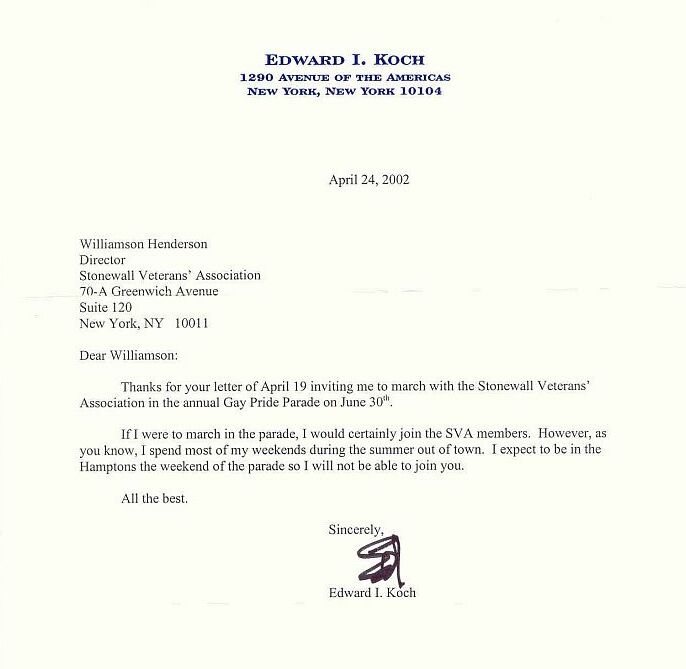 ---
2001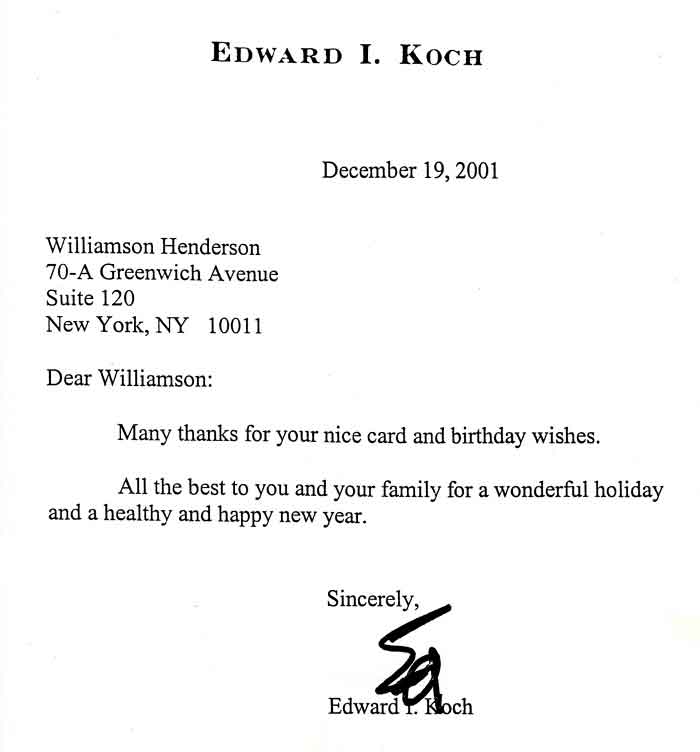 ---

2000
Photo of Mayor Ed Koch with Mrs. Helen Henderson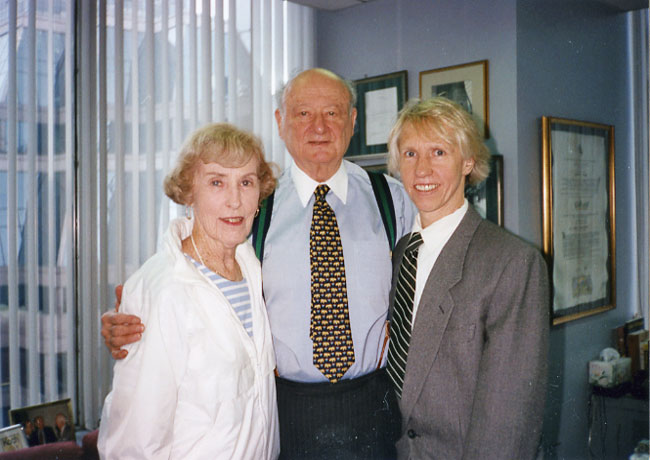 Helen Henderson, Mayor Ed Koch and Williamson
[Photo by Koch executive assistant Miss Jodi Getman]





2000 - Annual Praise Letter from Mayor Koch to the S.V.A.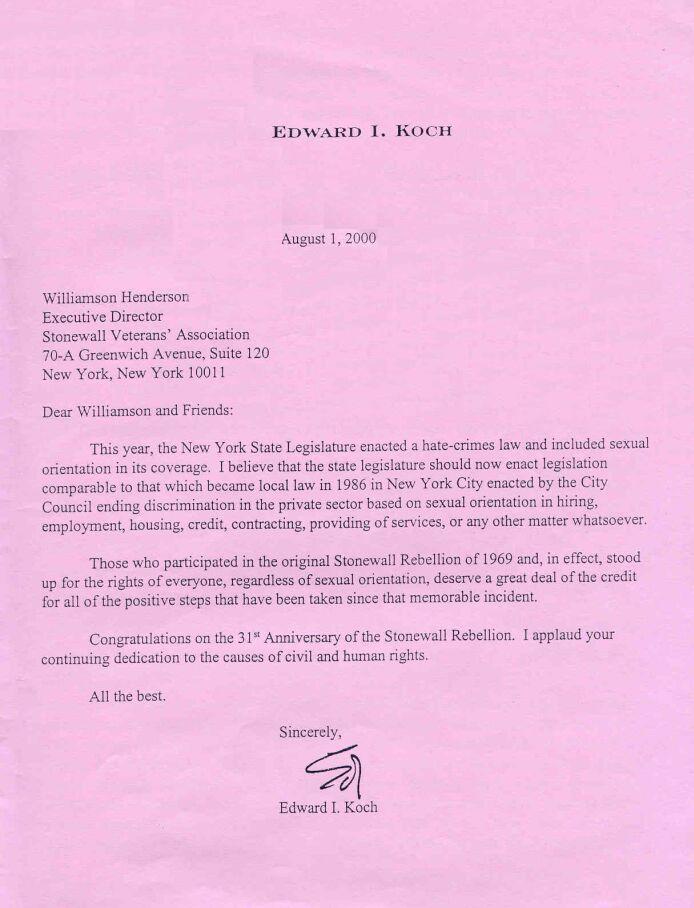 Note: Reproduced in lavender from the Stonewall NEWZLETTA
"New Millennium Gay Pride Edition" (2000) as this
letter was selected as one of "S.V.A.'s Top 5 Best Letters".
2000 - Mayor Edward Koch Letter to Willson Henderson re: Bella Abzug Statue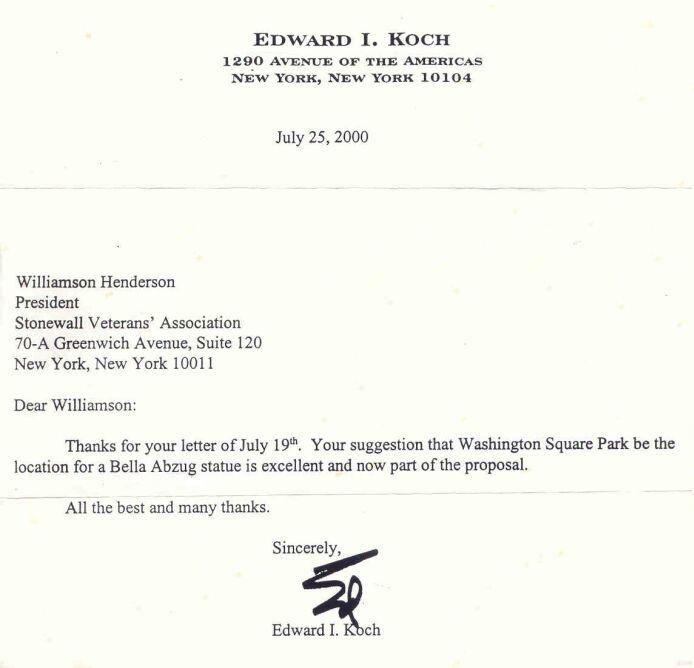 2000 - "Ed Koch" Newsday Column on the Bella Abzug Statue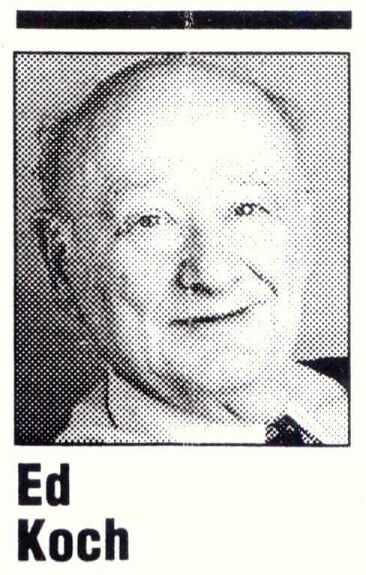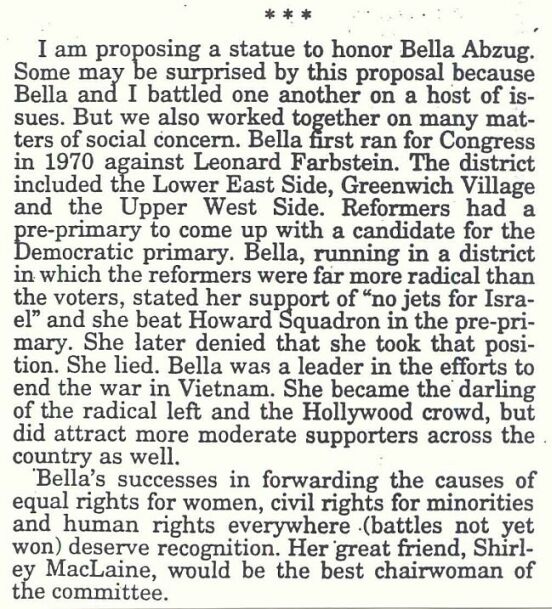 [Reprinted from Newsday, July 14, 2000]
---
1999 - Mayor Ed Koch Note to S.V.A. Treasurer Terri Van Dyke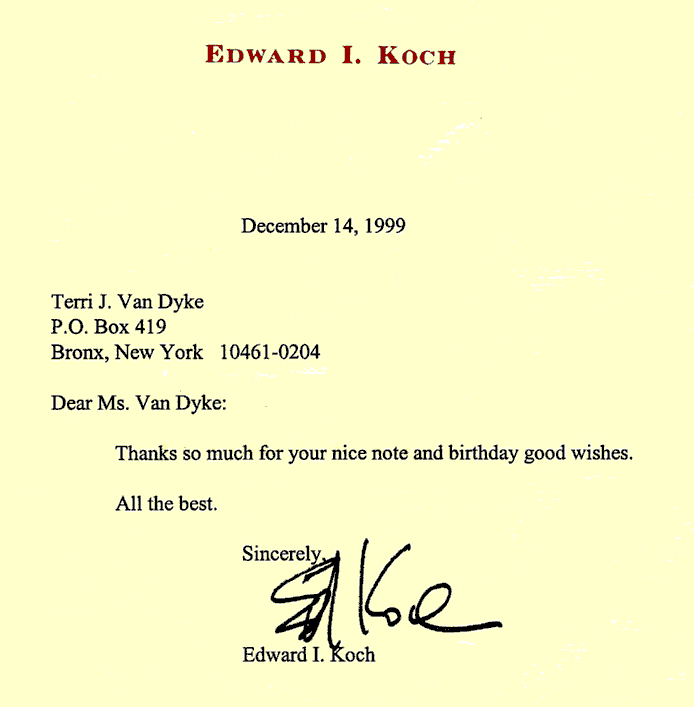 At the time, Terri Van Dyke was living in The Bronx -- birthplace of Edward Koch
---
1998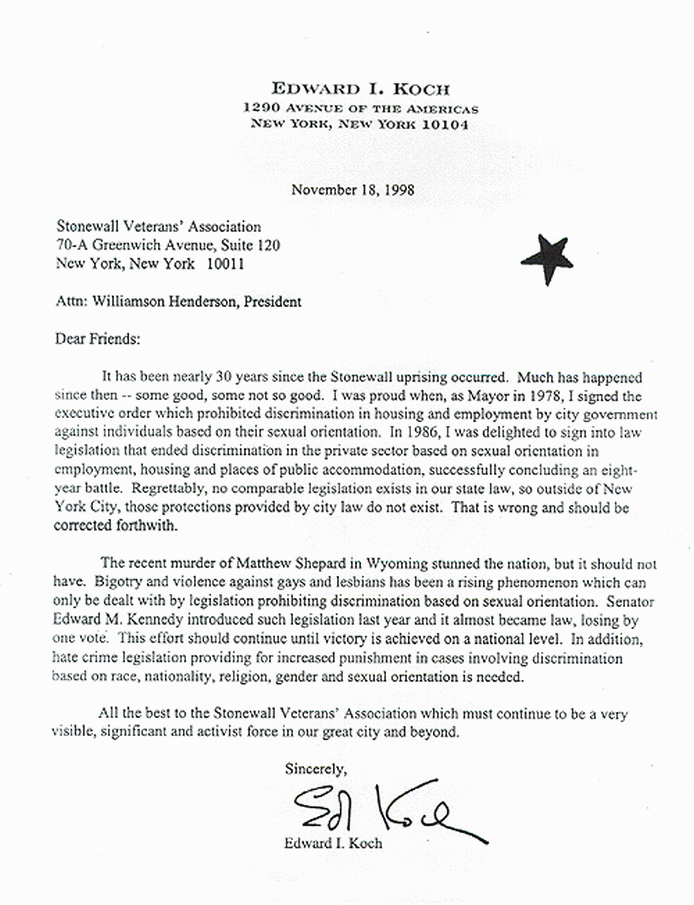 1998 - PRIDE Democrats of NYC's Candidates Forum with Special Guest Speaker former Mayor Ed Koch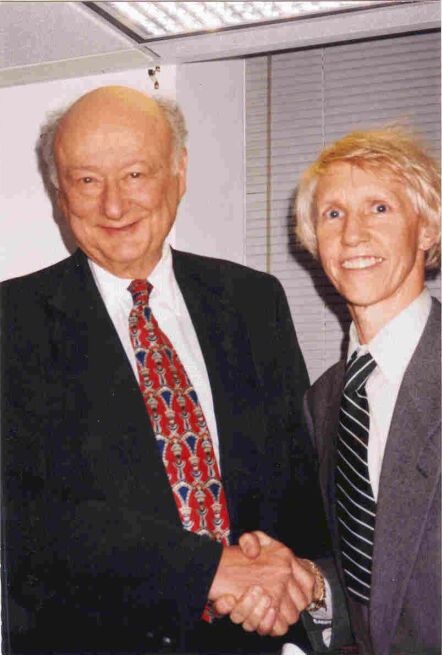 Special Guest Mayor Ed Koch with Host Willson Henderson
[Photo by Liz J. Abzug]


Former New York City
Mayor Edward I. Koch
with the
STONEWALL Rebellion Veterans Association
("S.V.A.") President
Willson L. Henderson
. The internationally famous Mayor Ed Koch was first elected "Mayor" in 1977. Mayor Ed successfully and magnanimously served three terms from January 1, 1978 to December 31, 1989. In fact, the Mayor even had a very popular and candid number one book entitled -- what else -- "Mayor".
The candidates forum event here happened at the
Gay, Lesbian, Bisexual & Transgender
("GLBT") Community Services Center on West 13 Street in Manhattan, New York. The autumn date is Thursday, October 22, 1998 @ 7 p.m. The occasion was for sponsor PRIDE Democrats' "General Election Candidates' Forum". The event was the follow-up to the hugely successful, largest-ever candidates' forum, also sponsored by PRIDE Democrats, on Thursday, August 27, 1998. At that time, Mayor Ed's busy schedule had him elsewhere in America. However, the Mayor personally told Willson to "....let him know when you have your next event and I'll be there!" True to his word, here he is: Mayor-for-Life Ed Koch! See the 'terrific' photo above. And, "How's he doin'?" Great! The forum was co-sponsored by the STONEWALL Veterans' Association, Gay Men of African Descent ("GMAD"), the Imperial QUEENS & Kings of Greater New York ("IQKNY"), Asians & Friends, the G.L.B.T. Political Coalition, Gay & Lesbian Hispanic Americans ("GLHA"), the Millennium Triangle Democratic Club ("MTDC"), the Stonewall Car Club ("SCC") and others -- a very
real
diversity! Mayor Koch is the one and the only S.V.A. Honorary Male Chairperson since the beginning of the organization and has also been the S.V.A. Honorary Project Chairperson.
Mayor Ed was, of course, the big star of the show and every candidate so acknowledged. And what greater and internationally known Democrat in New York City history than Mayor Koch? None! And, yes, the event was part show biz. The members of the Imperial QUEENS attending did not come in tuxedoes! In fact, Mayor Ed was first welcomed by the grand Duchess Rayette of the transgender group IQKNY. Plus, it was media savvy; several journalists attended. Candidate speakers included: Judge Karen Burstein as the dynamic surrogate speaker for U.S. Senate general election candidate Charles Schumer; Eliot L. Spitzer for N.Y.S. Attorney General; H. Carl McCall for re-election as N.Y.S. Comptroller; Sandra Frankel (in a bright red dress) for N.Y.S. Lieutenant Governor; and four candidates for the New York City Council 3rd District (Greenwich Village and Chelsea), namely, openly-Gay District Leader/Stonewall vet Aubrey Lees, un-openly-Gay McManus Democratic Club President Carl Manzano, openly-Gay former N.Y.C. Department of Transportation Commissioner and current Tax Commissioner (both in Mayor Rudy's administration) Christopher Lynn, a longtime supporter of the IQKNY, and openly-Gay S.V.A. non-supporter Christine Quinn. In this Council contest, Mayor Ed endorsed Chris.... Lynn!
Due to a hectic election schedule, Mayor Ed's longtime colleague and friend Peter Vallone, Sr., missed this one; however, he was the first of the 24 candidate speakers at the August 27 event. Both forums were sponsored by PRIDE Democrats under the leadership of Willson Henderson and both forums were hosted by PRIDE and the SVA's President Willson. By the way, which candidate did Mayor Koch speak on behalf of? He didn't come
just
to be nice and have chicken soup (we didn't have any). The Mayor spoke candidly, very effectively and rather sincerely for the re-election of his longtime Republican friend U.S. Senator Alphonse "Al" D'Amato and, crossing Democratic party lines again, for Republican N.Y.S. Governor George Pataki. Mayor Koch is a quintessential and independent New Yorker and is unequivocably unique and truly special.
---
1997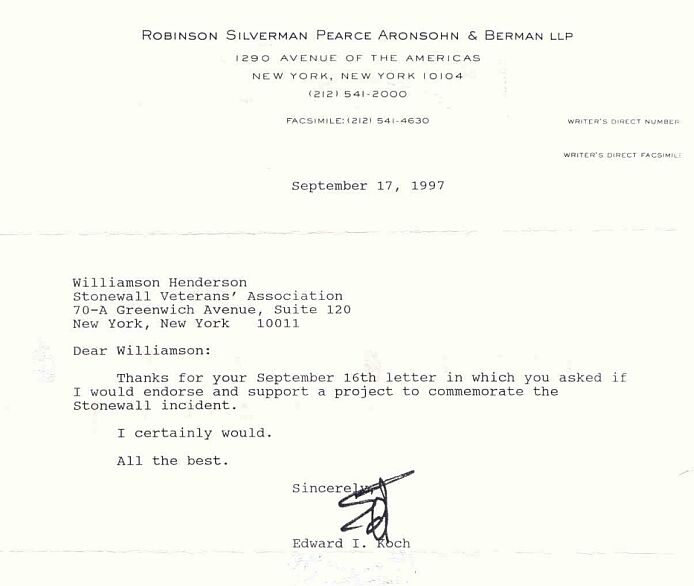 ---
1996