Emile A. Griffith, Jr.
Legendary 6-Time Winning Welterweight
and Middleweight Boxing Champion
~and~
Subject of Televised Documentary "Ring of Fire"

STONEWALL Rebellion Veterans' Association
S.V.A. Vice-President Emeritus
*
Charter Member STONEWALL Rebellion Veterans' Association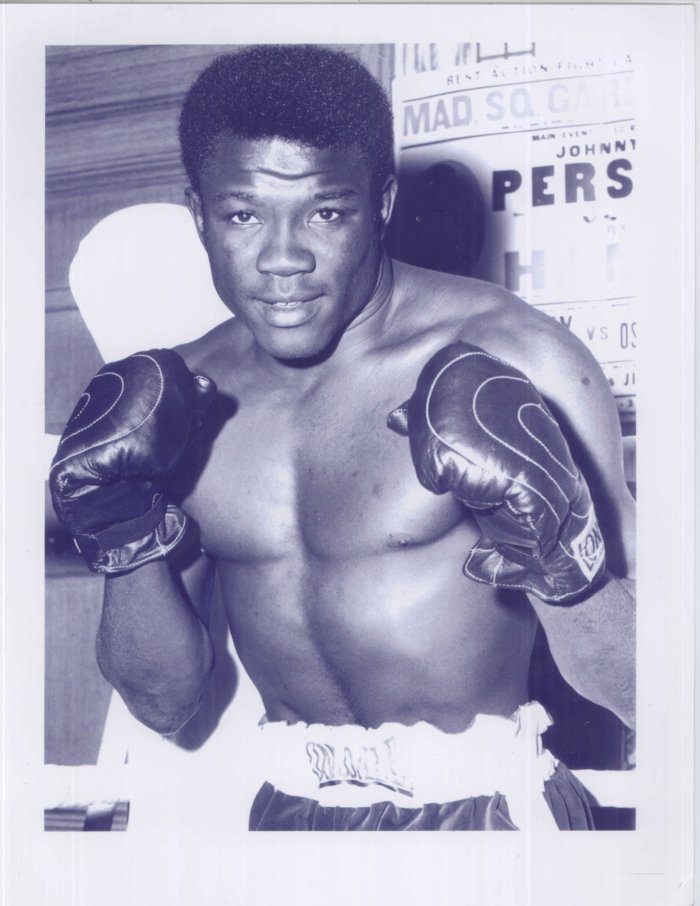 Emile Griffith

-- the look of a real champ!

*



Emile Alphonse Griffith, Jr.

, was born in St. Thomas in the U.S. Virgin Islands on the third of February in 1938. Though he does not look like it, his closest friends and all relatives knew him as "Junior". In the G.L.B.T. communities, he was simply known by his actual and more formal first name "Emile"!






---
Emile Griffith Inducted into New York State Boxing Hall-of-Fame
*
www.NY-State-Boxing-Hall-of-Fame-Induction-Gala-Report
---




Out Magazine: Gay Boxers --
the most famous by far is Emile Griffith!

Emile Griffith is mostly unknown in the

modern sports world -- even to openly-Gay boxers. This story "Hand-to-Glove" in OUT (as in Gay) magazine focuses on something unheard of until recent years: training classes for Gay boxers! The relevant and openly-Gay author

Chadwick Moore

wisely delves back into Gay sports history by highlighting Emile and thus educating the public!

Emile's longtime friend -- who he met in early 1969 at The Stonewall Club -- comrade and former boyfriend

Willson Henderson

was contacted and interviewed. FYI, Emile's partner of over thirty years,

Luis Rodrigo

, was also contacted but, sadly, still refuses to be interviewed about his Gay relationship with Emile even over a year after the latter's demise. When he finally reconsidered and called the author back, the story was long-completed and the final draft submitted. The well-written article includes Emile's professional friendships with legendary heavyweight boxing champions such as

Joe Frasier

,

George Foreman

and

Mike Tyson

, two of whom he can be seen with on this S.V.A. webfile!



www.OUT.com/entertainment/sports/2014/06/29/Velvet-Gloves-Gay-Boxers







---






*



[Photo of Emile to be placed here soon.]





---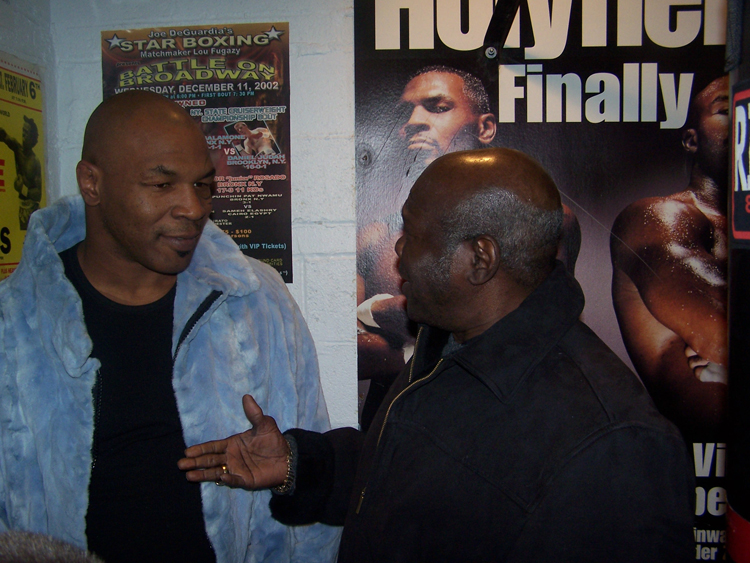 Two Champs: Mike Tyson! + Emile Griffith!
Photo taken at annual Boxing Convention in Upstate New York
[Copyrighted Photograph by David "Boxing Kid" Selwyn]

---
Emile Griffith Marches in NYC Gay Pride Parade
with the STONEWALL Rebellion Veterans' Association
www.NYTimes.com/2007/06/09/sports/09Griffith.html
---
=Stonewall Old Newz=
The Emile Griffith Gay book was bare-ly "Out"!
To quote JoAnne Worley on "Laugh-In": "Borrrrrrrrrr-ing!"
Booked: "Nine... Ten... Out! The Two Worlds of Emile Griffith"

~or the book bomb by ole Ron Rust could be subtitled~

"One.. Two... Three... This Down-for-the-Count Book is KO'd!"
*

Emile A. Griffith, Jr.
, is legendary for over a half-century in the public sports world as a 6-time world boxing champion as both a middleweight and a welterweight. In his "other world", a diametrically-opposed and down-low contrast, Emile was a determined, dedicated and diehard regular at many Gay after-hour hideaways like
The Gold Bug
and
The Tenth of Always
, Gay bars such as
The Blue
Bunny
and Gay dance places like
The Magic Touch
in Island Park, Long Island and
The STONEWALL Bar & Dance Club
in Greenwich Village, NYC. All such Gay establishments that Emile championed were Mafia-owned and Mafia-run and, therefore, protective, friendly and safe! All of the goodfellas knew Emile to be the "closet case killer fighter" who wore the tightest and most revealing pants (not in the ring). None are revealed in the missed opportunities book by liddle Ron-the-Con. Many in the Gay community were particularly proud of Emile as, unlike 98% the other Gay or bisexual sports figures, he had the conviction and the guts to go to Gay places. By being visible, Emile promoted Gay civil rights regardless of whether he realized. Obviously, he was either Gay or bisexual. He wasn't at Gay clubs and bars on a "search and find mission" for heterosexuals. (Well, maybe he was!) Emile's simple presence at Gay establishments spoke volumes for the betterment, understanding and support of the Gay community!
*
The STONEWALL
is where
Emile Griffith
ultimately -- after his repeated requests through a third party faghag -- met successful white commercial Gay male blond model
Willson Henderson
. That they actually met at the now landmark
Stonewall Club
-- and in such a yet untold fascinating Gay way -- is a germane point of relevance and interest. They were ultimately introduced by Sonia Attkiss, coincidentally and separately a friend of both. Emile had tried to get Sonia to intoduce him to Willson on may occasions; howver, Willson was sincerely not interested. The 'suitor' wasreally not any of his types. What finally picqued Willson's interest was when Sonia informed him: "You'd like this guy, besides sexually, as he is tough! (Willson had gone with a tough Italian guy who was 'connected' and who, ironically, brought Willson to The Stonewall.) Emile actually killed a guy in the boxing ring for calling him a nasty gay name!" A smiling Willson declared: "And I like that French name Emile. Okay, bring him over." Subsequent to the historic 1969 Gay
Stonewall Rebellion
, since his Gay interest
Willson founded
it, Emile became a charter member and part bankroller of the legendary
STONEWALL Veterans' Club
(now "
Association
"). The S.V.A.'s first meeting in July 1969 was in Emile's favorite (kosher) deli-restaurant located on the street-level of the luxury apartment building
The Victoria
off Fifth Avenue near Union Square in Manhattan. Great food! It is where Willson moved to from Long Island and Emile frequented. Sometimes, the champ even 'stayed overnight'! Sometimes.... Shhh! And, then again, sometimes not! The building staff constantly asked Willson for a head's up when Emile would be visiting next so that they could catch another glimpse of him or hopefully get an autograph. Everyone on the staff knew that Willson & Emile were an item on the "Gay menu"! Some on the all-male staff would tip off many tenants who did stake-outs in the lobby. Thus, Willson smartly had Emile go from The Victoria garage, where he parked his car, up the elevator bi-passing the lobby level directly to the eighth floor!
FYI
Note
: Up to this point, all of the above real-life 411 and a helluva lot more is
not
even hinted in the allegedly out! Gay book.
*
Since Emile and Willson Henderson's unexpected reunion -- after the former called the latter, just like in the good ole Gay days -- Emile, after exactly a quarter-of-a-century absence (1979 through 2004), resumed via official nomination and formal election being the S.V.A. First Vice-President. Misrepresentation in the book portrayed total shock as if one morning Emile woke up and suddenly discovered that he was the Vice-President of the S.V.A. once again and that this news was printed on pink paper in red crayon as a Gay note under his pillow which was delivered by The Tooth Fairy! Whatever, it really was a welcomed surprise to have Emile back again -- at least as a former 'intimate friend' and as an official in the S.V.A. Although Emile could not remember nearly as much as he once knew, he surely felt the welcoming, familiar and cordial vibes. Besides, many others do remember in rainbow detail!
*
Many SVA-ers such as
Jeremiah Newton

, Adrienne Seiden
,
Leigh McManus
,
Carole Williams
,
Bert Coffman
,
Lucy Santiago
and
Jackie Tolkowsky
all of whom are alive (as of 2020) -- vividly recall
Emile
at
Willson Lee Henderson
's luxury apartment at
The Victoria
off Fifth Avenue throughout the entire 1970s. Many Stonewall veterans such as
David Foxworth
and
Sonia Attkiss
and
Michael Toney
who are are no longer with us would have testified to same! Particularly recalled are all the great music, homemade foods, fun-filled Gay parties with no shortage of opportunities, booze or celebrities. Emile was wide-eyed amazed, as just one example, to meet the actual songwriter and first performer of the #1 national song "The Twist" -- no, not
Chubby Checker
but --
Hank Ballad
. It was at Willson's well-known and well-attended annual wear-sumthin-red-or-don't-cum "Valentine's Party" in 1975. Hank came with a woman in red who looked like
Barbra
! Oh, look, there's Gay
Ken Paige
from "The Wiz"! Isn't that the Gay writer
Russell
from the
New
York
Daily
News
? Hey, there's that tall (6' 6"), black, handsome Gay guy that Gay
Raymond St. Jacques
pretends is his "son" routine? Yeah,
Sterling
! And,
Dave Crawford
, the black secret Gay songwriter, brought the demo of the new record that he wrote and produced for
Candi Staton
. One of
The Hines Brothers
is here; it's the Gay one but I'm not sure which one as they both come off Gay! Aren't they both Gay? It's
Maurice
. At these Gay-flavored parties is where many people first heard of much less met Emile Griffith. Unfortunately, none of any of this is in the out! Gay book either. Yipes! The soft book is over 90% about Emile's very long boxing career and intricate boxing details. Much of it is bor-ing! Five- or six-percent is about problems and heartaches caused by foul-mouthed, bigotted and/or shady anti-Gay relatives on both sides of Emile's fence. With literally no remaining room in the booklette, hardly anything comes "out" Gay! The book's title is like the early 1970s Laura Lee song that Emile loved so much back in the year: "Rip-Off"!
*
Absolutely nothing Gay -- surely no Gay male lover relationship -- is developed. Emile Griffith and Willson Henderson's interesting and notorious involvement spanned a decade. They started in 1969 and, as one spanning sample, Willson was front-row center at Emile's final fight in Madison Square Garden (but not final fight) in 1977 against a boxer named Christy. Bi the way, Emile won! His other three fights (not at MSG) later that year were all humbling losses. Willson, among many loyal others, were very concerned about Emile's well-being now and for the future. The EAG & WLH relationship was on/off based mostly on when it was mutually convenient and neither one was otherwise involved with another male lover. Emile primarily had troubling "Spanish Matthew" looming and lurking, until Matty shot some guy point-blank dead in their New Jersey lovenest apartment! Emile was home at the time. Scandal! Meanwhile, Willson had actor John Watts, dancer Eddie Wright, entertainer Sterling St. Jacques, dee-jay Gregory Demps, model Michael Toney, dealer David Ali, basketball Darren Prince Taylor, singer Donald Ray Williams, et al. Yes, in their on/off Gay game, Emile had met all of them and, some, many times! Hey, where are those pix? Don't lookie in the bookie! Under the umbrella of "out!", on one occasion at WLH's The Victoria apartment, they even adopted a sometimes heterosexual pasttime and swapped partners!! All four on one occasion earlier posed for a stand-up picture 4gether! Bi the way, the Emile hot Puerto Rican guy James Lochard ended up in prison upstate New York!
*
For an entire exciting decade -- the 1970s -- of
Emile
Griffith
and
Willson Henderson
, the unimaginative yet snippy writer's only
revelation
is that Emile Griffith recalls that they visited Willson's mother in Long Beach, New York, and that, afterwards, they went out! for ice cream. How Gay! Damn, is that break-through exciting news? We fantasize that Willson ate chocolate and Emile ate vanilla! For your info (of course, not in the bare book), it was a free-standing, drive-in, former
Carvel
ice cream store but, no longer under that franchise, it was now cleverly named "
Marvel
". Emile even liked the name. Emile enjoyed driving up to the in-full-view place in a flashy luxury convertible. No, the car was owned and paid for by Willson -- not Emile. The ice cream place is in Lido (not Long) Beach, Long Island, and it is still there! It was also not stated that the "fishing buddies" (though neither fished) Willson and Emile always drove (never train or bus) to L.I. as being like a 'married couple'. Emile reasonably demanded and got his wish that no one be with them on these homestyle private trips. Willson was apt to bring friends to everything and everywhere. The one exception on these trips was, however, Willson's Siamese cat Mon Cher, which delighted Emile. Willson drove; Mon Cher rode on Emile's lap. They always drove to L.I. in the now-famous 1969 blue convertible "Stonewall Car"! Emile called Willson's mother "Mommie". Like a great mother-in-law, she always specially made Emile's favorite dish: Cornish hen! Who knew -- not in this book?!
*


Although the
STONEWALL Veterans' Association
("S.V.A.") is mentioned several times and is ignorantly misspelled each and every time, the uninformative, diminutive, third-rate writer
Ron
'
Ron-Ro' Ross
neglects to define the S.V.A. or even says one thing that the renowned organization did or does! By definition, a book is supposed to 'inform'; not this one! In this uninformative book -- despite 39 years and about 10 million verified website visits annually -- the S.V.A. at "Out!" is a blank slate. Is it a military group? Is it a retired servicemen's organization? Is it part of the U.S. Veterans Administration? Most non-Gay sports book readers would not know. Trust us, we know. The writer oddly never interviewed or queeried any of
Emile
's fellow Stonewall veterans -- not even
Willson Henderson!
That sure was dumb! Comments on WLH by the subjective writer were ham-sandwiched after the latter fag-hagged Emile and Willson's reunion supper at a second-rate, cheap-cost coffee shop in Chelsea -- selected by and the small tab picked up by the person serreptitiously writing a book! WLH was unaware that he was the sitting and eating target for a secret scripting. The salacious writer did
report
that Willson "...took a last bite of his cheeseburger". Scintillating! Was the meat medium rare? Hot! What about the pickle? Notably present at this reunion is Emile's current boyfriend
Luis Rodrigo
, who is actually meeting Willson for the first time. This is bookworthy yet not mentioned. What did they think of each other? What were their reactions? Did Luis envy Willson? Does he still? In fact, vividly not stated in the book, both principals had their current boyfriends!!
Only SVA-ers
Storme DeLarverie

,
referred as a "former female vocalist and male impersonator" (wtf?), and
Willson
,
described as "whiter-than-white" (huh?) and "Peter Pan-ish" (slurish as in 'fairy'?), are shown in any pix (two each) in the bookbore. BTW, the lesson-challenged writer
Ron-Ro
should have learned from Emile's famous 1963 fight not to taunt someone with a Gay slur! Duh! Storme's last name is misspelled (in two places and two times). That is irrefutably reckless as the unobservant writer has probably been to the S.V.A. website over 100 times and he has had S.V.A. flyers for years and he has received S.V.A. e-mails monthly for years -- all of which have Storme's name. Hey, can't he even copy? Yeah, you guessed it. The paperback writer even has Willon's name wrong, two! Damn! Though they are plentiful, there are no photos of EAG and WLH from the 1970s! The writer's imagination is a wasteland. He pathetically turned an exciting person with an exciting story into a borefest. Fastforward thirty years to
Emile
and his current partner
Luis Rodrigo
shown in an S.V.A. photo backed by the S.V.A. banner with film producer
Dan Klores
, stage director
George C. Wolfe
, screenwriter
Stephen A. Guirgis
and
Willson
(who arranged this planned EAG movie project pow-wow) out! at the 2006 New York City Gay Business Expo; however, the latter four are unidentified!!!! A book is intended to be informative. Not this one.
AnDre Christie
of the S.V.A. took the photo but he was wrongly not credited. Though Emile, Luis, Willson and AnDre have double-dated and been out! to dinner a dozen times and out! to other events another dozen times 4gether, you would never know any of it from the allegedly out! book.
All originally-color pictures were downgraded to cheaper-to-print and excruciatingly diminished black and white pictures. More diminishment for the viewer. We never saw the quad-colorful S.V.A. banner in dull black and white prior to this. Ugh! The classic "Stonewall Car" that Emile knows for over 39 years -- and has proudly driven with Willson in the past and rides in for the annual New York City Gay Pride Parade -- is scarcely shown in only one photo (with Emile coming out! of the car) but the famous vehicle is inexplicably unidentified! It is one of the most famous cars in America!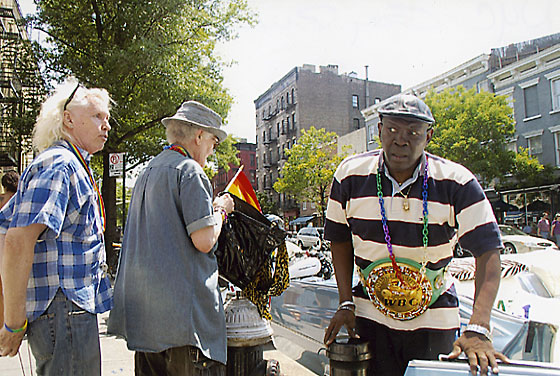 Willson, Storme and Emile arriving at the SVA's post-Parade "S/W-Duncheon"
[Photography by the SVA's O.P. Hal M. Weiner]

This is one of the S.V.A. photos in the disappointing Gay book on Emile. Why this
unflattering to all photo was used defies judgment. Emile is caught off-guard, acting
tentative and looking confused At least Willson is looking out for him! In fact,
Emile just completed a 3-hour part in a nine-hour Gay Pride parade. The book
by idiotic, wannabee, liddle Ron 'Ross' erroneously (one of about ninety errors)
describes this odd photo as "Gettin' ready for the Gay Pride Parade". Huh? What
inaccuracy! The lazy writer should have asked one of the subjects or photographer
(who he telephoned for free photo permission) or Emile's nearby lover Luis (who the
champ is eyeing in this pic) chatting up with some younger Gay guy. The reality is the
exact opposite: this photo depicts a scene after the parade is over for the lead S.V.A.
STONEWALL Rebellion Veterans Association contingency. This scene is in front
of the Hudson Corner Cafe restaurant on Hudson Street. That's the famous 1969 blue
"Stonewall Car" in color not the borebook's cheezy black and white version that Emile
is precariously exiting. The famous convertible is 'unidentified' in the book!? Duh!
.
= = = = = = = = = = = = = = = = = = = = = = = = = = = = = = = = = = = = = = = = = = = =


Stonewall Newzletta 411 submitted exclusively for the S.V.A. by:

Leigh P. McManus, S.V.A. Editor-in-Chief
"The only thing 'out' is if you lay 'out' any cash for this boring book."
with Stonewall Newzletta reporter Vito Abzuzzoluccione
"Hey, it's not the worst book I've ever semi-read, but it's one of 'em!"
plus... reaction from a real closet case former boxer Matthew Samuelson:
"Yo, these two older men can be as wannabee private as they want but don't then march (really ride) in the public Gay (hello!) Pride Parade especially in New York City and be the Gay subject of a Gay film and a Gay book and Gay magazines and Gay interviews and, after all that and then some, then cry "We're not Gay"!? C'mon! Someone gotta be 'tupid not to know.... These two guys met in a prison about 30 years ago with a 30-year age gap and one an x-boxer and now correction officer and the other a hormone-raging tough teenage petty criminal prisoner!
...and commentary by S.V.A. Executive Committee member Mary S. Twist:
"At the last S.V.A. meeting -- with a no-show by the lying writer who had confirmed attendance to be "supportive of the S.V.A. and answer questions about his book comments" -- I read for free in the one and only complementary copy of the paperback about a half-dozen boring pages in the "out!" chapter. I am not the type to dish but let me tell you that I had to be bitch-slapped to keep from dozing! Borrrrring! Zzzzzzzzzzzz!"
...and happy remarks from S.V.A. office manager AnDre M. Christie
"Whenever Emile Griffith and his longtime (how many decades) boyfriend Luis Rodrigo (aka Luisa) are out with Willson Henderson and me at an event like the NYC Gay Pride Parade in Manhattan or the NYC Gay Expo at the Javits Center or out to dinner at a public restaurant after a monthly S.V.A. meeting, Emile and Luis are very themselves. We always have a nice time and fun! There's no question that Emile and Luis are a Gay couple. Anyone who knows them knows that fact. Period!"
* * * * * * * * * * * * *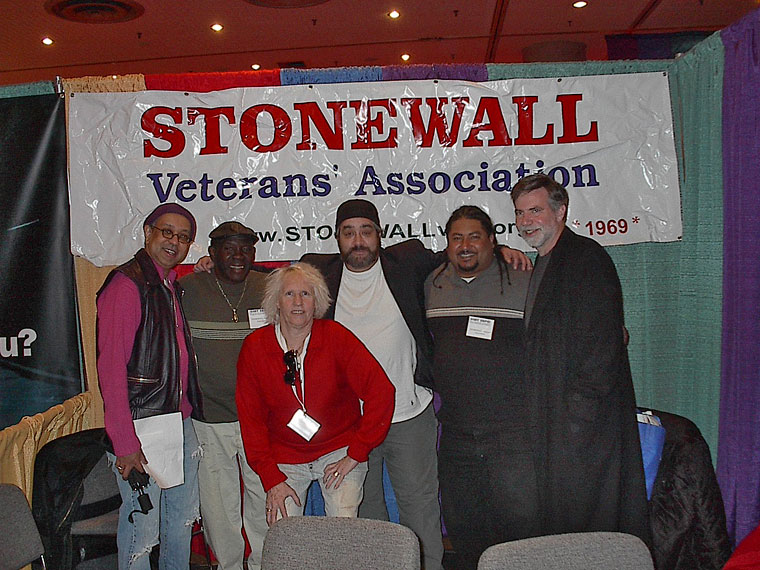 Happily pictured above at the Gay Biz Expo are (l-2-r): George Wolfe, Emile Griffith, Willson Henderson, Stephen Guirgis, Luis Rodrigo and Dan Klores
Note: Willson is unnecessarily crouched down because the two 'heavyweights' behind him would not move down from Emile although they all there thanks to WLH!
[Photo by AnDre M. Christie]
Errata: In the non-out book, AnDre is wrongly not credited for his photo.
Also, in the '8-9-10' book, this color photo is cheaply reduced to black and white.

The

New York City Gay Business Expo

is an annual event. Since Emile and Luis were confirmed as two of the people manning the display of the

STONEWALL Veterans' Association

("S.V.A.") and since

Dan Klores

aka "Mr. Cheap Azz Bytch" wanted evryone to get together regarding the upcoming "Emile" movie project, Willson suggested and Dan agreed that they would all rendezvous at the New York City Gay Business Expo. Although Dan promised to support the non-profit, legendary S.V.A. -- especially since his film subject "Emile" was a charter member and current officer of the S.V.A. -- selfish liar Mr. Klores never gave a dollar! Pictured above are:

George Wolfe

, film and stage director;

Emile Griffith

(photo is darker than he is), the Gay subject of said movie project;

Willson Henderson

, S.V.A. President and S.A.G. actor;

Stephen Guirgis

(wearing mid-Eastern hat), actor and writer; and

Dan Klores

, communications guru and film producer (but very frugal when it came to the S.V.A. It was a full-house G.L.B.T. Expo at the N.Y.C. Javits Convention Center in Manhattan, New York. Emile received plenty of sports-minded, curiosity and Gay attention! Althgough supposedly representing the S.V.A. for just a few hours, the always self-promoting Emile's longtime Gay partner

Luis Rodrigo

whipped out a hidden supply of 8 x 10 Emile Griffith boxing promotional photos from his sports championship years to distribute for sale. Luis was always looking to make a bick via the champ! In return, the buyer also received an in-person autograph from accommodating Emile. The S.V.A. sat by empty-handed. Dan Klores, the producer of the Emile Griffith USA-tv documentary, "Ring of Fire", joined us at the S.V.A. display site for the pre-planned visit. The purpose was to discuss the upcoming movie based on Emile's controversial, celebrated, exciting and unique life. That is why producer Dan brought the film's director George Wolfe and its screenwriter Stephen Guirgis. They did some background interviewing of Willson about Emile's interesting Stonewall days -- and nights -- from 1966 to 1969! The now famous 1969 convertible "Stonewall Car", which Emile drove many times yesteryear, is part of the real story -- ten long and fun years before Emile met Luis. [Dan Klores subsequent to this event again promised to make a sponsorship to the non-profit, civil rights and educational S.V.A.; however, that phony promise was also false.]
---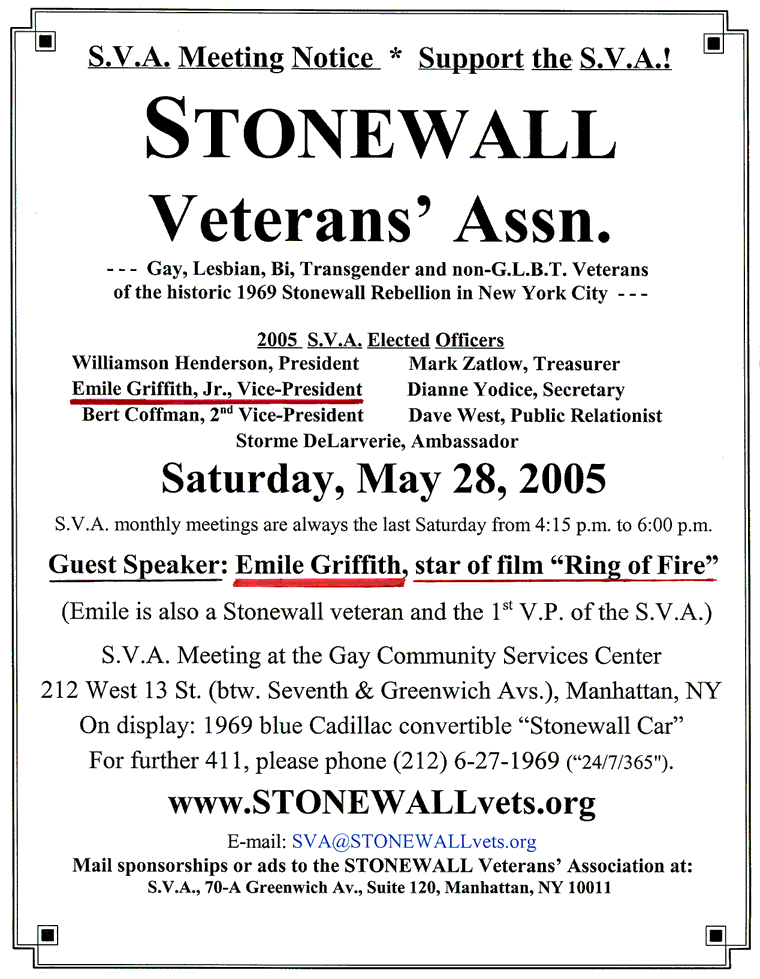 Emile is the guest speaker at his own STONEWALL Veterans' Association
---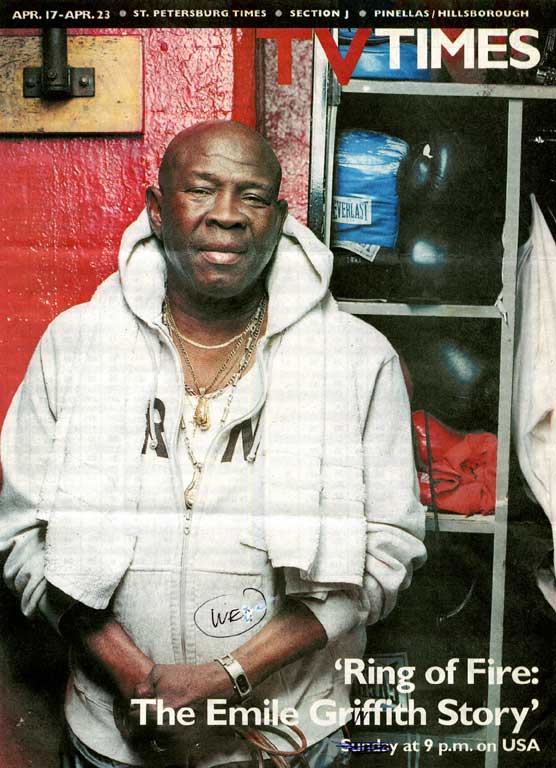 Boxing Champ Emile Griffith on the cover of a Florida T.V. magazine
Note: They front-page printed the wrong day for the movie premier!
[Courtesy of Helen A. Henderson]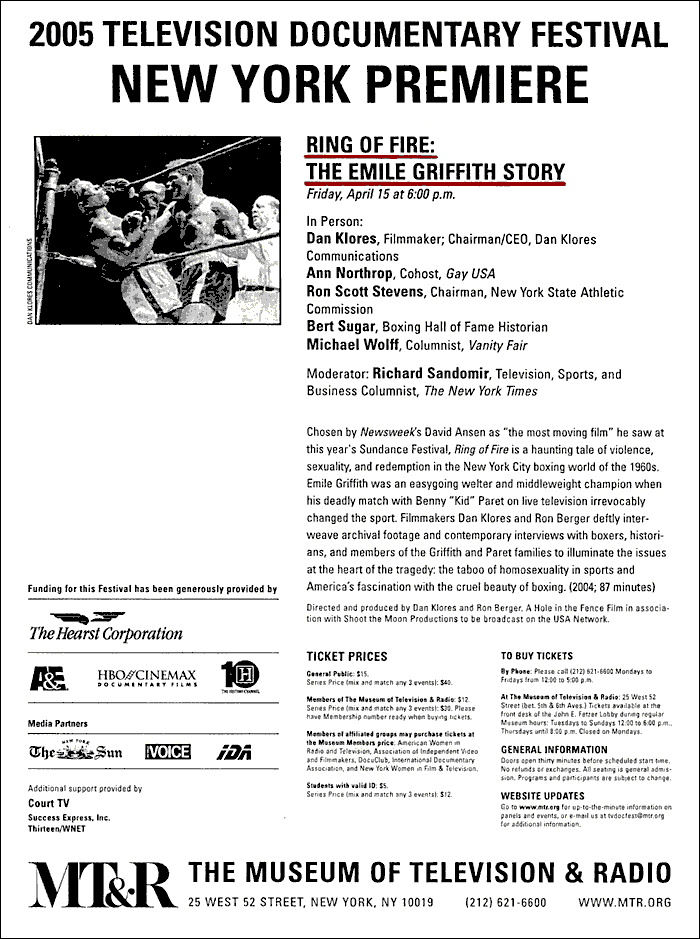 Special Screening of "Ring of Fire" -- (most of) the Emile Griffith Story
---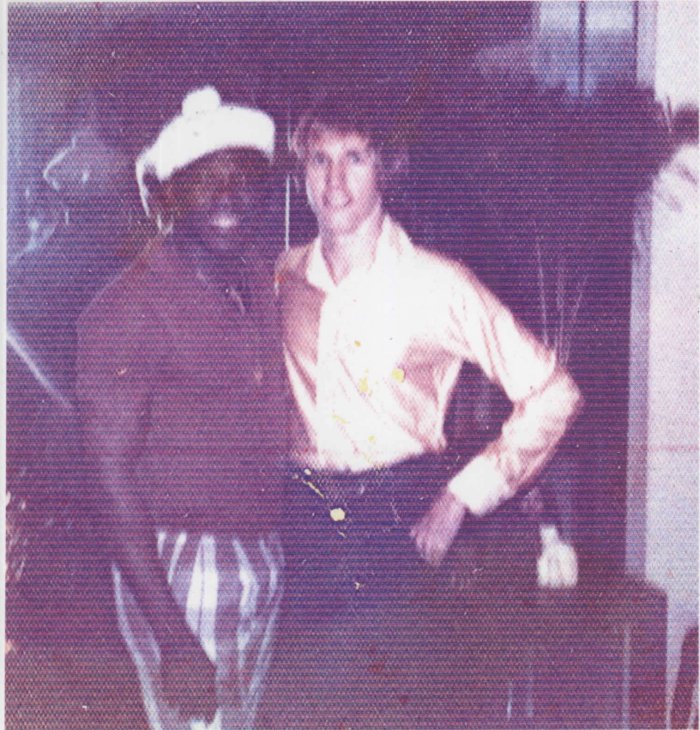 Standing tight: Emile Griffith & Willson Henderson very 2gether in 1975
[Photo by N.Y.C. model Michael D. Toney]
This picture is memorable not only because it is of two legends -- sports Emile Griffith and Gay Willson Henderson, respectively -- and in addition to the fact that it is a certified classic but because it was taken on "Gay Pride Weekend" at a "Gay Pride Party" celebrating in 1974 the 5th anniversary of the 1969 Stonewall Rebellion. Clearly, it is an intimate pic. They couldn't be any closer and still standing! As a matter of fact, the photo was taken on the eve of "Stonewall Sunday", the day of the annual New York City Gay Pride Parade. The location of this photo is Willson Henderson's luxurious apartment at The Victoria -- a stone's throw from Fifth Avenue and, thus, the same stone's throw to the Gay Pride Parade route, which then went up Fifth Avenue. Emile usually kept his 1974 Lincoln Town Car (at this time) in the garage of The Victoria. That is exactly where the 1969 "Stonewall Car" was kept (at that time). Emile enjoyed entering the building privately from a garage elevator directly up to the eighth floor residence of Willson. It avoided the big and busy lobby and E.G. being besieged by yearning staff and admiring fans for photographs and autographs -- and, of course, "questions"! All of the building's staff knew Emile and regularly asked Willson: "When's the champ coming next? Let me know!" Some of the other S.V.A. Stonewall veterans, besides Willson and Emile, who were at the festive party (see picture above) include: Michael Toney, Steven Konigsberg, Storme DeLarverie, Sonia Jane Attkiss, Eddie Wright, Jr., Leigh P. McManus, David Jenkins-Foxworth, Electra O'Mara, Stanley Dunne, Terri Van Dyke, Amir Qaharr, Dave West, Antoine Williams, Lucy Santiago, Leroi Carr, Adrienne Seiden, David Ali, Carole Williams, et al. Among the other celebrities -- besides Emile -- at the party were R&B singer Hank Ballad ("The Twist"), record producer Dave Crawford (most of Candi Staton's hit songs), child actor song Parker "The Hardy Boys" Stevenson,.writer and producer Lincoln Chase ("The Name Game"), Broadway star Ken Paige (currently in "Dreamgirls"), boy model Kelly McInerney, and 6' 6" actor/model Sterling St. Jacques (the not-so-secret Gay lover of black actor Raymond St. Jacques) who slept over in the master bedroom). What a parrrrrty!
///////////////////////////////////////////////////
Emile Griffith at a New York City Gay Manhattan party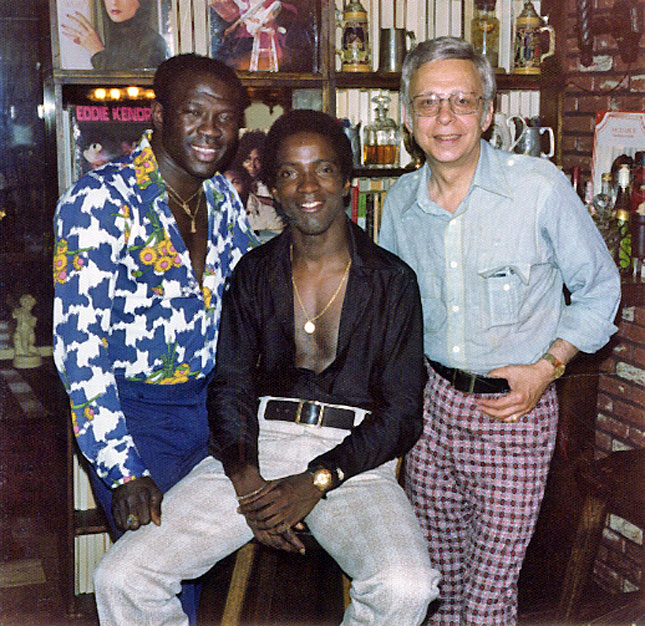 Emile Griffith, Michael Toney and Gerald I. "Gerry" Paige in 1974
[Photo by Willson Henderson in Manhattan, N.Y.]
This photo was taken in Willson Henderson's luxury apartment at The Victoria Apartments between Fifth Avenue and Union Square in Manhattan, NYC. It was a place which Emile unabashedly enjoyed and felt secure and very comfortable at in all ways and at all times. In this photo, notice the record album cover pix of Barbra Streisand, Diana Ross, Marvin Gaye and Eddie Kendricks!
[More prideful Emile Griffith party pix in S.V.A. storage to eventually come "out"!]
---
Paradoxical trio: Emile Griff, Blushing Bride and Willson Henderson
Note: Emile had his designer Charles create this lavender and white
with fringe, two-piece, gayish jumpsuit for Willson for the "wedding"!
[Photo in 1971 by Heavyweight Boxing Champ and Best Man Joe Frasier]
---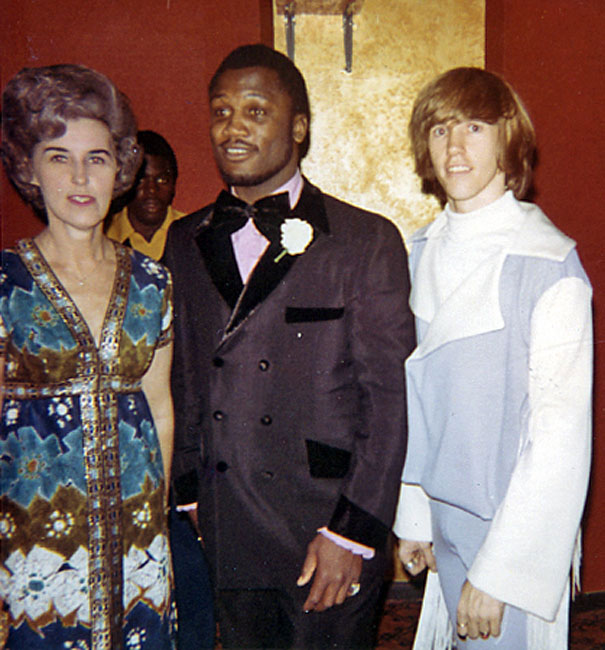 Iron-y: Emile Griffith's Boyfriend's Mother Helen Henderson (aka his Mother-in-Law)
with Emile's 'Best Man' Heavyweight Boxing Champion Joe Frazier (who asked no
questions but def caught the drift) with Emile's Gay Boyfriend Willson Henderson.
On second and third look, Willson's outfit below the waist is a kind of 'knock-out'!
Note: WLH did not want his mother at this Gay undercurrent happening but
Emile insisted big time and invited Mrs. Henderson in person and she accepted!
This was not the first time that the two teamed up and out-voted Willson.
[Photo taken by Emile & Willson's close Stonewall Club fag-hag Adrienne Seiden]

---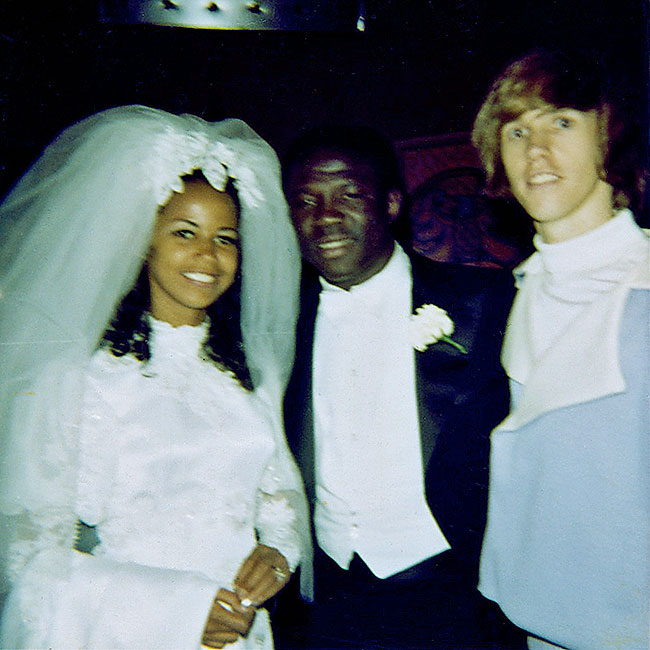 Emile switched with the Bride for a pic next to Willson
[Photo taken by Joe Frazier]
---
1970: Emile Griffith and his Boyfriend Willson Henderson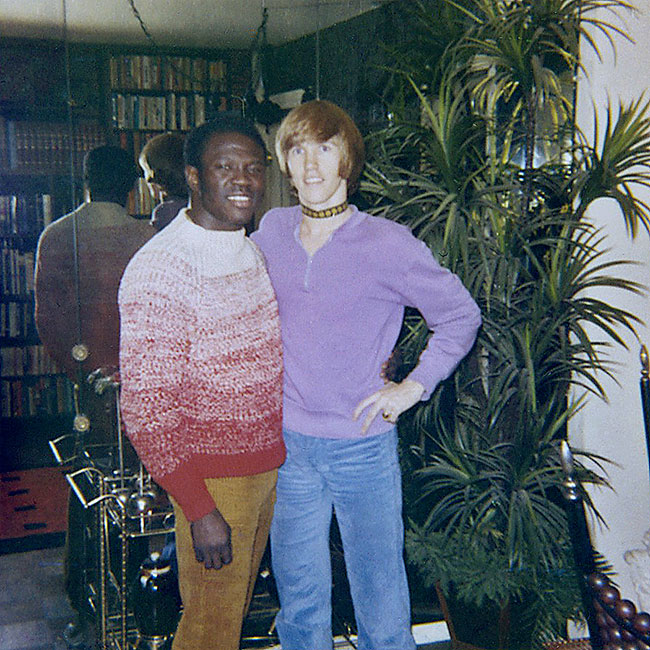 NYC Gay celebrity couple: Emile and Willson dressed stylishly and colorfully
[Photo by mutual Gay friend Vaughn Fubler of Mount Vernon, NY]
Note: This pic was discovered in the treasure trove of pix held by Willson's mother!

Emile Griffth and Willson Henderson's social agenda was anchored primarily in Gay life. In addition, throughout the 1970s, once they met -- in January 1969 at The STONEWALL Club -- Willson attended all of Emile's boxing matches -- "always a huge production and like a big family matter" -- at Madison Square Garden in Manhattan, New York; the Spectrum in Philadelphia, Pennsylvania; and Boston Garden in Boston, Massachusetts. Willson did not have the enthusiasm for such physical fights the way some financially-benefiting members of Emile's family had, especially his very loud, over-the-top mother. Willson was often heard stating: "You don't like seeing someone that U love getting hit!" Emile finally retired from boxing (long after he should have) in the Summer of 1977.
---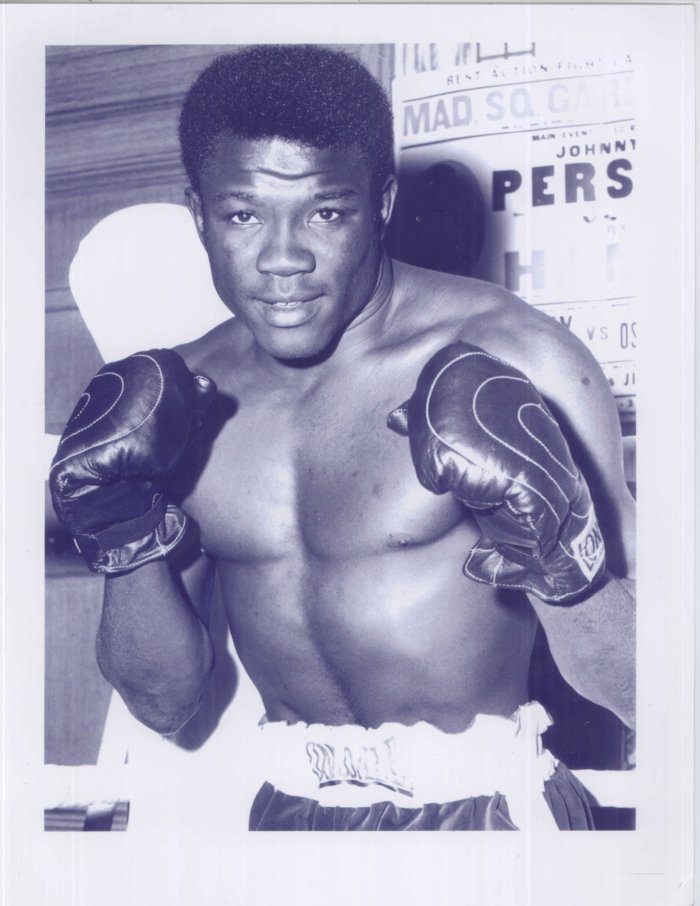 Close-Up + Sizzlin': World Middle-Weight Boxing Champion Emile Griffith
[Emile Griffith publicity photo from the David Selwyn Boxing Kid Collection]
---
Emile Griffith's Stellar Boxing Bouts

BoxRec.com/list_bouts.php/Griffith_id=9017/boxer

and with more boxing matches -27- at Madison Square Garden than any boxer!
---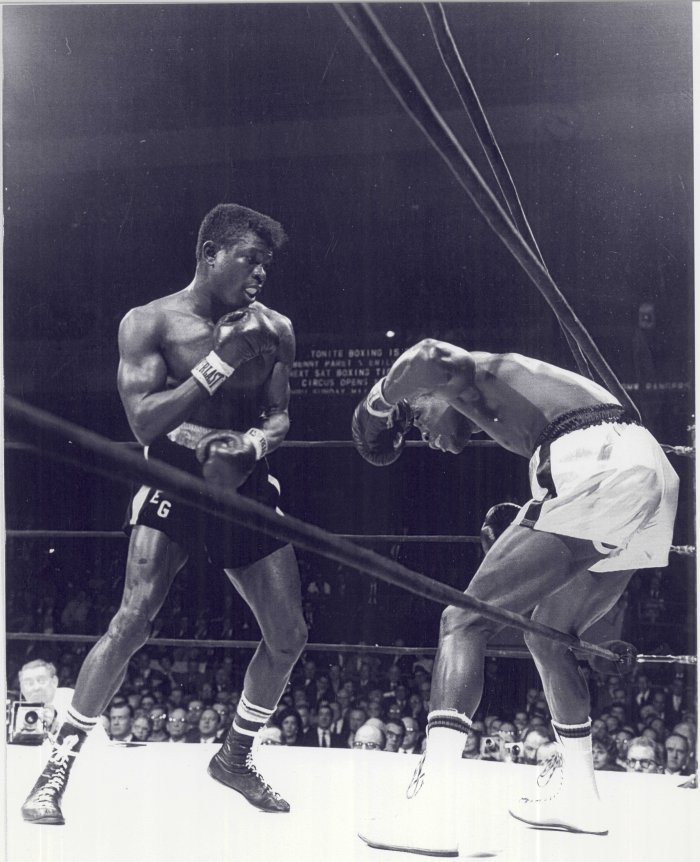 Champion boxer Emile "E.G." Griffith is shown wearing black boxing trunks and going down in the white trunks with his butt sticking out and part of his white jock strap hanging out is Benny Paret
---
Emile A. Griffith, Jr. ("EAG"), was a consummate boxing fighter. Among other outstanding facts in his illustrious career, Emile met 10 world boxing champions in the boxing ring! EAG boxed 339 "title-fight" rounds -- more than any other boxer in history!!
Many sports magazines, including Sports Illustrated and others, contact the STONEWALL Rebellion Veterans Association ("S.V.A.") throughout the year. Unfortunately, they are typically demanding and empty-handed. Sports Illustrated has been to S.V.A. meetings! The S.V.A. usually does not grant media interviews or provide additional information or personal details when their motive is clearly sensationalism -- or they somehow think that they are doing the S.V.A. a favor! Thus, S.I. was denied any interviews by the S.V.A. After SI's pushy and tacky reporter kept on insisting, SVA's Willson Henderson told him: "No!" (Their subsequent unflattering story on the legendary Emile Griffith and his too-much-info current health condition received mixed reviews.)
---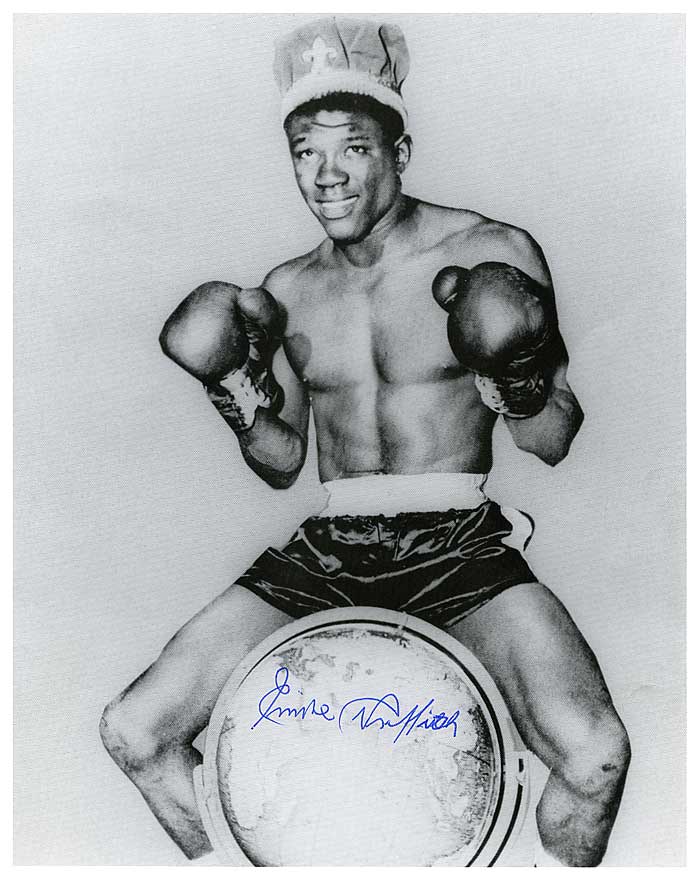 Emile Griffith was literally "sitting on top of the world"! What a spread!
[Signed Emile Griffith photo courtesy of STONEWALL Veterans Assn. Archives]
---
* * * * * * * * * * * * * * * * * * * * * * * * * * *

2019 -- Six years After.....

German Review of and Tribute to Emile Griffith


-- in their "Bern L.G.B.T." Series

Bern.LGBT/2019/09/Emile-Griffith-boxweltmeister-und-damenhutdesigner

* * * * * * * * * * * * * * * * * * * * * * * * * * * *




---





Emile Griffith

lived in Hempstead, Long Island, New York,
in his remaining years with his longtime -- 35 years -- partner


Luis A. Rodrigo

until Emile succumbed in 2013 at age of 75!




*

---
Gravesite of Emile Griffith
at prestigious St. Michael's Cemetery
in East Elmhurst, Queens, New York
www.FindAGrave.com/Memorial/114269611/Emile-Griffith


11th July
2022
53rd Anniversary of the S.R.V.A.

Https://www.StonewallVets.org/upcomingevents.htm
*
If you have photos of Emile Griffith, please send them or copies of the pix
to the S.V.A. (see address below). Originals will be returned, if you so request.
You may e-mail photos with all relevant 411 to: SVA@StonewallVets.org.
All photos get photo credits and, if desired, the S.V.A. will actively connect
a link to your website!
STONEWALL Veterans' Association
511 Avenue of the Americas, Suite 128, Manhattan, NY 10011
*
===== 2022: 53rd Anniversary of the GLBT Stonewall Rebellion =====
[Friday night, June 27 ~through~ Thursday evening, July 3, 1969, Manhattan, New York City]
*
Remembrance:
23rd July
2013
Emile's Final Fight!

*