Farrell Jeante

(a.k.a.

Jeanty

)

Armstrong

, in the middle of the 1960s on the 14th of August in 1965, was the first-born son of parents from the West Indian islands of Haiti and Martinique in the Carribean. At a very young age, Farrell's entire family emigrated to America for a much better life.... to the famous and biggest New York City borough of Brooklyn! In 1983, Farrell graduated from William E. Grady High School in Brooklyn, New York. In 1988, Farrell finally finished Queensboro Community College majoring in physical education. No kidding!

Through a modeling audition, Farrell met

Willson L. Henderson

("WLH"), a former model and current actor and part-time talent agent for models and actors. WLH is also the director of the

STONEWALL Rebellion Veterans Association

of the 1969 Stonewall Rebellion -- when 'Baby Farrell' was just a little tyke. Farrell was the ten (10) times-a-year 'chauffeur' of the big, blue, grand, renowned and luxurious classic 1969 convertible also known as the famous "Stonewall Car". Farrell was also the fitting and very fit "Imperial King" for many years of the

Imperial QUEENS & Kings of Greater New York

("IQKNY"). He is also a longtime Friend-of-SVA

.

Farrell had been in that elected, coveted IQKNY position for consistently over a decade throughout all of the 1990s. 'King Farrell', alternated occasionally with his longtime transgender friend, King

Storme DeLarverie

, who is both an S.V.A. officer and an IQKNY official. Farrell is honored to be one of only three people -- along with WLH and '

Ray-Jay' McCaffrey

-- permitted to drive the beautiful, legendary, classic, valuable and renowned 1969 "Stonewall Car". All three licensed drivers were registered, as required, with the specialty automobile insurance for classic cars company and all three are listed and signed at the Greenwich Village garage that houses the famous "Stonewall Car".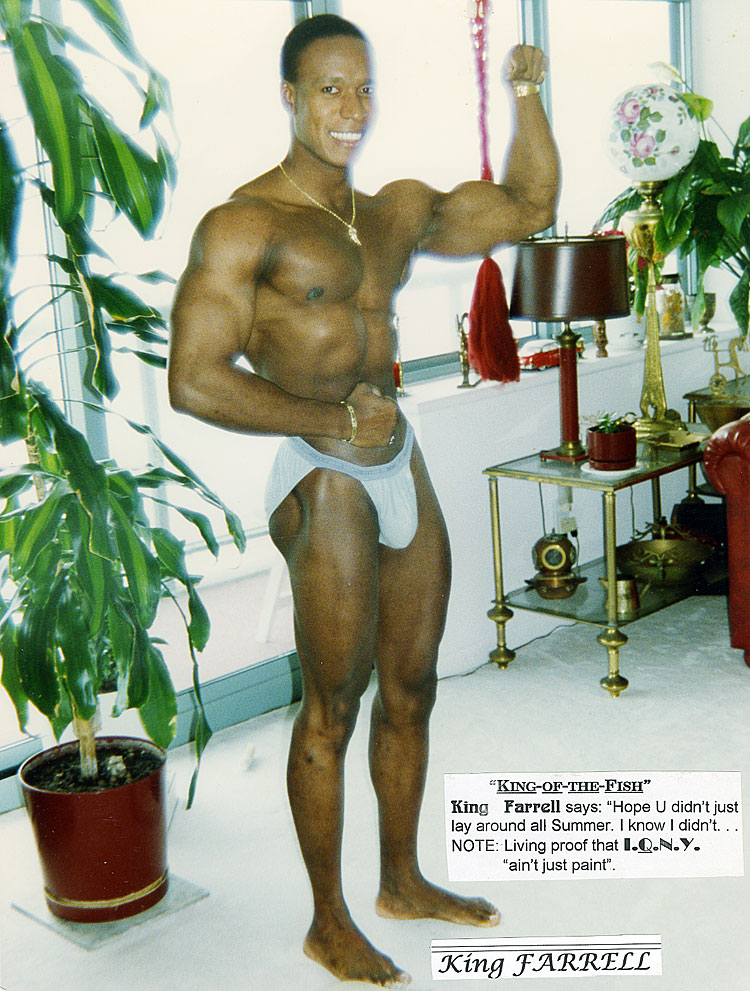 Farrell's "Build of Life"
Long Beach Towers, Long Island, N.Y.
[Photo by Willson Henderson]

---


Besides some commercial modeling,

Farrell

Armstrong worked in the New York City personnel industry. Originally on Fifth Avenue in Midtown Manhattan, the agency is now longtime located on the dual Gay borders of Chelsea and Greenwich Village in Manhattan, New York. Farrell's chief hobby and dedication is bodybuilding (see photo below; you'll know). He literally 'works out' in a residential gym five days per week for the past two-plus decades. It shows!! Farrell has been cordially referred to as the "Stonewall Bodybuilder" -- even though he's not a Stonewall vet. He didn't even live in America then and he was much too young. N.Y.C. Mayor Rudy W. Giuliani seeing, knowing and liking Farrell, in fact, wanted to hire Farrell in 1983 and 1987 as one of his campaign bodyguards. Farrell, who is very admirable and fond of RWG, was ready to go if approved. However, the offer was 'stopped in the name of love' by the King's partner -- and an inspiration for Rudy's sister -- namely the Queen, Allyson. Her imperial edict: "No!'



Farrell

is selectively involved in New York City politics! To keep his bi-partisan options fully open, he is a welcomed member of both the PRIDE Democrats of NYC and the Stonewall Republicans. "I have Mayor Koch's political candidate philosophy: Vote for the best person, not what political party they belong to, especially when one is so much better-qualified", Farrell firmly stated. Farrell has been actively involved in the campaigns of Ed Koch for re-election as N.Y.C. Mayor in the Democratic Primary in 1989 (heart-breaking result depriving the deserving EIK of a fourth and legendary term); Rudy Giuliani for N.Y.C Mayor in 1989, 1993 and 1997; Liz Abzug for N.Y.C. Council District 3 in Manhattan in 1991; Geraldine Ferraro for U.S. Senate in 1992 and 1998; openly-Gay Karen Burstein for N.Y.S. Attorney General in 1994 and Surrogate Court Judge in 1996; Virginia Fields for Manhattan Borough President in 1997 and 2001; Margarita Lopez for N.Y.C. Council in 1997 and 2001; Eliot Spitzer for N.Y.S. Attorney General in 1998 and 2002 and Governor in 2006; Betsy Gotbaum for Public Advocate in 2001 and 2005; and Michael Bloomberg for N.Y.C. Mayor in 2001 and 2005. All of the above were/are very glad to have impressive, muscular, gentlemanly Mr. Arm-strong actively on board their mostly-winning trains.