---
2018
Hakeem Jeffries' Third Re-Election to U.S. Congress
*

[PLACE] re-election flyer here at asterisk (*)



New York Eighth Congressional District:
The 8th District includes: Fort Greene, Clinton Hill, Bedford-Stuyvesant, Brownsville, East New York,
Canarsie, Mill Basin and Coney Island in Brooklyn, and South Ozone Park and Howard Beach in Queens.
---
Congressman Hakeem's 2018 Letter of Appreciation to the S.V.A.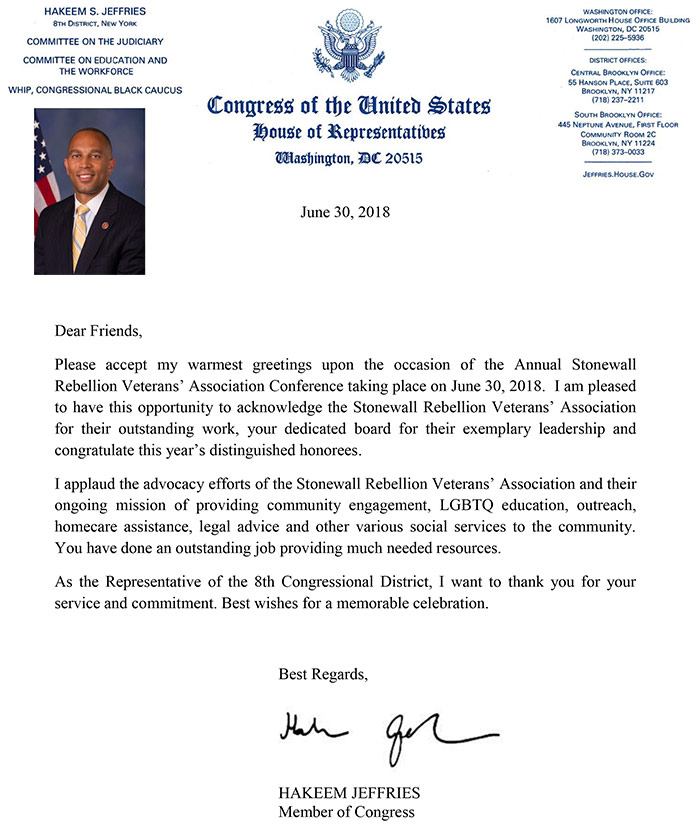 Congressman Hakeem Jeffries appropriately and uniquely summarized some of the many services provided by the STONEWALL Rebellion Veterans Association to veterans of the historic Stonewall Uprising, who otherwise would not receive such individualized and compassionate assistance, and nor would the worldwide public-at-large receive the tremendous educational information and services as exempfified by this website as also zeroed in by the congressman!

---
2016


*

---
2015

Letter from Congressman Hakeem Jeffries to the S.V.A.


*






---
2014
Video Message from Congressman Hakeem Jeffries
www.YouTube.com/watch?v=EHLwsS687zQ
*
[PLACE] H.S.J. 2014 campaign flyer above at *
---
2012
Hakeem Jeffries is Featured Speaker at SVA's Annual NYC Conference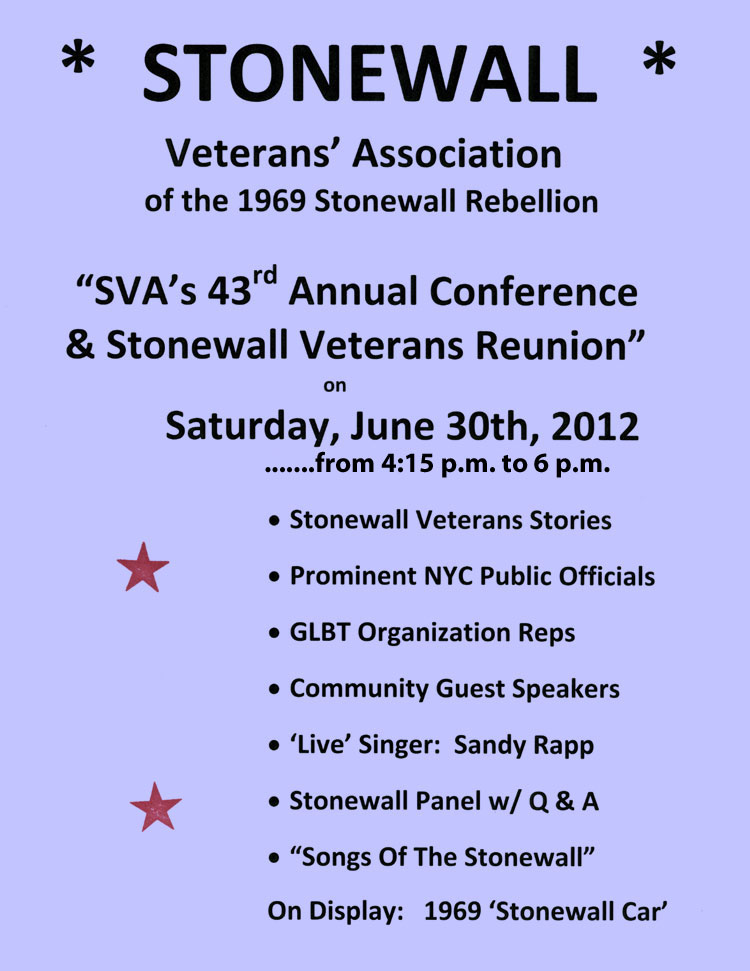 The "
SVA's 43rd Annual Conference & Stonewall Veterans Reunion
", hosted by SVA's director
Williamson Henderson
, features, in addition to actual veterans of the historic Stonewall Rebellion, many prominent New York public officials including this year: U.S. congressmembers
Carolyn J. Maloney
,
Yvette D. Clarke
and
Hakeem S. Jeffries
!
*
Hakeem S. Jeffries for U.S. Congress

*

Brooklyn - 10th District
(alphabetically)
* Bedford-Stuyvesant
* Boerum Hill (parts)
* Brooklyn Heights (parts)
* Brownsville
* Canarsie
* Central Brooklyn
* Downtown Brooklyn
* East New York
* Flatbush (parts)
* Fort Greene (parts)
* Flatlands
* Ocean Hill
* Prospect Heights
* Prospect Park South
* South Slope
* Williamsburg (parts)
Question: How can one congressional district in New York City
have so many and such diverse communities in its district?
Answers: The 10th district is (1) shaped like a sideways "V";
(2) very large; and (3) the result of bizarre gerrymandering!
*
New York Observer Story: Hakeem became the Barack of Brooklyn:
www.Observer.com/2011/politics/how-Hakeem-became-Barack-Brooklyn
*
Hakeem S. Jeffries for Congress:
JeffriesForCongress
---
2011


Letter to S.V.A. from NYS Assemblymember Hakeem Jeffries
Vote for Hakeem in the Democrat Primary on Tue., Sep. 10, 2002
Letter from Hakeem Jeffries to the STONEWALL Vets' Assn.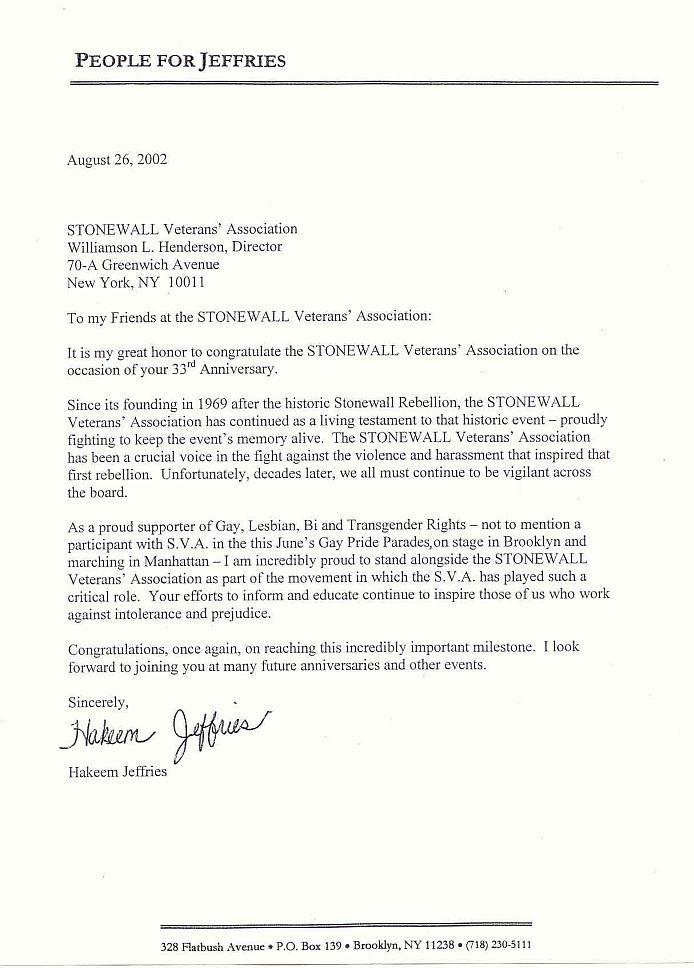 Hakeem's appreciative letter to the STONEWALL Veterans




---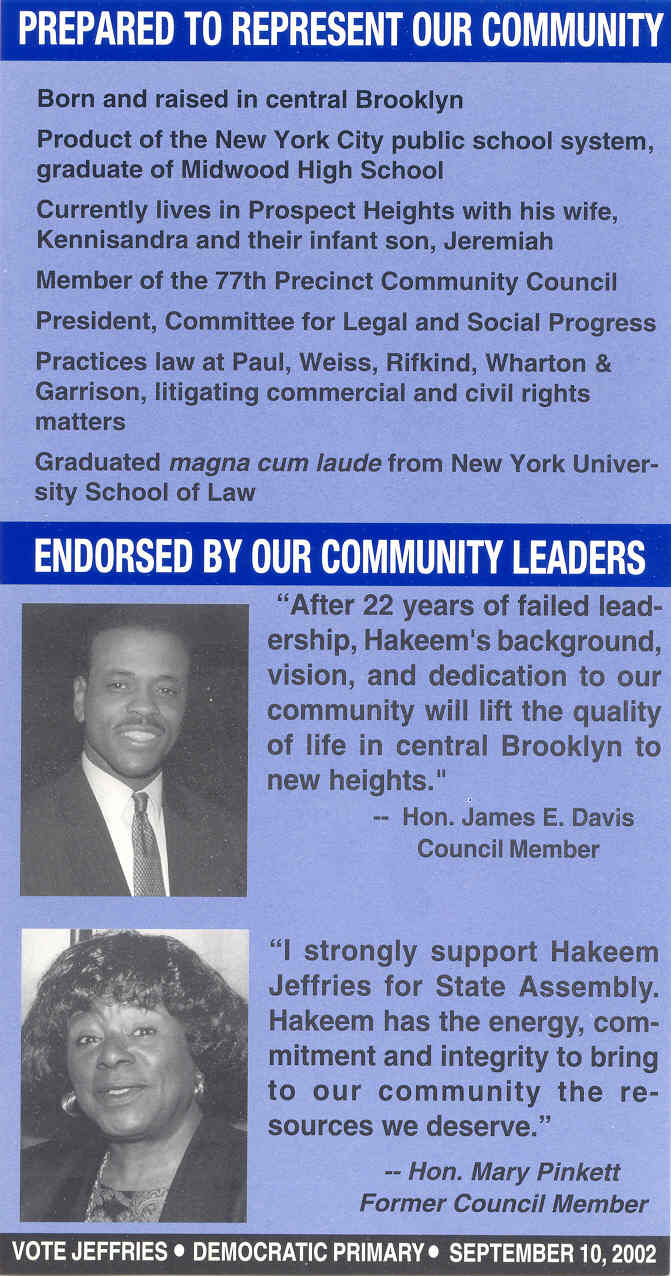 NYC Councilmember James E. "Jed" Davis endorses Hakeem!
Former Councilmember Mary Pinkett endorses Mr. Jeffries!!
*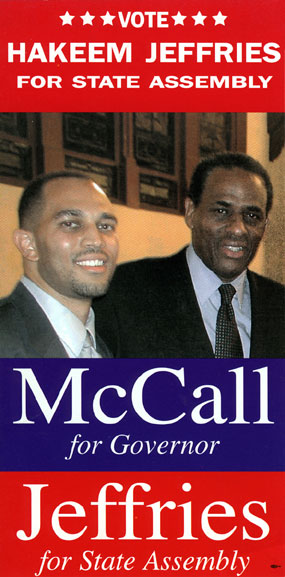 NYS Comptroller

Carl McCall

endorses Hakeem Jeffries!

*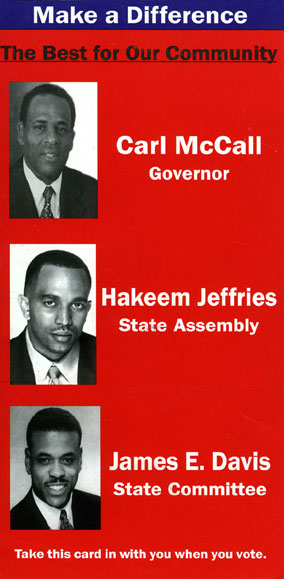 In the G.L.B.T. Communities:
STONEWALL V.A. supports Hakeem!
PRIDE Democrats endorses Jeffries!
G.L.B.T. Political Coalition unanimously supports H.S.J.!
Note: All of the other Gay groups seemingly want greater discrimination.
deeper corruption, expanded exclusion, worse incompetencies and more insults
by the shameful Ass-emblyman Lil' Roger Green and his bag lady 'Tush' James!