STONEWALL

Veterans'

Association


Former S.V.A. Supporter (in the 1990s)

Congressmember Jerrold L. Nadler (a.k.a. The Natler)


(unaffectionately known as "The Phat Man" from "The Phat Farm")




---


2020

Mr. Natler: Stop Being a Big Coward and Debate your Democrat Opponent!

The Natler is so hypocritically undemocratic, among many other negative variables such as congenital lying!
www.KingsCountyPolitics.com/op-ed-congressman-nadler-why-are-you-refusing-to-debate-lindsey-boylan




---


2019

The Natler's Challenger Lindsey Boylan Scores Big Time

The honorable Lindsey Boylan has offically challenged The Natler in Democrat Primary Election!


www.NYDailyNews.com/News/Politics/NY-Nadler-Boylan-Primary-Challenger-Manhattan-2

0190709







---


2007

Webmistress: Place the "Ninny Nadler" story
re: JLN's off-radar obsession in the 'rights of terrorists,
i.e., murderers -- even with appx. 3,000 people murdered,
hundreds of more NYC 'first responders' are still dying,
and 10,000 maimed by terrorists and two landmark buildings
attacked and destroyed -- just in

his

Congressional district!]




---




1999




An Open Note to Jerrold Natler:

Gee, Congressman Natler, don'tcha think U should have congratulated, maybe, the real Gay people -- the alleged 'heroes' -- who orchestrated and performed the now applaudatory and historic Stonewall Rebellion of 1969 -- rather than the current (of so many) Stonewall Club heterosexual, I-talian, Republican (U know how U hate them) owners from Staten Island? "Gay Pride" and Demonic DeSimone? That's oximoronic! If it wasn't so pathetic... it would be laughable. U were not only "the first to congratulate" him (quoting your scribe) but, upon information and belief, U were the only! Meanwhile, U gave zero credit to the

STONEWALL Rebellion Veterans' Association

nor any Stonewall veterans nor the SVA's prominent leaders or any of its members. And that's called really rude!

It appears, Congressman, that if this were 1969 when the Mafia still owned and ran the Gay clubs, instead of acknowledging the Stonewall People, U would have been praising the Stonewall good-fellas Zuckie, Mad Mario, Fat Tony and "Viscious Vivian" (nee Vinnie)! Shame on U!

Congressman, your 'press release' speaks for itself (see below). The Stonewall veterans have rated it really rude, self-serving and shameful.

It's been over a decade (June 1998) since your office or U donated one dollar to the S.V.A. nor attended any of our events including educational symposiums on the Stonewall Rebellion at locations such as the Gay Community Center and The New School nor any of the S.V.A.'s fascinating public forums. Yes, U've been invited like every other public official by specially mailed flyers, monthly faxes and e-mail blasts. There has been no attendance and no response. Again, it's really rude!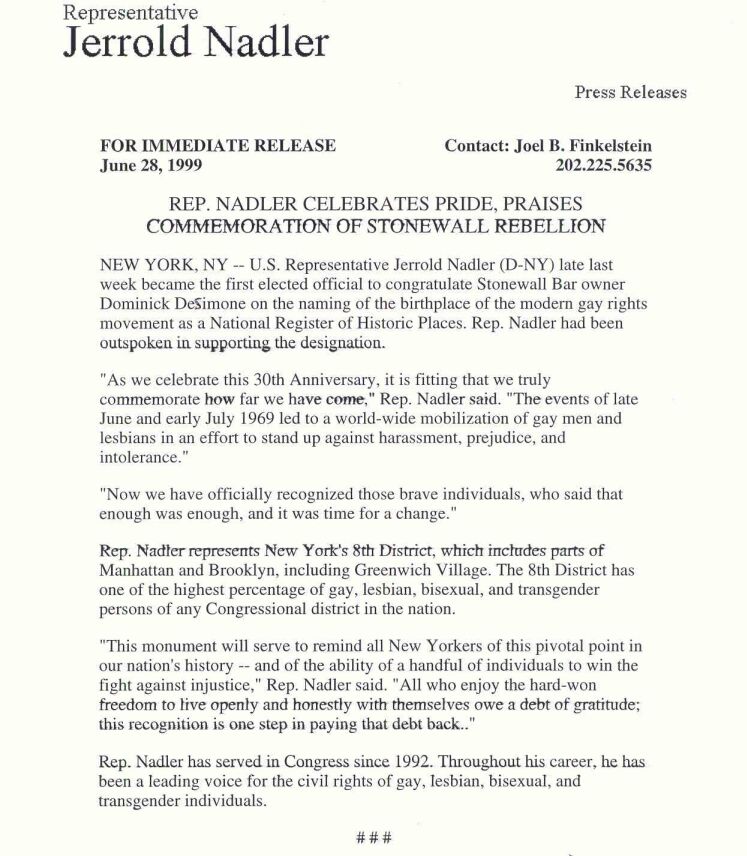 ---
1998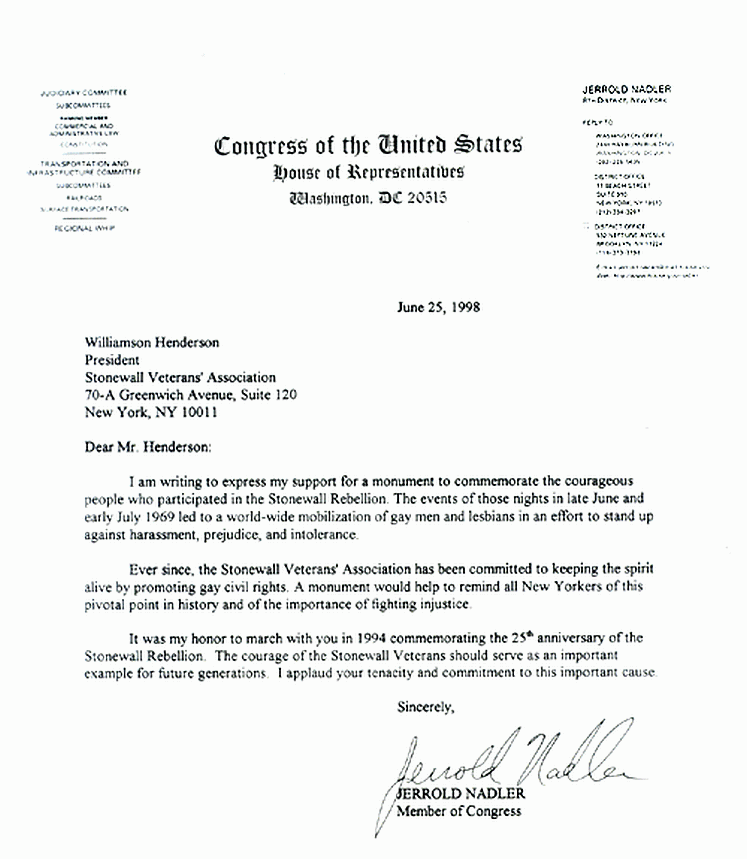 NOTE: The forgetful liar

Jerrold "The Natler"

Nadler

congratulates the


STONEWALL

Rebellion Veterans Association

("S.V.A.") on our idea
to have a permanent "Stonewall Monument" tributing the 'courageous' Gay
folks of the 1969 Stonewall Rebellion -- in the park currently known as
Sheridan Square (it's a triangle) appropriately across the street from The
STONEWALL Club! The Natler oughta read his own damn letters!

The evidentiary letter is addressed to the SVA's founder and director

Willson




Henderson

, who The Natler now mindlessly villifies and recklessly slanders!

Twenty years later, the brazen -- and foolish -- liar The Natler promoted
himself (as usual) as taking credit for the "Stonewall Monument" as his.
His lies were professed by two Gay liars on his staff! Shame on them!
Besides lying, going against their own Gay community! Shame on them!
And gross shame on the gross Natler! He's no friend of the Gays!