Sonia Jane Attkiss
STONEWALL Veterans' Association
Charter Stonewall Member of the S.V.A.
Original S.V.A. Secretary (1969 - 1982)
1964 -- Year of Diana Ross & The Supremes' first of fifteen #1 songs!
Sonia Jane makes a 'princess' appearance -- even as a teenager!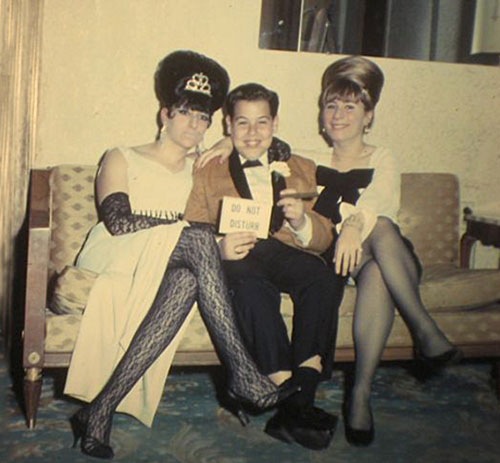 Sonia Attkiss, Cousin Howie and Cousin Adrienne
Note: Extravagant Sonia displayed all the traits of a drag queen!
[Photo courtesy of Howie House]
*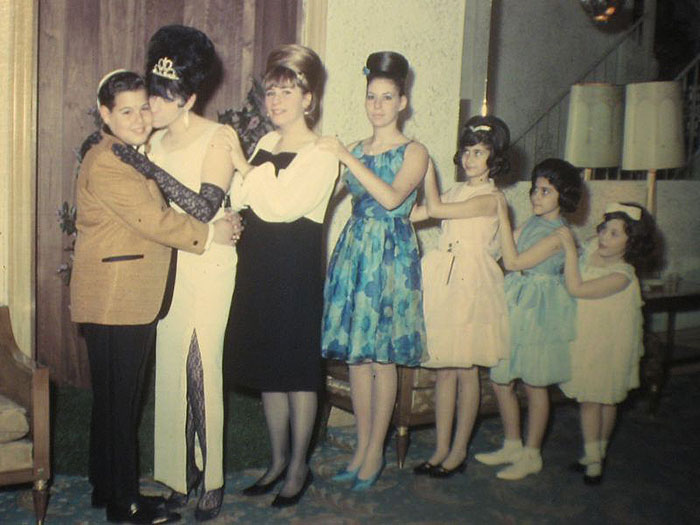 Pre-Stonewall vets Sonia Attkiss and Adrienne Seiden in High School
Doesn't the third girl look like Barbra Streisand? Duh! I'm verklempt!
It is Barbra already! This is when they lived in Brooklyn by Sunset Park.
[Photo by Max Attkiss]
Surely, with the open-slit gown, teased and dyed hair, the lacenet stockings, the arm coverings, the crystal-like dangle earrings, the crown hairpin and the air kiss -- all at only 16 years old -- were all early and clear signs that, at the very least, Sonia Jane Attkiss would become a fag-hag at least and perceived as a drag-queen at most! Take another look at the happy pic above and compare Sonia's racy outfit versus the other girls. Sonia was always proudly 'different from the rest'. Ironically, these teenage photographs of Sonia are forerunners to her being chosen five years later at The STONEWALL Club in 1969 as "Miss Stonewall"!
---
Sonia Jane Attkiss
was born on November 5th and raised in Borough Park, Brooklyn, New York. Her ultra-liberal parents
Helen
and
Max Attkiss
, had their house in an Orthodox Jewish community with older son
Joel Attkiss
(also known as
Robert
Attkiss
) and younger daughter
Sonia
. The low-keyed Gay son moved to Gay-friendly Amsterdam soon after the Stonewall Era. The Attkisses were always very understanding, tolerant and supportive of Sonia's very un-orthodox lifestyle. Sonia's 'in-the-life' centered around illegal Gay bars and unauthorized after-hour clubs! It also spilled over back to the neighborhood. Many times over the years, Sonia Jane brought home 'live' souveniers from the Gay and "after-hour" clubs. These included several Puerto Rican girls and a few Black dykes who were assumed as men by Sonia's parents and most everyone else! One, named Troy, wore a man's fashionable derby, used a gentleman's walking cane and had a convincing painted mustache. All this was in the heart of an Orthodox Jewish community in Borough Park, Brooklyn already.............
Upcoming photos of
Sonia Jane
will include pix with Stonewall friends Italian
Candi Mangipano
, first cousin
Adrienne Seiden
, Puerta Ricana
Lydia Estrella
and West Indian
Monique Silas
-- plus Sonia's post-Stonewall boyfriend Afro-American
Lloyd T. Anderson
!
---
1969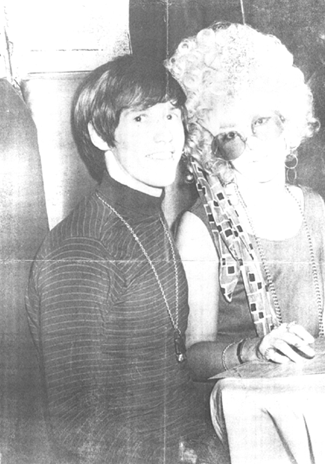 Willson and Sonia Jane at The STONEWALL Club - 1968
[Photography by a special Stonewall photographer]


Proudly pictured above
Willson Lee Henderson
and
Sonia Jane Attkiss
at their home-away-from-home,
The STONEWALL Bar & Dance Club
, on New Year's Eve, December 31, 1968. This is the
only
known existing photo taken
inside
the ~original~ STONEWALL Club (nobody called it an 'Inn'). Shown is one of the few booths that were in the club. The exact location inside the club was in the second room -- the dance room -- against the right side wall of the club. Do not let the linen tablecloth give you the right impression. Only thrice a year on certain holidays, namely Thanksgiving, Christmas and New Year's Eve, the Mafia-owned Stonewall Club "went all out" and did "the right family thing" with the tablecloths. Sonia and Willson, regulars at The STONEWALL Club, started the next new year together as best Gay friends: 1969!
Greenwich Village Feature Story: The Stonewall Club
....featuring the historic photo of Sonia Jane and Willson at The Stonewall!

Macaulay.CUNY.edu/student-projects/neighborhoods/Greenwich_Village.html


The feature allegedly quoted The New York Times about the 1969 Stonewall Rebellion arrests as "300" when it was actually 22 spread over the first three nights and no arrests the last two evenings. But unlike most post-Stonewall media and careless factually-challenged books and intentionally error-prone articles, they did get the date accurate for the first night start of the rebellion: Friday, June 27th!
---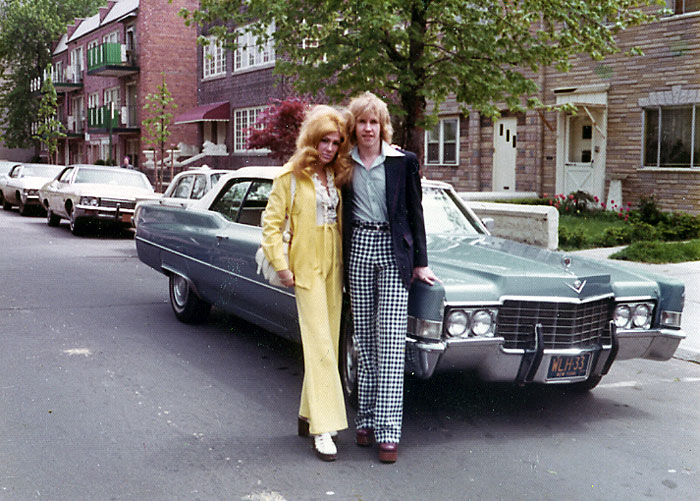 Sonia Jane and Willson Henderson with the "S/W-Car" in Brooklyn (Mother's Day 1974)
Observe: In vogue protective big bumper guards and no spoke wheels - yet!
Location is at 1340 55th St. off New Utrich Av. in Borough Park, Brooklyn.
Guess who owns the car? Clue: N.Y.S. license plate... "WLH-33"!
Answer:

Willson L. Henderson

and his favorite number 33.

[Photo on May 12, 1974 by
Sonia's father
Max-the-Plumber Attkiss]
*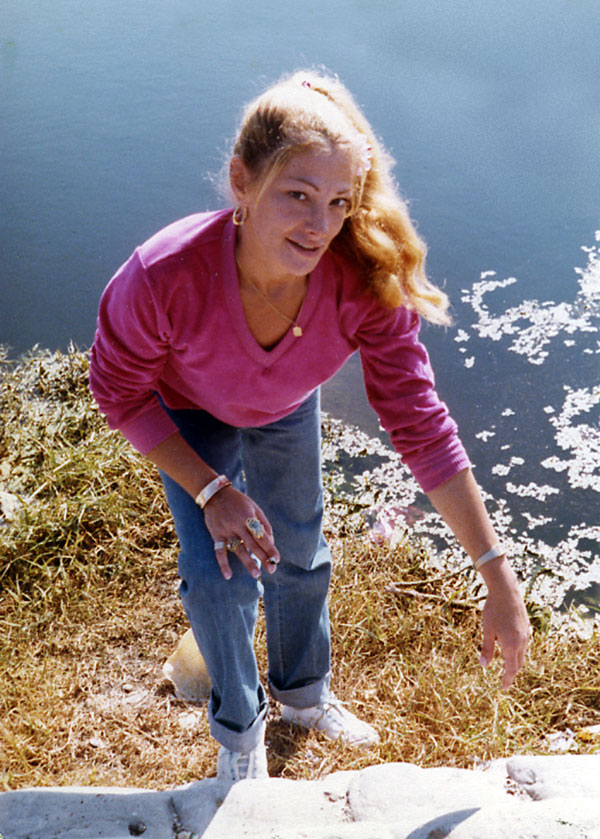 Sonia while on a trip visiting her parents in Florida in 1982
Note: See the ever-present cigarette in her hand!
---
=/=/=/=/=/=/=/=/=/= Sonia and Adrienne =/=/=/=/=/=/=/=/=/=
The
National STONEWALL Rebellion Veterans Association
("S.V.A.") is extra proud of
Sonia Jane Attkiss
and
Adrienne Michelle Seiden --
two real
"Stonewall girls"! Sonia and Adrienne are both originally from Borough Park, Brooklyn and really are biological first cousins! Both went to many New York City Gay bars and after-hour Gay clubs regularly. Sonia was such a regular at
The STONEWALL Club
from the time it opened in 1966 that in 1969 she easily won the title "
Miss Stonewall
"! The STONEWALL Club is where in 1968 and 1969 they met Stonewall veterans such as popular New York City model
Willson L. Henderson
, famous boxer
Emile Griffith
, drag king performer
Storme DeLarverie
, well-built
John R. Watts, Jr.
, handsome
Leigh P. McManus
, Broadway dancer
Eddie H. Wright, Jr.
, pretty
Brooke Lyn
, witty
Stanley Dunne
, lively
Lucy Santiago
and hot 'n' handsome
Rufus
'
Sonny
'
Carson
, an alternate -- and only Black -- bouncer! They all became lifelong friends!
Request: If you have any momentos, letters or photos of or any 411 on either or both of these authentic Stonewall girls,
Adrienne Seiden
&
Sonia Attkiss
("A&S" -- like the famous NYC department store), please U.S. mail (see address below) or e-mail them to the S.V.A. at
SVA@StonewallVets.org
. We will carefully and promptly return all items upon your request. In the meantime, you can phone the S.V.A. at (212) 627-1969 (24/7/365). If you receive the voicemail, please leave a detailed message with your call-back telephone number. You may wish to attend a monthly S.V.A. meeting on the last Saturday of every month or speak on A&S's behalf at the SVA's annual conference and Stonewall reunion at the end of G.L.B.T. Pride Month!
STONEWALL Veterans' Association
511 Av. of the Americas., Suite 128
Manhattan, NY 10011-8410
(212) 627-1969
SVA@StonewallVets.org


11th July
2021
52nd Anniversary of the S.R.V.A.
https://www.StonewallVets.org/upcomingevents.htm
*
=====2021: 52nd Anniversary of the GLBT Stonewall Rebellion=====
[Friday night, June 27 ~through~ Thursday evening, July 3, 1969, Manhattan, New York City]
*