K. Stormé DeLarverie was born 'way down yonder' in New Orleans, Louisiana. It was incredibly not long after the end of World War I (One) on Christmas Eve, December 24 of 1920 -- ironically and prophetically, the year that American women won the right to vote in America! To quote Stormé: "I've been fighting for the Gay community ever since!" Stormé has a silvery baritone voice with a jazz-oriented sound. In the 1940s, Stormé was a solo performer with a three-piece band. Stormé is probably best known for being part of the legendary Jewel Box Revue, a popular "drag" performance group which toured America -- not always under the best of accommodations or circumstances.

The Jewel Box Revue ensemble was composed of two dozen males dressed beautifully and seductively as females and one biological female dressed very gentlemanly and convincingly as a man: Stormé! It's a role he does persuasively on stage and off. During the 1950s and the 1960s, Stormé was the Jewel Box's only male impersonator. He did so as a fine gentleman. The entertaining uniqueness was that the entire talented troupe were in gender-bender roles -- all except one! The "J.B." was a forerunner to the Broadway musical of the mid-1980s, "La Cage aux Folles". Unlike the latter, the J.B. confronted acceptance, joyousness, praise and fulfillment on one side but segregation, prejudice, scorn and sadness on the other side of the coin.

Stormé DeLarverie initially got involved with the STONEWALL Veterans' Association ("S.V.A.") when it happenstancely began spiritually the very first night of the Stonewall Rebellion, Friday, June 27th, 1969 at The Stonewall Club in Greenwich Village, NYC. Stormé had just returned to New York City from entertainment touring with the famous Jewel Box Revue. The S.V.A. officially formed exactly two weeks later on Friday, July 11th of that exciting year 1969. Storme was there!




*




King Storme photographed in "S/W-30" riding with the STONEWALL V.A. in Gay Pride Parade



See

King Storme DeLarverie

proudly riding in a

STONEWALL Veterans' Association

convertible in the "New York City 30th Annual Gay Pride Parade" in June of 1999. Storme is wearing his well-known rainbow parade helmet. This is a rare occasion when Storme rode in a car, for the speacial 30th anniversary, instead of leading the parade by walking with Williamson Henderson, Dave West, Leigh McManus and other Stonewall veterans.






*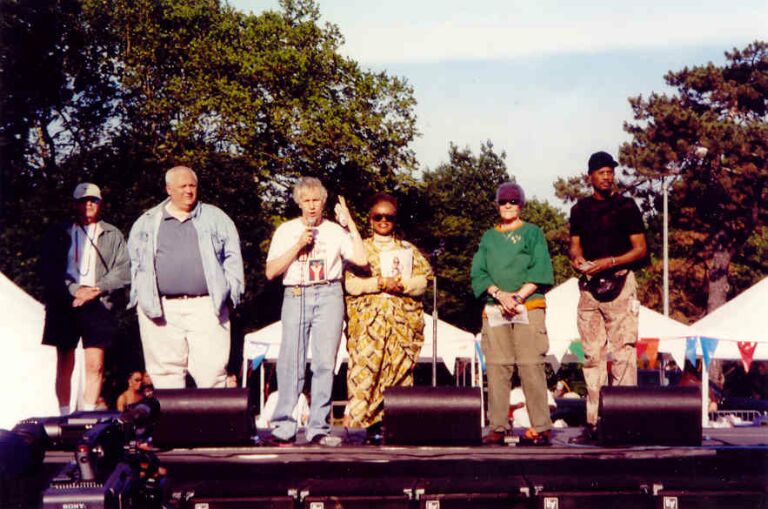 King Storme D on Prospect Park Stage for Brooklyn Gay Pride Rally in 2002
Stonewall veterans shown: Ray McCaffrey, Jeremiah Newton, Williamson Henderson,
Reverend Magora Kennedy, Storme DeLarverie and Keith Lonesome
[Photo by Tony Phillips for Next Magazine]
*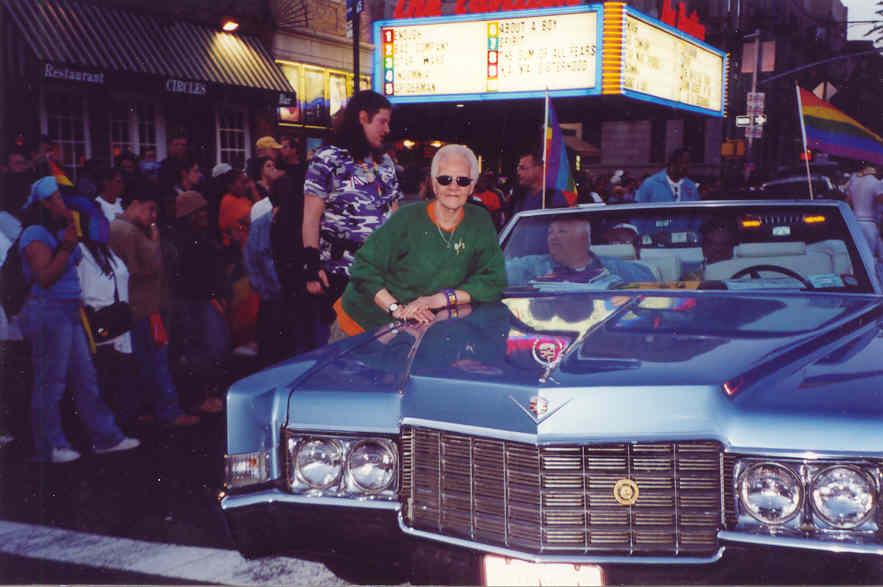 Storme DeLarverie at Brooklyn Gay Parade line-up with 1969 "Stonewall Car"


[Photo by Williamson Henderson]


* * * * *

=Storme on Stonewall=

"It was a rebellion, it was an uprising, it was a civil rights disobedience -- it wasn't no damn riot", declared Stormé at a public and videographed SVA-sponsored "Stonewall Symposium", referring to the historic 1969 Stonewall Rebellion. Stormé was a part of the uprising on the very first night, Friday, June 27th. "The cops were parading patrons out of the front door of The Stonewall at about two o' clock in the morning. I saw this one boy being taken out by three cops, only one in uniform. Three to one! I told my pals, 'I know him! That's Williamson, my friend Sonia Jane's friend.' Williamson briefly broke loose but they grabbed the back of his jacket and pulled him right down on the cement street. One of them did a drop kick on him. Another cop senselessly hit him from the back. Right after that, a cop said to me: 'Move faggot', thinking that I was a Gay guy. I said, 'I will not! And, don't you dare touch me." With that, the cop shoved me and I instinctively punched him right in his face. He bled!

He

was then dropping to the ground -- not me!"

Stormé is known, too, for adapting memorable sayings and witty warnings. For example, if someone says or asks something that Stormé perceives as insulting to his intelligence or not too smart, he'll say, "I didn't fall off of the back of a turnip truck". A favorite song of Stormé's, "It Ain't Easy Being Green", is also a favorite expression. Gay, Lesbian, Bisexual and Transgender people can easily relate to that song simply substituting 'green' with 'Gay'. And that's exactly Stormé's point: "It ain't easy being Gay". Sho 'nuff, y'all! Relating to age, or not relating to it, King Stormé rightly says, while inimitably mixing maxims: "Age ain't nothing but a number -- if you don't mind it, it don't matter". Overall, reviewing life and his philosophy of himself, Stormé tells it like it is (another song): "What you see is what you get". Allright!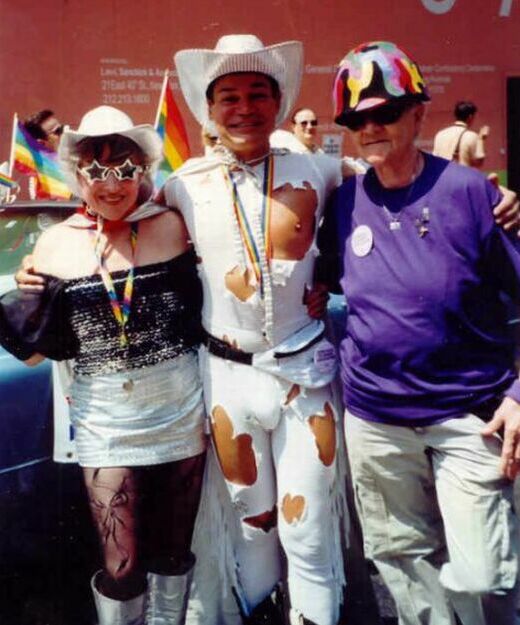 Shelli Vanelli, Dave West and Storme with SVA at Gay Parade Line-Up in 2002
[Photo by Leigh McManus]





*

*

*

*

*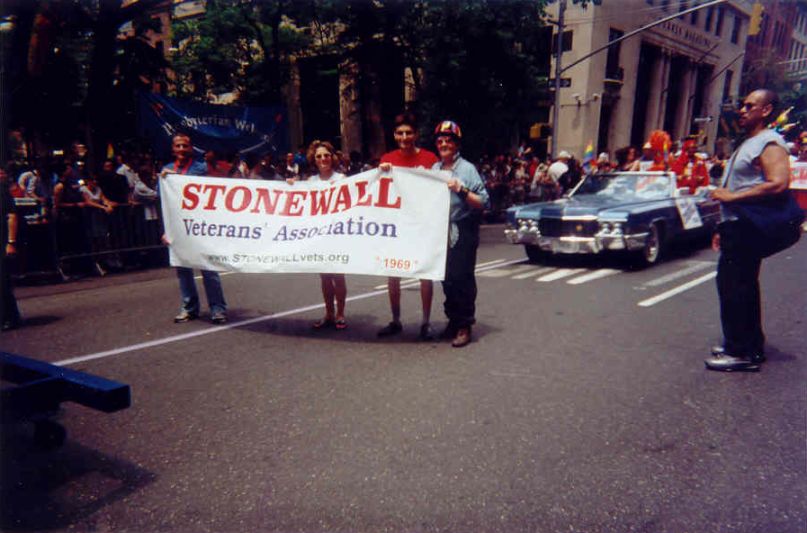 Greg Curatolo, Aubrey Lees, Steven Gradman and Storme with new S.V.A. Banner
[NYC Gay Parade route photo by Williamson]




*

*

*

*

*





Over the many years,

Stormé DeLarverie

has electedly served as Chief-of-Security, Ambassador and in 1998 to 2000 as Vice-President of the

STONEWALL Veterans' Association

("S.V.A.). He has always done so supportively, reliably and enthusiastically. Most people know Storme through the S.V.A. from its public conferences and forums and leading the Pride parades (see below). In the

Imperial QUEENS & Kings of Greater New York

("IQKNY"), the sister group to the S.V.A., Stormé has won election many times from IQKNY's transgender membership and friends the title of "Imperial King". Thus, he earned his popular nickname "King Stormé"! At the urging of Stormé's longtime pal, Williamson, and others, Stormé received a "Gay Lifetime Achievement Award" from

Senior Action in a Gay Environment

("SAGE") in 2000. Stormé is well-known, too, as a 'regular' leading the annual New York City Gay Pride Parade with the Stonewall veterans and "Stormé's baby", the historic 1969 Cadillac convertible "Stonewall Car". That's the famous car that was parked regularly outside The Stonewall Club including the first night of the Stonewall Rebellion. Since the formation of the S.V.A. in July of 1969, Stormé, a founding member, rarely misses the monthly S.V.A. meeting held on the last Saturday of every month -- including Storme's birthday month, December! See another photo of Stormé -- with his "baby" the car -- showing Storme laying across the "Stonewall Car" trunk at the bottom of this file.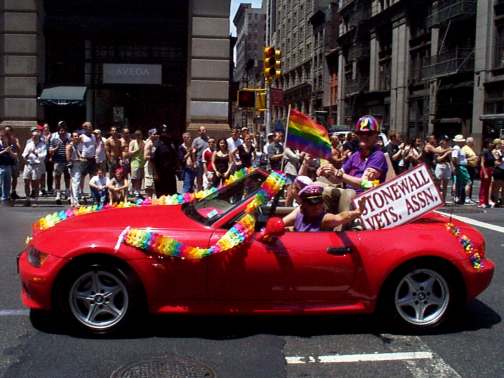 The only year Storme rode in the Parade with SVA: "SW-30" in 1999
[Photo by Electra O'Mara]
*
*
*
*
*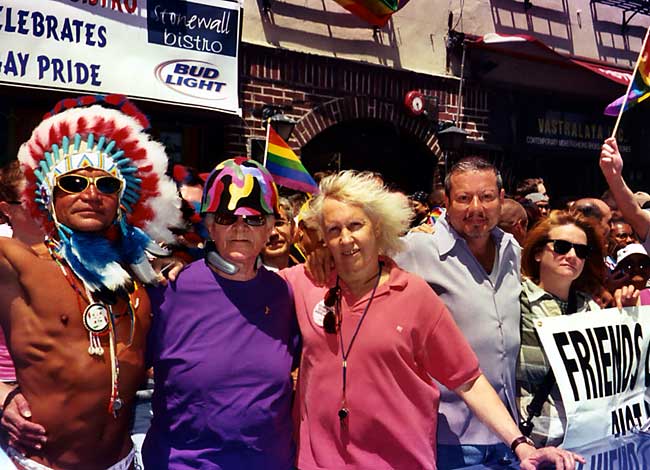 Storme D. with the S.V.A. leading the 35th annual New York City Gay Pride Parade
shown here proudly with other Stonewall Veterans Dave West, Williamson Henderson,
Eddie Baca and Meredith Nelson for tribute stop in front of The Stonewall Club in 2004
[Exciting photo by Leigh McManus surrounded by thousands of revellers]

In 2005, there was another major accolade in Storme's Gay life. The Equality Forum of Philadelphia, Pennsylvania, created a special, major history tribute celebrating Gay pioneers entitled "40 Years for 40 Heroes". They, of course, contacted the STONEWALL Veterans' Association to gather information, coordinate Storme's participation and accommodate his presence at the event. Storme was chosen as one of the "40 Gay, Lesbian, Bisexual and Transgender Heroes". The Equality Forum requested that S.V.A. President Williamson Henderson, Storme's longtime pal and fellow S.V.A. officer, be the presenter of the prestigious award to Storme on stage. The show, celebrating the 40th anniversary of the GLBT rights movement, was presented on a big outdoor stage on Sunday, May 1st, 2005, appropriately in front of historic Independence Hall in Philadelphia. As such and with coordinated promotion from the S.V.A., the STONEWALL Veterans' Association was profiled and listed in the Equality Forum brochure and program and on their website as a contributing and participating, national, non-profit GLBT organization. At the end of 2005, at the S.V.A. election meeting held at the New York City GLBT Center, nominated by Williamson, the venerable King Storme was unanimously re-elected as the S.V.A. Ambassador for 2006. In late December, we celebrated Storme's 85th birthday!
*
In January 2006, Storme and most of the other S.V.A. officers went to see the new landmark movie -- about two closeted, bisexual, mid-West cowboy lovers -- "Brokeback Mountain". In June, Storme led the Gay Pride Parade as ever with most (not all) of the S.V.A. -- in the rain! On Xmas Eve, besides Christmas, we celebrated Storme's birthday years of 86!!!!!! At the last S.V.A. meeting of the year on December 30th, Storme was re-elected unanimously as Ambassador for 2007. His idolizing godson AnDre Christie rolled out the big custom birthday cake ablaze with lighted candles!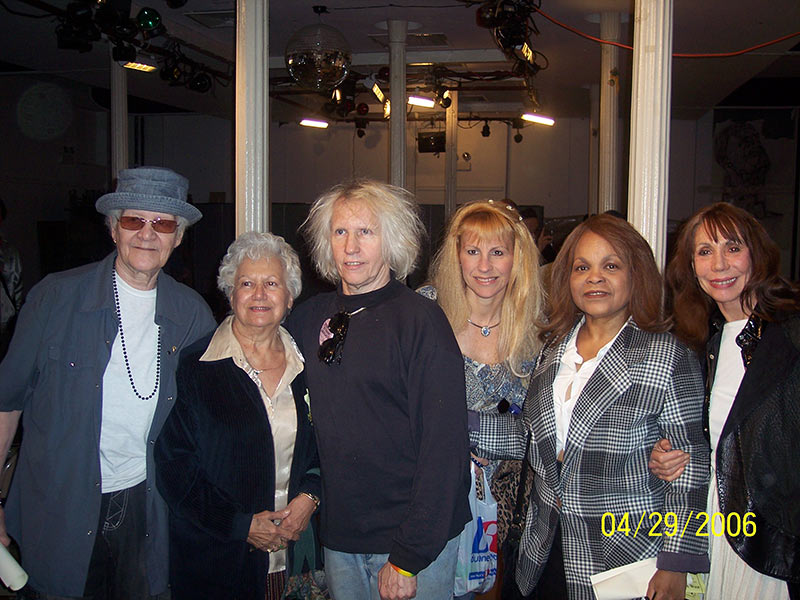 King Storme DeLarverie, SVA's ambassador (who spoke at the S.V.A. memorial event) with Mitzi Lamanna (Dave West's mother), SVA's director Williamson Henderson (host of the tribute), Princess Jenni Egan of the Imperial Queens & Kings of NYC and SVA-er Lucy Santiago after the SVA's combined monthly meeting and memorial service for SVA-er Dave West in the Assembly Hall (notice the white columns) of the New York City GLBT Center on Saturday, April 29, 2006 (SVA's traditional 'the last Saturday of the month')
[photo by Bert Coffman]
On January 21, 2007, Storme and Williamson rendezvoued at the New York City Gay Center for a special sample showing of a documentary project, "My Mother Told Me I Was Different". It consists of interviews of Stonewall veterans featuring both Williamson and Storme and many other SW-Vetz such as Jeremiah Newton, Terri Van Dyke, Bert Coffman, Electra O'Mara, Dave West and Leigh McManus. In late February, Storme with Williamson and other SVA-ers welcomed the new owners of the landmark Stonewall Inn at the S.V.A. monthly meeting at the GLBT Center. Afterward, Williamson and Storme and a staff member from the new Governor's office (who was also at the S.V.A. meeting) went out to eat in Storme's home turf of Chelsea. They ate at the Chelsea Gallery Diner. Storme is on the "June 27th Committee" which plans for the anniversary of the 1969 Stonewall Rebellion and the annual S.V.A. fund-raiser party at The Stonewall Club on June 27th. With the STONEWALL Veterans' Assocaition and the 1969 "Stonewall Car", Storme again led the annual New York City Gay Pride Parade. In fact, as always, the entire parade route was walked by Storme!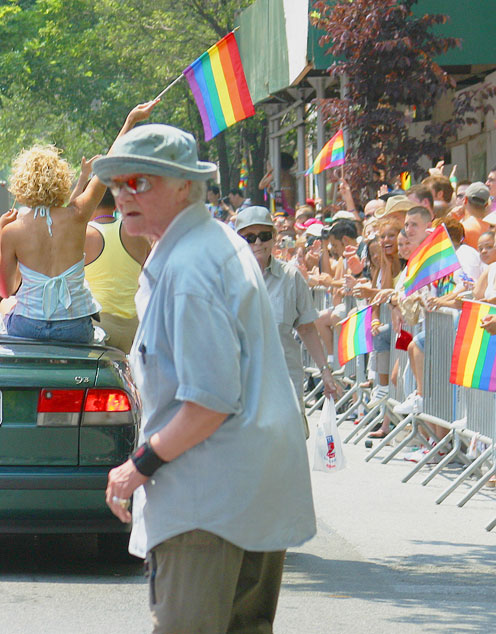 King Storme: "WTF are U lookin' at, B?"
[Photography by Hal M. Weiner]



+++++++++++++++++++++++++++




=Gay Godfather Storme with Gay Godson AnDre=






"Two Generations with Two Generations in-between!!"
Above is Storme with SVA's Youth-4-SVA AnDre Christie
leading a New York City Gay Pride Parade with the S.V.A.
[Photography by Hal M. Weiner]




*

*

*

*

*



=Storme Photo out on West 23rd Street in Chelsea=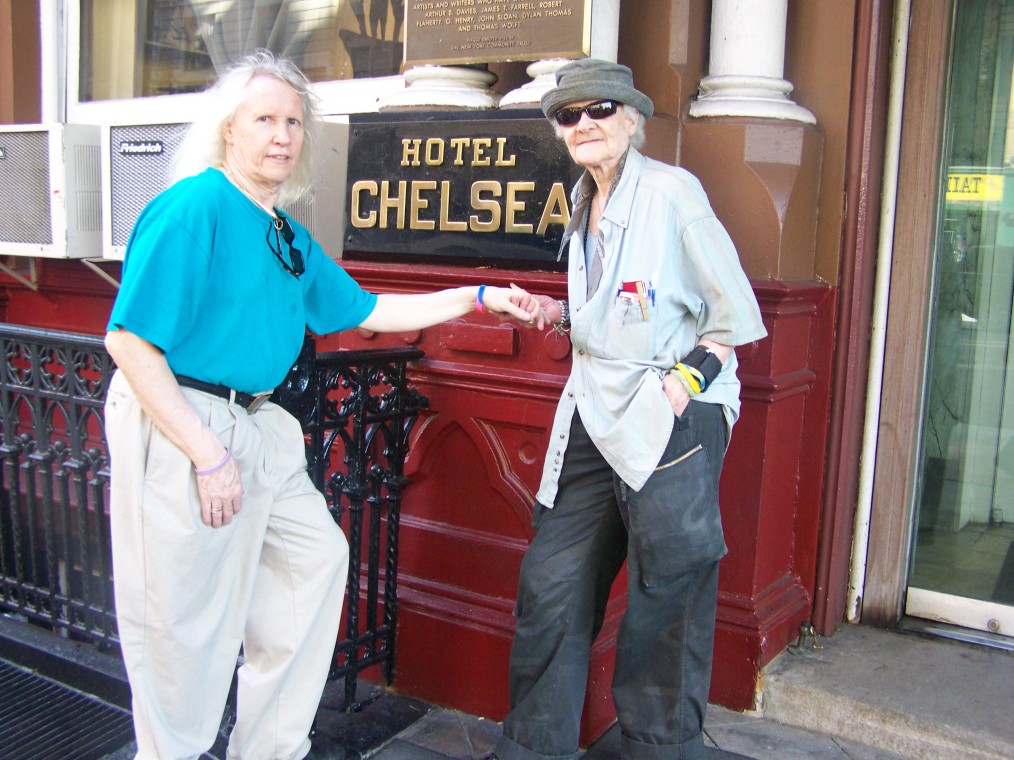 [Photo for the S.V.A. by Rogers A. Hunt]


*

=2007 Storme Birthday Event=
Storme's 87th Birthday Dinner Party was sponsored by the STONEWALL Vets' Assn.
and was fabulously hosted by Storme's Stonewall comrade Williamson Henderson
and co-hosted by Storme's Youth-4-SVA Organizer godson AnDre M. Christie
and was occasioned at East Of Eighth Restaurant in Chelsea, New York City
on Sunday, the 23rd of December 2007 @ 5 p.m. until 7:30 p.m.





*

*

*

*

*



=2008 Gay Pride Events=

On Saturday, May 31st, Storme presented a special advisory report regarding upoming Gay Pride events at the STONEWALL Rebellion Veterans Association meeting. Storme will be speaking about the Stonewal Rebellion at the "S.V.A. Conference & Stonewall Reunion" meeting on Saturday, June 28th @ 4:15 p.m. The occasion is televised by New York 1 T.V. News for a Gay Pride segment. For "Stonewall Sunday", King Storme will be leading the New York City Gay Pride Parade with the S.V.A. and Storme's blue baby, the 1969 Cadillac "Stonewall Car". For the SVA 's anniversary party and benefit at The Stonewall Club on Tuesday, July 1st, Storme is one of the SVA-ers in the host trio. Storme introduces some of the super "Songs of The Stonewall Club" collaborated by Storme's longtime Stonewall pal Williamson Henderson. FYI, they met at the Stonewall Club on Christopher Street in Greenwich Village, NY, long before any rebellion! For much more S.V.A. events 411, visit: www.STONEWALLvets.org/upcomingevents.htm


*

King of The Chelsea Hotel: Storme DeLarverie

Legends.typepad.com/Living_with_Legends_H/2008/08/Celebration.html


* * * * *

=Tribute to Storme DeLarverie=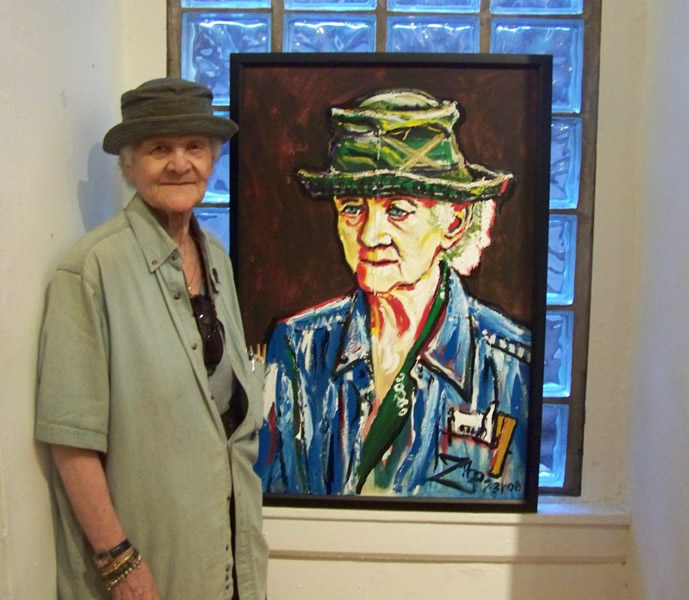 "Storme with Storme"
[Photo by Rogers Hunt for the STONEWALL Veterans Assn. Archives]


An artists tribute to Imperial King Storme DeLarverie was held at a famous artists habitat and where Storme lives: Chelsea Hotel (a.k.a. Hotel Chelsea). The art showcase event honors Storme's gender-bendering entertainment history with the fabulous Jewel Box Renue as a singing female attired as a male and with the Imperial QUEENS & Kings of New York as a prominent drag king. The King Storme tribute happened on Thursday, August 21, 2008, from 6 p.m. to 9 p.m. in the ballroom of the Chelsea Hotel at 222 West 23 Street in Chelsea, New York. Storme lives at The Chelsea for about three decades. The entire SRO event was introduced and hosted by Storme's longtime friend/comrade and S.V.A. Director Williamson Henderson. He was accompanied by his smiley assistant and Storme's godson: AnDre Christie. Portraiture artist Anthony Zito has created a dramatic acrylic-on-canvas portrait of Storme DeLarverie which was unveiled and presented to Storme at the tribute. For a portrait view, visit: www.ZitoGallery.com. For archival info about the event and its sponsor, the Artists of The Chelsea featuring Susan Olmetti, visit the artistic website: www.SusanOlmetti.com. Many of the paintings shown there were on display for sale at the Storme event, with one, "Mr. Minkel", donated by its artist Miss Olmetti to the STONEWALL Veterans' Association. Gay press coverage was provided by Storme's favorite paper, The New York Blade. At the S.V.A. meeting on August 30th, Storme provided an appreciative and earthy report of his event.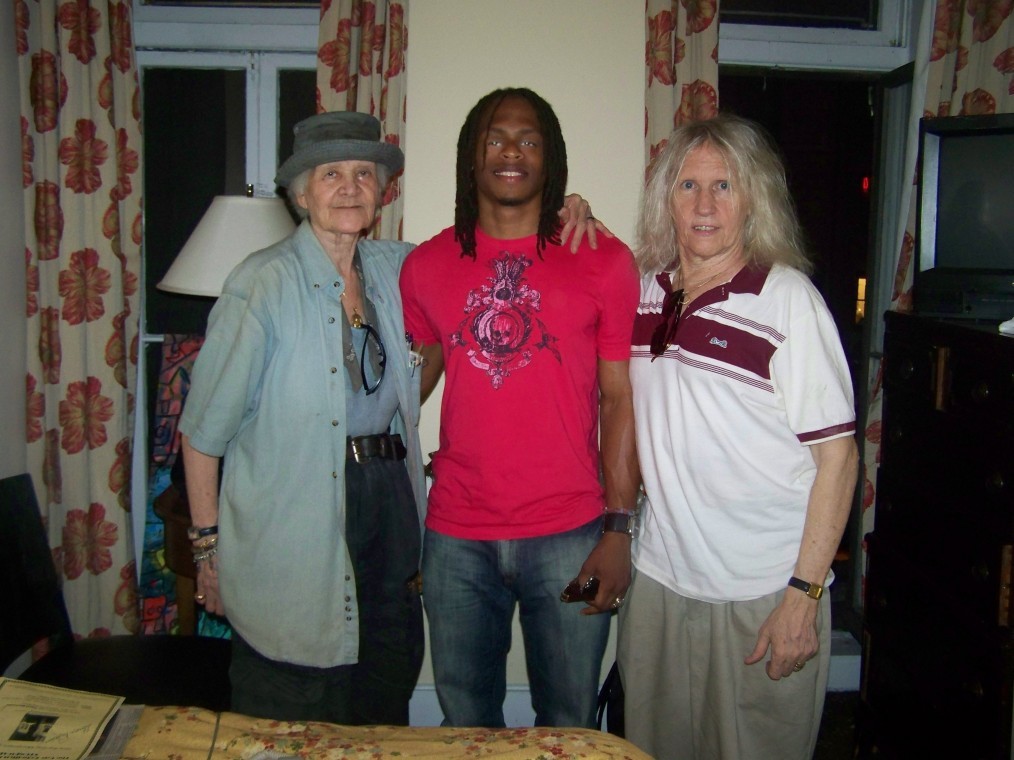 Storme, AnDre Christie and Williamson after the tribute at Hotel Chelsea
[Backstage photo by Rogers Hunt]
For more 411 and pix on Storme's longtime pal and fellow SW-vet Williamson, see:
www.STONEWALLvets.org/WilliamsonHenderson.htm
* * * * *

Storme DeLarverie tribute story in the New York Observer
www.Observer.com/2008/Stonewall-Rebellion-Veteran-honored-Chelsea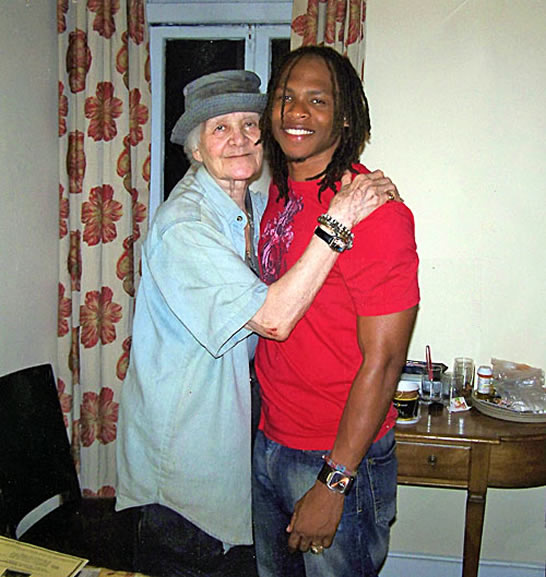 Storme DeLarverie with godson AnDre Christie
[Photo at Hotel Chelsea by Ruthybird]
For more info on AnDre M. Christie, visit:
www.STONEWALLvets.org/AnDreChristie.htm
* * * * *

=S.V.A. Annual Conference & Reunion=

King Storme DeLarverie will be on the dais of the STONEWALL Veterans' Association's "S.V.A. Annual Conference & Stonewall Veterans Reunion". Celebrating the 40th anniversary of the Stonewall Rebellion, Storme is one of the 40 special speakers symbolic of the 40 years! Besides talking about the significance of the S.V.A., Storme is speaking on his longtime starring role in the famous Jewel Box Revue. Confirmed public officials include U.S. Congressmember Yvette Clarke, NYC Councilmembers Bill De Blasio, John "J-Lu" Liu and Rosie Mendez plus Council candidates Yetta Kurland, Ken Diamondstone and Margaret Chin. The yearly event in 2009 happens on Saturday, June 27th from 4:15 p.m. to 7 p.m. at the New York City GLBT Community Center in Manhattan. Folks will be greeted by Storme's cute godson AnDre Christie. Look for Storme during intermission and the finale dancing to the "Songs of The Stonewall Club"!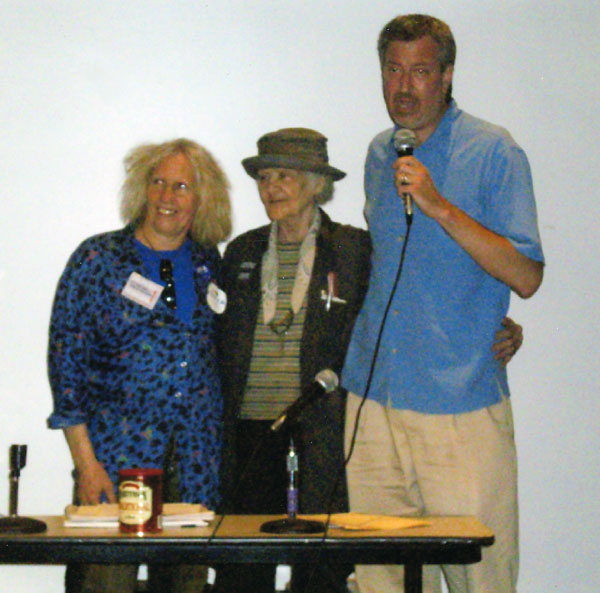 Williamson and Storme with future NYC Mayor Bill De Blasio
[grainy but happy photo by Rogers Hunt]

* * * * *

=Storme Co-Hosts S.V.A. Party=

STONEWALL Veterans' Association's
40th Anniversary Party
Monday, June 29th, 2009
The Stonewall Club
Stonewall Storme with Stonewall Veterans
at The Stonewall Club with Stonewall Songs
inside and the 1969 Stonewall Car outside on
Stonewall Weekend! That's all very Stonewall!
Storme's hot godson AnDre Christie will be at the door!
53 Christopher Street
Greenwich Village, New York
6 p.m. to 9 p.m.
with original Stonewall jukebox music
"Songs of The Stonewall"
* * * * *
SVA's Halloween Party at the NYC Gay Center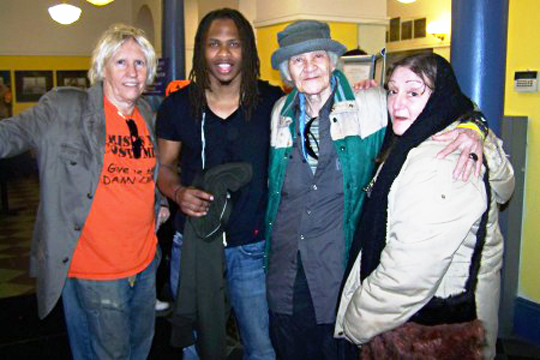 Shown above are Williamson Henderson (S.V.A. Director in orange Halloween shirt), AnDre M. Christie (S.V.A. Office Manager), King Storme (S.V.A. Ambassador) and character actress Ruthybird Campbell (S.V.A. Recording Secretary) in the lobby of the New York City GLBT Center in Manhattan on October 31st, 2009 -- Halloween!
[Photo by Rogers Hunt]

* * * * *

Storme's Birthday Cake Party

on Saturday, December 26th, 2009 @ 6 p.m. after the S.V.A. monthly
meeting at the New York City Gay Community Center in Manhattan, NY.
Storme's proud godson AnDre Christie drove him in his car both ways!!
We know that Storme's real friends are gonna turn out for this his 89th!




* * * * *

Storme's 2010 Stormy Housing Crisis Story

See the story by Matti Nestel at the "DNA 411" website at:

Stonewall Veteran Storme forced out of shuttering St. Vincent's Hospital in Greenwich Village






*

*

*

*

*



Storme Story in

The

New

York

Times


"

A Stonewall Veteran Misses the (Gay) Parade

"

King Storme DeLarverie likes the happening that a Gay story exposing his sudden plight as of the past few months, came out on Gay Pride weekend. Storme was understated as simply a 'member' of the S.V.A. In fact, he is a longtime and well-known officer of the STONEWALL Veterans' Association. However, Storme does not like the underlying reality that he was deprived of partaking in his organization's "41st Annual S.V.A. Conference & Stonewall Veterans Reunion". That was held on Saturday, June 26th at the New York City Gay Center in Greenwich Village. Storme is always on the S.V.A. dias. The S.V.A. had all arrangements necessary but no one was given the 'ultimate permission' from JASA -- though they were well aware of the request via letter, phone, e-mail and fax (unlike their dumb denial in the story). This is the first time in 41 years that Storme missed the meaningful S.V.A. conference event and a reunion with other Stonewall vets and friends! The public official speakers included: U.S. Congressmembers, a N.Y.S. Supreme Court Justice and N.Y.C. Councilmembers!

Read the

NYX

's New York * Region story at the following link.
Whenver they write 'riot', substitute with "rebellion". Storme,
like all actual veterans of Stonewall, despises the "rioter" description
and the 'criminalization' of good Gay people who engaged in civil rights
not in looting stores, setting fires, assaulting passersby or burning vehicles!
www.NYTimes.com/2010/06/28/NYRegion/28Storme.html
Update: The

NYX

fixed the link connecting to STONEWALL Veterans' Association website!








Stormé DeLarverie

gladly at

Proofreaders Unlimited, Ltd.

office in Manhattan, NY
[Photo by Stonewall vet Terri Van Dyke]
Storme luved going to Proofreaders! See Proofreaders Unlimited's ad at:



* * * * *

"A Post-Pride Interview with Stonewall Veteran Storme DeLarverie"
by Grace Chu (who attended 2010 "S.V.A. 41st Conference & Reunion") for AfterEllen.org

When Grace asked S.V.A. founder Williamson about "What pronoun to use for Storme", he precisely explained: "If it looks like a HE and talks like a HE and walks like a HE and acts like a HE and, particularly, dresses like a HE... then it's posilutely a HE! Storme has publicly lamented for decades that one of the psychotic problems of the GLBTQRS community is that it cannot even agree on what to call itself! My mother and Storme have met many times over the decades, including shows, dinners and forums, and my mother always described Storme as 'a perfect gentleman'! Storme is equally fond of 'Lady Mom'!"
www.AfterEllen.com/People/2010/7/Storme-DeLarverie


* * * * *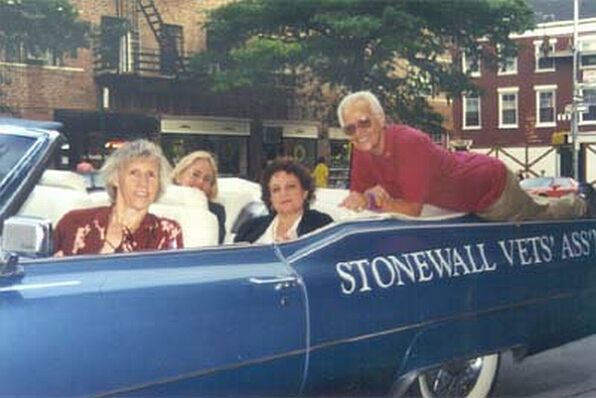 Storme carefully atop the big trunk of the famous "Stonewall Car" in 1996
[Photo by Debbie Fierro]

The picture above is arriving in the classic "Stonewall Car" for a special SVA co-sponsored event for New York City judge and Surrogate Court candidate Karen S. Burstein, who is openly-Gay. Driving the car is Williamson Henderson, founder of the STONEWALL Veterans' Association. Seated next to the judge is her longtime and lovely girlfriend Marion Lee. Positioned across the trunk -- just for this photo -- is King Storme DeLarverie who refers to the famous Gay history car as his 'baby'. Note: This is not a parade photo; it is on Hudson Street in front of Rubyfruit's Gay Restaurant in Greenwich Village.


* * * * *

Klassic King Storme DeLarverie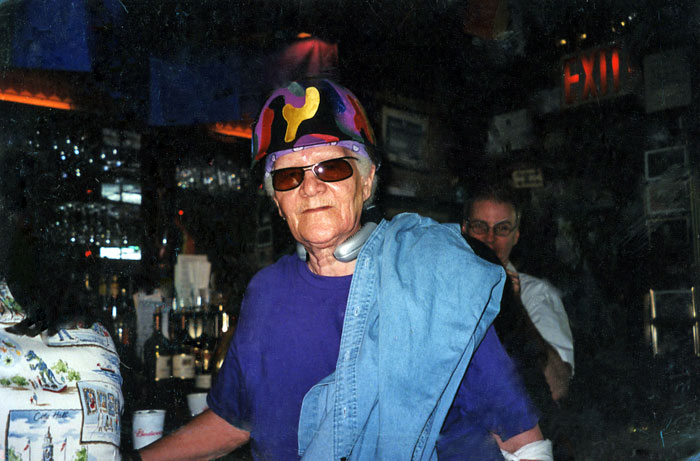 Klassic King Storme in his fave "The Color Purple"
[Photo provided by the Storme DeLarverie Archive]

* * * * *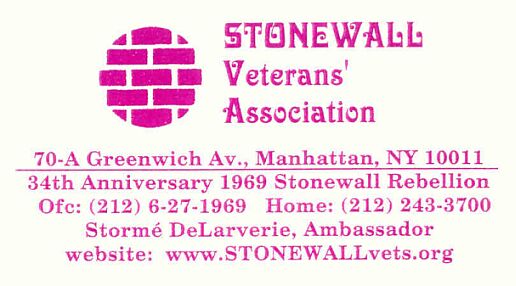 In life, only the STONEWALL Veterans' Association ever gave Storme DeLarverie
a business card and the S.V.A. provided it decade after decade after decade after decade!
The happiness and pride that this brought to King Storme would be hard to put into words.
However, Storme said it best with facial tears of joy and declaring: "I really am somebody!"

*

*

*

*

*



Remembering.......


Storme DeLarverie

Gay Advocate Paper Remembers Storme


Unlike the mainstream and heterosexual media, The Advocate got it right!


Storme is a Drag King not just a "lesbian activist", although he is understandably
perceived by many as such. He is a lot of different things to a lot of different
people. Storme was really never involved in any activism except whatever the
STONEWALL Veterans' Association does, which is mainly historical, educational,
public forums and pride parades. That of course is standing up and speaking out!


The Advocate acknowledged the reality of King Storme being well-known

for the
past 45 years through the S.V.A. and its sister group the Imperial Queens & Kings
of NYC, a transgender social (not activist nor lesbian though it has both in it) group!


Storme would abhor, despise and loathe the use of the word 'riot' as he always did




since June 27, 1969, when he participated in the first night of the Stonewall uprising!


www.Advocate.com/People/2014/05/27/Stonewall-Veteran-Drag-King-icon-Storme-DeLarverie-dies-93 *


Gay Magazine After-Ellen Tributes Storme



After

Ellen Online Magazine

tributes Storme, mentions S.V.A.:
It's a nice comprehensive story on Storme but they constantly
use the perjorative term that Storme D so despised: "riots"!
As Storme declared so many times: "I wasn't no f'ing rioter!"


www.AfterEllen.com/Storme-DeLarverie-passes-away-the-Community-loses-a-Legend



*

Storme Tribute on WNYC Radio + in their Newsletter

Interview of Williamson regarding the demise of King Storme!
This story is on WNYC Radio + WNYC Internet by Tracie Hunte.
There's a helpful, hi-lighted link to the S.V.A. in the story.
Williamson Henderson Interview re: S.V.A. Storme DeLarverie:
*

Storme's Life Surveyed by Bend Magazine

This story rightly references Storme's obvious, longtime and visible involvement with the
STONEWALL Rebellion Veterans' Association. In fact, Storme was an S.V.A. official!

www.BendBulletin.com/home/2123602-151/Storme-DeLarverie-was-one-of-the-Gay-rights

*

'Wake' for Storme

Greenwich Village Funeral Home
199 Bleecker Street
off Avenue of the Americas
Manhattan, New York

on

Thursday, May 29, 2014

from 6:30 p.m. to 9 p.m.

Coordinators Lisa Cannistraci and Michelle Zalopany,
who were both the openly-Gay legal Guardians of Storme,
the former attention-soaking phony who ignored Storme 10 years,
with significant positive assistance from 'Rainbow Dee' Johnson

Proclamation for Storme from N.Y.C. Public Advocate Letitia James

Speakers at the service include Williamson Henderson representing the S.V.A.,
Cathy Marino-Thomas representing Gay Marriage Equality and
Rev. Magora Kennedy the Stonewall veterans chaplain.

*

Official Tribute to King Storme DeLarverie
at the STONEWALL V.A. 45th Conference
Saturday, June 21st, 2014 at 5 p.m.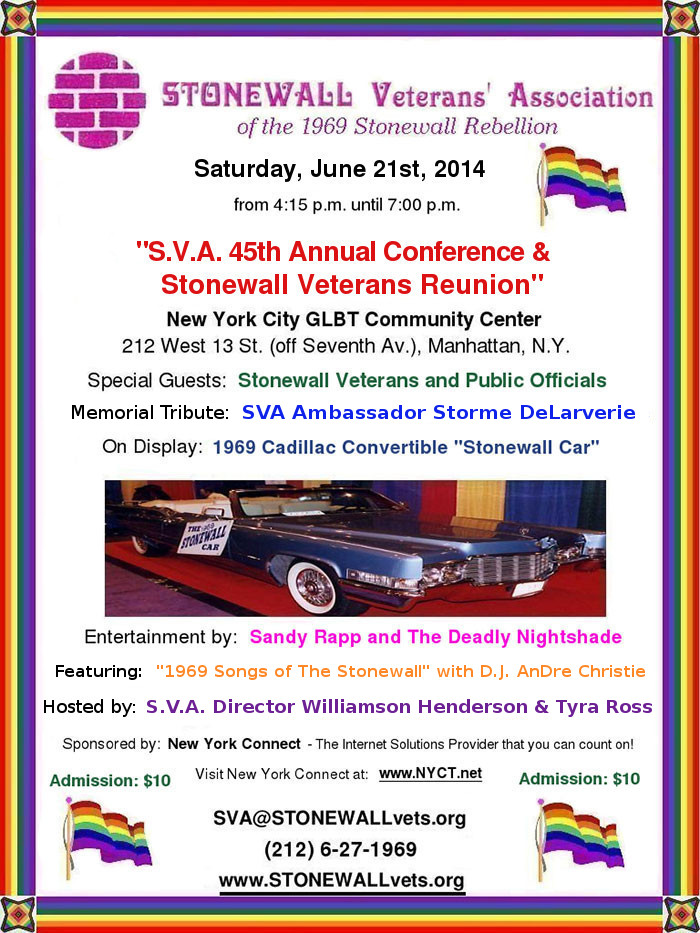 Stonewall veterans and friends of Storme attended the "S.V.A. 45th Conference & Stonewall Reunion" on Saturday, June 21st, 2014, with photos and/or spoken remembrances of SVA's charter member and official Storme DeLarverie! In the true spirit of Storme, everyone was welcome! Several New York City public officials who attended, presented their tributes to Storme, who they virtually all knew via the S.V.A., in their speeches on the 45th anniversary of the Stonewall Rebellion.

Storme Post-Humous Bandwagon Updates:
Shamefully, uphonious Lisa "Sleaza" Cannistraci failed to show up for Storme's Tribute!
Yet, months later, Sleaza slandered and libeled the S.V.A. director and Storme's genuine and
consistent friend of a half-century. Sleaza stupidly lied claiming that the legendary S.V.A.
was a "one-man band serving only one". Wtf? What did Sleaza consider Storme -- and the
other 100-plus Stonewall veterans who are typically praised and not trashed by a jealous liar?!
Another lesbian hypocrite who failed to show or even send a cost-free (she's very cheap)
Erin Drinkwater aka Errorin Drinkpoison, the job-hopping phony who wrote a 2-page story
about Storme (in a Brooklyn group's newsletter) and maliciously failed to mention the S.V.A.
STONEWALL Rebellion Veterans' Association! The hateful Sleaza, a member of the local
Manhattan Community Bored #2, is also shamefully known for voting against the annual
"Stonewall Streetfair" which benefits the non-profit S.V.A. Sleaza did this while Storme was
alive and well, while Storme was allegedly in Sleaza's legal care and since Storme's passing.

Note: Among Miss Drinkpoison's many, many former employers were
"The Phat Man" Natler, talking about duplicitous and self-serving slanderers!

*

To send a symapthy card or make a memorial donation in Storme's name:

STONEWALL

Veterans'

Association


70-A Greenwich Av., #120
Manhattan, NY 10011

Please indicate "

Storme

" in the memo section. Thank you!

S.V.A. e-mail:

SVA@STONEWALLvets.org



Phone: (212)

6-27-1969

(exact date of the Stonewall Rebellion in which Storme participated!)




*

K. Storme DeLarverie is interred at
Maple Grove Cemetery in Kew Gardens, Queens, NYC
www.MapleGrove.com

*


2 August
2018
*G*L*B*T* Summer of 2018


*

===== 2018: 49th Anniversary of the Gay Stonewall Rebellion =====
[Friday night, June 27 ~through~ Thursday evening, July 3, 1969, Manhattan, New York City]

*

31 May (Saturday)
@ 5 p.m. (EST)
2014
Special commemoration of King Storme DeLarverie with
testimonials at the SVA's monthly meeting
at the New York GLBT Community Center

*

Remembering the SVA's

King Storme DeLarverie

Sunrise: 24 December 1920 * Sunset: 24 May 2014

*

S.V.A. Hospitality Committee -- headed up by Williamson, AnDre
Christie and Mendy Seltza -- visited King Storme in Brooklyn, NYC
at the C.A.G.S. nursing home until just days before Storme's demise!
Special God's blessings to the CABS's humanitarian Lena Sebastian.

*

24 December 2016


Storme's 96th Memorial Birthday!

*