Home
Photo Album
STONEWALL
Rebellion Veterans Association
==========New York City==========
Gay, Lesbian, Bisexual and
Transgender Pride Events
including the Gay Pride Parade
Sunday, June 28th
(always the last Sunday in June)
2009
====Stonewall 40====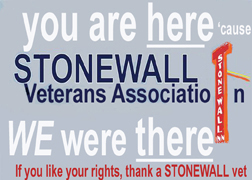 Special "Stonewall Rebellion" button reissued via the S.V.A.
[Design by Hal Weiner and production by Proofreaders Unlimited]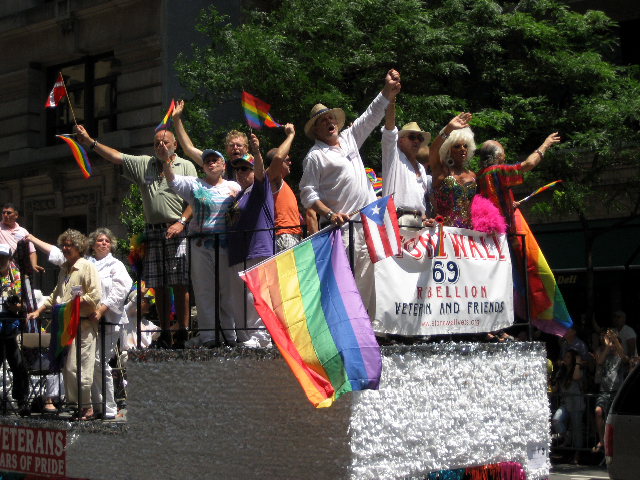 STONEWALL Veterans' Association Float leading the NYC Gay Parade!
[Photo by Linda Yaeger]

=
Stonewall 40 at Mayor's Gracie Mansion
=
New York, New York
Tuesday, June 23, 2009
Mayor Michael R. Bloomberg and SVA's Gina D. Wright
[Photograph courtesy of the Office of the NYC Mayor]
*
"The Sheridan Squares"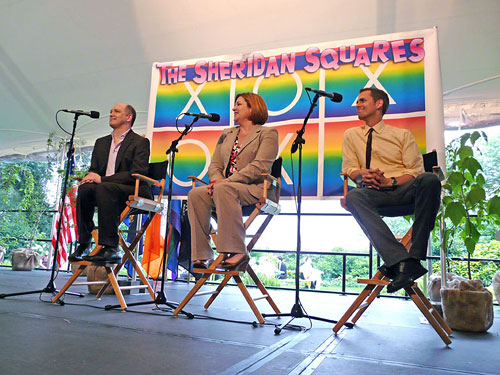 Un-exciting contestants replaced by hotties below!
[Photo by Babsala R. Lynne]
NYC Mayor Michael R. Bloomberg
hosted his out-standing Gay Pride Party -- his 8th -- on June 23, 2009, at Gracie Mansion on the Upper East Side of Manhattan, New York. The above photo by the S.V.A. webmistress Babsala Lynne is from the 'set' of a poorly-scripted "Gay Game Show" as part of the mayor's event. Likeable Mayor Michael, like any seasoned actor, smiled while having to present an often-silly text. Your Gay heart went out to him! Instead of the vintage television "Hollywood Squares" game show name, someone at New York City Hall not-so-cutely named it "Sheridan Squares"? No Gay connection with that name! Since many attendees and most readers herein would not know the origin of that term, it requires explanation. "SS" references Sheridan Square (actually a triangle), which is a small benched park diagonally opposite The Stonewall Club. Why could not the scripter think one more inch and named the game "Stonewall Squares" needing no definition and making clear sense on the 40th anniversary of Sheridan -- ooops -- Stonewall!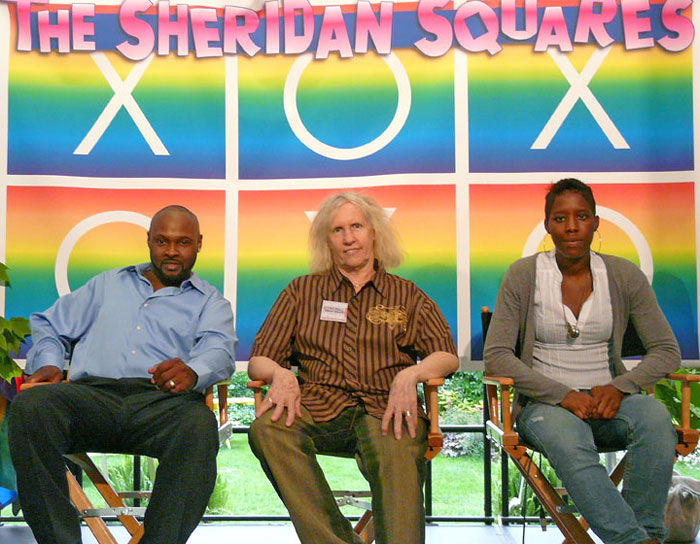 Dennis Cooper * Willson Henderson * Gina Wright
[Photo Credit: Babsala Lynne]

S.V.A. 40th Annual Conference
& Stonewall Veterans Reunion
Presented by the STONEWALL Veterans' Association
of the historic 1969 Stonewall Gay Rebellion at the
New York City Gay, Lesbian, Bisexual and Transgender Center
on Saturday, June 27, 2009 from 4:15 p.m. to 7:00 p.m.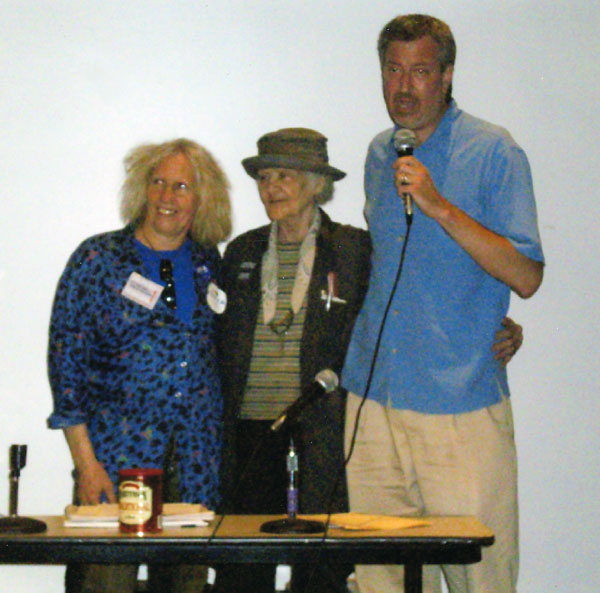 Willson Henderson and Storme DeLarverie with Public Advocate-in-Waiting Bill De Blasio,
praising the four decades of the history-making STONEWALL Veterans Assn.
[fuzzy but happy photo by Rogers Hunt]
[More pix of "Stonewall 40" shall be posted in time.......]

=
Stonewall 40
=
N.Y.C. Gay Pride Parade
Sunday, June 28, 2009
Manhattan, New York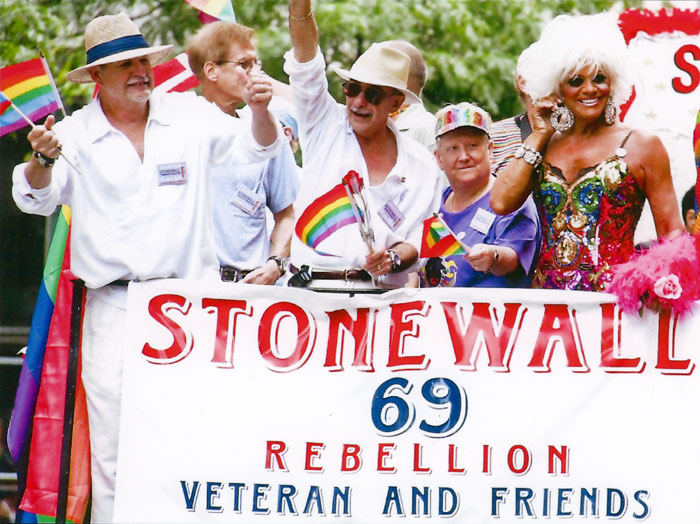 Stonewall Vets banner on the front of the STONEWALL V.A. Float
[Photo by Hal Weiner]

Happening during the New York City Gay Pride Parade, shown in this photo are Stonewall vets

David Bermudez

(left, with brimmed hat waving Gay Pride flag),

Bob Isadore

(center, with white hat, shades and rainbow flag) and

Chyna Fucito

(right, with white wig, big earrings and big Stonewall smile).

NOTE: Heritage of Pride a.k.a. "Heritage of Shame"'s fanatical parade organizers and ruthless self-promoters deliberately failed to list the S.V.A. Float in their distributed "order of march" program! Was it intentional? Of course; every other group -- all 300+ were listed. Thus, many people and the press at the parade line-up mistakingly believed that the Stonewall vets weren't there! What? And, down the road, there wiill be jaded NYC haters who falsely claim that the S.V.A. wasn't there. They will say: "You weren't in the program"! Wrong and rude as they frequently are, HOP failed to apologize for the deliberate omission! Where's the "pride"? Shame on HOP!
---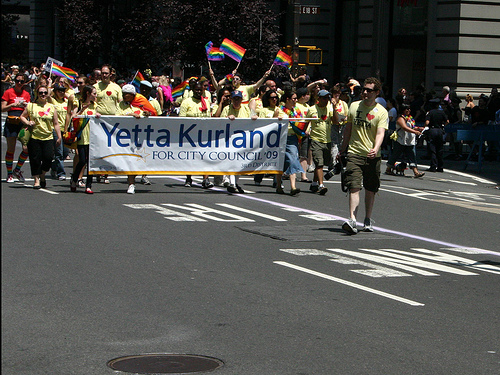 Yetta-4-Council Kurland parades with a Marching Troupe of 100+
[Photo by Unkle Kay]
---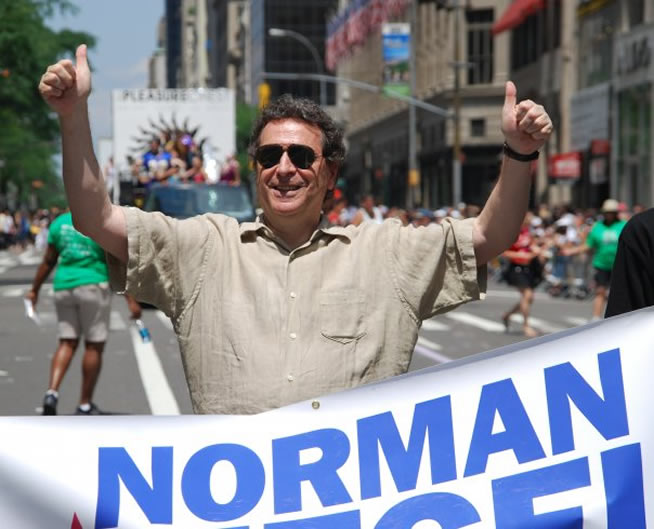 Norman H. Siegel
in the NYC Stonewall-40 Gay Pride Parade
[Photo by Steven Gradman of PRIDE Dems]

---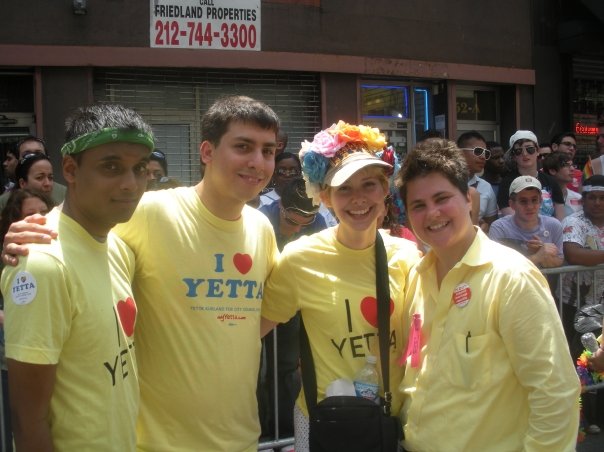 Yetta Kurland's Intimate Circle at the New York Gay Pride Parade
Shown: Chris Condada and John Phillips; Elizabeth Koke and Yetta
[Photo by 'Unkle' Kay Frawley]

STONEWALL


Veterans'

Association
Stonewall Anniversary Party
at
The Stonewall Club
on
Monday, 29th June 2009
from 6 p.m. to 9 p.m.
---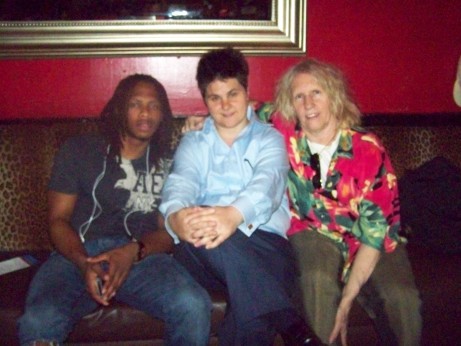 AnDre Christie, Yetta Kurland and Willson Henderson at The Stonewall Club
[Photo by Rogers A. Hunt for S.V.A.]
---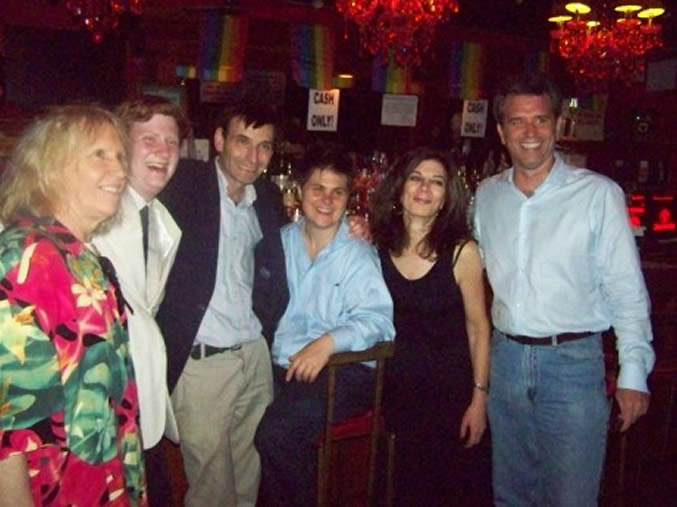 NYC First District Council candidate Pete Gleason & Friends
[Photo at The Stonewall Club by Rogers "Ro-Ro" Hunt]
Gayly pictured at the "STONEWALL Veterans' Association's "40th Anniversary Party" at The Stonewall Club (l-2-r): S.V.A. party host Willson L. Henderson happily celebrating the end of a long month of "Stonewall 40" with a grand evening total of 3 greentinis; Dodge Landesmann joining the Yetta campaign (as of tonight) and relishing a spicey laugh about "Dya-Ria Pastanante Duhr" (a.k.a. Maria Passanante-Derr), one of Yetta's lying, no-chance opponents; Steven Gradman, 1st Vice-President of PRIDE Democrats, whose three NYC-wide endorsees are all in the lead; Third District City Council openly-Gay candidate Yetta "Yettl" Kurland, who just picked up three more organizational endorsements and another newspaper nod; the lovely Jeanne Wilcke, the pretty president of Downtown Independent Democrats ("DID"); and the openly-straight First District NYC Council candidate Pete "Dr. Glea" Gleason. Original music was "Songs of The Stonewall Club" featuring The Shangri-Las, The Rascals, Dionne Warwick, Len Barry, Diana Ross & The Supremes, Frankie Valli & The Four Seasons, Darlene Love, Frank Sinatra and The Chiffons among many other greats! The fab time at The Stonewall Club was co-hosted by the captivating AnDre Christie of Youth-4-SVA, who also manned the "S.V.A. Welcome Table". In the clearly fun picture above, *everyone* is actually looking not at this camera but at the camera about to be snapped by AnDre!
---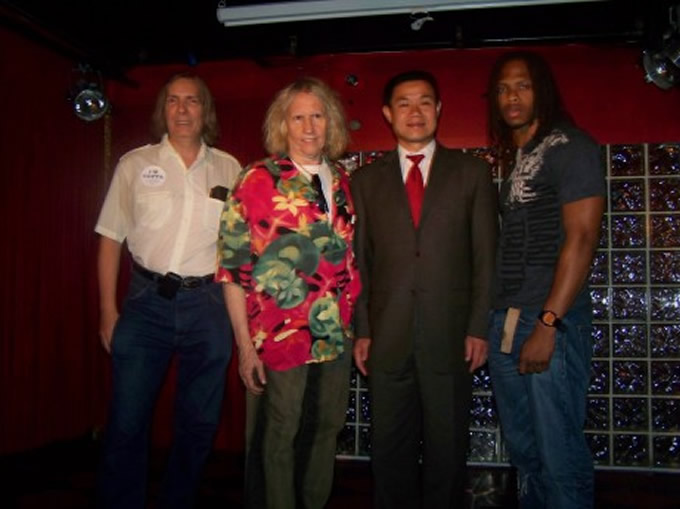 Councilman John Liu
sided by co-hosts Willson and AnDre Christie
[Photo by Bonnie Duen of J-Lu Office]
New York City Councilman and NYC Comptroller candidate John C. Liu ("J-Lu") attended the significant STONEWALL Rebellion Veterans Association 40th anniversary party of the Stonewall Rebellion at the Stonewall Club on Stonewall Place in Greenwich Village, NYC. Mr. J-Lu has been in attendance at S.V.A. events for years. On stage at the Stonewall Cabaret Room is (l-2-r): S.V.A. computer consultant Rogers A. Hunt, proud councilman John Liu, flowery S.V.A. director Willson Henderson and tough-looking S.V.A. assistant AnDre M. Christie. In a four-way Democratic primary election and run-off -- with the support, volunteering and get-out-the-vote of SVA-ers and friends -- John Liu went on to win as the next Comptroller of New York City!

* * * * * * * * * * *
Although this was a STONEWALL Rebellion Veterans Association social event, politically savvy S.V.A. director Willson Henderson initiated and arranged for atmospheric distribution tables to have New York City candidate information literature and donor cards freely available for S.V.A. supporters such as Mayor Michael Bloomberg, Manhattan district attorney candidate Leslie C. Snyder, NYC public advocate candidate Bill De Blasio, NYC comptroller candidate John C. Liu and NYC council candidates Melissa Viverito, Ken Diamondstone, Rosie Mendez, Dan Garodnick, Yetta Kurland and Pete Gleason. (Proud to report that 7 out of 10 won!)
---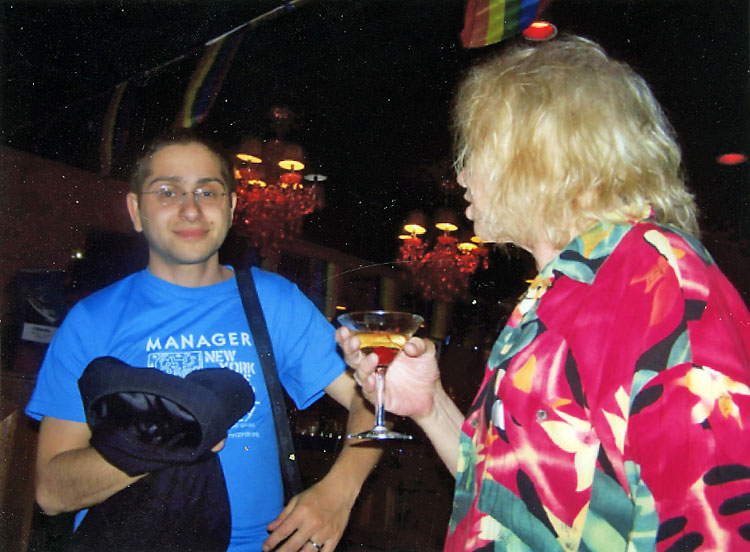 Maurice "Maury the HOP Clown" Michaane looking puzzled and goofy (as usual) as he is 'read' by Stonewall legend -- and party host -- Willson Henderson, founder of the S.V.A. Maury was 'read' for his most recent ridiculous lies, idiotic inaccuracies and stupid slander. Maury also disrespectively, vindictively and foolishly omitted the 40th-anniversary STONEWALL Rebellion Veterans Association with the S.V.A. Float from being listed in the New York City Gay Pride Parade 'line-up' program. Shame! Unfortunately, the HOP-ers allowed this fabiscina clown to get away with it (for now). Shame! Maury should have been 86'd from the misnomer Heritage of Pride ("HOP"). Shame! The dysfunctional HOP group also failed to list the annual Stonewall veterans' conference and reunion in their exclusionary "Pride Guide". At the above S.V.A. event at The Stonewall Club, Maury the HOP Clown wears his personalized clown outfit branding his paltry title at HOP. Who wears their job and title tee shirt to an event in the evening and at someone else's function? Maury the HOP Clown is also oblivious to the reality that the Stonewall veterans provided both the "heritage" and the "pride"!! Maury is so sociopathic that he refused to sign the S.V.A. guest book or make the nominal donation of ten bucks. Talk about obnoxious, rude and and cheap!!
[Evidence photographed by Rogers Hunt]
---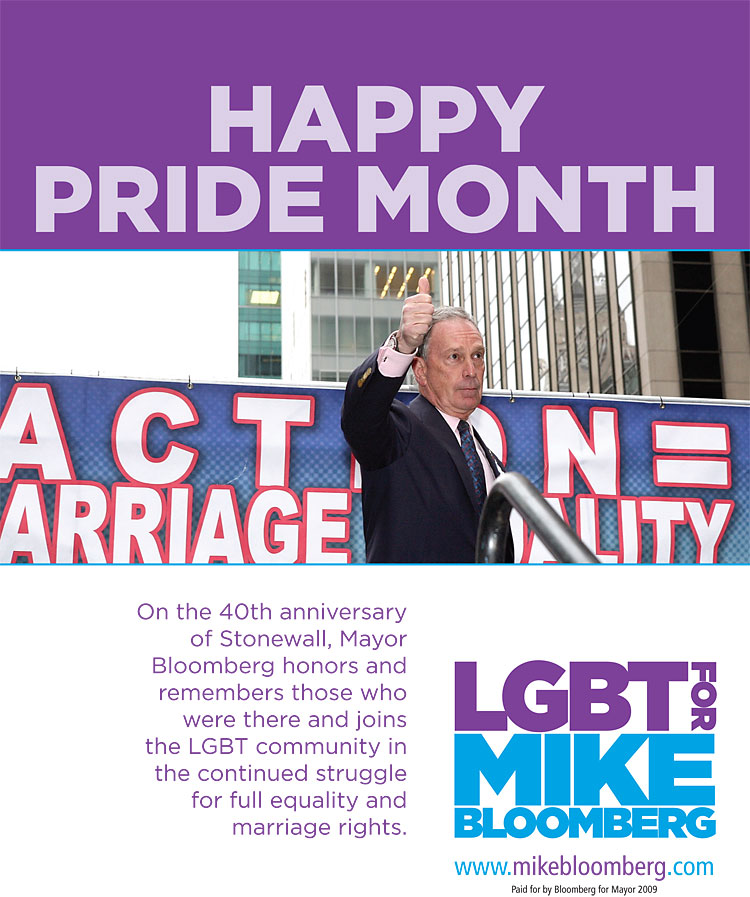 G.L.B.T. Pride Month is honored in advertisement with S.V.A. by NYC Mayor Bloomberg
Factoid: Whoever runs for NYC Mayor and advertises in the STONEWALL Newzletta (1969, 1970s, 1980s and 1990s or on the S.V.A. Website (2000s) wins; whoever doesn't loses for Mayor! At least, it's been that way for four decades!!!! What a coincidence! With its open multiple campaign strategies and some secret get-out-the-vote techniques, the S.V.A. does not anticipate that winning tradition to change any time soon!
Update: It didn't change; our mayoral candidate won once again (and again!
---



10 September
2019

*
=====2019: 50th Anniversary of the Gay Stonewall Rebellion=====
[Friday night, June 27 ~through~ Thursday evening, July 3, 1969, Manhattan, New York City]