1968: Pre-Stonewall Rebellion
at
The
STONEWALL
Inn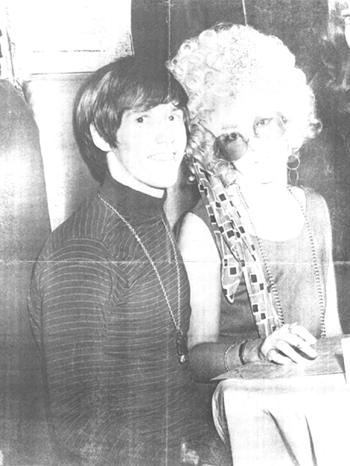 Williamson and Sonia Jane at The Stonewall Club
[Photography by a special Stonewall photographer]


New York, NY - The Stonewall Inn, New Year's Eve, December 31, 1968. This is the

only

known existing photo taken inside The Stonewall Inn. It is one of the few booths that were in the club. The exact location inside the club is in the second room -- the dance room -- against the right side wall of the club. Don't let the linen tablecloth give you the right impression. Only thrice a year on certain holidays, namely Thanksgiving, Christmas and New Year's Eve, the Mafia-owned Stonewall Club "went all out" and "did the right family thing" which was bringing out the linen on the big holidays. Some think that it was also done on Easter Sunday, which is a likelihood in the Gayborhood!

On these special occasions, to bring a lasting and real sense of "family" to the Gay patrons, they actually had an 'authorized' photographer -- for those who wanted to have their photo taken at The Stonewall. As a matter of reality at that time, virtually all patrons of any Gay establishment scooted in the opposite direction of any camera. Flash bulbs were mostly a must to avoid. However, the Gay couples and the fag' n' hag duos, such as Williamson Lee Henderson and Sonia Jane Attkiss, pictured above at The Stonewall on New Year's Eve in 1968, loved it! It was a happening that many of us looked forward to as a happy souvenier from the place we loved. The cost was $10 per picture. You paid the ten bucks in advance before the picture was taken. This was not The Copa! We never understood then (we do now) how the club was able to present you with your cardboard-framed picture within about an hour. Williamson and Sonia even bought photo copies -- also at $10 each -- for their mothers. Little did the moms (and many other relatives) know that the straight-looking couple were at a forbidden Gay dance club in the notorious Greenwich Village and were simply Gay friends posing.

Naturally, the Stonewall Club made a nice profit on all of this -- as they did with the bars (both of them), the cigarette machine, the jukebox, the coat check and even the wishing well! Otherwise, they would never have done it. It was the moneys! Patrons threw coins, sometimes even a half-dollar, into the wishing well regularly. We had a long wish list including Gay Rights and Gay Marriage! With the Gay clubs, besides the most up-to-date fashion styles, the most colorful outfits, the best hairstyles and the koolest dance moves, the Mafia owners could always count on a Gay profit!

*

Information provided via the archives of the

STONEWALL Rebellion Veterans' Association

!
Any information, images or text obtained must be credited to said organization's full name.