William Miranda 'Bill' Salzman
STONEWALL Rebellion Veterans Association
Past S.V.A. Acting Director (January - March 2014)
Former S.V.A. Executive Committee Member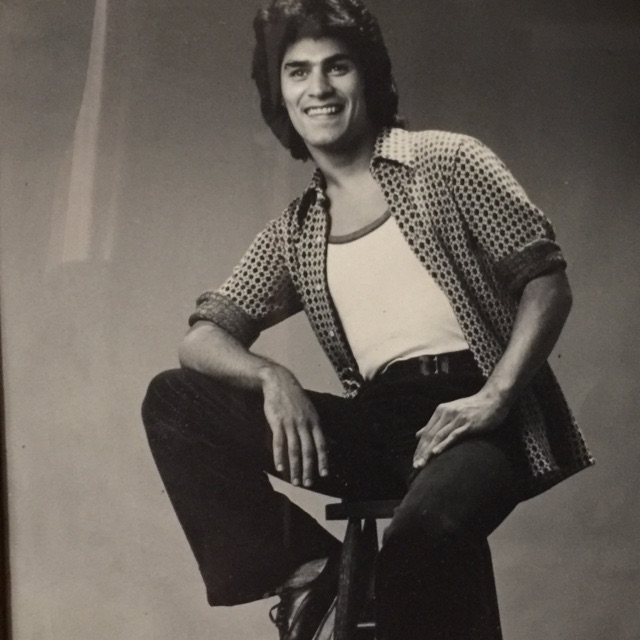 "Billy" Miranda Salzman in 1970

*

Bill's Basic Bio
William Miranda "Bill" Salzman was born in the very first year of the second half of the last Century on the 10th of June in 1951! Bill attended a Catholic elementary school in Brooklyn. For high school, Bill went public to Eli Whitney High School in Greenpoint, Brooklyn. He admirably went on to college, the first in his family to do so. Bill holds a Bachelor of Arts (B.A.) from New York University (NYU, Class of 1980). Shortly after, openly-Gay Bill became the founding principal of the first of its kind openly-Gay Harvey Milk High School in Manhattan, New York.
---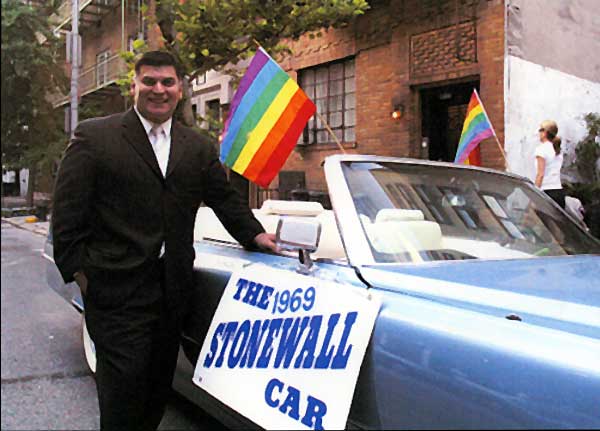 Bill Salzman with the historic 1969 convertible "Stonewall Car" in 2004
[Photo by Margot Adler for National Public Radio]
The occasion of the event above with the famous blue 1969 convertible "
Stonewall Car
" on display, was the theatrical production of some of the original Stonewall cops at the Neighborhood Playhouse Theater on East 54th Street in Manhattan. It was the third part of the afternoon and evening reuniting the "Stonewall Police" and the "Stonewall Vetz". In addition to
Bill Salzman
(shown above), other veterans of the 1969 Stonewall Rebellion present and introduced by retired NYPD Sergeant
Frank Tuscano
of the Sixth Ptrecinct were:
Willson L. Henderson
,
Tony Viera
,
Bert Coffman
,
Ramon Bellido
,
Dave F. West
,
Leigh McManus
and
Ray McCaffrey
-- plus
Dianne Yodice
. The story was covered by most print media such as
The
New
York
Times
and the
New
York
Gay
Blade
News
; television such as a CBS-TV "Eye On America" national news feature with
Anthony Mason
and gayly on "Gay USA"; and radio such as National Public Radio (NPR) with
Margot Adler
and WNYC.
---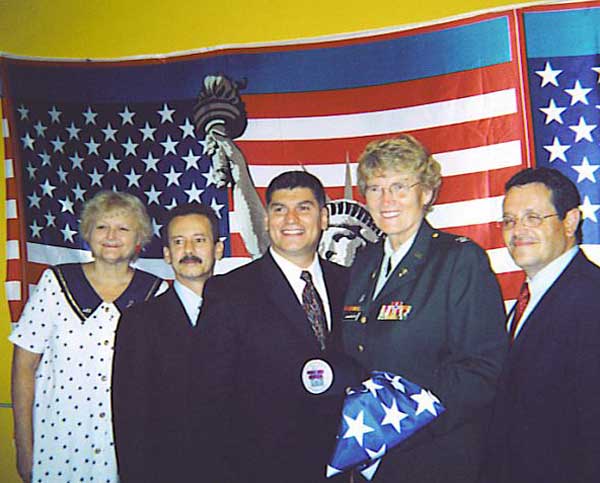 Bill Salzman with Colonel Cammeyer visit at Harvey Milk High School,
where Bill was the Founding Principal
---
Bill Salzman's Thankful Note to the S.V.A.
Thanks again for your warm welcome at yesterday's monthly meeting of the
STONEWALL Veterans' Association
. Yes, it is true that like many others, I have been an anonymous Stonewall Veteran after all these years. Nonetheless, I have been an admirer of the leading S.V.A. with the 'Big Blue' from the sidelines of the parades. .Back in the days, I was a shy and scared 16-year-old when I first sat down (or really riding on the sides) at the original
STONEWALL Bar & Dance Club
, the Tel-Star, the Gold Bug, the Twelfth of Always and the 1-2-3 those many years ago. I will accept your offer to join the S.V.A. I hope that I can contribute in some ways after all these years to the continuing spirit of the Gay revolution. And, of course, the SVA's unique and crucial function of educating the public -- Gay and straight.
Sincerely,
Principal Bill Miranda Salzman
April 24, 2004
  
   
  
---
The

New

York

Times

Profile: Bill Salzman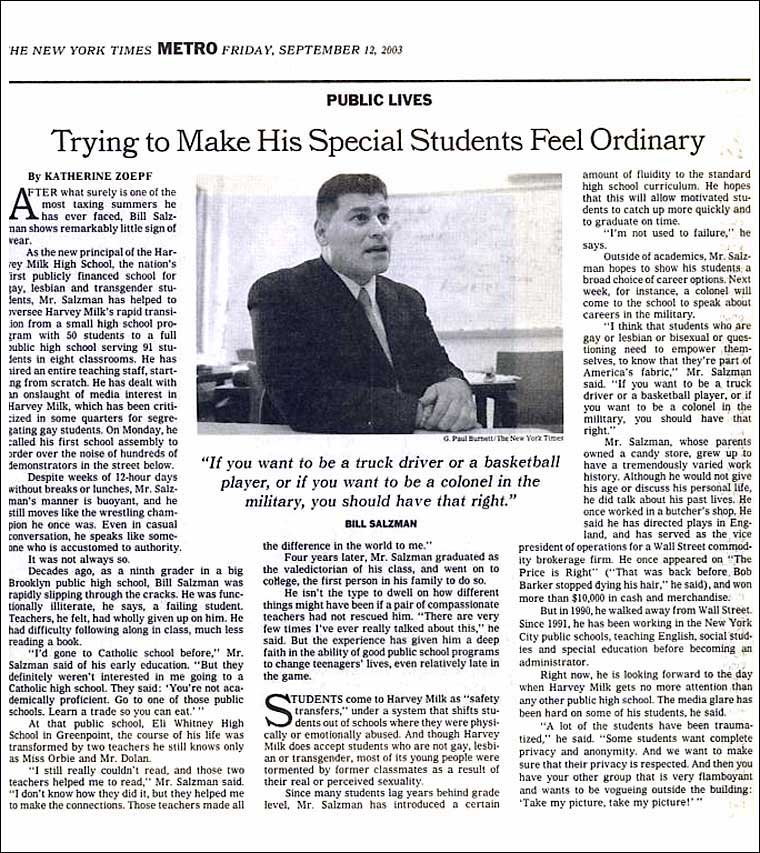 NYX: Bill Salzman - "Trying to make His Special Students feel Ordinary"
[Photo via The New York Times]
NYTimes.com/BillSalzman/SVA.html
---
Bill Salzman Exits the Harvey Milk Gay High School
NYMag.com/nymetro/news/features/10970/index1.html
---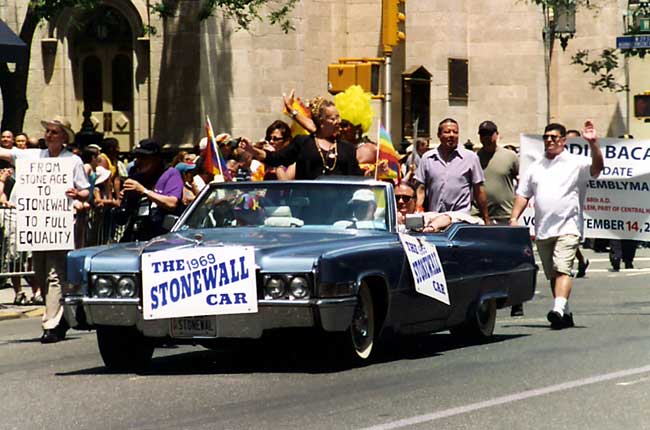 Bill Salzman with the "Stonewall Car" leading a NYC Gay Pride Parade
[Photo by Willson L. Henderson for the S.V.A.]
---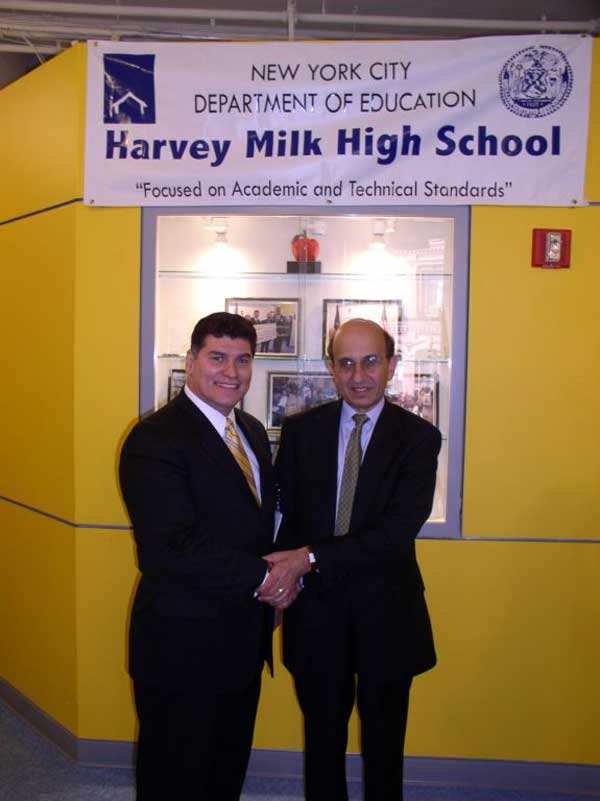 Bill Salzman with N.Y.C. Schools Chancellor Joel Klein
[Photo by William Gonzales]

Like the SVA's Bill Salzman, the native New Yorker, Joel Klein, another native New Yorker, was also born in Brooklyn! The latter was on October 25, 1946 and he lived in New York City public housing. Just as Bill is the first principal of the Harvey Milk High School, the first Gay high school in New York, Mr. Klein is the first New York City Schools Chancellor to be appointed. It is two more reasons that the two educators instantly hit it off. Joel was previously in the national Clinton Administraion as Deputy Counsel to the President and as Deputy Attorney General and in private law firm business. Mayor Michael Bloomberg did the appointing of Mr. Klein on July 29, 2002, when the Mayor got control of the school sytem, over a school system with 1.1 million children. Bill is also proudly part of the NYC Education Department. The education of children is of great importance to the STONEWALL Rebellion Veterans Association with one of our chief goals being to educate -- youngsters and adults! That is why the S.V.A. is so extra proud of Bill!

---
=transition=
---------------------------- Original Message ------------------------
Subject:
Dan Dobbs * 1963-2008
From: BillSalz@AOL.com
Date: Saturday, September 13, 2008, 9:27 pm
To: "Willson" <WLH@nyct.net>
Dear Willson,
My dear friend and partner Daniel Dobbs, died today of colon cancer.
Although he was a longtime sufferer of AIDS, that is not what killed him.
Dan was a faithful member and voice of the Gay community in the 1990s.
Dan died ready and in peace. He was interned in my family plot at Mt.
Hebron Cemetery in Flushing, Queens, N.Y. Dan will be much missed.
Sadly,
Bill
---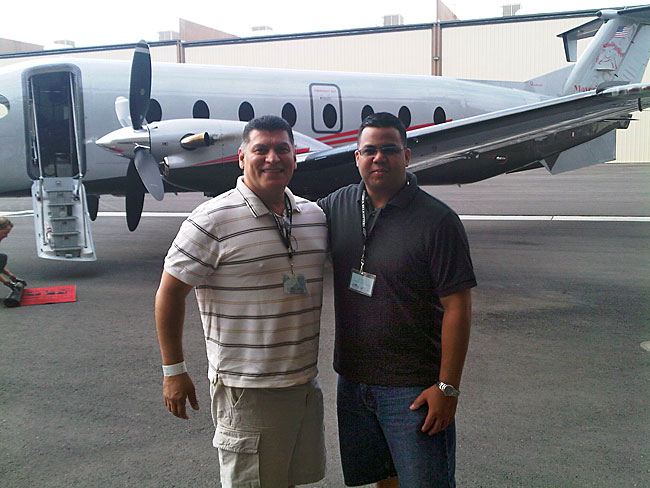 Bill and Jonathan Rodriguez in 2009 readying for the Grand Canyon!
=411 about the picture from Bill Salzman=
"I've been mentoring
Jonathan Rodriguez
since he was in high school. He now has
his own computer software company. He took me to Las Vegas, Nevada, for a
Champaign helicopter exciting and scenic ride into the Grand Canyon, and dinner
later at the five-star French restaurant Le Cirque. For nighttime, Jonathan wanted
to celebrate my 40 years in the Gay community by taking me to to the aptly-titled
"STONEWALL Club" located in a Vegas hotel where the legendary Judy Garland
actually performed!"
---
=Bill Salzman - "Stonewall 40" (1969 - 2009)=
Bill M. Salzman
proudly serves as a member of the
STONEWALL Rebellion Veterans Association
Executive Committee. For "Stonewall 40" in 2009, Bill served on the S.V.A. Planning Committee for significant S.V.A. events namely the "SVA's 40th Annual Conference & Stonewall Veterans Reunion" (Saturday, June 27th) at the New York City GLBT Community Centre, leading the "New York City 40th Annual Gay Pride Parade" most of the the SVA-ers riding on the "STONEWALL Float" in Manhattan (Sunday, June 28th), and participating in the incredible "40th Stonewall Rebellion Anniversary Party" (Monday, June 29th) sponsored by the S.V.A. at the now famous (some say 'infamous') STONEWALL Club in Manhattan, New York. Our doorkeeper is a favorite of Bill's: SVA's office manager
AnDre Christie
!
---
=Bill Salzman Appointed as the S.V.A. Acting Director=


At the end-of-year 2013
STONEWALL Rebellion Veterans Association
Executive Committee supper meeting,
Bill Miranda Salzman
was appointed as the acting director of the S.V.A. for the first three months in 2014 and then the other candidate for director
Leigh P. McManus
serve for three months.
(No one can be officially elected as director until the S.V.A. annual membership conference in the kast Saturday in June.)
Bill temporarily succeeds
elected
director
Willson L. Henderson
whose tenure is scheduled to complete on the last day in June. Stated Willson: "Give me a break!" In addition to his Stonewall history, Bill Salzman also has the meaningful G.L.B.T. history of being the founding principal of the
Harvey Milk Gay High School
in Manhattan, NYC. Willson recommended Bill and his organizational, educational and loyalty as the acting director for three months, followed by another acting director, until a permanent director, likely Bill, be elected at SVA's conference in June.
In his first week representing the S.V.A., Bill drew up an agenda plan for S.V.A. in 2014, attended New York City Council inaugurations representing the S.V.A., issued a press release with SVA's plans for its 45th annual conference, participated in a community board hearing for the SVA's annual streetfair, proudly promoted his new position and met with various public officials including NYC Council Speaker Melissa Viverito, Councilwoman Helen Rosenthal and Councilman Rosie Mendez. Running the S.V.A. is multi-dimensional and multi-demanding. The first rotational acting director role ended after the first quarter in March of 2014.
Bill's favorite and humorous Stonewall Club expression when referring to the antics of Gay boys is: "Girls will be girls!"
---
2016
Bill's Best Wishes for SVA's Forthcoming "Stonewall 47"


Original Message -----------------------------
Subject: SVA Meeting today and "Stonewall 47"
From: "William Salzman" <BillSalz@gmail.com>
Date: Saturday, February 27, 2016, 2:27 pm
To: "Willson L. Henderson" <WLH@nyct.net>
"AnDre M. Christie" <Dre_NYC@Yahoo.com>
-----------------------------------------------
Dear
STONEWALL Veterans' Association
Membership:
Congratulations on another year filled with recognition of
G.L.B.T. legal rights and the struggles since June 27th, 1969;
especially the youth and those coming out in this year, 2016!
The G.L.B.T. rights work never ends and our memories must
always remember that Freedom is not Free!
And that WE must continue until the light of all of our rights
are in the hearts of all Americans, not just "US" who were there
those eventful and now historic nights, in a hot and a sweltering
New York City, ignited on Friday night the 27th of June 1969!
We love you, Saint Judy!
Bill Miranda Salzman
,
Retired, PD, B.A., M.A.
---

2019


------------ Original Message -----------
Subject: Happy Birthday, BILL!
From: "Stonewall Vets U.S.A." <SVA@StonewallVets.org>
Date: Mon., June 10, 2019, 10:10 am
To: BillSalz@Gmail.com

-------------------------------------------------------------
* Happy Birthday! * Stonewall veteran Bill Miranda Salzman!

It's extra happy to have your birthday, as it turns out,
during Gay Pride Month!

Enjoy your very special day, June 10th, and we look forward
to seeing you very soon with the SVA's upcoming 50th annual
conference and Stonewall Rebellion reunion and testimonials!

Your comrades at the S.V.A.,



Willson Henderson

, Director
STONEWALL Rebellion Veterans Association


---

2020
On location photo of Stonewall veteran
Bill Salzman
at the "Worldwide Pride Stonewall 50" celebration to be posted.
---
2021

On National Coming Out Day, Bill Salzman Reflects on His Gay Childhood Nights at The Original STONEWALL Club


Original Message -----------------------------
Subject: In honor of #NationalComingOutDay! I appreciate it so much!
From: "Billsalz" <billsalz@gmail.com>
Date: Mon, October 12, 2020 8:51 pm
To: "Willson Lee Henderson" <WLH@nyct.net>

--------------------------------------------------------------------

In honor of #NationalComingOutDay, I'd like to share how much I appreciated the opportunity to have viewed the "Boys in the Band" movie 00 in a real
movie theatre -- when I was a very young man. I saw the movie while I was
a member of the several Gay and Lesbian organizations at NYU (New York University). I remember being horrified and scared when I saw the movie
all those years ago. I didn't understand why mist of the Gay characters
were so mean to each other. Why they were forced to be drunk, bitchy drama queens due to Gay oppression! And, homo self-guilt and hatred in the years before Stonewall '69! Stonewall was my boyhood hangout at 16 years old.
I was there for that memorable hot Friday June night of rebellion -- the
day of Judy Garland's tragic funeral -- and weekend of hope and anger.

Fast forward to seeing #BoysInTheBand on Netflix today, and I have a much better understanding about the dynamics of the characters. I understood the pain behind the masks that they portrayed. It was just as important for me to have seen the movie now in 2020, as it was to have viewed the film then!

It is important for each generation to continue to share our stories with each other because we can all learn so much from each other.

It does get better and for that I'm very grateful. :-)

Bill Miranda Salzman
S.C.M. Corp. President


---


11th July
2021
52nd Anniversary of the S.R.V.A.
https://www.StonewallVets.org/upcomingevents.htm
*
=====2021: 52nd Anniversary of Gay Stonewall Rebellion in NYC=====
[Friday night, June 27 ~through~ Thursday evening, July 3, 1969]