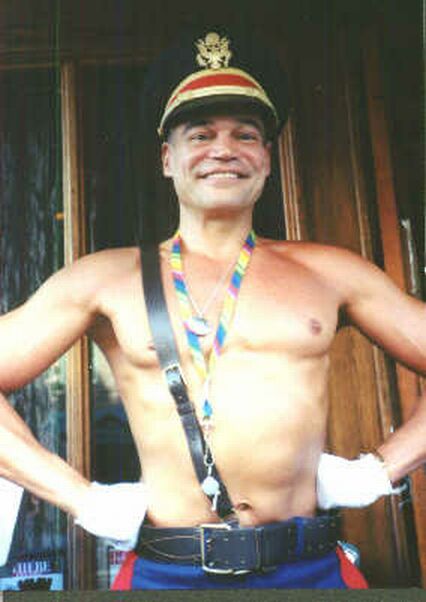 Admiral Dave West leading 1998 NYC Gay Pride Parade with the S.V.A.
[Photo by Farrell Armstrong]



The SVA's longtime Public Relationist -- a title as unique as him -- is

David F. LaManna West

better known as "Dave West". He was born in upstate New York in Syracuse on December 14, Nineteen Hundred and.... Fifty-two! Dave is one of the most well-known and memorable Stonewall veterans, chiefly through the

STONEWALL Rebellion Veterans Association

("S.V.A.") of the 1969 Stonewall Rebellion. Dave also has been a 'regular' in Greenwich Village since he was an enthusiastic, danceaholic Gay teen traveling down by train and/or bus from upstate patronizing

The STONEWALL Bar & Dance Club

in 1969. One of his favorite sights on Christopher Street throughout the end of 1969, besides all of the boys, was the bold and beautiful, brand-new metallic blue 1969 convertible belonging to

Willson L. Henderson

, who he would come to become longtime friends. Ironically, many years later, Dave West is a recognizable figure leading the outstanding S.V.A. contingency with that very 1969 blue "Stonewall Car" convertible leading the annual New York City Gay Pride Parade. Dave always wears something outstandingly unique, regal and/or sexy -- whether he be an Indian chief, a Navy sailor, a Gay pirate, a NYC policeman or a Yankee baseball player -- all the while steadfastly holding the rainbow Gay flag high and proud! Dave West is also an innovative entertainer, skilled dancer and crooning singer. Entertainment-wise, "Hurricane" Dave is much-requested for his "singing telegram" theatrical routines -- especially for birthdays -- with a seemingly endless array of impressive, exciting and sometimes daring characters and costumes. "Hurricane" is a forever popular, lively, featured performer in the SVA's annual entertainment fund-raiser event "Stonewall Showtyme" at the historic Stonewall Club's second-floor cabaret room on Christopher Street in Greenwich Village, New York.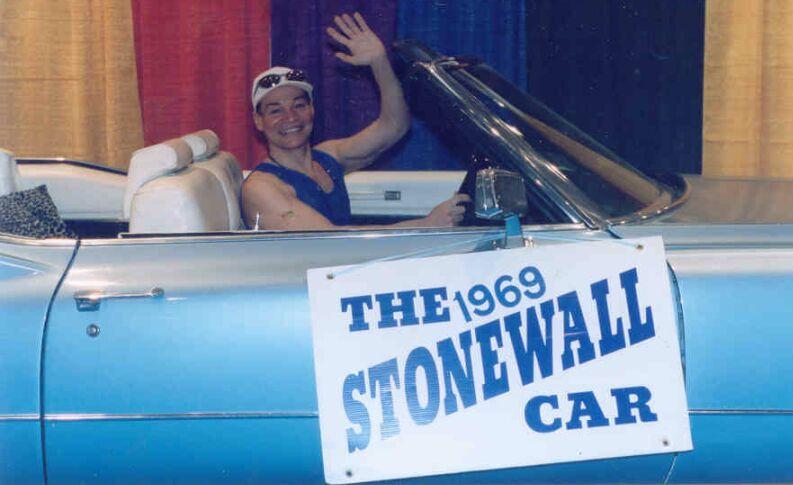 "Hurricane" Dave West at the 2003 Gay Business Expo in New York City
[Photo by Larry Taliaferro]

Besides the New York City Gay Pride parades and the SVA's annual conferences and reunions, Dave West's favorite event was the Gay business expo! For many years, the S.V.A. had a big exhibition at the original

International Gay Business Expo & Entertainment Festival

at the New York City Convention Center in Manhattan, usually held on the last weekend in the month of March. Dave West always co-represents the S.V.A. at our display booth and tables on one of the two days. The SVA's

Leigh McManus

describes Dave as "the perfect greeter and meeter"! Above, at the Gay Business Expo, Dave is happily and proudly sitting in the open, famous 1969 convertible "

Stonewall Car

", a proud and popular part of the SVA's exhibition.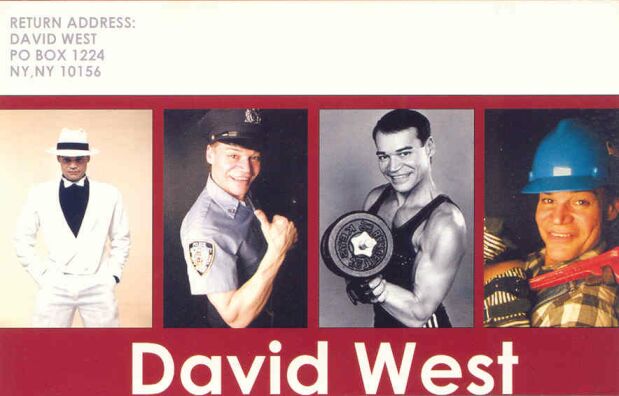 Dave West's very versatile 4-pic modeling postcard
[Photography by Jonathan Lane]



Dave West

is shown above as a pimp, a policeman, a body builder (which by physicalness he surely is) and a construction worker (which by personality he definitely is not). Dave's endless creative costumes and captivating characters also include but are not limited to: the Village People, a baseball player, a ringmaster, an admiral, a convict, Superman, a gorilla, a disco dancer, a scarecrow, a priest, an Indian chief, a sailor, a gangster, a cat, a sexy model, Batman, a gypsy, a dog, a train conductor, a knight, Spiderman, a phantom, a leather man, a doctor, a bellhop, Cupid, a clown, a spaceman, a doctor, a greaser, Chippendale Model, a butler, a ghost, a nun, a hot cop, Mickey Mouse, a pirate, a businessman, a chicken, a security guard, Zorro, a baseball player, an elf, a monk, a fireman, Dracula, a court jester, a flasher, a biker, a hippie, Easter Bunny, a leprechan, a bear, a cowboy, a ghoul, U.S. Armyman, a camp drag queen, a king, a rabbi, a bridegroom, Tarzan, a judge, a Gay angel, a mailman, a top hat 'n' tails gentleman, The Tin Man, a pirate, a doorman and a witch -- plus Gay Santa Claus!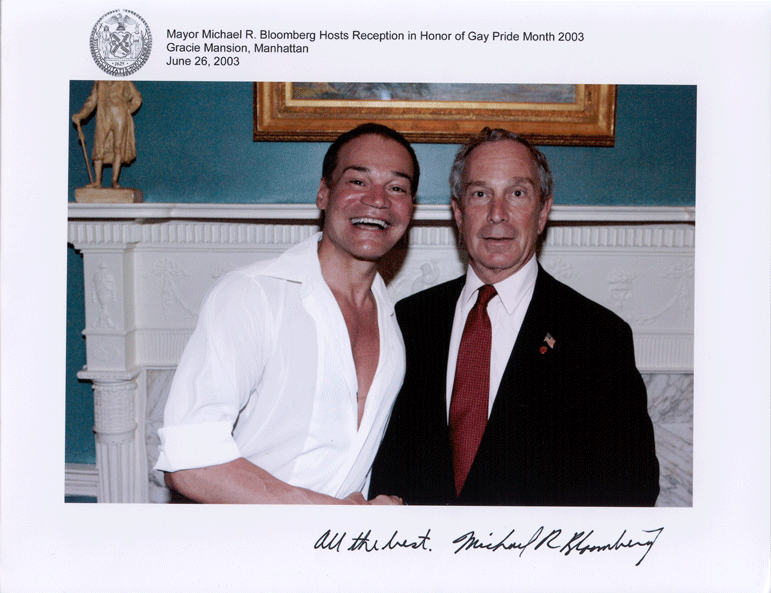 SVA's Dave West with N.Y.C.'s Michael R. Bloomberg
[Photography by the Office of the Mayor of the City of New York]
---
SVA's Dave West in the now famous photo
Background: 1969 "Stonewall Car"
Also shown: Bill Miranda Salzman
[Photography via New York Daily News;
the Daily News also published this photo]
---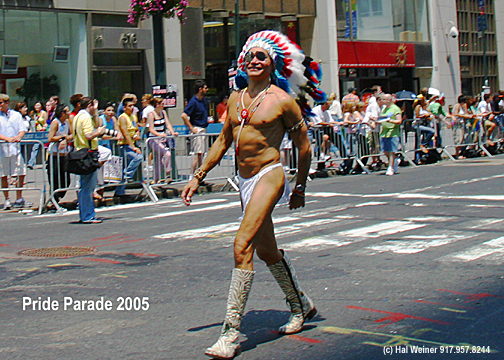 Chief Hurricane Dave proudly leading the S.V.A. in June 2005
[Photography by Hal M. Weiner]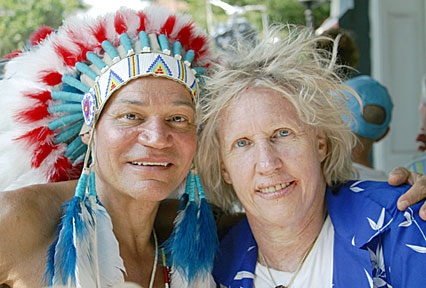 Dave West with Willson Henderson after the 2005 Gay
Parade at the Hudson Corner Restaurant Outdoor Cafe
[Photography by DigitalPhotoPro@AOL.com]
After the SVA's wonderful Public Relationist Dave West received an advance copy of this photo from Hal Weiner via Willson Henderson, always appreciative Dave (who was ill and under treatment at the time), sent Hal a personal note of thanks. Dave's thank you card read: "I love the STONEWALL Veterans' Association! I love Willson! I love the 1969 Stonewall convertible! I love the Gay Pride Parade! And I love, love, love this great close-up picture of Willson and me. Love, Dave P.S. I wasn't going to come as the Indian this rough year but Willson said that you must, you can do it, do it for Gay pride, do it for you; you look swell, you'll be glad you did. He was right! Thank you Hally for capturing all that!"
---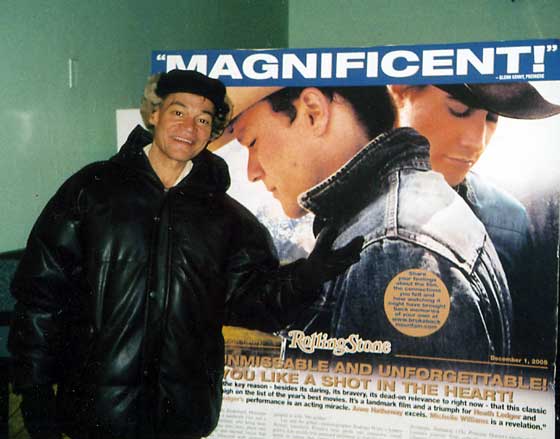 Dave West at his final movie: "Brokeback Mountain"
[Photo by Jenni Jan Egan]
A "From Stonewall to Brokeback" gathering was assembled by S.V.A. director Willson Lee Henderson ("WLH") for Friday the 13th of January 2006 at the Chelsea Cinemas Theatre. Comprising the S.V.A. group were Willson (host), Dave West (the motivation for the event), the SVA's first vice-president Bert Coffman, the SVA's ambassador Storme DeLarverie, Jenni Egan, Ramon Bellido, Michael Livote and Anton. Originally planning to attend, AnDre Christie (visiting his mother in the hospital) was in regular contact with Dave via cellphone. "Brokeback Mountain", released in New York City the month prior, is about two basically non-Gay cowboys who not-so-slowly fall deeply in love with each other and embark on a twenty-year relationship of ups and downs. "BBM" was the talk-of-the-country and far beyond. When WLH suggested this idea to Dave, he was instantly enthusiastic. Indeed, BBM lifted Dave's spirits and injected inspiration into his life. The movie dinner party started at the movie box office on West 23rd Street with Willson generously purchasing everyone's movie tickets -- to also ensure that tickets to the film would not be sold out. Dinner and drinks were at the East of Eighth Restaurant on West 23rd Street in the heart of Chelsea in Manhattan. All had such fun with loads of laughs and all were treated by WLH. Everyone saw, enjoyed and were moved by the landmark and highly-acclaimed "Brokeback Mountain"! A specially meaningful and cost-free (including safe taxi home) evening with friends was had by everyone, particularly Dave, who, so sadly, died within three months.
---
Dave West was added to the "Gay Urban Cowboys" website in 2007!


DeanFarm.blogspot.com/2007/More-Gay-Urban-Cowboys.html
---



STONEWALL Rebellion Veterans Association business card for Dave West
.

+++++++++++++++++++++++++++++++++++++++++++++++++++++++++++++++++++++++++++++


Tribute to
Dave West

Sunrise: December 14, 1952
Syracuse, New York

Sunset: April 7, 2006
Manhattan, New York




Dave West had a deadly battle with bladder cancer which, over time, unfortunately and ultimately spread from one vital body organ to another. He was re-hospitalized at Beth Israel Hospital on Thursday, March 30th. That was the same day that SVA-er Dave planned to join SVA-ers Willson Henderson, Bert Coffman, Rose Giordano, Leigh McManus and Bill Salzman plus Friends-of-SVA Michael Livoti and Anton Hauser plus AnDre Christie at a NYS attormey general candidate Andrew Cuomo public policy event at nearby (to Dave's home) Baruch College. Starting the following day, Friday, began what was an apparent vigil. Dave was visited daily by relatives, especially his outgoing and supportive mother Mitzi LaManna, his brother, sister and nephews, several invited S.V.A. members and many longtime friends. At least a half-dozen dozen unrelated Gay friends visited dying Dave daily. Dave's mother called Willson early on Friday morning, April 7th, at about 7 a.m., to sadly report: "Willson, I'm sorry to call you so early, dear. This is Dave's mother. I'm sorry to tell you that my son and your friend, Dave West, has died in his sleep".

*
Only four days after Dave's demise, there was an S.V.A. officials' meeting pre-scheduled with U.S. Congressmember Carolyn Maloney. This meeting included the induction of S.V.A. officers for the new year. Dave was a confirmed and enthusiastic planned attendee. He's been there before. The Congressmember also knows Dave from S.V.A. meetings and the Gay pride parades. Although the S.V.A. considered requesting a postponement, Willson, who arranged the meeting, pronounced "That is definitely not what Dave would have wanted". Instead, besides S.V.A. officers Willson Henderson, Bert Coffman and Leigh McManus, they had Dave's mother Mitzi LaManna join them. Congressmember Carolyn and her staff, particularly Minna Elias and Juanita Reyes, were visibly impressed and touched by this surprise and lovely gesture.

*

In remembrance of Dave West from public officials who knew Dave through the STONEWALL Veterans' Association, the S.V.A. has received flowers from openly-Gay, former President Clinton Oval Office Advisor Sean Patrick Maloney and letters of condolence from former N.Y.C. Mayor Ed Koch, U.S. Congresswoman Carolyn Maloney, N.Y.S. Attorney General Eliot Spitzer, U.S., Senator Hillary Clinton, N.Y.S. Assemblymember Jonathan Bing, U.S. Senator Charles Schumer and NYS Attorney General candidate Andrew Cuomo as well as several N.Y.C. councilmembers such as Gale Brewer, Dan Garodnick, Melissa Viverito, Robert Jackson and Rosie Mendez.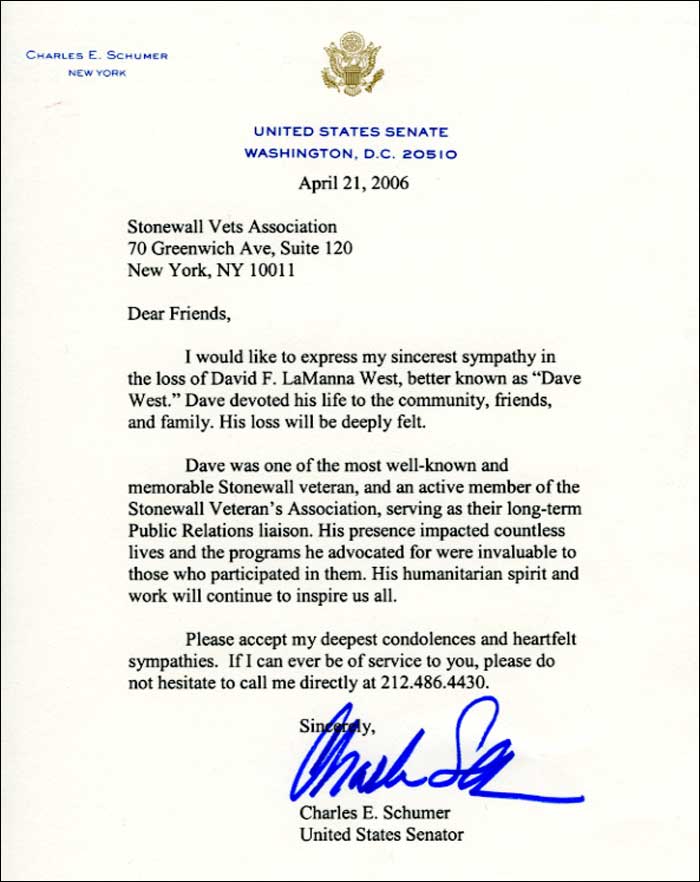 U.S. Senator Charles Schumer's impressive letter was sent in the S.V.A. invitation mailing
for Dave West's Memorial Service and distributed to every attendee at said tribute.

* * * * * * * * * * * * * * * * * * * * * * * * * *


Dave West Memorial Service:
Saturday, April 29, 2006


Dave West Memorial Committee

Willson Lee Henderson, Chairperson

Mrs. Mitzi LaManna, Honorary, Dave West's Mother

Peter Mommers, Dave's Confidante

Ramon Bellido, S.V.A. Board of Directors Member

Jonathan Lane, Dave's Photographer

Martino di Martino, Dave's Entertainment Rep

AnDre M. Christie, S.V.A. Assistant

Personal Note: All of the above were also Dave West's personal friends!

Dave West Memorial Service

Saturday, April 29th, 2006 @ 5 p.m.
following the S.V.A. monthly meeting

G.L.B.T. Community Centr
Assembly Hall (main floor)
212 West 13 Street
btw. Seventh & Greenwich Avs.
Manhattan, New York
(212) 620 - 7310



Memorial Host:


Willson Lee Henderson



Various Tribute Speakers Roster

:
* Mitzi LaManna, Dave West's Mother
* Emile Griffith, Jr., since The Stonewall
* Storme DeLarverie, fellow STONEWALL Vets Assn. officer
* Bill Sands, longtime friend
* Steven Gradman, PRIDE Democrats of NYC
* Sherdina Straughn, Dave's music coordinator
AnDre Christie, Youth-for-SVA and fellow work-out-aholic
Maria Estevez, reflecting on leading NYC Gay Pride Parades with S.V.A. and Dave
* Peter Mommers, longtime Dave West confidante
* Jenni Egan, Imperial QUEENS of New York
* Bert Coffman, fellow S.V.A. Stonewall veteran
* Joann Morrison, prayer blessing for Dave West

Please R.S.V.P. to AnDre Christie at the S.V.A. at (212) 6-27-1969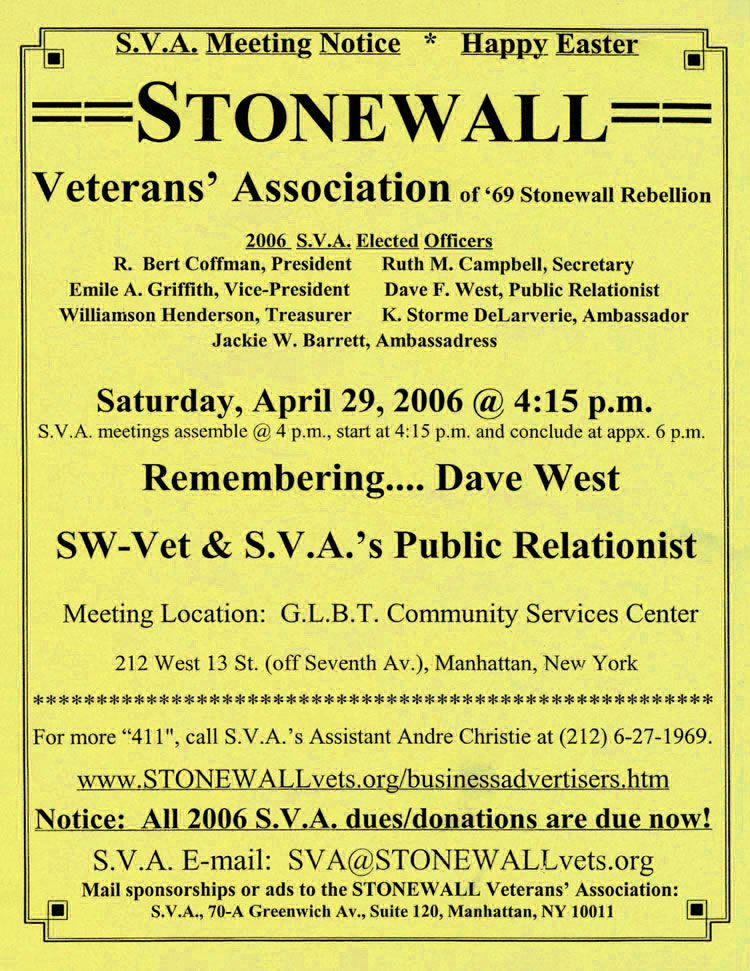 Special Memorial Service flyer for Dave West sent by the S.V.A.



++++++++++++++++++++++++++++++++++++++++++++++++++++++++++++++++++

Condolence letter to Dave's mother Mitzi LaManna West

from

U.S. Congressmember Carolyn B. Maloney


will be placed here, despite the long delay

due to misplaced document.

*

filename: Dave_West_Carolyn-Maloney

*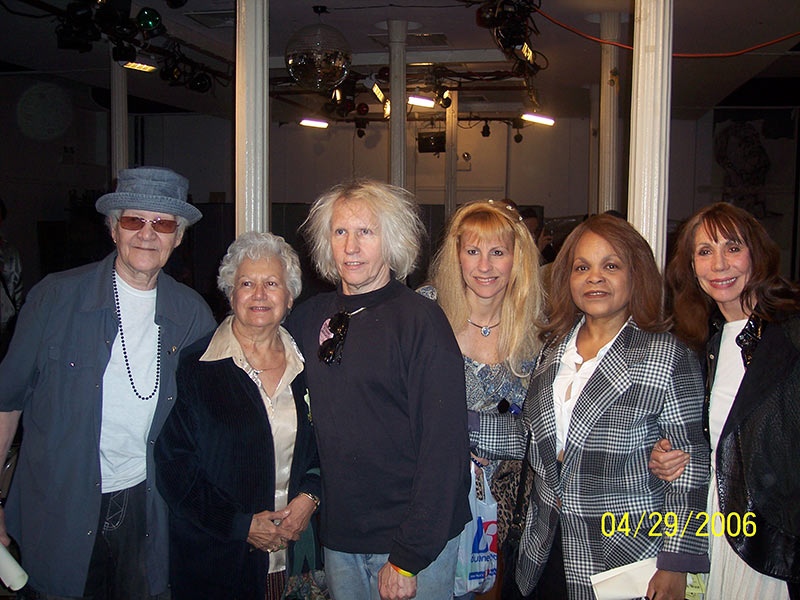 After Dave West's SVA-sponsored Memorial Service
(pictured L-2-R): Storme DeLarverie, SVA's Ambassador; Mitzi LaManna Peters, Dave's endearing Mother; Willson Henderson, SVA director and longtime Dave pal; Jenni Egan, Vice-President of the Imperial Queens & Kings of NYC (probably Dave's fave group) and intimate Dave friend; and Lucy Santiago of the S.V.A.

+++++++++++++++++++++++++++++++++++++++++++++++++++++++++++++++++++++++++++++


Among many others, you can also see Dave West at these S.V.A. weblinx:


Look at proud Dave West leading the SW-Vetz in the 1998 NYC Gay Pride Parade:
www.StonewallVets.org/parade/SW-29.htm

Dave leading the S.V.A. six-car flotilla in the 30th anniversary 1999 Gay Pride Parade:
www.StonewallVets.org/parade/SW-30.htm

Visit Dave in one of his favorite events, "Stonewall Showtyme" at The STONEWALL Club:
www.STONEWALLvets.org/QueenAllyson.htm




Dave parading with the S.V.A. in 2001 with WTC Twin Towers looming in the distance:
www.STONEWALLvets.org/parade/SW-32.htm



See Indian Chief Dave West leading the S.V.A. in the 2004 Gay Pride Parade at:
www.STONEWALLvets.org/parade/SW-35.htm

*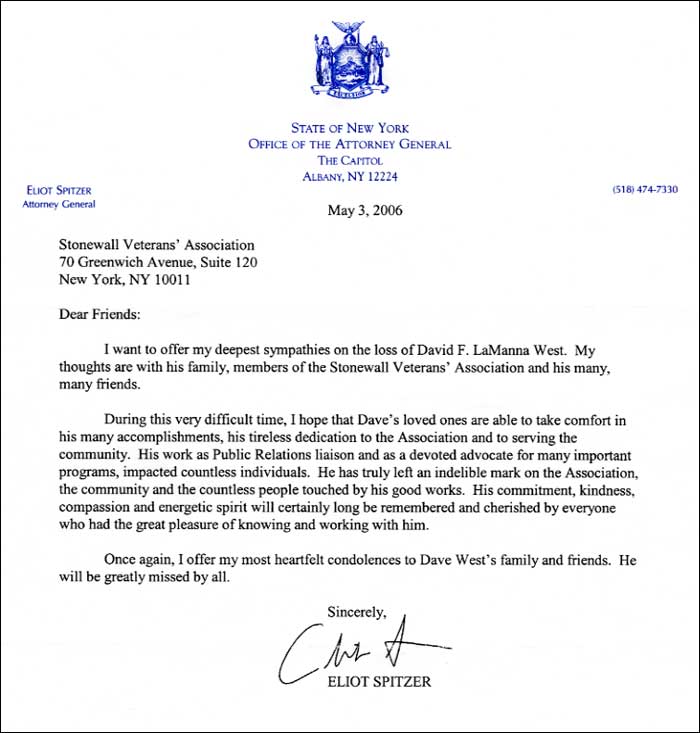 Dave West

regularly volunteered for

Eliot L. Spitzer

's 1998 Primary and General Election campaigns for
NYS Attorney General and for re-election as Attorney General in 2002 and for NYS Givernor in 2006
via PRIDE Democratss of NYC at Proofreaders Unlimited's office in Chelsea in Manhattan, NY.


*


7th April
2023

Remembering 'Hurricane Dave'

*

54th Anniversary of the S.R.V.A.

Https://www.StonewallVets.org/upcomingevents.htm

*

Remembrance of Dave LaManna West:
"It is still difficult to believe that it has been over sixteen years since the S.R.V.A.
and the G.L.B.T. community in NYC lost our wonderful and talented Dave!"
-- Willson L. Henderson, S.R.V.A. director and longtime D.L.W. friend, April 7, 2023

*

=====2023: 54th Anniversary of the Gay Stonewall Rebellion in NYC=====
[Friday night, June 27 ~through~ Thursday evening, July 3, 1969]

*