David Velasco Bermudez
STONEWALL Rebellion Veterans Association
S.V.A. Executive Committee Member (1974 - 2022)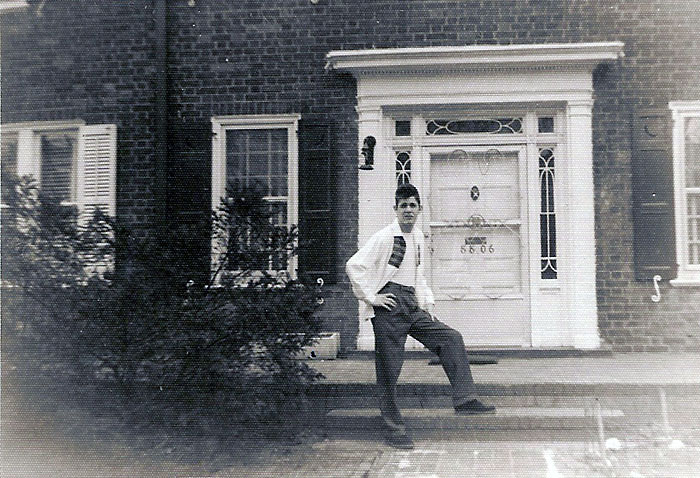 David Bermudez in 1969
---
David Velasco Bermudez
was born in Manhattan, New York, at Flower Fifth Avenue Hospital on the 27th of January -- a wild Acquarian -- at the beginning of the new decade tin 1940! He was the first of his Puerto Rican family's children to be born in America! David's father Frank Bermudez was a Pentecostal minister whose church was on Lenox Avenue at West 116th Street in Manhattan, New York City. Although born in Manhattan, David grew up in The Bronx, NYC, on Simpson Street.
In 1974, David met
Bob Isadore
. They have been together ever since that night! Living in the Cape Cod area of Massachusetts, David became the first Stonewall Rebellion veteran to be legally married in a same-gender marriage. Dave and Bob were married on the exact 35th anniversary date of the Stonewall Rebellion: June 27th, 2004........
[much more biography to be posted soon in time for "Stonewall 50"!]
---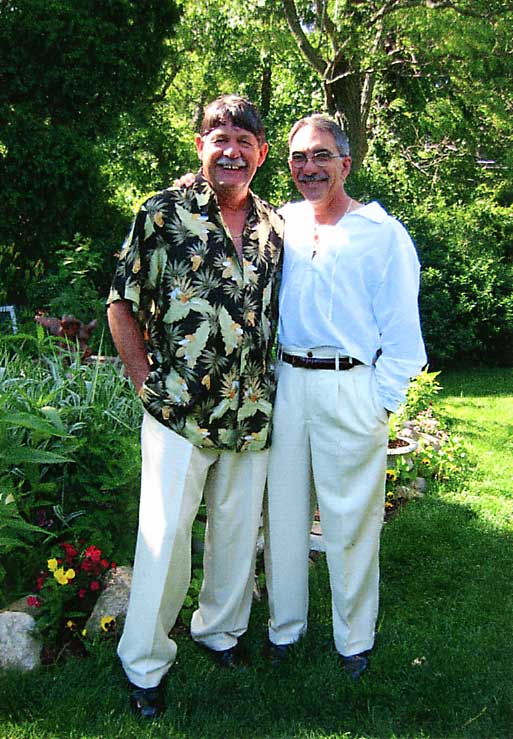 Wedding Day: Dave Bermudez & Bob Isadore on June 27, 2004
Note: Appropriately married on "Stonewall Day"!
[Photo taken in the Gay Marriage State of Massachusetts]
---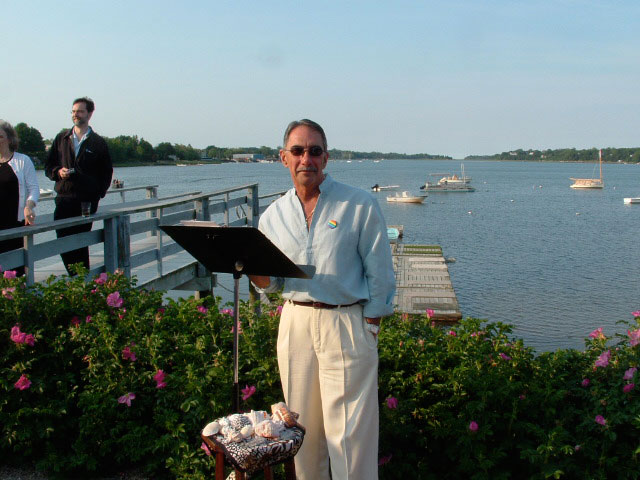 "Reverend" Bob Isadore presiding over the 2008 Gay Wedding
of Dennis McLain and Ernie Von Thaden in Cape Cod, Massachusetts
Note: Cape Cod Bay is the beautiful background!
[Photo by David V. Bermudez]
---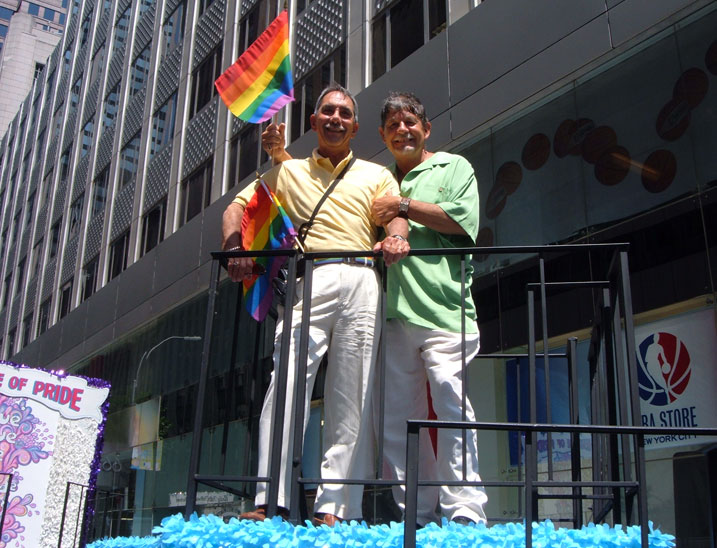 From Stonewall Club to Stonewall Float: David Bermudez (right) with spouse Bob Isadore
[Parade photo by S.V.A. Official Photographer Hal Weiner]
= = = = = = = = = = = = = = = = = = = = = = = = = = = = = = = = = = = = = = =
Stonewall Message from
David Bermudez
on Gay Pride Weekend 2009
To Willson L. Henderson, Founder & Director,
STONEWALL Veterans' Association
Happy Anniversary to all of my
STONEWALL
Brothers & Sisters,
June 27,1969, seems like yesterday! The blue 1969 convertible
"Stonewall Car" looks the same. Yet, it has been forty years since the loss
of Judy Garland and, now, exactly forty years later, the loss of another
Gay favorite icon
Michael Jackson
! I remember well that hot (in all
ways) Friday nigh when the New York City police raided the Stonewall.
All veterans of Stonewall have our personal stories of what happened.
Even the now famous convertible does. It was grabbed by the cops,
driven away and held captive at the local police station. One thing is for
sure: the world has never been the same since!
Over the years, many may have lost touch with each other but the spirit of
STONEWALL will never fade! We, as veterans, must continue to tell our
story, the true story of STONEWALL. Too often we hear stories or accounts
of that historical night from people who pretend or think they know. But you
had to be there as we were to really know what happened. So, it's our job to
keep the
STONEWALL Rebellion Veterans Association
alive -- and the
Stonewall spirit flaming. Keep the fight alive for us Stonewall veterans and for
the next generation.
On this 40th anniversary, we join each other in pride and in remembrance of
our friends who are not here. I and my spouse Bob look forward to seeing
all of you in Manhattan this Saturday at the STONEWALL reunion of Vetz!
Happy and Gay 40th Anniversary!
David V. Bermudez
A proud STONEWALL Veteran
---
Another Request for Stonewaller David Bermudez
Dear
STONEWALL V.A.
,
Years ago, my "bucket list" really included meeting a Stonewall Vet! Well, I finally did! Forty years ago, while driving along the hills of Western New York, I heard a brief radio announcement commenting on the Stonewall unrest. I was in the wrong place at the right time. Since that time, I envisioned the day I would meet a real Stonewall warrior. At the Unitarian Universalist (UU) Church in Braintree, Massachusetts, on December 10th, 2011, I had the distinct pleasure to hear from an authoritative, non-hearsay Stonewall Rebellion source:
David Bermudez
's words on Stonewall. When I subsequently attended a Taunton Men's Group meeting, located in a Boston suburb, I recounted the experience. The entire group would appreciate listening to Mr. Bermudez's Stonewall veterans presentation. To my astonishment, one Gay man in the group never learned about "Stonewall"! How can we contact Mr. Bermudez? Does he reside in Boston? Would he be willing to speak to our small group that meets on Thursday evenings from 7 p.m. to 8:30 p.m.? Thank all of you in the
STONEWALL Rebellion Veterans Association
for keeping everything 'Stonewall' alive!
Thank you,
Ettore "Terry" Mortarelli
---
Video Interview for Dave Bermudez's Spouse Bob Isadore
Attached is a video for an upcoming TV series here on Cape Cod.
I will keep you posted on the programs as we proceed. Somewhere
along the way, I do want to get an interview taped in New York
with you and other SW-Vets and air it here on our MA stations.
I'm new at this, but I am sure there is a way to work it out.
Best to all at the
STONEWALL Rebellion Veterans Association
.
As always, we will be sending in our annual dues and donation in June
for Gay Pride Month and the anniversary of the great S.V.A.!
Love Ya!!
Bob & Dave
www.YouTube.com/watch?v=Qs9mrB5uU2k
Besides longtime married to a Stonewall Rebellion veteran,
Robert Isadore is the revered chairman of the
Yarmouth, Massachusetts Council on Aging.
---
Regarding the Loss of the SVA's Ambassador Storme DeLarverie
Original Message -----------------------------
Subject:
Storme DeLarverie
From: "Robert Isadore" <Velore20@Gmail.com>
Date: Thu, May 29, 2014 8:27 am
To: SVA@STONEWALLvets.org
-------------------------------------
Dear fellow
Stonewall Veterans
,
As you all have heard, this week we have lost a pioneer of the gay rights movement. I remember when
Storme
DeLarverie
would be out side the clubs watching to be sure none of us would be harassed when we left.
If someone said or tried anything, it was Storme to the rescue. In front of the Stonewall Club, whenever the
big blue convertible was out front, Storme took special pride and care in looking out for the 1969 Stonewall
car! "Don't you dare touch it", warned Storme.
Storme was tough, but always loving, and an example to all of us who were at the Stonewall Club.
Storme stood against prejudice, discrimination and hate! It is up to us as
Stonewall Rebellion Veterans to carry on his dedication to the movement
for G.L.B.T. equality for all our G.L.B.T. brothers and sisters.
Thank You, Storme, we all will miss you forever.
David Velasco Bermudez
, Stonewall Veteran
and
Spouse,
Bob Isadore
Velore20@gmail.com
508-362-1696
Please, let us keep in touch with each other.
*
[PLACE] 2014 photo of Stonewall Dave & Bob
filename: David-Bermudez_Bob-Isadore_2014
caption:

Gay marrieds David Bermudez & Bob Isadore in 2014
---
2015
Stonewall Rebellion veteran David V. Bermudez was reappointed as a member of the S.V.A. Executive Committee. He is also the SVA's liaison to Massachusetts. In his home state, David is rightfully nominated as the grand marshal of the Boston Gay Pride Parade on June 13th! David is a scheduled speaker for the SVA's Annual Conference in New York City on June 20th.
*
Message from the S.V.A. director for D.V.B. as Grand Marshal of Boston Gay Pride
Greetings, Everyone:
The
STONEWALL Rebellion Veterans' Association
("SVA") has a
nominee for 'Grand Marshal' of the Boston Gay Pride Parade!
Boston started their Gay Pride parades 2 years after Stonewall Rebellion.
Vote 4 *
DAVID BERMUDEZ
* as Grand Marshal! See below link!
You can see David and his spouse Bob Isadore's SVA webfile at:
Greetings:
The STONEWALL Rebellion Veterans' Association ("SVA") has a
nominee for 'Grand Marshal' of the Boston Gay Pride Parade!
Boston started having their Gay Pride parades just 2 years
after the Stonewall Rebellion.
Vote 4 *DAVID BERMUDEZ* as Grand Marshal! See below link!
U can see David + his spouse Bob Isadore's SVA webfile at:
www.STONEWALLvets.org/DavidBermudez.htm
Please vote here:
http://www.BostonPride.org/marshals
Be sure to have your e-mail address spelled out correctly.
There's a place to provide your zipcode. Anywhere is okay.
Many of U know David & Bob from prior S.V.A. conferences.
FYI, they will both be down to NYC to an S.V.A. pre-Pride
monthly meeting. D&B will also be here for the "SVA's 46th
Annual Conference & Stonewall Reunion" on Saturday, June 20
-- plus the NYC Gay Pride Parade on the following weekend!!
Gayly,
Willson L. Henderson
WLH@nyct.net
S.V.A. Director
*
The S.V.A. is so proud that 1969 Stonewall vet
David Velasco Bermudez
was nominated and won out of five candidates as the Grand Marshal of the 2015
Boston G.L.B.T. Pride Parade
in Massachusetts!
Congratulationz, David!
*
David Bermudez is a Grand Marshal of Boston Gay Pride Parade
http://Yarmouth.WickedLocal.com/article/20150612/NEWS/150618394
*
2016
SVA's David Bermudez Recognized by National Park Service for Stonewall Site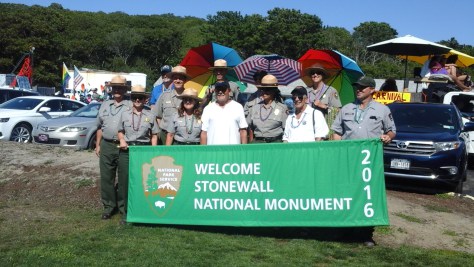 "Welcome Stonewall National Monument - 2016"
Pictured above is David Bermudez (white shirt, center) and his spouse Bob Isadore (white shirt, right)
*
Nice note to the
STONEWALL Rebellion Veterans Association
from David's spouse Bob Isadore:
On August 18th,
Stonewall Veteran David Velasco Bermudez
and myself
Bob Isadore
were invited by the
Cape Cod National Sea Shore
/ National
Parks Division to participate with them in their entry in the annual
Provincetown Massachusetts Carnival Parade
celebrating the naming of
"
STONEWALL
" as the first federal G.L.B.T. national monument. Our SVA-
inspired float entry won the Heart Strings Award for the moving tribute by
the
National Parks and Monuments Service
to the GLBT community and
specifically the veterans of the 1969
STONEWALL Rebellion
and for their
contribution to modern GLBT movement!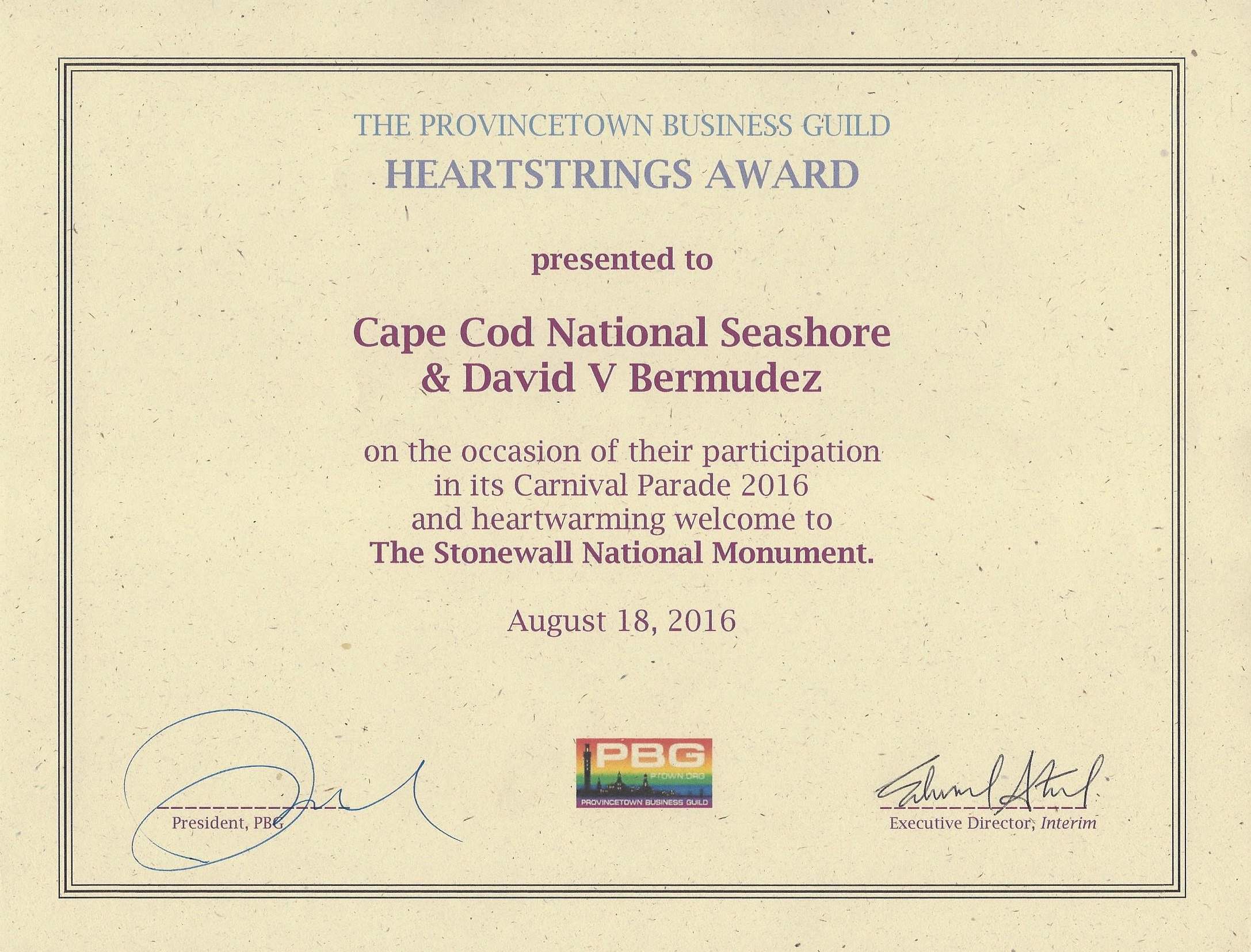 Certificate for SVA's
David V. Bermudez
in Massachusetts:
the Provincetown Business Guild presented award to DVB
---
Visit the
STONEWALL Rebellion Veterans Association
at FaceBook:
www.FaceBook.com/SVANYC
---
2017
Interesting Story on SVA's Stonewall Veteran David Bermudez


*


.......correct active link coming someday!
---
2019

Stonewall Vet Dave Bermudez Marching in Massachusetts G.L.B.T. Pride Parades


The SVA's longtime and proud member
David Velasco Bermudez
and his husband
Bob Isadore
will be marching as a Stonewall Veteran and spouse and with their contingency carrying a
STONEWALL Veterans Association
banner in both the Boston GLBT Pride Parade and the Gay Pride Parade in Provincetown ("P-town"), Massachusetts!! More 411 to follow.....
---


27th January
2022
David's Milestone Birthday!
*
Upcoming S.R.V.A. Event: Saturday, June 25th, 2022:
"S.V.A. Conference & Stonewall Vets Reunion"
https://www.StonewallVets.org/upcomingevents.htm
*
26 July
2020
David Bermudez interviewed 'live' on:
"Ask The Experts: Stonewall" Show!
*
=====2022: 53rd Anniversary of the Gay Stonewall Rebellion=====
[Friday night, June 27 ~through~ Thursday evening, July 3, 1969, Manhattan, New York City]
*
March
2015
S.V.A. Executive Committee Telephone Conference: NY-to-MA

*