David Jenkins-Foxworth


STONEWALL

Rebellion

Veterans

Association




Past S.V.A. Social Chairperson


(39 fun-filled and musical years from 1969 to 2008)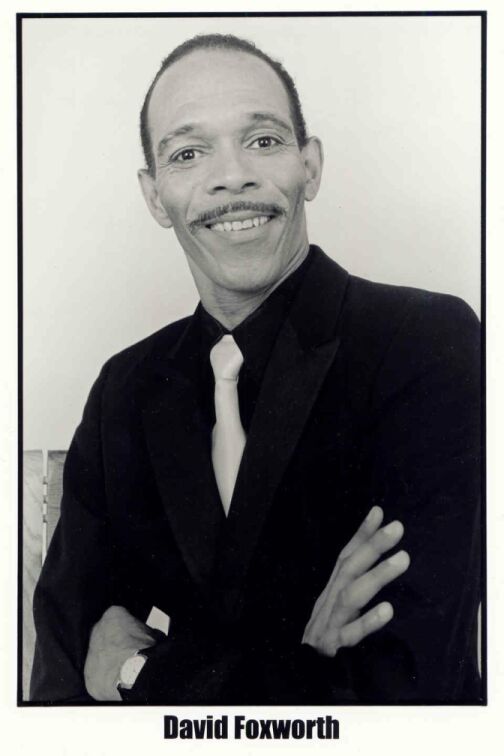 New Millennium Performer Composite of David Foxworth




---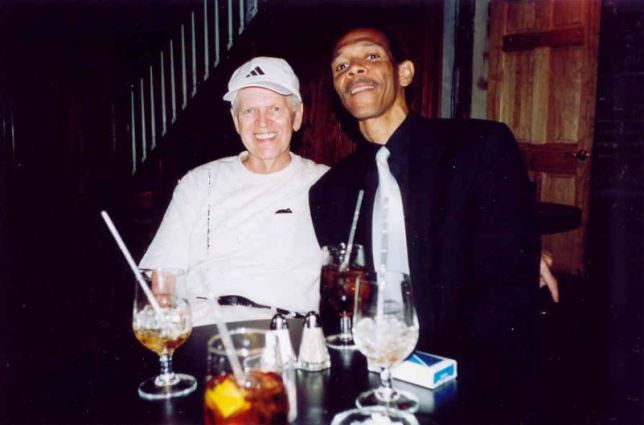 Ray McCaffrey and David Foxworth in Greenwich Village, New York
[Photo by Willson Lee Henderson]




---


David in rehearsal June 2002 at the Psychic Cafe in Greenwich Village
[Photo by Willson Henderson]



---





Biography

:

David Jenkins Foxworth

(DJF)'s S.V.A. biography 411 is coming!
People like boxing king

Emile Griffith

, Ramon Bellido,

Willson Henderson

, Jack Rojas,


Sonia Jane Attkiss

, Leigh McManus,

Storme DeLarverie

, Ivana Valentin and

Dave West


were actually met by David at

The STONEWALL Bar & Dance Club

at 51 Christopher Street
in Greenwich Village, N.Y.C. Determined David diligently travelled all the way to the Gay hotspot


The STONEWALL Club

regularly from Philadelphia. Pennsylvania. Philly is popularly known as
the 'sixth borough of New York City'! If David couldn't round up some Philly friends to drive in
their car... he took the bus and as David proudly professed: "...left the driving to Greyhound"! And,
to quote another DJF witicism: "As Granny Mae used to say, ya'all come back now, "Honey Chile""!

*

David J. Foxworth has been in the music business since he was a chile y'all!
Some of his famous singing star friends include:

Patti LaBelle

, The Intruders,


Maxine Brown

, Eddie Holman,

Darlene Love

, The Crystals,

LaLa Brooks

,
Teddy Pendergrass,

Nona Hendryx

, The Orlons,

The Ritchie Family

esp.
Dodie Draher,

First Choice

, Norman Connors,

Barbara Mason

, Sarah
Dash,

The Village People

esp. Alex Briley the Soldier,

Vivian Reed

,
Len Barry,

18-Karat Gold

, The O'Jays, and the late and Gay Luther
Vandross and the late and even Gayer

Sylvester

!




---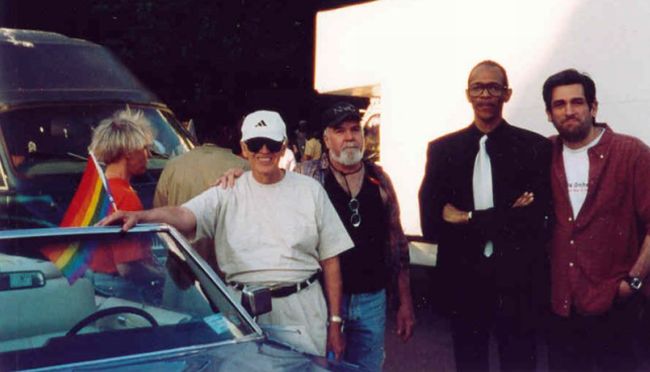 David J. Foxworth

goes to Brooklyn Gay Pride! Pictured (l-2-r) are some veterans of the Stonewall Rebellion namely

Willson L. Henderson

(red t-shirt, back turned),

Ray McCaffrey

(white cap),

Ed Heffernan

(beard) and David. To David's right is G.L.B.T. communities reporter and writer,

Tony Phillips

, who is conducting an in-depth story on the

STONEWALL Rebellion Veterans Association

for Next Magazine.
[Photo by Leigh McManus]




---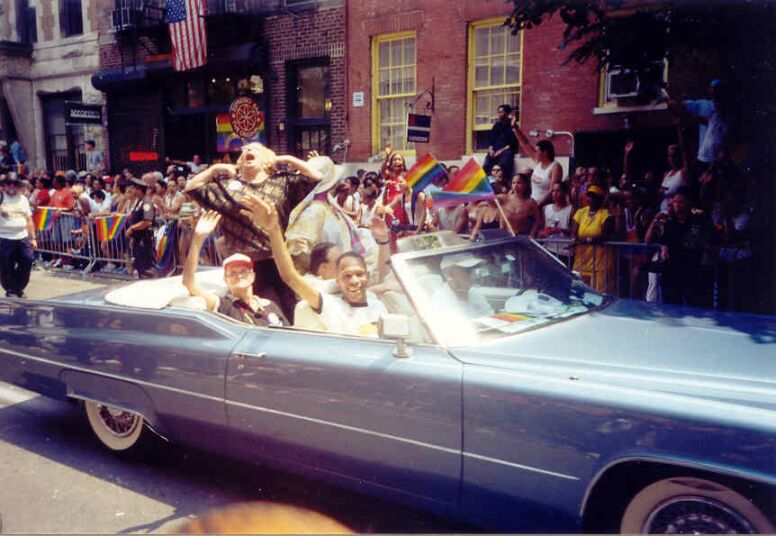 David Foxworth

waving highly and proudly riding in the 1969 convertible "

Stonewall Car

"
in a New York City Gay Pride Parade with the

STONEWALL Veterans' Association

.
David is an S.V.A. charter member from the very beginning in the Summer of 1969.
Also riding in the car are

Terri Van Dyke

sitting in the back seat (left with cap) and

Bert




Coffman

(right with hand wave). The SVA's Ambassadress

Cristina Hayworth

is standing and
shouting. Sitting atop the back seat (right, head turned with wide-brimmed hat) is Reverend


Magora Kennedy

, the SVA's flamboyant chaplain.

Ray McCaffrey

is driving the classic,
grand, famous and historic blue 1969 convertible known as the "

Stonewall Car

"!
[Christopher Street photo by Luis Torres from the DeWitt Clinton Houses]




---




=update=




David Foxworth

moved from Manhattan in New York City back to his hometown region of South Philadelphia in Pennsylvania -- after more than a quarter-of-a-century residency, performing, working, partying and Gay life in "The Big Apple". David's last residence in New York City was at the Times Square Residence Hotel on West 43rd Street at Eighth Avenue. How-be-ever, David will again be joining the

STONEWALL Veterans' Association

leading the 39th annual New York City Gay Pride Parade with the 1969 convertible "Stonewall Car" on Sunday the 29th of June 2008.




---





=2008

Maxine Brown

concert=


Maxine Brown, the legendary R&B singer from the 1960s and 1970s -- and longtime supporter of the S.V.A. and personal friend of

David Jenkins-Foxworth

-- will be concerting at Joe's Famous Pub at the Joseph Papp Theater at 425 Lafayette Street near Astor Place in Manhattan on Saturday, June 7th, 2008 @ 8 p.m. Join the S.V.A. and David in welcoming "Maxi" again! Enjoy Maxine's classic hits such as "Funny", "All In My Mind" and "Hold On, I'm Coming" (duet with Chuck Jackson) and, especially, her popular and Stonewall jukebox songs namely "Oh, No, Not My Baby", "One Step At A Time, Boy" and "We'll Cry Together". For your music information, besides

Carole King

writing Maxine's "Not My Baby", she also wrote the popular follow-up "It's Gonna Be Alright". And, before

Nick Ashford & Valerie Simpson

left Scepter Records to go to Motown, they wrote Maxi's gem "One Step". Had that "Ain't No Mountain" songwriting duo stayed.... For more info on Joe's Pub visit:

www.JoesPub.com

. Joe's phone number is (212) 539-8778. After the sold-out show, a special group of Maxine's friends, headed by David, went out to a celebratory and reunion dinner.


=DJF update=
Unfortunately,

David

J

, who called

Willson Henderson

and

AnDre Christie

in New York on Sunday, June 1, was hospitalized on Tuesday, June 3 in Philadelphia. David was transferred by ambulance to a specialty hospital on Friday evening, June 6, at 9 p.m. Willson was notified and he updated Maxine. Of course, Miss Brown was terribly disappointed, as we all were, that David could not have been in New York City during Gay Pride Month to see Maxi's show and to be with his fellow Stonewallers leading the New York City Gay Pride Parade! David planned to do both!! Meanwhile, David had thankfully rebounded! Moreover, a book on David's exciting, musical and challenging life is in the works!


++++++++++++++++++++++++++++++++++++++++++++++++++++++++++++++++++++++++++++++++




3 August 1947

*

15 September 2008





---


=David transitions to Rock 'n' Soul Heaven=




David Jenkins-Foxworth

exits 'stage left! Having AIDS for nearly 30 years was one mountain high enough to climb and deal with all of its necessary strategies and inherent dangers. However, David's life philosophy was Diana Ross's momentous theme song "Ain't No Mountain High Enough": As David was known for saying: "Jesus, don't fail me now!" Unfortunately, dealing with 'stage four' lung cancer is more than anyne can survive for too long. David was a lifelong heavy smoker. It should be recognized that he enjoyed every puff! David passed away on a late Monday afternoon the 15th of September of 2008 in South Philadelphia, Pennsylvania. David never expected that he would live to see 40 much less 61!





=memorial for DJF=




David Jenkins Foxworth

's memorial service was held belatedly in his hometown of Philadelphia, Pennsylvania. It happened on a Monday morning (the last time frame that David would have ever chosen) @ 11 a.m. on the 29th of September in 2008. If David had to choose a song for that scenario, it no doubt would have been the Stonewall song,

"Monday, Monday (Can't Trust That Day)"

. We are informed that original choices for dates were previously booked; thus the delayed date and inconvenient time Location for the religious service was Beulah Baptist Church on Spruce Street in West Philadelphia. The S.V.A. was honorably represented by longtime David friend and Stonewall vet

Carole B. Williams

from Manhattan, NY. In fact, they met nearly 40 years ago through S.V.A. founder

Willson L. Henderson

. In turn, Carole hooked Willson on "Greetings", which he has used ever since whenever he answers his telephone. David, who 'posilutely' loved Ernestine the Telephone Operator -- from Lily Tomlin's character on television's popular "Laugh-In" show -- since 1969, used as his impersonating and humorous phone opening: "One ringy dingy... two ringy dingies... three ringy dingies....!"






---


21 June
2021
Gay Pride Month
June 26, 2021: "S.V.A. Conference & Stonewall Vets Reunion"
https://www.StonewallVets.org/upcomingevents.htm
*

=====2021: 52nd Anniversary of the Gay Stonewall Rebellion=====
[Friday night, June 27 ~through~ Thursday evening, July 3, 1969, Manhattan, New York City]