STONEWALL

Veterans'

Association


2013 S.V.A. Supporters

N.Y.S. Governor Eliot L. Spitzer


-- an S.V.A. supporter since before he was in public office!

S.V.A. Honorary Member
(since 1998)





2013



To quote a popular 1970s television show #1 theme song: "Welcome Back"!

Former New York State Governor and NYS Attorney General and current NYC Comptroller candidate

Eliot L. Spitzer

was the special 'welcome back' guest of the

STONEWALL Rebellion Veterans Association

at its 44th annual anniversary meeting and celebration on Saturday, July 27th at the New York City GLBT Community Center in Manhattan, N.Y.





---



2012

Welcomed New York City political news with former NYS Governor Eliot L. Spitzer joining New York-1 television's popular weekly political show "Inside City Hall" as of July 10th. Mr. Spitzer joins legendary NYC Mayor Ed Koch and well-known former U.S. Senator Alphonse D'Amato, collectively known as "The Wiseguys". The show airs on New York 1 every Tuesday evening at 7 p.m. and encores at 10 p.m. It is particularly interesting for the STONEWALL Veterans' Association (S.V.A.) as all three gentlemen have been active supporters of the S.V.A. Clearly, Mr. Koch has been the longest and, surely, the best has been Mr. Spitzer!


www.CapitalNewYork.com/article/media/NY1-taps-Eliot-Spitzer-for-Inside-City-Hall



Note: The article has the factual error in that NY-1 News is also carried on Cablevision not 'only' Time-Warner Cable as they mistakingly reported. And, as for Cable Network News (CNN), the ratings on virtually all shows on CNN are down. One can conclude that the problem, e.g., inadequate program advertising, is with CNN not its program hosts.





---
2008
---
2007

Governor Eliot L. Spitzer's letter to the STONEWALL Veterans' Association regarding the S.V.A.'s Gay History Month Celebration at The Stonewall Inn in October 2007 has been received. The letter will be posted after the S.V.A. finishes unboxing the combined contents of two locations into one.
---
Governor's Proclamation to the S.VA.

The New York State Governor

Eliot L. Spitzer

thoughtfully prepared -- without being asked -- and had delivered a framed "Proclamation" to the

STONEWALL Veterans' Association

("S.V.A.") for Gay Pride Month in June. The proclamation was preceded by a special message letter from the Governor's office announcing that a special tribute would be forthcoming to the S.V.A.
---
2006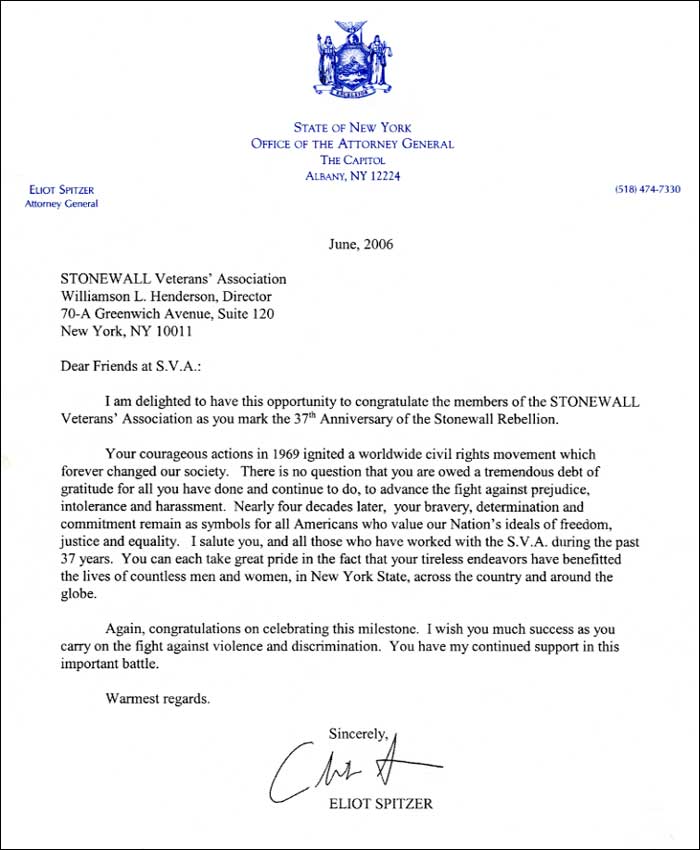 *

NYS Atty. Gen. Spitzer's condolences for the SVA's Dave West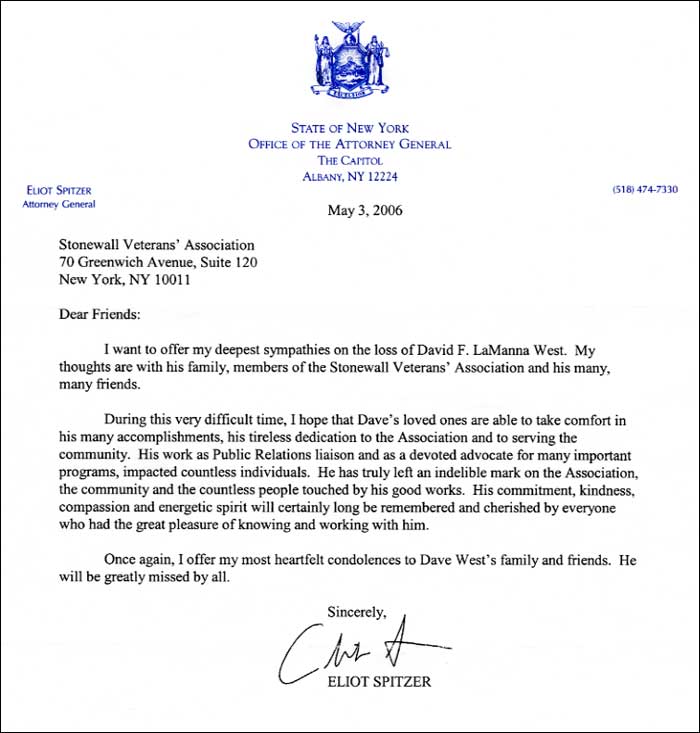 ---
2005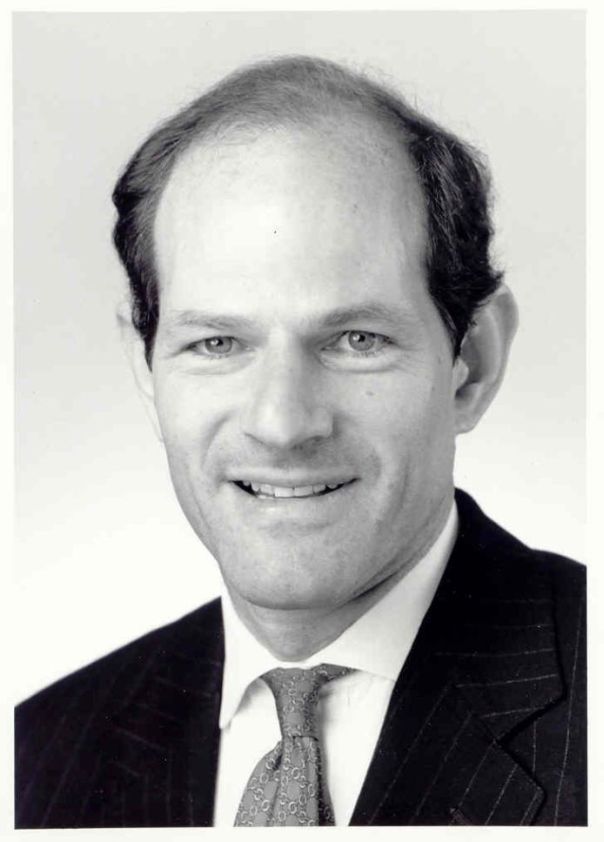 *
General Spitzer's annual Crime Victims' Tribute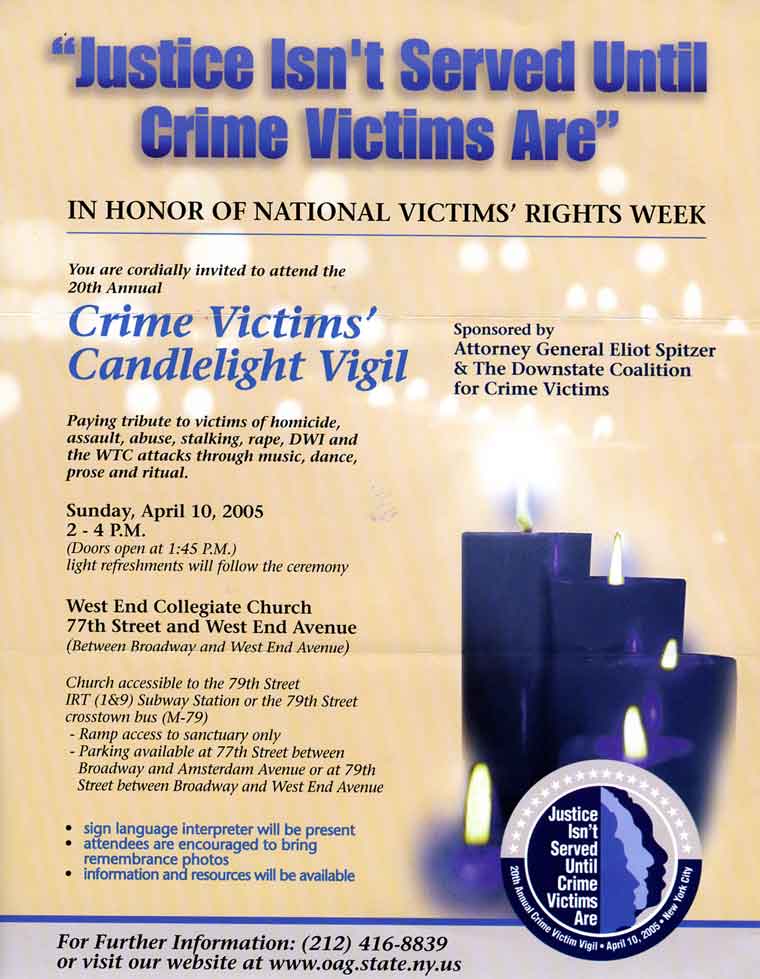 ---
2004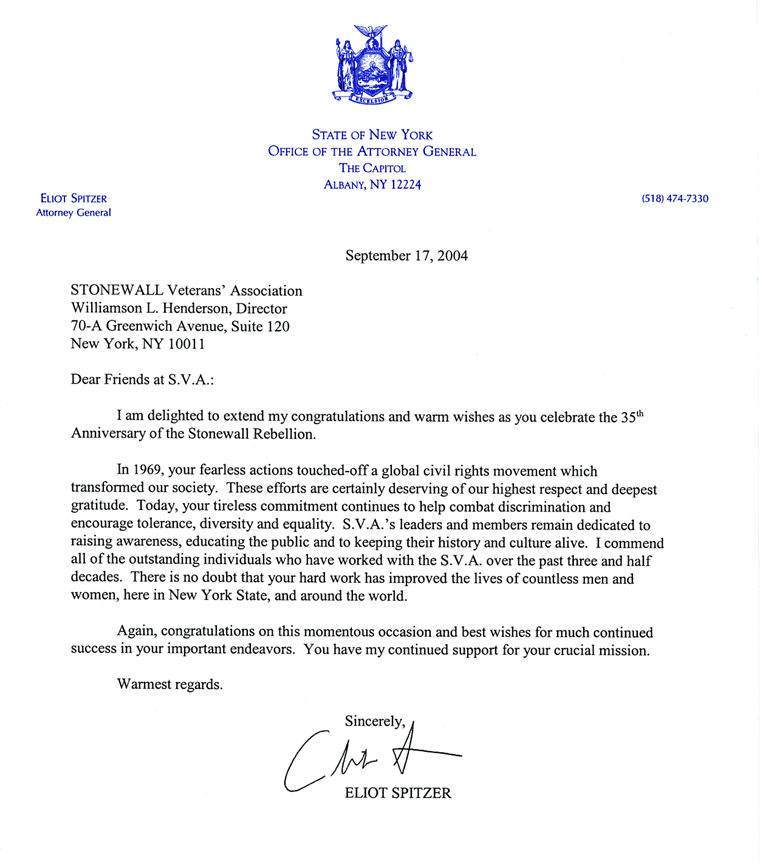 ---
2003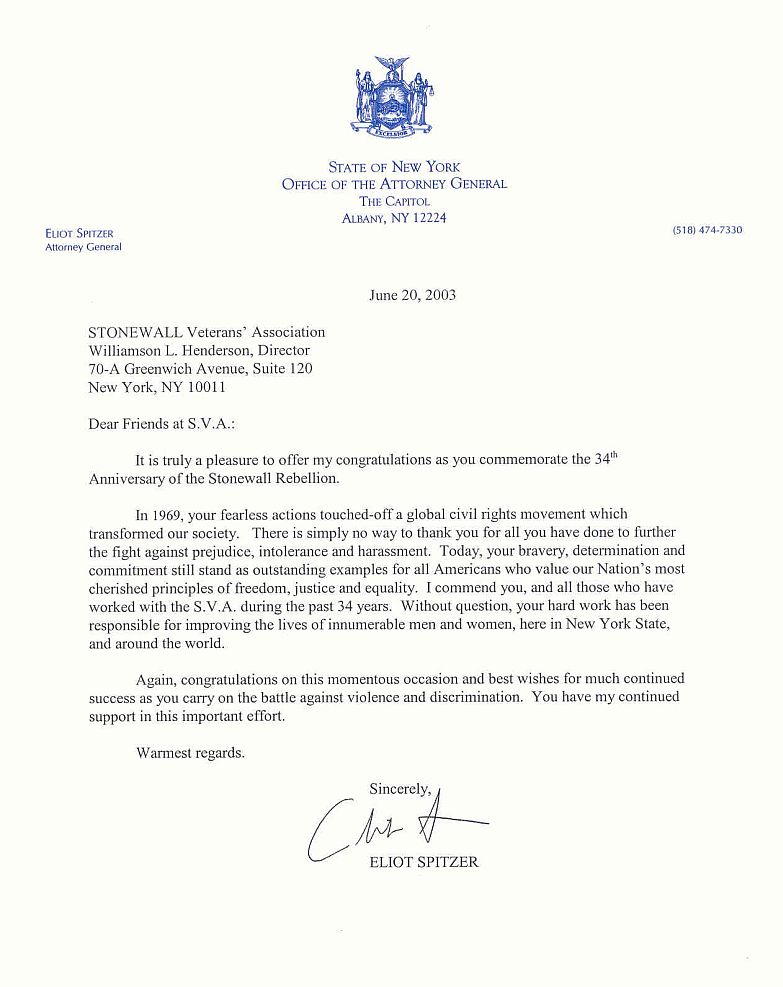 S.V.A. at Attorney General's Crime Victims' Tribute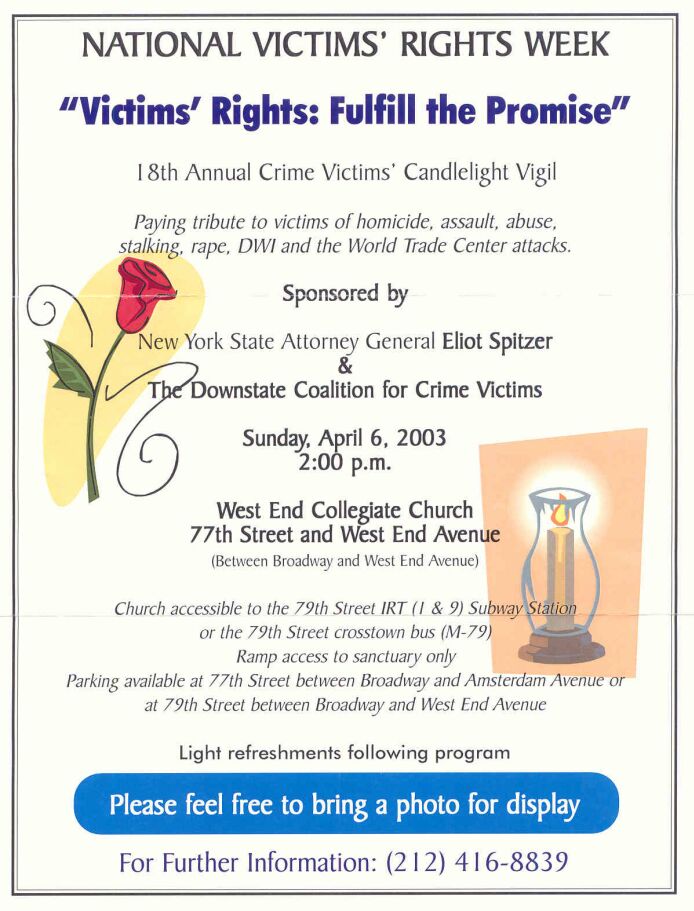 ---
2002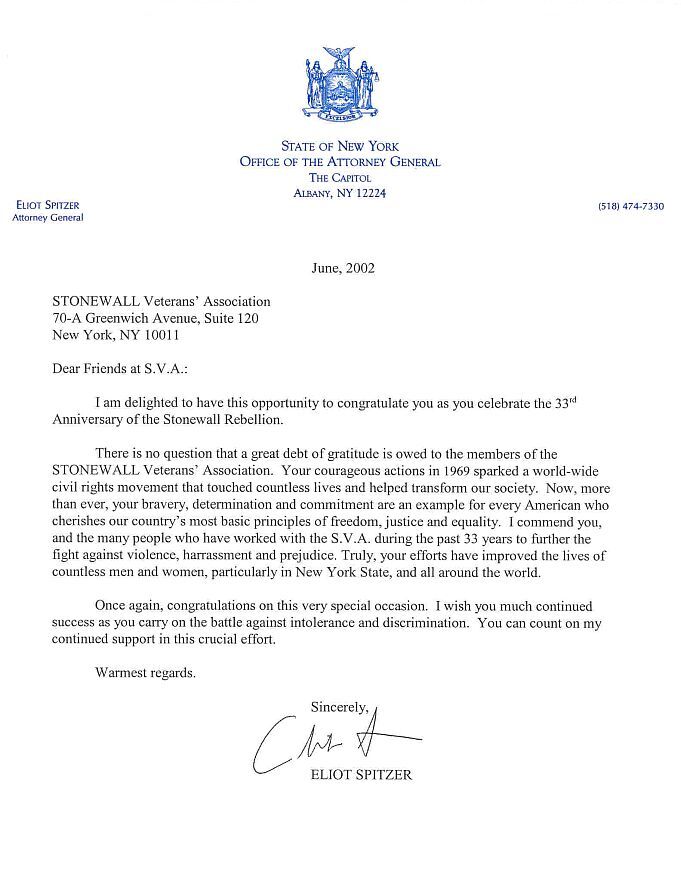 S.V.A. in A/G ELS's Annual Crime Victims' Memorial Event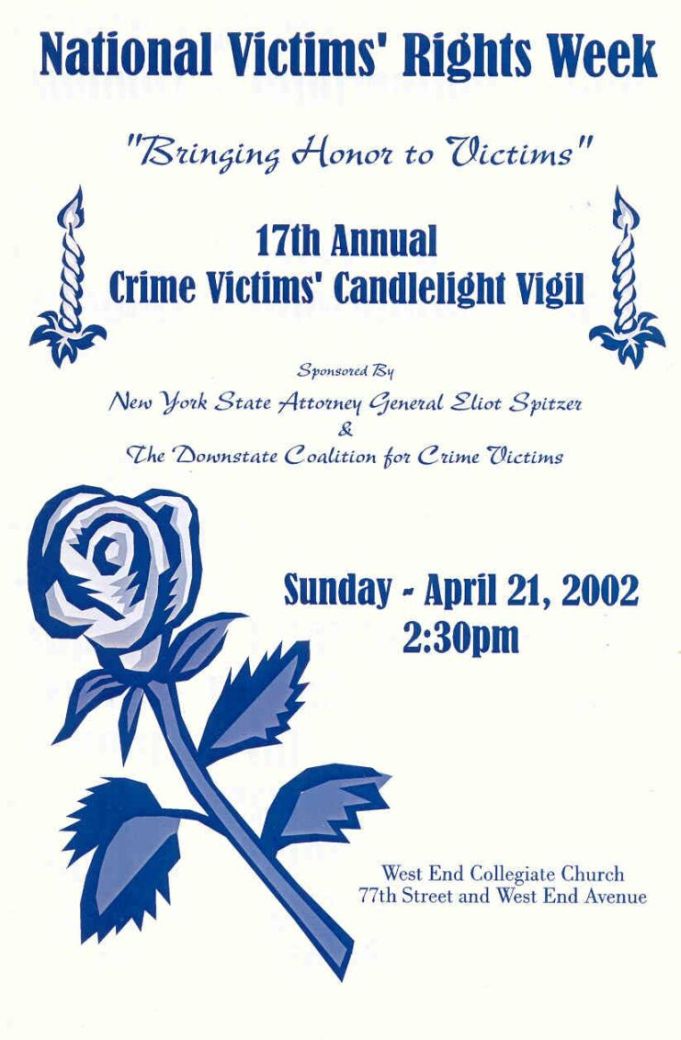 ---
2001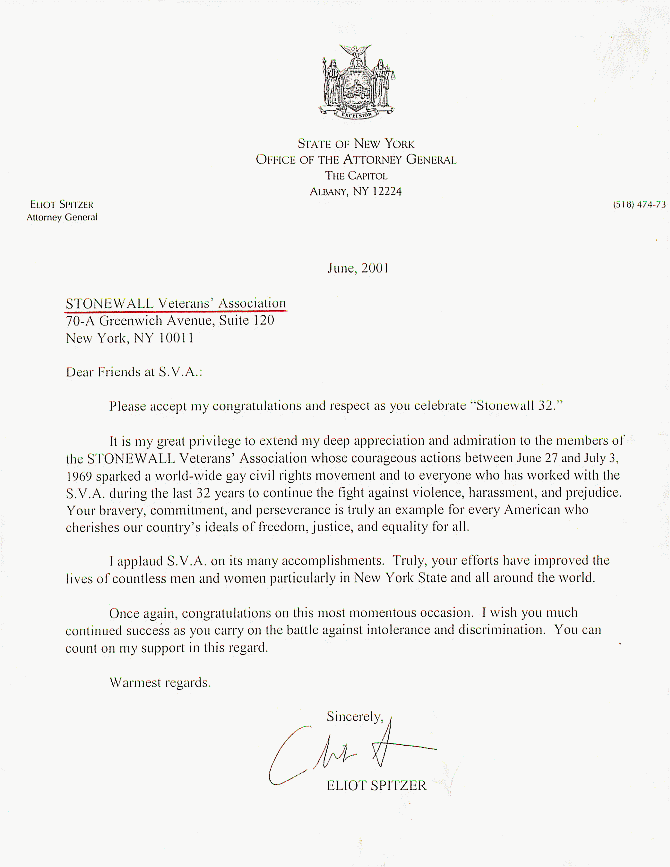 Attorney General Spitzer Hosts National Victims' Rights Tribute

[recently located 2010 in SV.A. archives and to be placed here!]
---
2000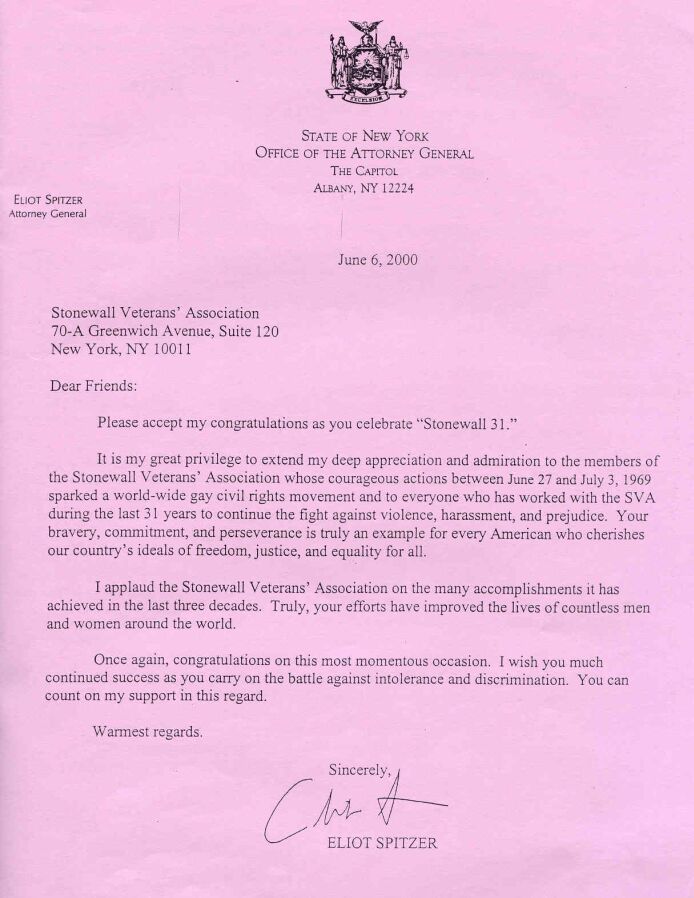 Note

: Reproduced in lavender from the

STONEWALL

Newletta
"New Millennium Gay Pride Edition" (2000) as this
letter was selected as one of the "S.V.A.'s Top 5 Best Letters".




---
1999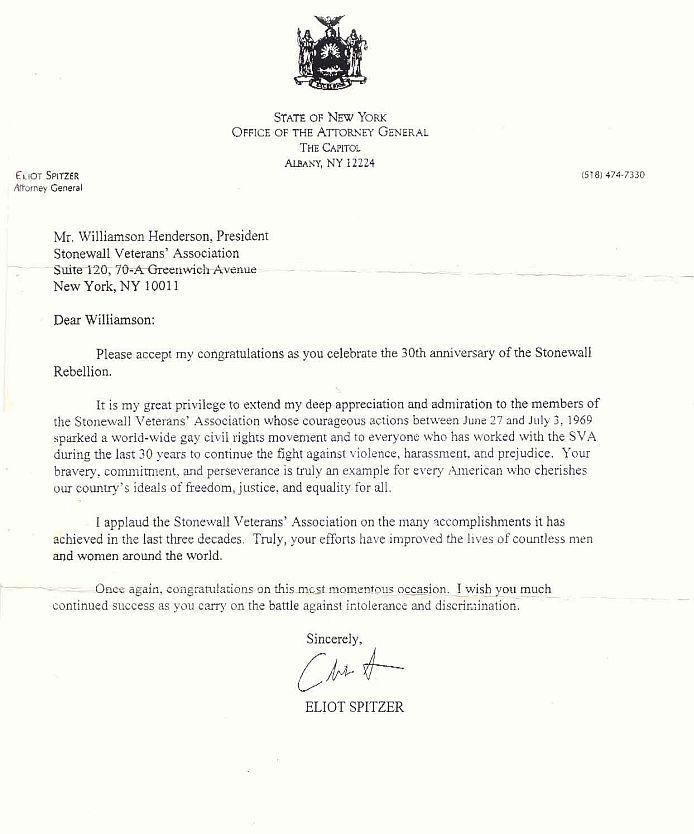 ---
1998
The Primary Moment that changed Eliot Spitzer's Career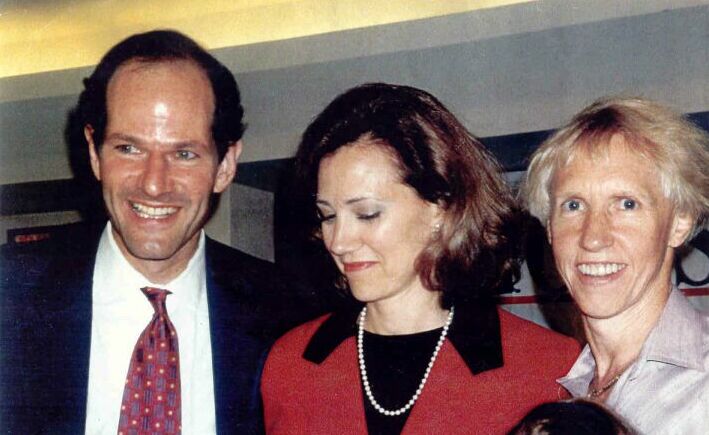 Eliot L. (for "Landslide") Spitzer wins N.Y.S. Democratic Primary!
[Photo by Princess Jenni Egan]

Winningly pictured above are (l-2-r): New York State Democratic Attorney General Nominee-Elect

Eliot L. Spitzer

, his radiant and wonderful wife

Silda Wall

and his Gay, Lesbian, Bisexual and Transgender ("GLBT") Liaison

Williamson Henderson

on Primary Election night, Tuesday, September 15, 1998, in Manhattan. The victory celebration was held at the Rihga Royal Hotel Ballroom on East 54 Street in Manhattan. Eliot had just received (via his cell phone) the final election numbers certifying that he indeed won! And, he did so decisively in a landslide result in a four-way race. At the moment pictured above on a stage, immediately after the winning announcement, cameras were flashing from all directions. The only GLBT organizations represented at this historical moment were the

STONEWALL Veterans' Association

("S.V.A."),

PRIDE Democrats

and the

Imperial QUEENS & Kings of Greater New York

("IQKNY"). All three were founded and energized by Williamson who impressively remains an elected official of each group. All of the other GLBT political clubs and organizations regularly declared -- and in some cases screamed -- that "ELS would never win"! All of them were against him. Towards that goal, many of them did everything possible under the bright sun and the dark moon to make sure that he did not prevail. All of that and more made it an extra sweet-sweet night of victory!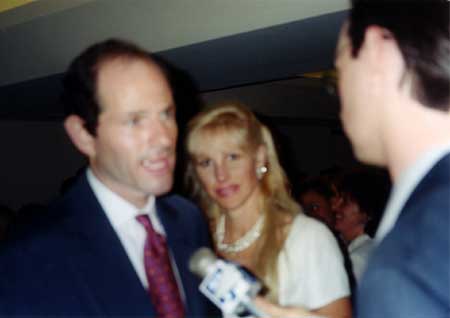 Democratic nominee Eliot Spitzer talks winningly
with NY-1 News Reporter (Gay) Jiff Simmons
[Primary Photo by Williamson Henderson]

Pictured above are victorious Eliot L. Spitzer, now the glorious and deserving
Democratic nominee for New York State Attorney General, and Princess Jenni S.
Egan, the Vice-President of the Imperial QUEENS & Kings of Greater New York.



N.Y.S. Attorney General Democratic Primary Election Results


2002 (re-election)


1.

Eliot L. Spitzer

* (unopposed)


1998


1.

Eliot L. Spitzer

*
2. Catherine M. Abate*
3. G. Oliver Koppell*
4. Evan H. Davis*


1994


1. Karen S. Burstein*
2. G. Oliver Koppell*
3. Charles J. Hines*
4.

Eliot L. Spitzer

*


* = Supporter of the STONEWALL Veterans' Association