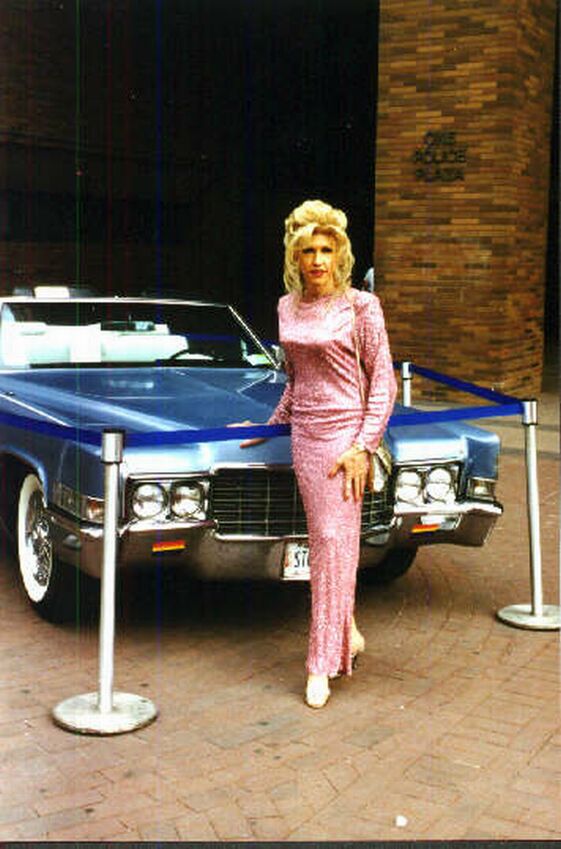 Queen Allyson Allante and the 1969 convertible "Stonewall Car"


Note brass lettering on brick column: "One Police Plaza"


[Photo by NYCPD Sergeant / GOAL Officer Erin J. O'Reilly]


An incredible -- really unbelievable, yet obviously realistic -- photo in

Gay, Lesbian, Bisexual and Transgender

("GLBT") history. Picture a renowned veteran of the historic 1969 Stonewall Rebellion -- Gays and Friends vs. New York City Police Department -- who is also not just a member but the president of the

Imperial QUEENS & Kings of Greater New York

-- a known transgender group definitely not well-received by the New York City Police Department ("NYCPD") in the Stonewall Era (1966 to 1969) -- and have her with the impressive, classic blue (as in "the boys in blue") 1969 convertible aka the "

Stonewall Car

" that the NYCPD notoriously 'impounded' at the first night of the 1969 Stonewall Rebellion and then fast-forward the person and the car to New York Police Headquarters for the celebration of a "Gay Pride" event!!! No one could have written such a script! Nonetheless, that's just what this one photo above colorfully shows and proves. It happened on Thursday, June 26, 1997:

Queen Allyson Ann Allante

with the 1969 "Stonewall Car" at the

Gay Officers' Action League

(GOAL) annual Gay Pride event at the NYCPD's One Police Plaza headquarters!!! Notice the lettering on brick column.

New York City Police Commissioner

Howard Safir

(a very professional and pleasant person) personally, respectfully and proudly greeted Queen Allyson. The media, including

The

New

York

Times

,

New

York

Post

,

New

York

Daily

News

and, of course, the

GOAL

Gazette

and the

STONEWALL

Newzletta

had an unexpected bonanza. Virtually all of the speakers at the 3-hour event acknowledged the 28th anniversary of the Stonewall Rebellion which forever -- and for the better -- changed the relationship between the New York City Police Department and the G.L.B.T. communities. This much-improved change of relationship and respect between the police and Gays slowly drifted throughout most of America and the World!

The police-blue 1969 classic convertible "Stonewall Car" is owned, maintained, insured, operated, registered and garaged by the non-profit

STONEWALL Rebellion Veterans Association

aka S.V.A.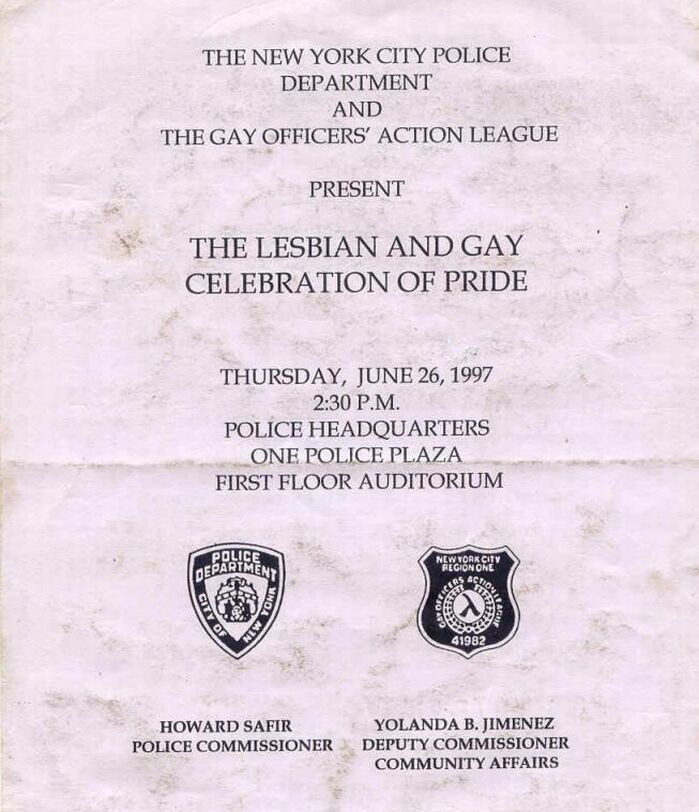 NYCPD

&

G.O.A.L.

present "

The Gay and Lesbian Celebration of Pride

"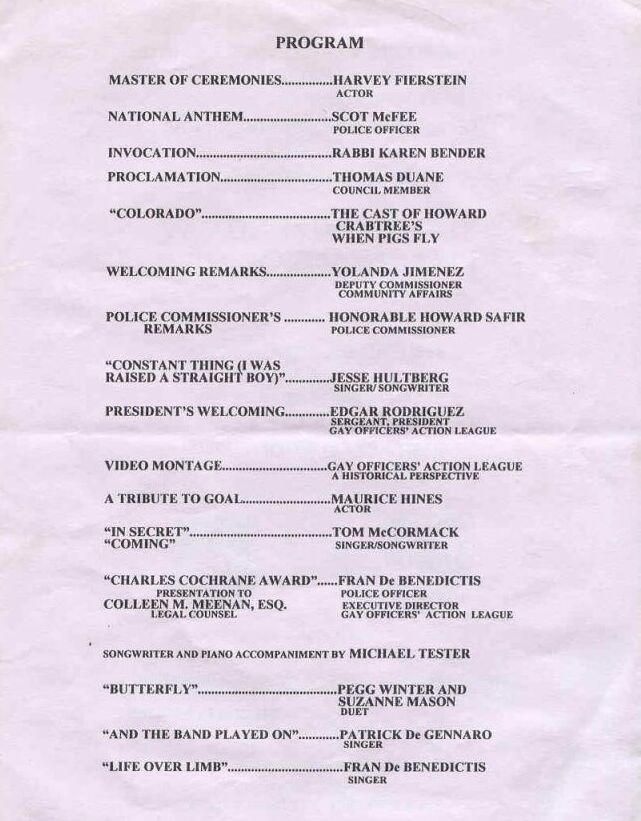 Gay Celebrities include

Harvey Fierstein

and

Maurice Hines

and

Nell Carter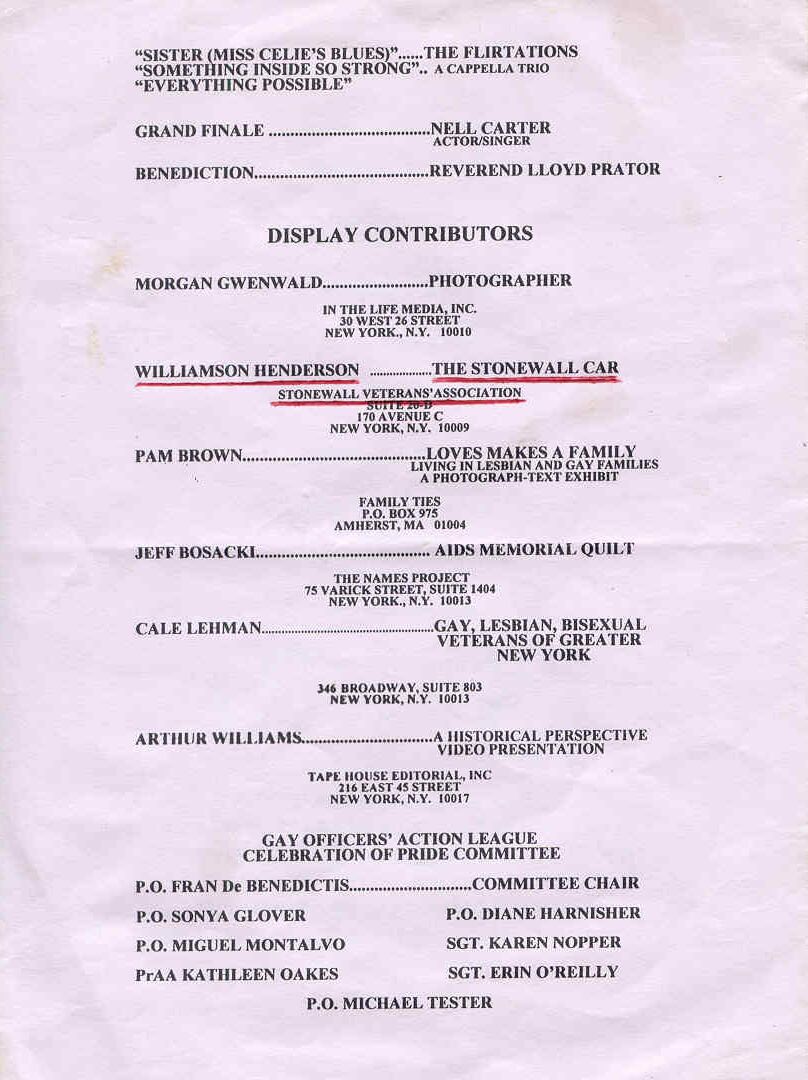 GOAL

's appreciation to the

STONEWALL

Rebellion

Veterans

Association

,
and its elected 'public figure' director

Willson L. Henderson

and, especially, to
the famous 1969 convertible "

Stonewall Car

" is printed in the GOAL program!




* * * * * * * * * * * * * * * * * * * * * * * * * * * * * * * * * * *


S.V.A. & G.O.A.L. Tribute to....
NYCPD Sergeant and GOAL Officer Erin Jaye O'Reilly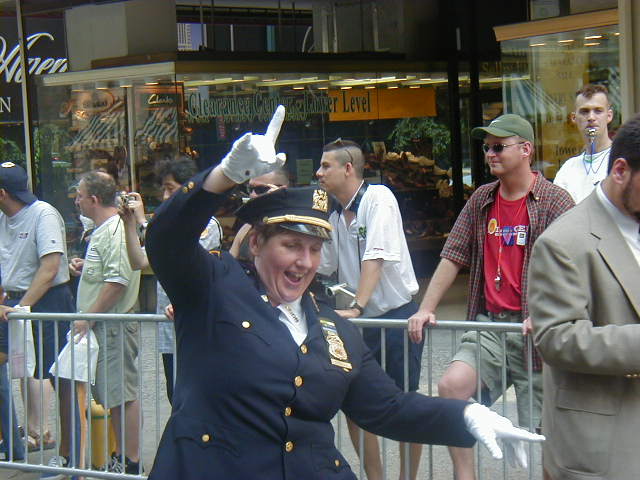 Erin

Oh! in lively and proud action at the 2000 New York City Gay Pride Parade
[Exclusive photography (© 2000) by GOAL member Tommy Jeans]



Heroic

New York Police Department

sergeant and loyal

Gay Officers' Action League

("G.O.A.L.") officer

Erin J. O'Reilly

("EJO") died suddenly at her home in Long Island on Sunday morning, June 17, 2001 (more sadly on Father's Day as Erin's dad is alive). Erin was very metropolitan New York being born in The Bronx in the new decade on February 27, 1960, raised in suburban New Jersey, worked in various locations in Manhattan from The Village to Harlem and lived in Long Island.

Ironically and proudly, Erin marched with G.O.A.L. in the Brooklyn Gay Pride Parade and posed for a pic with the 1969 "Stonewall Car" just the week before she passed. EJO was greatly and gayly looking forward -- as always -- to the New York City Gay Pride Parade in Manhattan in two weeks. She specifically spoke about this in detail with her best male friend in G.O.A.L., fellow Gay and Irish-American officer Sergeant

Tommy Jeans

. There was a tremendous outpouring of love and support for Erin at her 'wake' in New Hyde Park, Long Island, especially from G.O.A.L. and a special visit from N.Y.C. Mayor

Rudy W. Giuliani

and the NYCPD Police Commissioner

Bernard B. Kerik

. The

STONEWALL Rebellion Veterans Association

and its President -- and Erin's friend and confidante --

Willson L. Henderson

made the huge gesture of bringing out the 1969 Cadillac convertible "Stonewall Car" (with the top down and the later realized the threat of rain) to Erin's services for all to proudly see and have on display. This, Erin would have loved and everyone there knew it -- including the Mayor! After all, Erin even helped arrange to have the "Stonewall Car" on display at NYPD Police Headquarters. See the above G.O.A.L. "Gay Pride" program. Erin captively lured Willson by jokingly asking: "What if one of the Gay cops steals the Stonewall vets' car?" Knowing that Willson would have a quick and quirky retort, Erin grinned with anticipation as Willson declared: "I'll call the Gay police!"

Ominously, less than three months after the unexpected loss of one honored New York police officer, Erin, we all experienced what even Erin must have also believed unthinkable, the dual extremist Islamic terrorists attacks on the island of Manhattan, New York, resulting in the tragic and grotesque loss of dozens of police officers -- New York Police Department and New York City Port Authority Police -- within less than two hours on September 11....




---


2001

-- GOAL Salutes the

Twin Towers


and Fallen New York Police Dep't Officers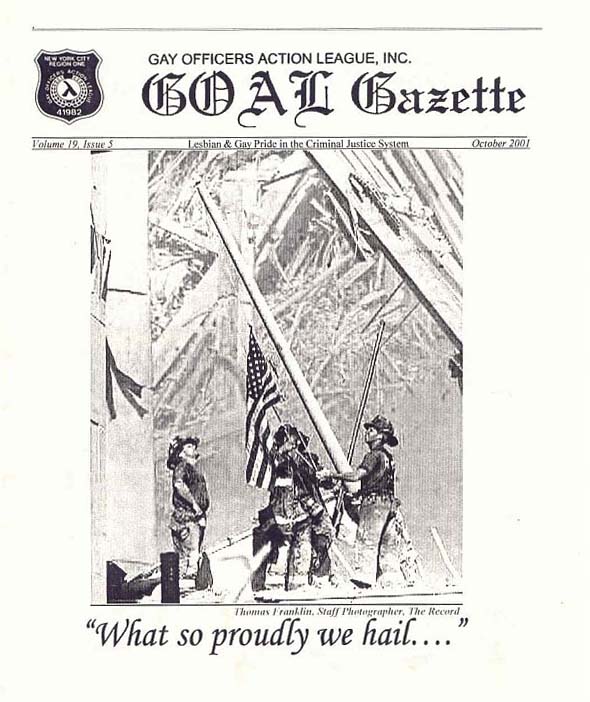 Two (2) Terrorist Attacks in Lower Manhattan, New York, Tuesday, September 11th, 2001!!
With hijacked commercial jet airliners, both attacks were aimed at the Twin Towers of
the World Trade Center resulting in about 3,000 people killed and over 10,000 injured!!




---
2003 -

GOAL

's 21st Annual Anniversary Banquet
This year's

GOAL

event is held on Friday, May 2, 2003, starting @ 6:30 p.m. at Ricardo's (as in Ricky) By The Bay Restaurant at 21-01 24th Avenue, Astoria, New York. Event includes cocktail hour, five-course dinner, awards, music and dancing!
---
Tickets are a reasonable $70 for non-members. For more "411" or reservations, phone

GOAL

at (212) NY1-GOAL or e-mail the group at NY1GOAL@GOALNY.org. Visit their website at:

www.GOALNY.org
---
2003
Former NYCPD Police Officer and Police Academy Instructor and NYC Councilmember
James E. "Jed" Davis Murdered in City Hall Chamber in Manhattan, New York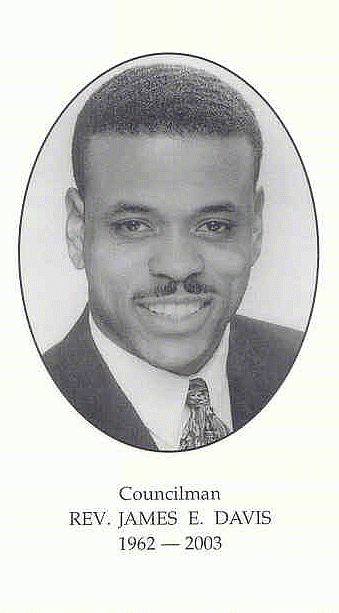 Former NYCPD Police Officer and Police Academy Instructor
and New York City Councilman James E. "Jed" Davis
www.StonewallVets.org/JamesDavis.htm
---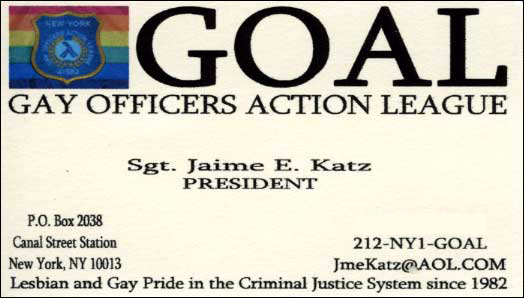 New Millennium

GOAL-NY

presidents include Don

Jirak

(2001 - 2002),
Ann M.

Cregan

(2003), Vivian

Rodriguez

(2004), Jaime E.

Katz

(2005),
George

Ferrugia

(2006 - 2007) and Alice

Muniz

(2008 - 2010)



---


2006 - 24th Annual GOAL Awards & Banquet

Friday, April 21, 2006
7 p.m. to 12 midnight

Grand Prospect Hall
Brooklyn, New York

Tickets: $75 member / $85 non-member
Purchase on-line at: www.GOALNY.org




---
New York City Police Department Gay Liaison

Detective Thomas S. 'Tom' Verni
34 1/2 East 12 Street
Manhattan, New York
tel: (212) 614-6749
fax: (212) 614-6746
---
2007: Gay Officers Action League 25th Anniversary Dinner
We heard about it through the "Gay Grapevine"!
Friday, April 20, 2007 @ 7 p.m.
Tickets: $140
(fabulous) Tavern on the Green Restaurant
(beautiful) Central Park, New York
You may visit GOAL at www.GOALNY.org.
---




=2008 GOAL transition=
Sargeant Charles Ciochran dies!

Charles H. Cochrane

, the co-founder and first president of the Gay Officers' Action League
("GOAL") in New York City in 1982, died on May 5, 2008 at age 64 in Pompano Beach, Florida.
He had a long battle with cancer and, unfortunately, had not been up to New York in many years.
Charles will be remembered for his considered courage in "coming out", especially in any inherrently
anti-Gay police department in that recent post-Stonewall Era over a quarter-of-a-century ago.
In late 1981, he testified before the New York City Council that he's a proud Gay police officer!
When he co-founded GOAL, Gay officer Charles Cochrane understandably and smartly contacted
the

STONEWALL Veterans' Association

("S.V.A."). No Gay group had more experience
with and changed the New York City Police Department more than the S.V.A. members with
our watershed, historic achievement of the 1969 Stonewall Rebellion in the Sixth Precinct.
Stonewallers were even part of having competitive fun baseball games with the NYCPD.
"CC" must also be recalled for his determination against all odds -- and threats -- in leading
the GOAL group with many deterrents and minimal support even from Gay police officers.
The diverse Gay community has lost another authentic and effective hero for all!



=Statement by former GOAL Official

=

"

Sargeant Charles "Charlie" Cochrane

is someone whom I can honestly and proudly
state actually changed my life. When he publicly came out Gay, I was deeply honored
to know him. His influence, integrity and leadership made me better as a police officer
and as a person. He was an inspiration to me and his strength is something I've taken
into all areas of my life. I thank him for being the true hero that he was and still is."
----- Sargeant Tommy Jeans




---
2009
GOAL sponsors Law Enforcement Conference
of Gay, Lesbian, Bi and Transgender Police Personnel
June 24th to June 26th, 2009 - Conferences and Social Events
at John Jay College
West 59 Street
Manhattan, New York
*
Saturday, June 27 -- STONEWALL Veterans' Association
"SVA's 40th Anniversary Conference & Stonewall Veterans Reunion"
is at the GLBT Community Centre from 4:15 p.m. to 7 p.m. at
212 West 13 Street (off Seventh Avenue), Greenwich Village, N.Y.
One of the special features is a forum panel with "Stonewall Copz
& Stonewall Vetz" relating to the 1969 Stonewall Rebellion in the
NYCPD's Sixth Precinct. There is a questions and answers session.
Update: Shamefully, not one person from G.O.A.L. attended.
Sunday morning, June 28 -- GOAL Stonewall Memorial Breakfast
The traditional Gay Pride breakfast is on-duty @ 9 a.m. until 11 a.m.
The cost is $30. Eatery is Ferro's Restaurant at 145 East 50th Street
in Midtown Manhattan. It is located near parade line-up. For more
event 411, you know who to ask: 'Go ask Alice': (917) 763-4160.

Sunday afternoon, June 28 -- 40th Annual N.Y.C. Gay, Lesbian,
Bisexual and Transgender Pride Parade -- including G.O.A.L.!
The 2009 Gay Pride Parade kicks off on time @ 12 high noon
and is led by STONEWALL Rebellion Veterans Asscociation
with the famous (thanks to NYCPD) 1969 convertible "Stonewall Car"!
---
2015
Demise of GOAL's Co-Founder Sam Ciccione
Salvatore "Sam" Ciccione, co-founder of the Gay Officers' Action League ("GOAL") with his partner Charles H. Cochran, Jr. in 1982, died from heart disease on May 10th at the age of 71 in Manhattan. Sam was born in 1944 on March 18th in New Jersey and served on the police force there for many years before relocating to Manhattan to fully become himself and rejoin the force. Sam used to have the SVA's director, Willson Henderson, the founder of Proofreaders Unlimited, Ltd. ("PRU"), do proofreading for GOAL letters, notices and flyers. They were brought directly to Willson's Manhattan office on Fifth Avenue at 42nd Street -- the heart of NYC -- proofed by him personally and handed back to Sam and/or Charles or theior emissary -- all free-of-charge! In fact, Willson hired many GOAL police officers as temporary, free-lance proofers with his company to earn them extra income. One of them, as just one example, was Carroll Hunter, a former president of GOAL. Knowing legalese, police officer proofers were sent primarily to law firms. Willson was proud to help make ends meet and then some for openly-Gay law enforcement personnel. It was also a perfect fit since like the NYCPD schedule, PRU was also incredibly open 24/7/365. Thus, they could work when they wanted. It's sad that neither Sam nor Charles got to see the forthcoming new "STONEWALL!" movie about Gays and the NYC police in the Spring of 1969 and the ultimate rebellion on the hot Summer night of June 27th! The film also portrays the Gay-enemy, then-commander of the old Sixth Precinct in Greenwich Village. Fastforword, the last time a GOAL officer was at the annual SVA conference was in June of 2009! Unfortunately for the Gay community, GOAL has seemingly become so jaded the last several years (Sam agreed) that it did not even bother to notify the loss to the STONEWALL Rebellion Veterans Association of which Sam -- and Charles -- greatly admired and emulated! And, years later, what did the trail-blazing Willson Henderson get from GOAL for hiring police officers as legal oroofreaders for years and years? Slander, defamation and harm to his business!
---




2016

Newly-elected

Gay Officers' Action League

("G.O.A.L.") president

Brian E. Downey

("BED") was the surprise guest speaker at the

STONEWALL Rebellion Veterans Association

("S.V.A.") on Saturday, May 28th, 2016. He was a surprise guest as no one at S.V.A. knew! He just popped in! FYI, Brian beat that

Tim 'Huffy' Duffy

a.k.a. Stuffy Duffy, no friend of the S.V.A. For this S.V.A. meeting at the Manhattan LGBT Centre, it was Memorial Weekend, when the S.V.A. appropriately tributes the heroic Stonewall veterans who have been lost over the years. Brian declared up front that he wanted his G.O.A.L. 'administration' to 'start fresh' with the Stonewall veterans. (Too bad he did not keep his word.) He informed the attendees about what G.O.A.L. has been doing the last few years including a needed re-organizing. Brian acknowledged that the G.L.B.T. communities in New York City has been, at the least, remiss or, at the most, very slow to truly appreciate the history and the value of the

STONEWALL Rebellion Veterans Association

: "The Stonewall veterans earned the right to be honored a long, long, long time ago!" The positive planning now is to restore GOAL and the S.V.A. back on track working together. Openly-Gay Detective Downey assured the attendees that "the S.V.A. members could count on it"! Brian ended his interesting, inspiring and promising presentation with GOAL's new motto: "Out and Proud -- your New York City Police Department!" [Postscript: Little did the S.V.A. know at that time that it was being deviously duped by BED. We think that perhaps BED did not know he was duping the S.V.A. -- he was posioned later by haterz, but he fell for it. Not good detective work; the detective was duped! Moreover, BED failed to correct the noxious situation in the years following!


*

GOAL Gay Pride Celebration / Stonewall-47
at
New York City Police Department Headquarters

Co-Sponsor: NYPD Commissioner William J. "Bill" Bratton

GOAL President: Brian E. Downey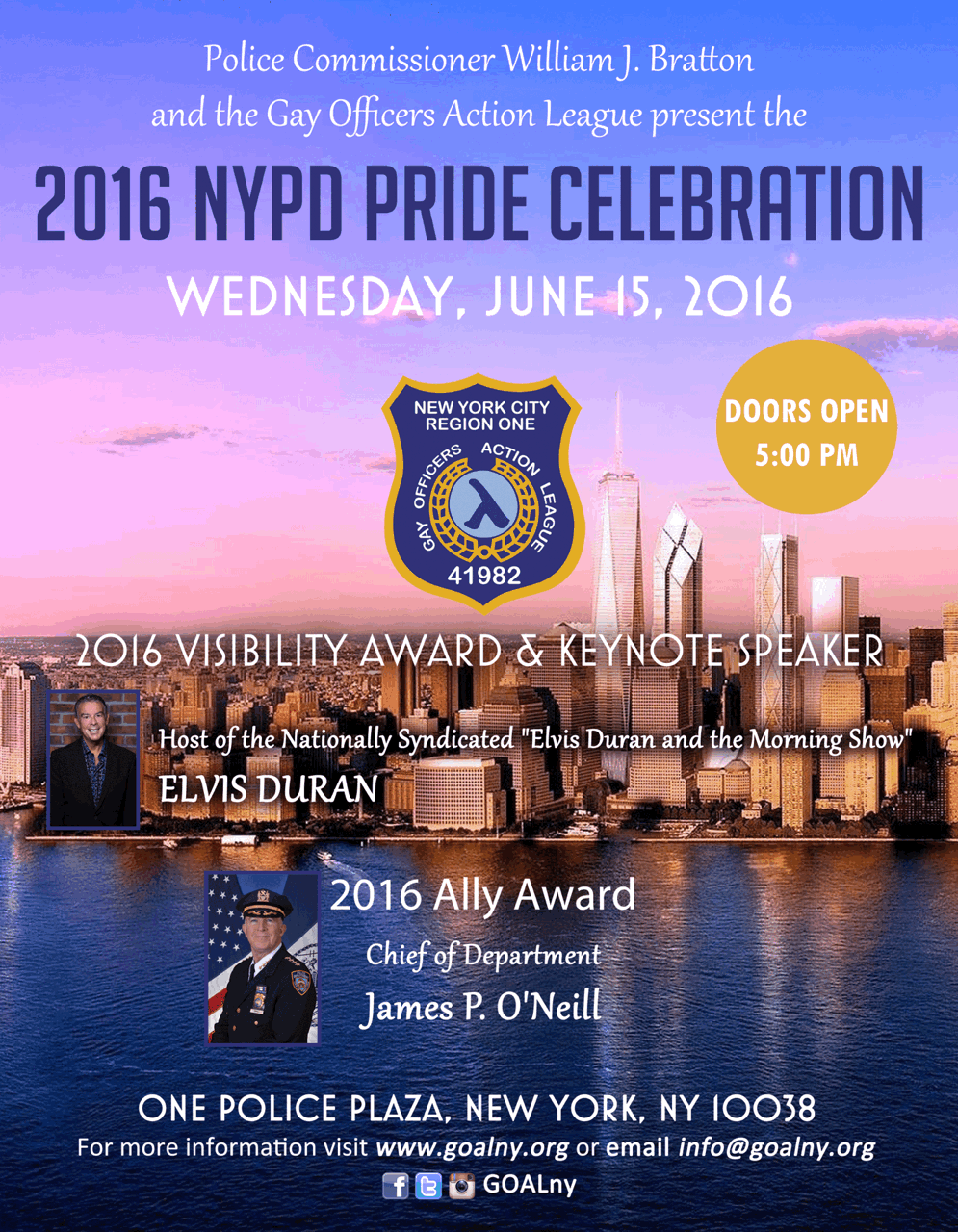 Gay Officers' Action League / New York

Wednesday, June 15, 2016 @ 5 p.m. (doors open)

2016 G.L.B.T. Ally Award: Chief of Department James "Bill" O'Neill

*
Original Message ------------------------------
Subject: Gay Officers Action League Pride Flyer
From:  "Brian E. Downey" <BDowney@GOALNY.org>
Date:  Mon, June 13, 2016 5:27 pm
To:  "Willson L. Henderson" <WLH@nyct.net>
         "STONEWALL Veterans Association" <SVA@StonewallVets.org>
-------------------------------------------------------

Special invitation to our longtime friends at the SVA
STONEWALL Rebellion Veterans Association.  Please see
the enclosed invitation flier.

It was an honor and a pleasure being the guest speaker
at the recent SVA monthly meeting and as you proudly
referred to me as "Mr. May".

In pride,
Brian E. Downey, President
Gay Officers Action League
P.O. Box 1774
Old Chelsea Station
New York, NY  10113
http://www.GOALNY.org
Hotline - (212) NY1-GOAL
Cell - (917) 371-7757
*
Note: After being invited in person, via email and on the telephone (an invitational trifecta), several legendary STONEWALL Rebellion Veterans Association members attended, including, but not limited to, the S.V.A. founder and elected director Willson L. Henderson and a former S.V.A. president Jeremiah J. Newton and current Vice-President R. Bert Coffman; plus S.V.A. Boardmember Ramon F. Bellido. However, the S.V.A. organization was never mentioned nor were any of the alleged "Gay heroes" acknowledged as even being in the house! How do you spell rude? G-O-A-L! Nonetheless, the one enjoyable lining in the cloudy evening was reuniting with the relatively few remaining GOAL members of the 1990s! Said GOAL-ers always appreciated and respected the Pride-delivering Stonewall vets of the S.V.A.! Something happened to Det. Downey between the time that he spoke at the S.V.A. and when he failed to show up for SVA's conference as the male keynoter less than a month later! (The female keynoter was U.S. Congressmember Carolyn Maloney!) SVA's own 'detectives' theorized that Down-ey must have read a hit-piece blurb via the slanderous and vicious Gayragpaper -- queerly, the only Gay newspaper in all of NYC! But how could anyone in 'law enforcement', particularly in jaded NYC, believe anything written by the proven dubious and convicted congenital liar and police-hater Druncan Ozburn? Duh! Vintage GOALers know that the S.V.A. previously sued in New York City Civil Court the long-defunct Gayragpaper aka LGBT New York (one of its many prior incarnations). The Court, the jury of peers and the judge all decided as in "Decision" after several days of trial and eyewitness testimonies from Stonewall veterans (under oath, on behalf of the S.V.A.) that the SVA-ers are analogous to the historic women's rights Suffragets and that Willson Henderson "....who fought for and continues to fight for G.L.B.T. rights...." is the "Gay Rosa Parks"! (Ohhh, and you thought it was.... Nooo, she/it wasn't even there!) What part of the seven-page, landmark, legal, decision-after-trial do some 'law enforcement' GOALers not understand? And, some continue to slander the once-again vindicated and proven-true aforementioned heroes?! Some GOALers even incredulously malign the Stonewall veterans right from the rented Gay club that SVA-ers made famous! That is beyond hypocritical!
---
-------------------------------------------------------------------------------------------------------------------------------------------------------------------------------------------------------------

---
Skip a few totally non-communication GOAL years with the S.V.A. and fast-forward to... 2019
"STONEWALL 50": G.O.A.L. SHAMEFULLY SHUNS THE 'STONEWALL VETERANS'!
Many Gay decades ago when the Gay Officers' Action League ("GOAL") still respected, worked with and supported the legendary STONEWALL Rebellion Veterans Association ("S.V.A."), the latter legally bequethed the famous police-blue 1969 classic convertible known as the "Stonewall Car" to GOAL New York! The codicil stipulated that it would be effective subsequent to the future "Stonewall 50" milestone in 2019, after which of a half-century, when the S.V.A. planned to no longer lead Gay, Lesbian, Bisexual and Transgender ("G.L.B.T.") Pride parades with said car, which would also reach its 50th year! It was further stated that GOAL would henceforth present said vehicle in any and all New York City G.L.B.T. Pride parades in which would be particpated by GOAL and transport a handful of active, surviving Stonewall veterans. But, it is now 2019! Things have changed with GOAL -- not for the better vis-a-vis the S.V.A. At a duly-organized, regular monthly meeting, post-Pride, the S.V.A. members voted publicly and unanimously to 'disinherit' the GOAL from the famous -- thanks to the NYCPD -- and commercially valuable vehicle! GOAL had no one at SVA's 50th anniversary NYC commemoration event!
Sounds like a Gay history nightmare but "Girl, It's True" that unlike the GOAL of yesteryears, the current version is more interested in the 'GLBTQRSIA' merry-go-round and placating self-servers, fabricators and phonies rather than r-e-s-p-e-c-ting and supporting the historic folks who not only launched the modern G.L.B.T. movement but were the people who originally and actually changed the New York City Police Department ("NYCPD") -- long before GOAL commenced thirteen crucial years after the Stonewall Uprising (it was not a 'riot')!
For the first Gay Pride at Gracie Mansion, it's grateful NYC Mayor Ed Koch and SVA's Willson Henderson! See the photo:
www.StonewallVets.org/EdKoch.htm
The first Gay Pride celebration at New York City's fabled Gracie Mansion was held in 1978 by the great Gayor Ed Koch in his first year! Things were not fully 'out' at that time so the event was entitled "Summer Celebration"! The only two G.L.B.T. groups invited were his favorite, the STONEWALL Rebellion Veterans Association ("S.V.A.") and its sister group the Imperial QUEENS & Kings of Greater New York ("IQKNY"). Of course, the Gay Officers' Action League ("GOAL") could not have been there as it didn't exisit until a half-decade later. The SVA's contingency was headed up by Willson L. Henderson, Jeremiah Newton, Storme DeLarverie, Dave West, Emile Griffith, Electra O'Mara, Ramon Bellido, Rusty Rose and Terri Van Dyke (all known to many GOALers). In fact, Mayor Koch was the honorary male chairman of the S.V.A. from whence it ignited in the Summer of 1969 until the day he passed in early 2013. The S.V.A. had the best! Koch hosted twelve Gay Pride receptions at Gracie Mansion. The S.V.A. was at all; GOAL was at none! The apple of the mayor's eye was admittedly and always Willson, the founder of the S.V.A. Koch said so many times publicly, besides presenting an annual birthday gift to WLH. The S.V.A. group has been featured and/or honored -- particularly by mayors Rudy Giuliani and Michael Bloomberg (that covered another twenty years) and at least applauded at every Gracie Mansion Gay Pride event... ummm... until 'Stonewall 50'! Wtf? All of a sudden the iconic veterans of the Stonewall Rebellion weren't even invited much less 'honored'. Surely, there must be some, if not a majority, of GOALers who smell something fishy with that! You don't have to be a detective to figure it 'out'! Instead, in a photo shown in the dubious Gayragpaper (currently being sued in NYC civil court for libel, defamation and slander), folks who read the Gayrag, saw a photo of self-promoter Brian Downey with his head popping out and surrounded by GOALers. For alleged Gay Pride, there should have been a group photo of selfless Willson Henderson and the history-making SVA-ers, the ones who induced all the 'pride'! Both groups should have been there!! Was there any collusion with this NYC mayoral administration? Ask the NYCPD's supposed Gay liaison. His selective NYCPD 'outreach' excludes the Stonewall veterans. That's called discrimination! Didn't any GOALers honestly wonder: Why aren't there any Stonewall veterans here in Manhattan at the NYC' mayor's event for 'Stonewall 50'? Duh!
For the 50th monumental Stonewall Anniversary, it's not the National STONEWALL Rebellion Veterans Association but "Stealing Stonewall" GOAL/NY and "Posse" (wtf?) at this Mayor's 'Pride'! In contrast, when they held the 50th anniversary of The Titanic in 1952, the event featured and praised survivors of The Titanic not some laymen of President Truman's reelection committee. The intended 50-year reunion of "Woodstock" planned on having some of the original 1969 performers like Sly & The Family Stone -- not Vanilla Ice and Milli Vanilli!
*
The STONEWALL Rebellion Veterans Association ("S.V.A."), the one and only organization representing the legendary 'veterans' of the notorious and discriminatory NYCPD police raids and the historic police vs. Gays Stonewall Uprising, recently held its "S.V.A. 50th Annual Conference & Stonewall Veterans Reunion + S/W Testimonials" in Greenwich Village, NYC. Ironically, the venue was a block or so from the NYCPD precinct that SVA-ers put on the map: The Sixth! Back in 1969, it was the (allegedly) heterosexual cops who were discriminatory and slanderous; now it's the Gay cops, et al. in GOAL! At said significant S.V.A. conference event (Downy would have loved all of the media - newspapers galore, television interviews, magazines, social media, radio and internet reps), there was disrespectfully and rudely not one member of GOAL present! Pathetic! Clearly, their smear campaign is in effect! Interestingly, there were original NYCPD Stonewall Rebellion police officers from the Old Sixth in attendance! The "S/W cops" would know more about the Stonewall everything than any GOALers, despite what some of the latter pretend. You will see three of the "S/W cops" interviewed on camera for the first time in a half-century in the upcoming and revealing documentary "Inside STONEWALL!". They confirm everything claimed by the 150 deceased and alive Stonewall members of the S.V.A. Det. Downy did seemingly endless "S/W-50" events about the Stonewall Uprising and the NYCPD. He even did contrived interviews that the S.V.A. refused such as that awful and panned "Secrets of 1969" (without any secrets) on ABC-TV. It bombed! Notwiththstanding, Downy never mentioned the STONEWALL Rebellion Veterans Association! Odd. It's like we don't even exist anymore... in his mind. On GOAL's pump-up-1969 website, the S.V.A. was foolishly excluded from a segment "Stonewall Rebellion and the NYCPD"! Wtf? How discriminatory and exclusionary is that? Very. For "Stonewall 50" (aha-ha-ha-ha), GOAL could not get (or worse, didn't even think of it) one GOALer to contact the S.V.A. and say one word: "Thanks". Beyond ignorant and jaded, it's sad.
In the meantime, GOAL, since the S.V.A. is well aware (i.e., prima facie evidence), should stop the slander, stop the sleaze, stop the smear, stop the slime, stop the scum, stop the lies and stop the hate against the G.L.B.T. 'heros'! Towards that 'goal', maybe read The New York Times, the New York Daily News, the New York Post, Long Island Newsday or even the Staten Island Advance, and avoid absorbing the libelous and harmful -- with a pending law suit for libel, defamation and slander by the S.V.A. -- NYC Gayragpaper! Law enforcement persons believing what is printed in the scurrilous, anti-police, fact-challenged Gayragpaper? That's too oxiomoronic for words! Most readers of the GayRag know that they fully endorsed the admittedly and advertised anti-police 'Queer Liberation March'! The Gayragpaper even did an anti-police 'op-ed' re: no police in any Gay Pride march! Hey, GOAL, collectively wake-up and smell the poison!
Bottom Line: How much has the Gay Officers' Action League contributed in any way to any S.V.A. programs, donated to any S.V.A. causes, contributed for indigent S/W veterans, bought tickets to any S.V.A. events, visited or sent a 'get well' card to any S/W vets dying in a hospital, attended a Stonewall veteran 'wake' or funeral or even took a paid ad on the popular S.V.A. website? $0; across-the-board total in four decades: $0! Pitiful.
*
Upcoming: "Inside STONEWALL!" documentary to be show-cased on prime-time television, plus all-media reviews, is a stunning, historic and revealing collaboration between a prominent NYCPD police organization (no, not GOAL) and the STONEWALL Rebellion Veterans Association! Bi the way, it was unanimous by the various film producers and the Stonewall interviewees not to have GOAL participate or mentioned due to their current exclusionary policy and slanderous rhetoric toward the legendary "Stonewall veterans". How could so many GOALers -- particularly in law enforcement -- be duped into the same non-sense? This is more puzzling since the sole sewer source is the convicted liar Druncan Ozburn who uses the scurrilous, heterosexually-owned Gayragpaper for his poisonous missiles. The S.V.A. selected which prominent New York City police official they wanted interviewed in the film. Everyone will see the eye-opening testimonies and revelations of original, long-retired NYCPD Sixth Precinct 1969 Rebellion "Stonewall Cops"! You will see bubble-top police cars from 1969 and, of course, the now-famous blue 1969 convertible "Stonewall Car"! Stay tuned for a '1041'!
Because the Police and the Gays are the two demographics for the Stonewall Rebellion happening, SVA-ers voted that the famous and classic 1969 convertible should continue to be bequethed to a NYC police organization! For the last act of "STONEWALL 50" in 2019, the SVA-ers voted at their finale meeting and vote mail-in, to which police organization the S.V.A. shall bequeth the iconic and valuable classic 1969 vehicle! The five nominees are (alphabetically): the Correction Officers' Benevolent Association ("COBA") with endless G.L.B.T. members in that union, the Detectives' Endowment Association ("DEA"), the Lieutenants' Benevolent Association ("LBA"), the New York City Police Benevolent Association ("PBA") and the Sergeants' Benevolent Association ("SBA")! Tabulated results, with a representative(s) of the winner, to be announced at the next annual NYC conference of the National STONEWALL Rebellion Veterans Association! Detective clue #1: The winning police organization's public figure president had more than one, well-planned, highly-successful, two-hour-plus dinner meetings with the head of the S.V.A. Willson Lee Henderson and other Stonewall veterans such as Bert Coffman and Rusty 'Blue' Rose and Ramon Bellido at the trendy Rossopomodoro Restaurant in Gay Greenwich Village, NYC. The super-special, un-publicized NYCPD-related social event to which the S.V.A. was prominently invited (and the GOAL was not) has been postponed due to the continuing China Virus pandemic. It will be rescheduled! On proud and historic display shall be the police-blue 1969 classic convertible known as the "Stonewall Car"! Update: We have a police organization winner! At the SVA's rescheduled 51st annual conference on the 27th of July, it was announced which NYC police group shall have the iconic and valuable, classic 1969 convertible bequeathed to them. (No, it isn't GOAL.)
*


7 November
2020


American Election Week




*


=====2020: 51st Anniversary of the G.L.B.T. Stonewall Rebellion=====
[Friday night, June 27th ~thru~ Thursday evening, July 3, 1969, Manhattan, New York City]