(in Congress since 2013)
New York State Assemblymember

(2007 to 2012)
S.R.V.A. Supporter
(since 2000 -- way before he was in elected public office)
---
2023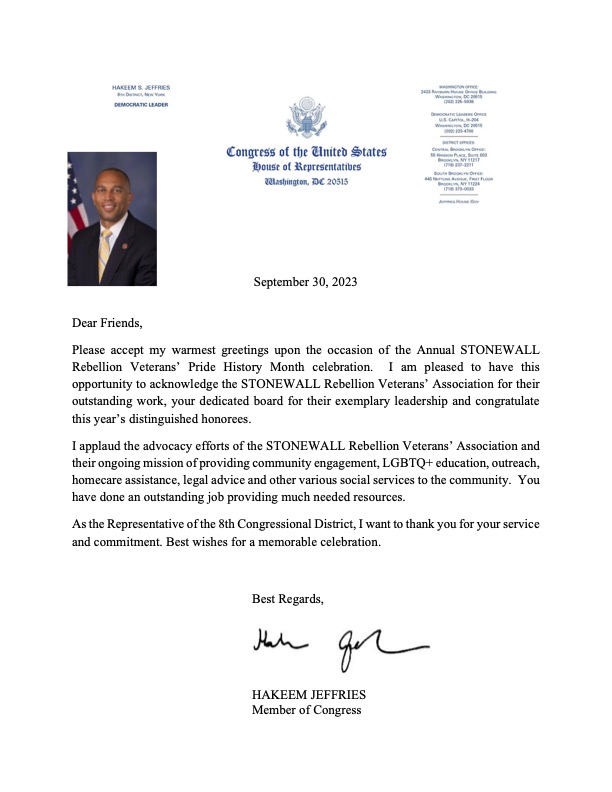 ---
SRVA's Willson Henderson and longtime Friend Hakeem Jeffries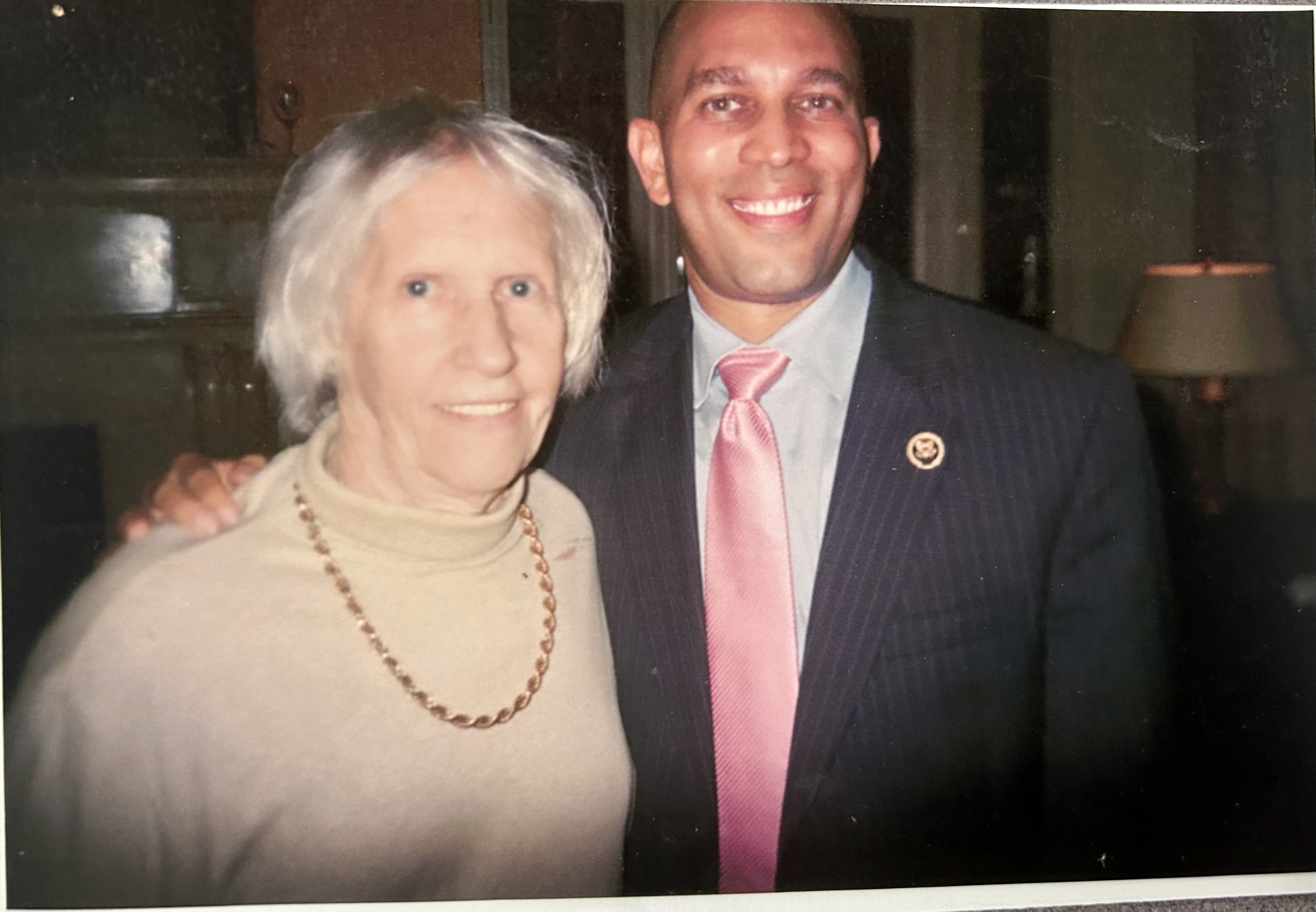 STONEWALL Rebellion Veterans' Association director Willson Henderson with
Brooklyn Representative and Congressional Minority Leader Hakeem Jeffries
[photo by J.P. Photography]
Hakeem S. Jeffries
was born in the 'Summer of 1970', a year after the 'Summer of 1969' historic Stonewall Rebellion -- and in the same city! Ironically, the
STONEWALL Rebellion Veterans' Association
's ("S.R.V.A.") founder and elected director
Willson Lee Henderson
and Hakeem were both born in Brooklyn, USA! The former in Flatbush, the latter in Crown Heights, where he still resides. Ironically, years later in college, both Willson and Hakeem, appropriately, received a Bachelor of Arts degree in political science. The former from Hofstra University in Long Island; the latter from Binghamton University in upstate New York.
Some additional photos of Brooklyn, NYC Congressmember
Hakeem Jeffries
and the legendary
SRVA
's leader
Willson Henderson
shall also be posted! The S.R.V.A. has literally hundreds of organization and public official letters and photographs from the S.R.V.A. to post! However, for various reasons, the group is under-funded and short-staffed. For example, the supposed U.S. Congressional Gay, Lesbian, Bisexual and Transgender ("G.L.B.T.") Caucus has not provided a sponsorship nor a dollar in over a decade! That is not very congressional! Rather than acknowledging that the G.L.B.T. rights movement ignited with the actual Stonewall veterans, they pretend that it fell from a fruit tree. Stay tuned.... Also, to answer inquiries, the S.R.V.A. has many requests for information about Hakeem's wife
Kennisandra
("Kenni"). No one in the S.R.V.A., even with endless members and supporters in Brooklyn congressional District 8, has seen nor heard from her in about twenty years.
---
2022
Hakeem Jeffries elected as the "Leader of The Pack" in Congress!


Born in Brooklyn, USA,
Hakeem Jeffries
'moved on up' to the Democratic Minority Party Leader in the U.S. Congress! In 2019, as a forerunner, Hakeem became chairman of the House Democratic Caucus, a position that made him the fifth-highest ranking Democrat in the House of Representatives. On November 30th, 2022, Hakeem was unanimously elected by all of his Democratic colleagues to succeed longtime House leader Nancy Pelosi. This year also marks one decade since Hakeem successfully won his election to Congress!
Https://www.NYTimes.com/2023/01/03/nyregion/hakeem-jeffries-house-speaker.html
---
2019
Hakeem Jeffries is Chosen as #1 in "Brooklyn's Power 100"
For Congressman Hakeem Jeffries, this is a most signficant showing and really supreme compliment!
www.CityAndStateNY.com/articles/politics/new-york-city/celebrating-Brooklyn-power-100.html
---
2018
Hakeem Jeffries' Third Re-Election to U.S. Congress
*

[PLACE] re-election flyer here at asterisk (*)



New York Eighth Congressional District:
The 8th District includes: Fort Greene, Clinton Hill, Bedford-Stuyvesant, Brownsville, East New York,
Canarsie, Mill Basin and Coney Island in Brooklyn, and South Ozone Park and Howard Beach in Queens.
---
Congressman Hakeem's 2018 Letter of Appreciation to the S.R.V.A.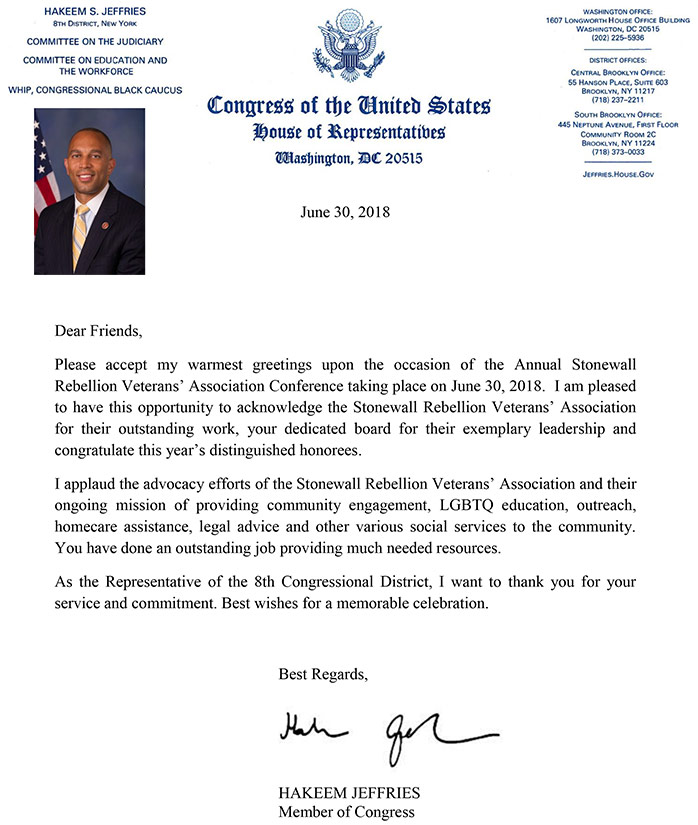 Congressman Hakeem Jeffries appropriately and uniquely summarized some of the many services provided by the STONEWALL Rebellion Veterans Association to veterans of the historic Stonewall Uprising, who otherwise would not receive such individualized and compassionate assistance, and nor would the worldwide public-at-large receive the tremendous educational information and services as exempfified by this website as also zeroed in by the congressman!

---
2016


*

---
2015

Letter from Congressman Hakeem Jeffries to the S.R.V.A.


*






---
2014
Video Message from Congressman Hakeem Jeffries
www.YouTube.com/watch?v=EHLwsS687zQ
*
[PLACE] H.S.J. 2014 campaign flyer above at *
---
2013
Subject: Happy New Year!
From: "Hakeem Jeffries" <Hakeem@JeffriesForCongress.com>
Date: Mon., December 31, 2012, 2:22 pm
To: SVA@StonewallVets.org
--------------------------------------------

CONGRESSMAN-ELECT HAKEEM S. JEFFRIES

Dear Friends -

Here's wishing that your New Year is filled with good health and happiness,
and that you welcome and embrace 2013 with a renewed hope and spirit.

For those of you who will be in the Washington D.C. area, I will be Sworn-In
as the new Congress member for the New York 8th District on January 3,
2013 at 12 noon, with a reception to follow at 2 p.m. For more information,
please contact Tiffany Bryant [mail to: Tiffany.Bryant@mail.House.gov].
It would be a delight to see you there!

Mark your calendars and save the date -- Sunday, January 27th at 4 p.m.
in Brooklyn, New York, for my district Swearing-In. More information
on my activities will follow soon.

It has been wonderful to be on this journey with you.
Thank you for your incredible support and friendship.

Happy New Year!

Best,

Hakeem

Jeffries for Congress | 39 Broadway | New York | NY | 10006
---
2012
Hakeem Jeffries is Featured Speaker at the SVA's Annual N.Y.C. Conference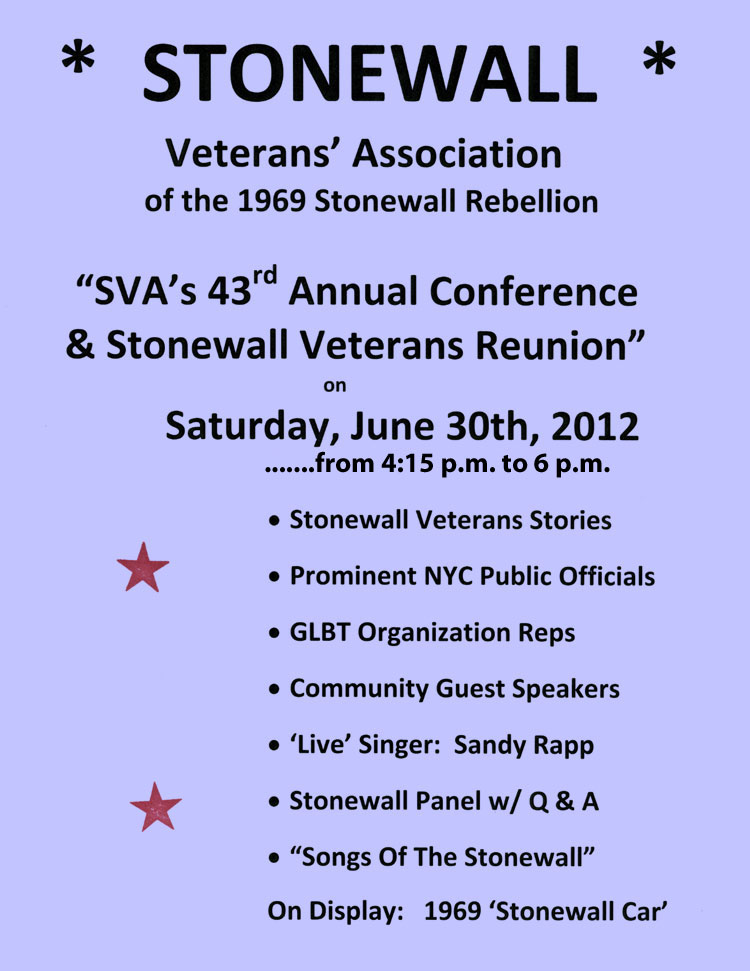 The "
SVA's 43rd Annual Conference & Stonewall Veterans Reunion
", hosted by SVA's director
Willson L. Henderson
, features, in addition to actual veterans of the historic Stonewall Rebellion, many prominent New York public officials including this year: U.S. congressmembers
Carolyn J. Maloney
,
Yvette D. Clarke
and
Hakeem S. Jeffries
!
*
Hakeem S. Jeffries for U.S. Congress

*

Brooklyn - 10th District
(alphabetically)
* Bedford-Stuyvesant
* Boerum Hill (parts)
* Brooklyn Heights (parts)
* Brownsville
* Canarsie
* Central Brooklyn
* Downtown Brooklyn
* East New York
* Flatbush (parts)
* Fort Greene (parts)
* Flatlands
* Ocean Hill
* Prospect Heights
* Prospect Park South
* South Slope
* Williamsburg (parts)
Question: How can one congressional district in New York City
have so many and such diverse communities in its district?
Answers: The 10th district is (1) shaped like a sideways "V";
(2) very large; and (3) the result of bizarre gerrymandering!
*
New York Observer Story: Hakeem became the Barack of Brooklyn:
www.Observer.com/2011/politics/how-Hakeem-became-Barack-Brooklyn
*
Hakeem S. Jeffries for Congress:
JeffriesForCongress
---
2011


Letter to S.V.A. from NYS Assemblymember Hakeem Jeffries

Hakeem S. Jeffries

, a progressive attorney and community activist from Brooklyn, today announced that three community organizations have endorsed their candidate for State Assembly.

Vote for Hakeem in the Democrat Primary on Tue., Sep. 10, 2002

Letter from Hakeem Jeffries to the STONEWALL Veterans' Association