STONEWALL Veterans' Association
2008 S.V.A. Supporters
U.S. Senator Hillary Rodham Clinton
New York
(elected 2000; inaugurated January 1, 2001; re-elected 2006
appointed U.S. Secretary of State a/o January 2009)
---

2008

Senator Hillary Clinton is the first public official to get a 39th anniversary letter to the STONEWALL Veterans' Association. This was thoughtfully undertaken without being requested. It was greenlighted by the Senator even with her personally running a challenging, full-scale, national presidential campaign! Hats off to Hill!

[Letter from Senator Hillary to be posted here!]
---
2007
Senator Hillary's excellent new letter to the S.V.A. has been received
as promised by her staff and in advance of our special June 27th event.
Letter has been distributed to S.V.A. members and S.V.A. supporters.
HRC Letter Excerpt:
"I am delighted to have this opportunity to send greetings
to each of you celebrating the 38th anniversary of the 1969
Stonewall Rebellion with the STONEWALL Veterans' Association."
The original letter (w/ gold dome) will be scanned and placed here during July.
---
2004
Senator Hillary Clinton's Letter of Commemoration to the Stonewall Vets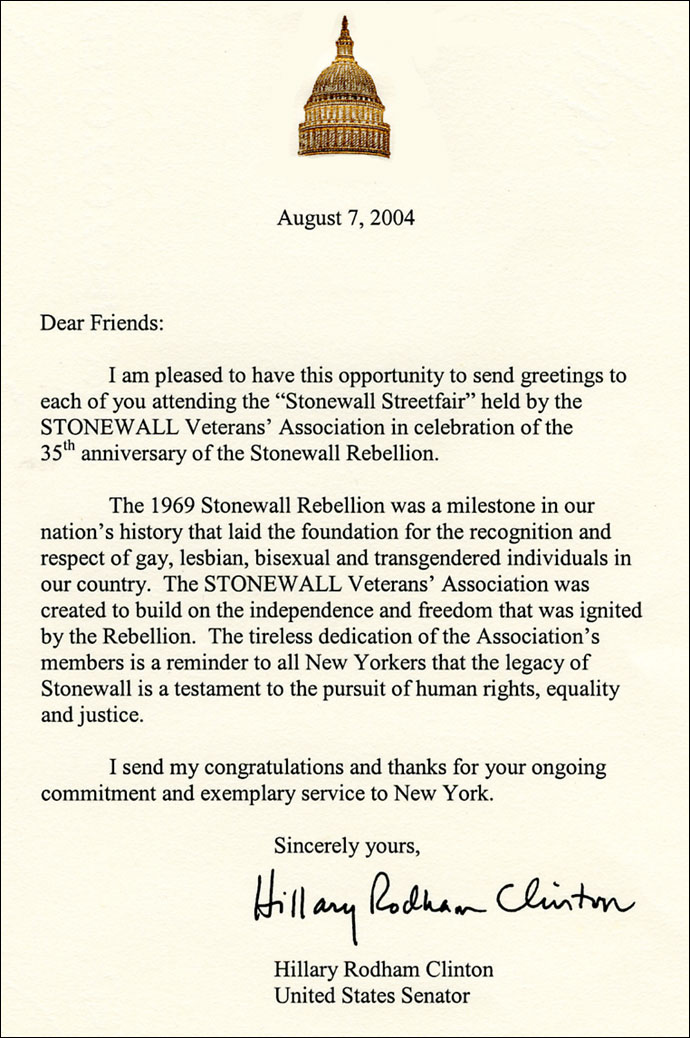 ---
2003
Letter of Praise from Senator Hillary Clinton to the STONEWALL Vets Assn.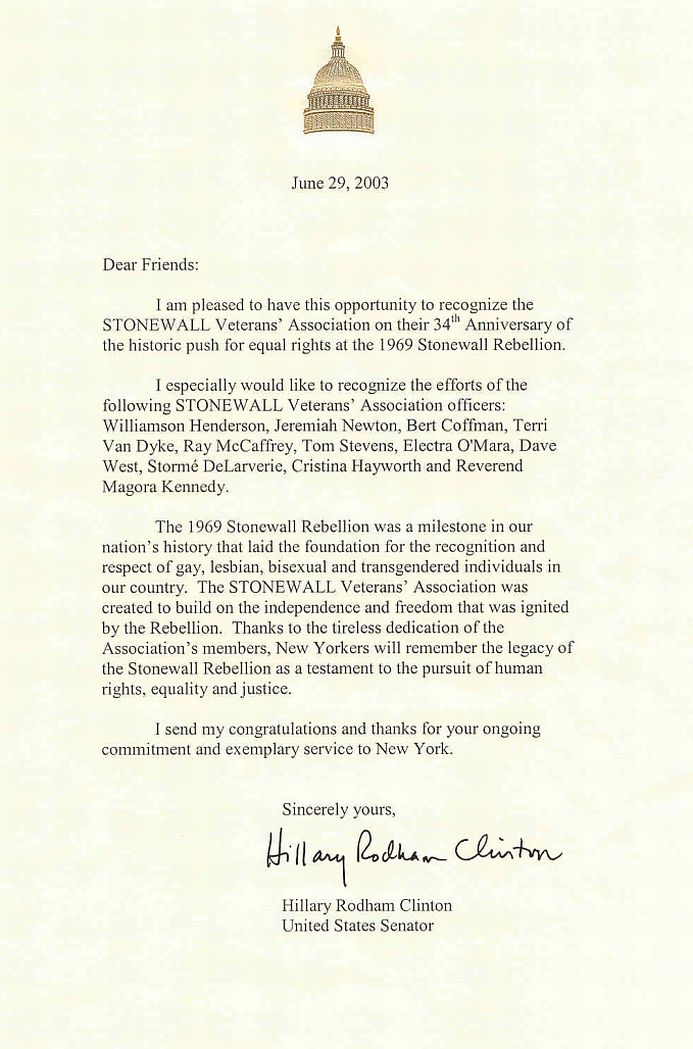 ---
2002
Letter of Stonewall Celebration from Senator Hillary Clinton to the S.V.A.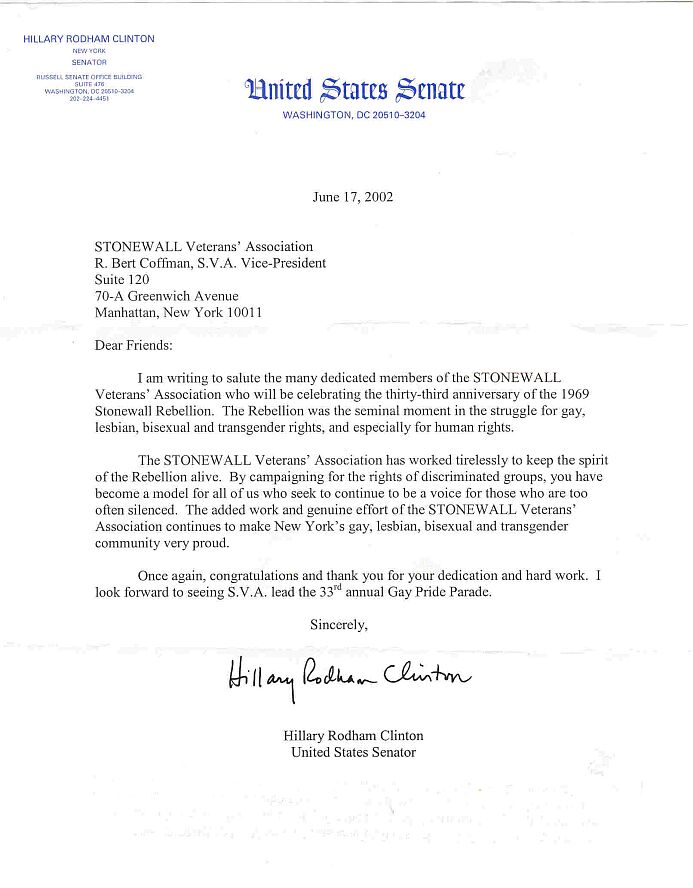 ---
Former NY Congresswoman Bella Abzug and U.S. First Lady Hillary Clinton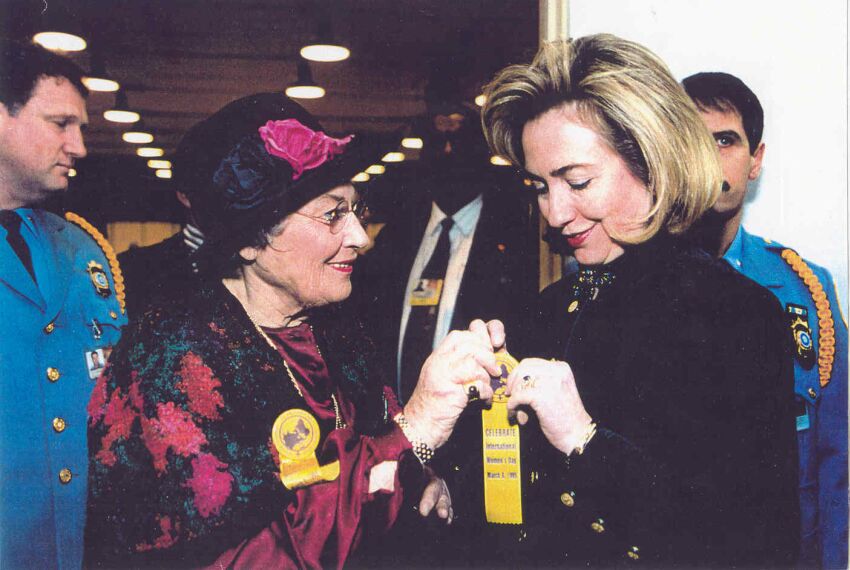 U.S. Congresswoman

Bella S. Abzug

(served 1971 to 1976) and U.S. First Lady

Hillary Rodham Clinton

(served 1993 to 2001), both special guest speakers, share a poignant moment celebrating "International Women's Day" at the United Nations World Conference on Social Development on Wednesday, March 1, 1995, in Copenhagen, the capital city of Denmark -- notice the colorful uniforms. What do these two legends have in common regarding the Gay, Lesbian, Bisexual and Transgender ("G.L.B.T.") community, besides being avid advocates? Both legendary women are recognized supporters of the

STONEWALL Rebellion Veterans Association

("S.V.A.") and both have marched many times in the annual New York City G.L.B.T. Pride Parade in Manhattan, NY.