STONEWALL

Rebellion

Veterans

Association


2017 S.V.A. Supporters

N.Y.C. Council Speaker Melissa M. Viverito



2019

"

Meli-Mar

" Ran Unsuccessfully for N.Y.C. Public Advocate

Queerly, although

Melissa "Meli-Mar" Viverito

ran into several SVA-ers, including the S.V.A. director

Willson Henderson

and the S.V.A. general manager

AnDre Christie

(whom she has collectively known for fifteen years), at several New York City Public Advocate P/A forums, including at the Manhattan G.L.B.T. Community Center, neither she nor any of her campaign staffers ever contacted the S.V.A. (although they lied and said they would) -- much less take a campaign ad on the popular S.V.A. website. All that was quite foolish -- Meli-Mar finished a distant third place (with merely 11% of the vote). In sharp contrast, for example, several P/A candidates attended S.V.A. monthly meetings in January or February. In sharpest contrast, one had a sit-down, productive and interesting supper meeting (his smart idea) with S.V.A. officials at a City Hall restaurant ("Pan Quotiene") of his choosing. His name is Jumaane -- the P/A winner!



---


2017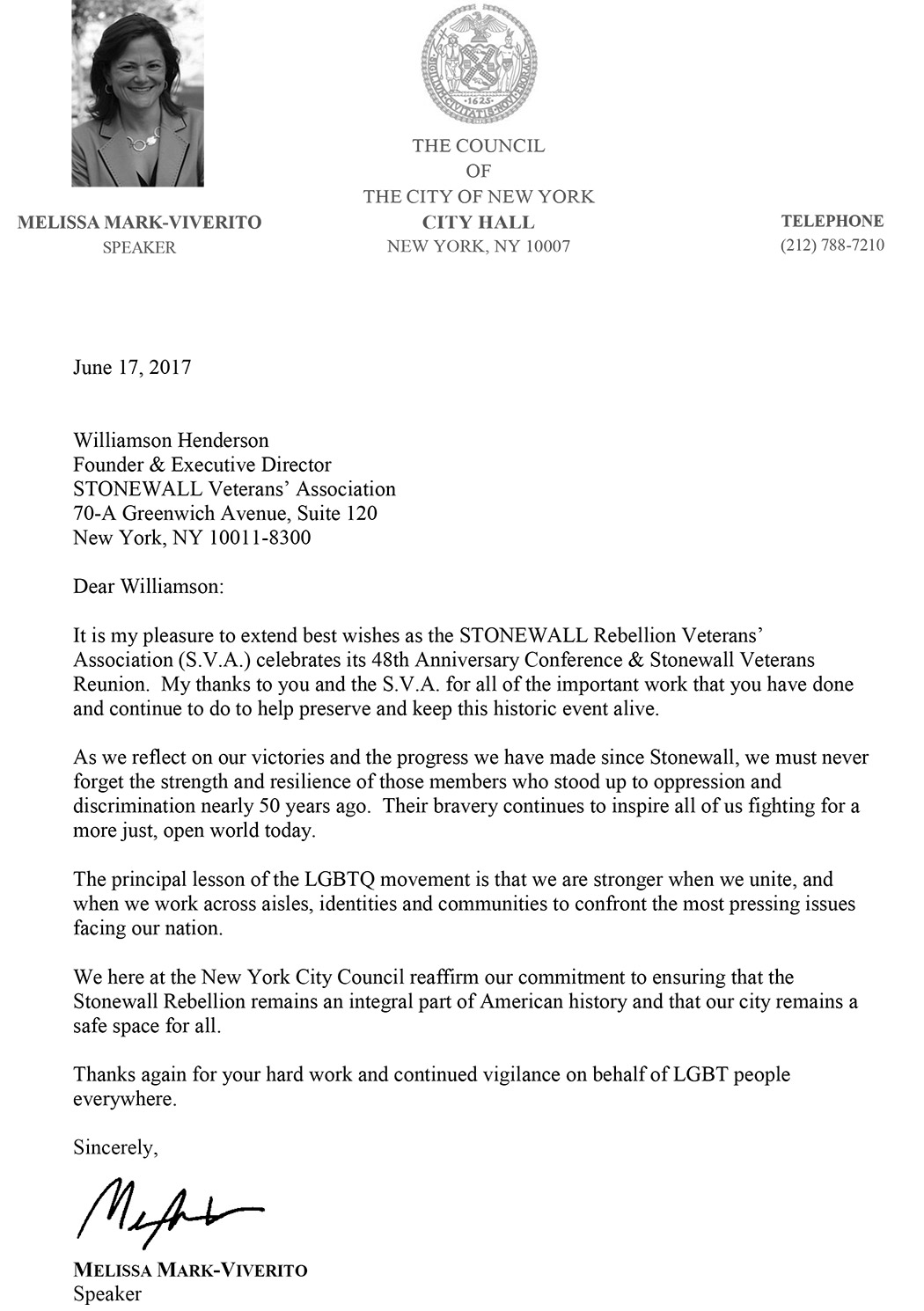 The

STONEWALL Rebellion Veterans Association

receives the annual staff-penned, rubber-stamped letter of recogniton and alleged appreciation from Council Speaker

Melissa Viverito

; however, the envelope is always void of a check -- something that would actually help the non-profit, with bills, S.V.A. It's an ungrateful gesture particularly for the only G.L.B.T. organization that wanted her in the NYC Council in the first place and the only G.L.B.T. group that actually made it a reality!



---


2016

Council Speaker Melissa Viverito's Letter to the STONEWALL Vets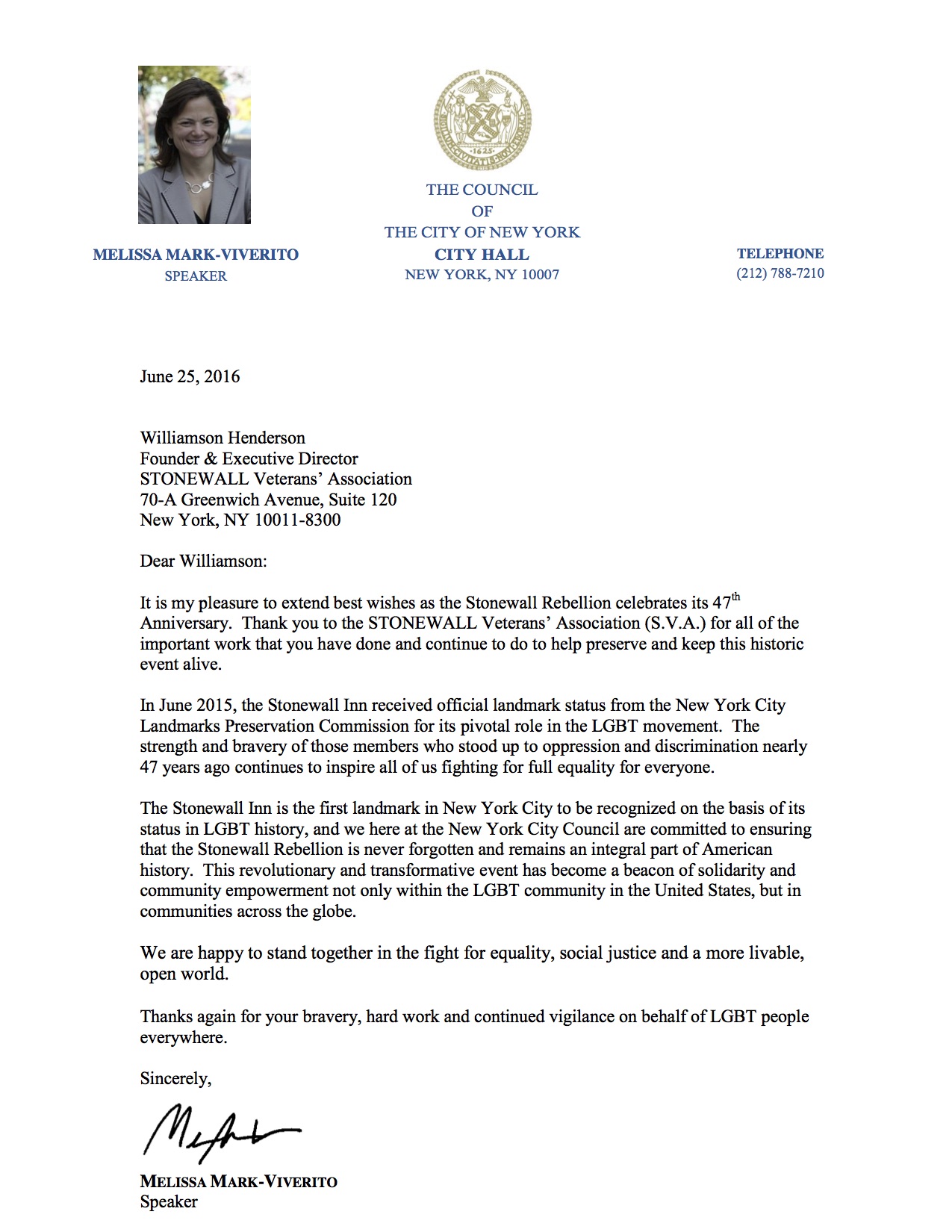 ---






2015





S.V.A. Received a Letter of Praise from Miss Viverito


(but the envelope was missing the S.V.A. sponsorship form or any 'dinero' for SVA's projects)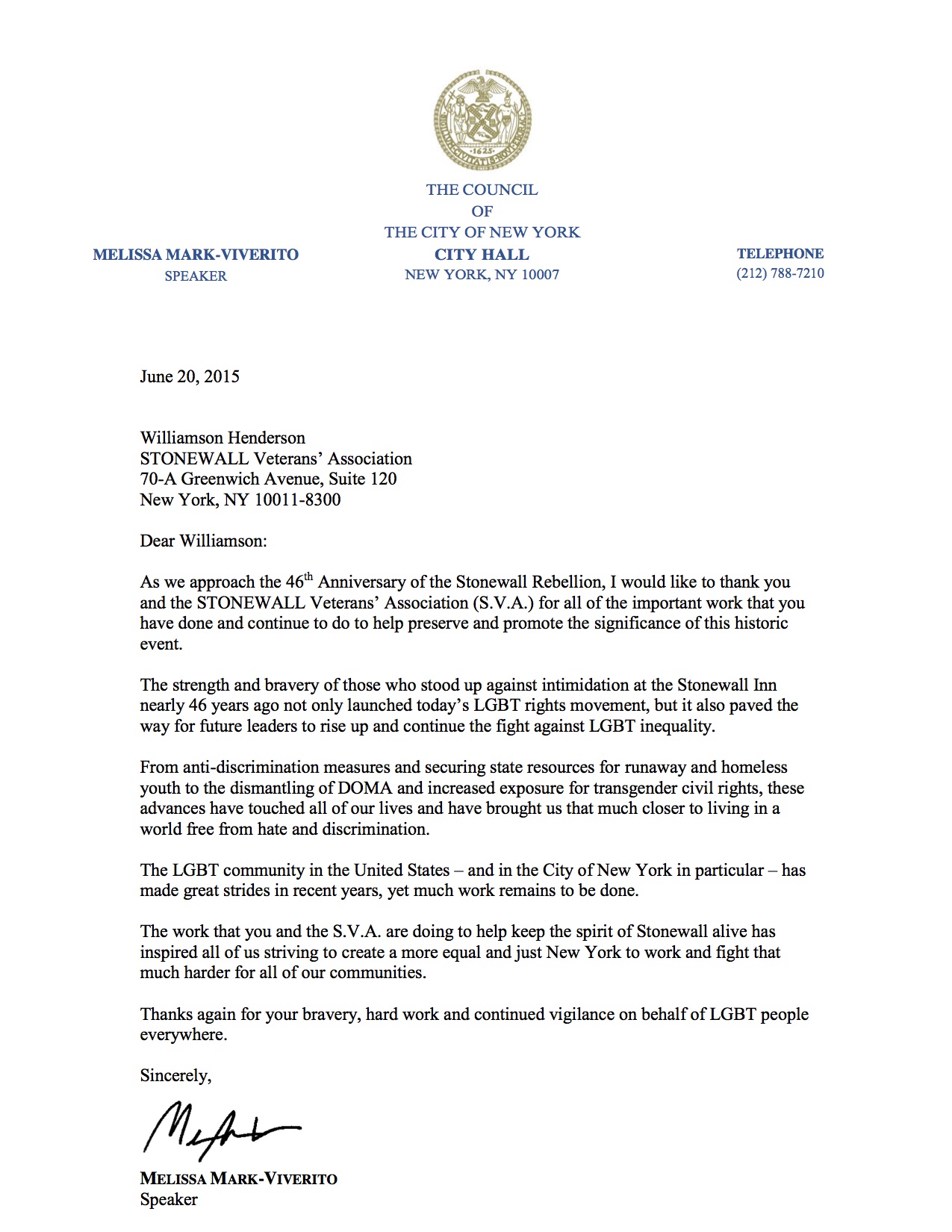 ---



2014


[PLACE] Meli-Mar's 2014 letter here!
*
filename:
Melissa_Viverito-2014


*



Council Speaker Melissa Viverito Induction Ceremony



The triumphant and wonderful event of the induction of Melissa Mark-Viverito as the new and improved Council Speaker of the New York City Council was held on Wednesday, January 29, 2014 at Hostos Community College in The Bronx, NYC. The STONEWALL Veterans' Association was represented by its founder Williamson Henderson, executive director Bill Miranda Salzman, office manager AnDre M. Christie.......





---





2013



Councilwoman Melissa M. Viverito's Letter of Praise to the S.V.A.




[S.V.A. has it; will be posted sooner or later; probably the latter!]



*



filename:

Councilwoman_Melissa_Viverito-2013







---
2012
Councilwoman Viverito Meets with the S.V.A. Again


---



2008




2008

Letter from Councilmember Melissa Vee to the S.V.A.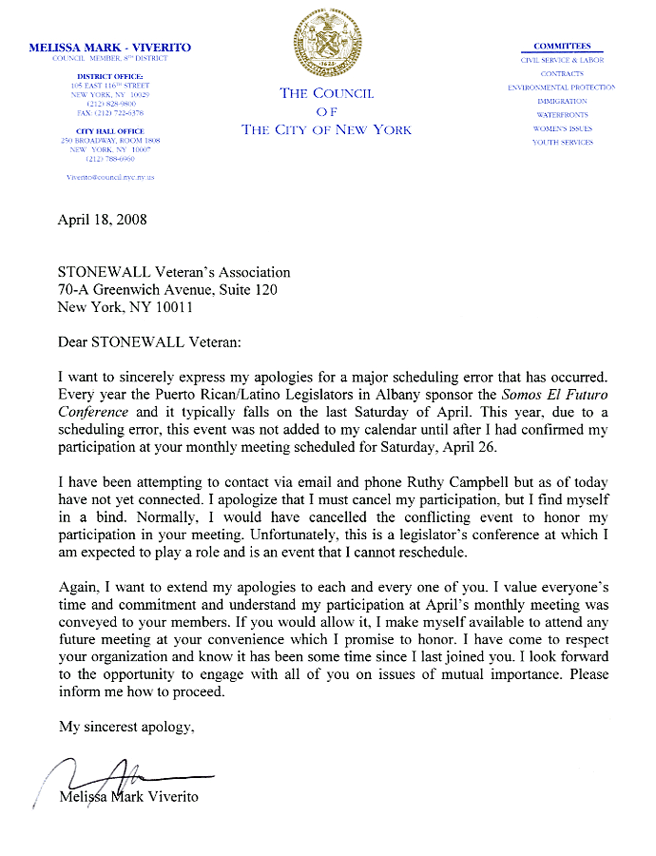 ---






[Flyer will be placed here for Melisssa as Guest Speaker.]






---


2007



Letter from Councilmember Melissa will be posted!

*





---


2006



Proclamation from Councilmember Viverito to be posted!


The proclamation has been size-reduced and copied and mailed to members.







---
2005

Melissa's Democratic Primary Night Victory for N.Y.C. Council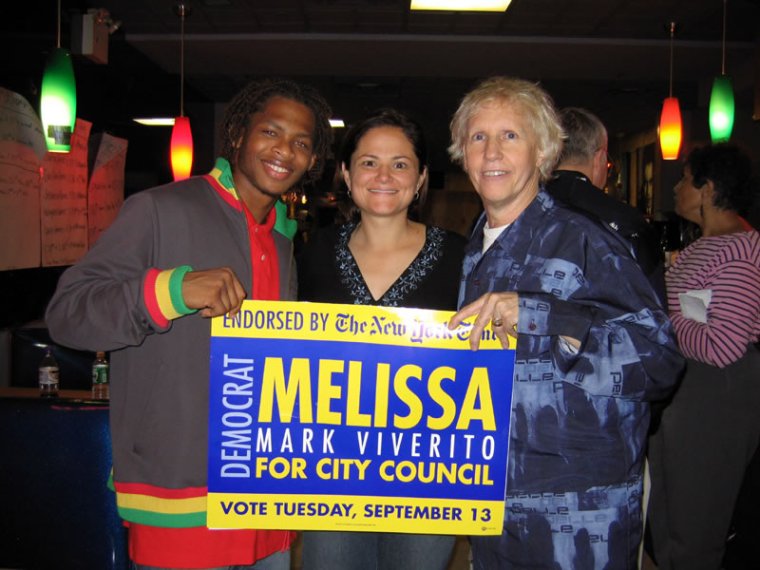 Victoriously pictured above are: AnDre Christie, Melissa Viverito and Williamson Henderson


---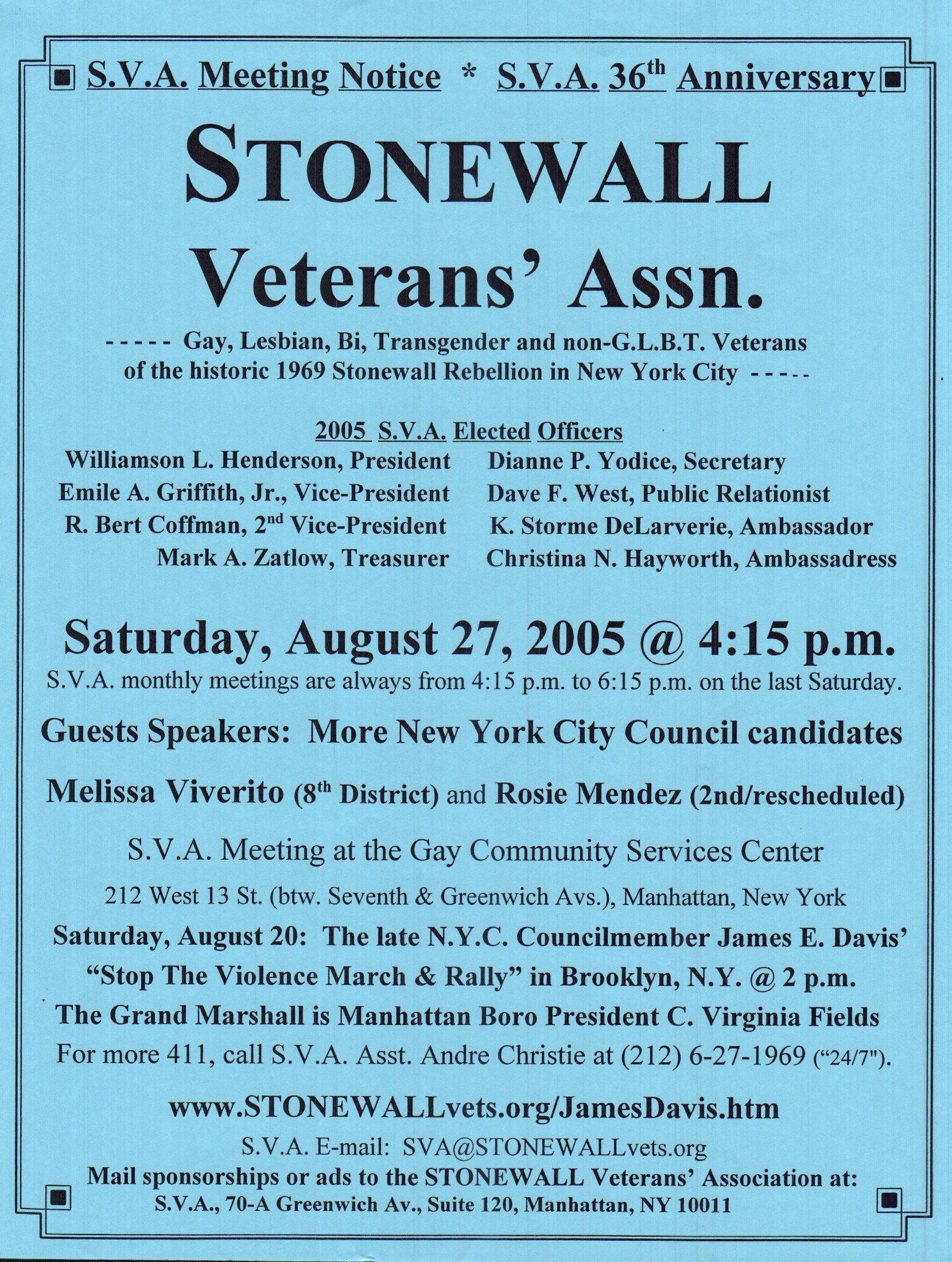 Visit more Melissa Vee and Council Campaign pix at: www.MelissaForCityCouncil.com


26 February
2019
Special Election Day: NYC Public Advocate
Melissa lost and placed third behind winner Democrat Councilman
Jumaane D. Williams and Republican Councilman Eric D. Ulrich