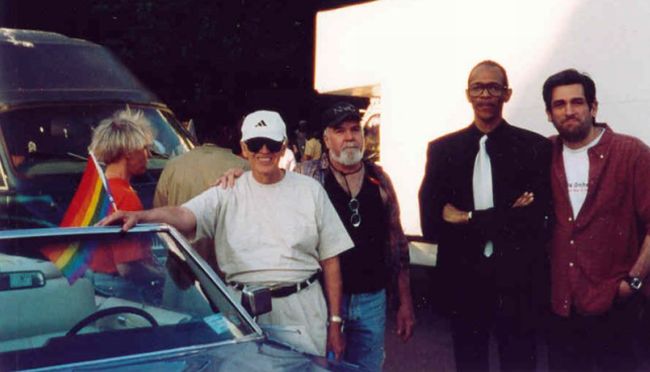 Ray McCaffrey Returns to his Ray-Jay Roots in Brooklyn
[Photo by Leigh McManus]

Proudly pictured (l-2-r):

Willson L. Henderson

, S.V.A. President (wearing red shirt and blond hair);

Ray McCaffrey

, S.V.A. Financial Secretary (wearing white shirt and white cap);

Ed Heffernan

, S.V.A. Executive Committee (wearing black hat and white beard);

David Jenkins-Foxworth

, S.V.A. Social Chairperson (wearing black jacket and white tie); and

Tony Phillips

, Next Magazine Editor (wearing burgundy shirt and brown beard), author of "A Visit with the Stonewall Veterans", a popular, enduring article about the

STONEWALL Veterans' Association

. This event is for the annual

Brooklyn G.L.B.T. Pride

Festival and Parade

. The photo location is on Prospect Park West (adjacent to the park) in Brooklyn, New York. As planned, the blue 1969 convertible "Stonewall Car" -- which used to spend significant time in Brooklyn and the pride of Brooklyn today -- was on display during the rally and the entertainment show and for the pre-parade line-up later. After the above photo was taken, the S.V.A. officers present (except one) -- including

Ray

,

Willson

,

Storme DeLarverie

,

Jeremiah Newton

,

Keith Lonesome

and

Rev. Magora Kennedy

-- are about to go on stage for the 2002

Brooklyn G.L.B.T. Pride Rally

. The SVA-ers were presented to the big outdoor audience and after self-introducing each Stonewall vet, Willson spoke to the wildly cheering crowd. Not shown are

Leigh McManus

, S.V.A. Stonewall Newzletta editor;

Ramon Bellido

, S.V.A. Boardmember; and

Electra O'Mara

, S.V.A. Secretary. The S.V.A. Treasurer

Terri Van Dyke

, also a dear friend of Ray, was happily with us with the grand "Stonewall Car" for this outing but, still ailing, he stayed seated in the open Stonewall convertible during the rally. When we all went out to eat later at the nearby Circle Restaurant, kind Ray kindly treated Terri to a quality dinner. (Brooklyn Pride provided no accommodations or reimbursements for the S.V.A. or any Stonewall vets or the famous car.)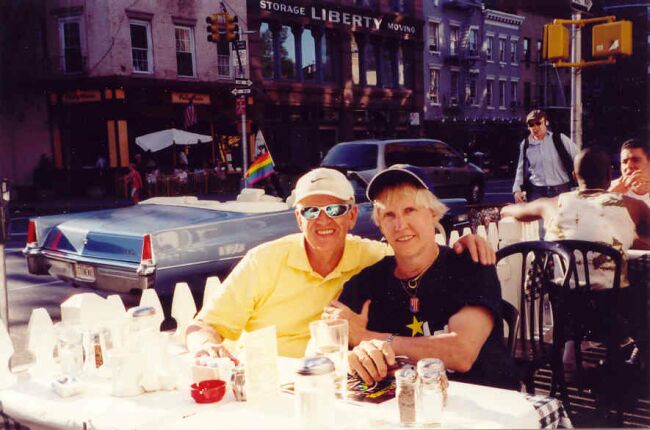 Ray McCaffrey in Good Ole Greenwich Village
[Photo by cafe waiter Rudi Sarceno]



After one of the G.L.B.T. Pride parades (Queens), Ray McCaffrey (left) and pal Willson Henderson, S.V.A. director, enjoy outdoor cocktails and supper with other SVA-ers at one of their favorite restaurants, the Hudson Corner Cafe. You can't miss the phenomenal 1969 classic convertible "

Stonewall Car

" bigger than life in broad daylight -- with one of the rare pix showing the glowing 1969 Cadillac "lantern" tail lamps.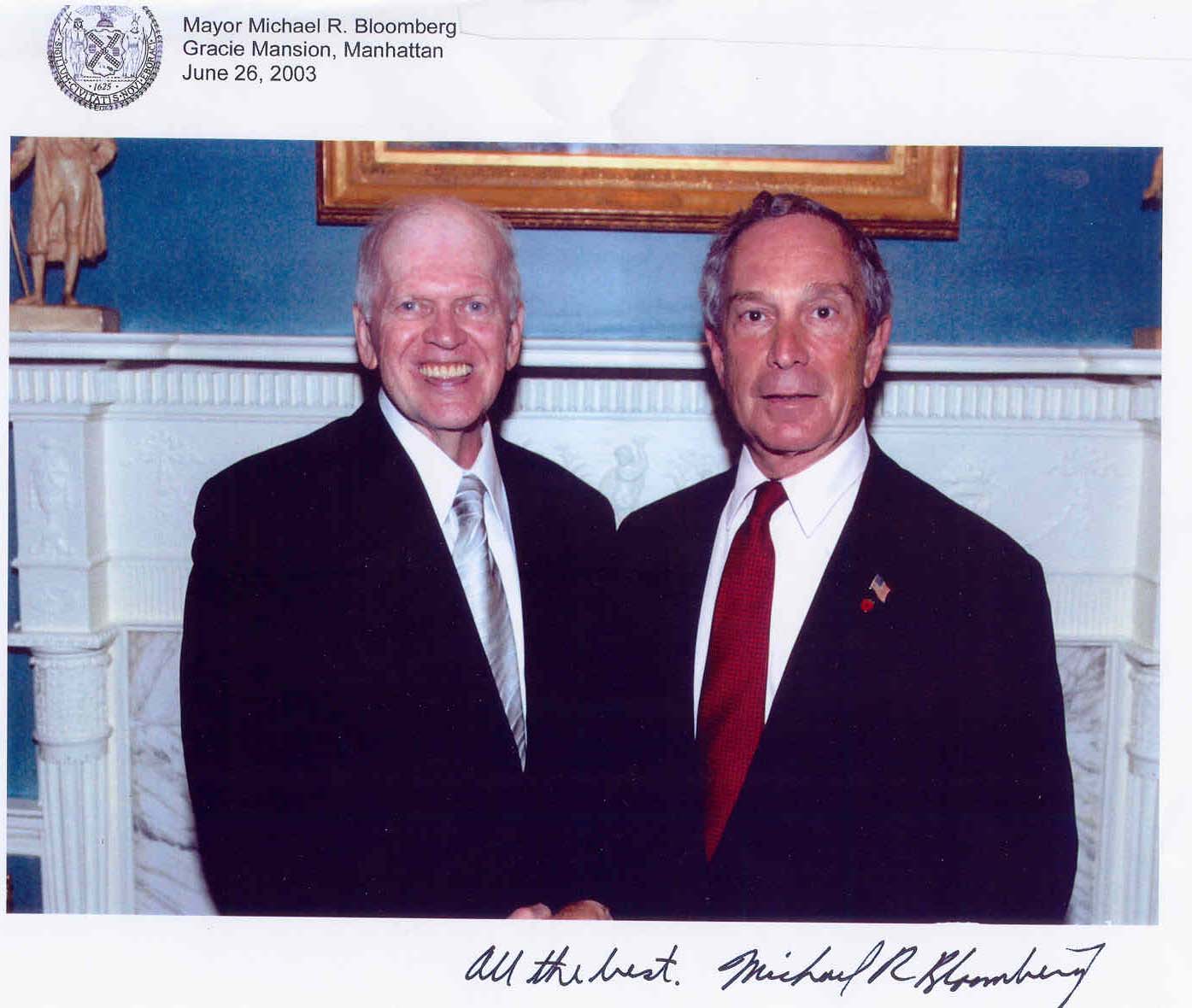 Raymond J. McCaffrey with Mayor Michael R. Bloomberg at Gracie Mansion
[Photography by the Office of the Mayor of the City of New York]



Smilin'

Ray McCaffrey

, S.V.A. Financial Secretary, with New York City's Mayor

Michael Bloomberg

at his second annual G.L.B.T. Pride celebration at Gracie Mansion in Manhattan, New York, on Thursday, June 26, 2003. All of the S.V.A. officials and officers in good standing are invited every year to this impressive event, as has been the respectful tradition through several mayors commencing with Ray's favorite, the great

Ed Koch

!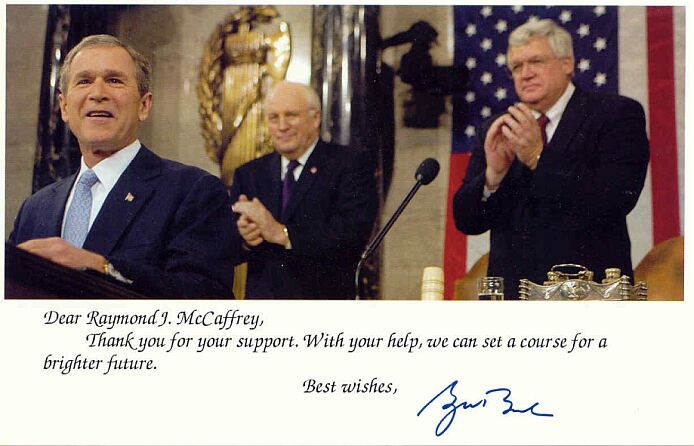 Best Wishes to Raymond J. McCaffrey from President George W. Bush, Jr.
[Photography by the Office of the President of the United States]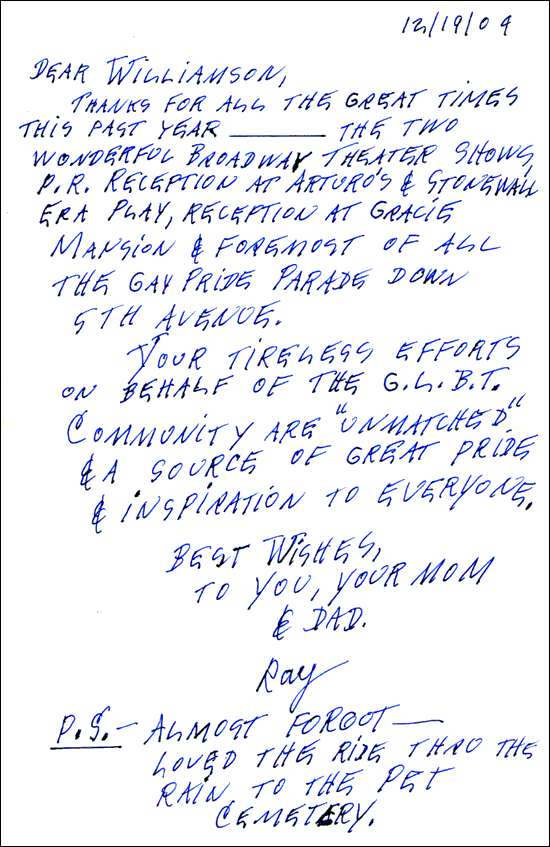 Ray's lovely, appreciative and heartfelt 2004 Holiday Letter to pal Willson
(Letter was included for Willson with Ray's beautiful Christmas card.)


*

National Public Radio ("NPR") Special in 2005

Wanna actually hear Ray? Visit: www.NPR.org.

Enter three 'search' words: STONEWALL Veterans' Association
Story title appears: "Stonewall Anniversary Unites Police, Patrons"
Click on the highlighted Stonewall story title

Click on "Listen" button (circled in red) to hear a clip of the interesting interview by

Margot Adler

with

Ray McCaffrey

-- and

Willson Henderson

and

Bill Salzman

-- of the

National STONEWALL Veterans Association

in the U.S.A.

*

Remembering..... Raymond James "Ray-Jay" McCaffrey

Sunrise: 20 February 1932 (NY) ///// Sunset: 8 April 2019 (NJ)

*

Transition Notice for R.J.M. Appeared in "City And State New York"

IN MEMORIAM: Raymond J. "Ray-Jay" McCaffrey, a member of the board of directors of the
STONEWALL Veterans Association, died peacefully at his home on Monday, April 8th, 2019.

*

Original Message -----------------------------
Subject: Remembering Ray-Jay McCaffrey
From: "Willson L. Henderson" <WLH@nyct.net>
Date: Thu., April 9, 2020, 6:27 pm
To: "Lisa Ann McCaffrey" <LisaMcCaffrey52@Yahoo.com>
---------------------------------------------------------
8 April 2020

Greetings, Lisa, dear Daughter of Ray J. McCaffrey,

It is incredible that it has been a year since we lost our
longtime friend and colleague and your dad, Ray McCaffrey!
Luckily, Ray-Jay had a full and long life; he greatly enjoyed!

As U know very well, Ray would want to be remembered, and
he is! He would also be horrified by the Wuhan, China virus,
how it

really

started, and the Communist Chinese gov't cover-up!

S.V.A. Veteran + Official Raymond J. McCaffrey:


https://www.StonewallVets.org/RayMcCaffrey.htm



Hope U, Lisa, are okay across-the-board! Regards to your brother.

Pridely,

Willson
212-369-1969 (office)


https://www.StonewallVets.org/upcomingevents.htm








20th February


2022


Remembering much-missed

Ray-Jay: Memorial Birthday!





*

=====2022: 53rd Anniversary of historic Stonewall Rebellion=====
[Friday night, June 27 ~through~ Thursday evening, July 3, 1969, Manhattan, New York City]