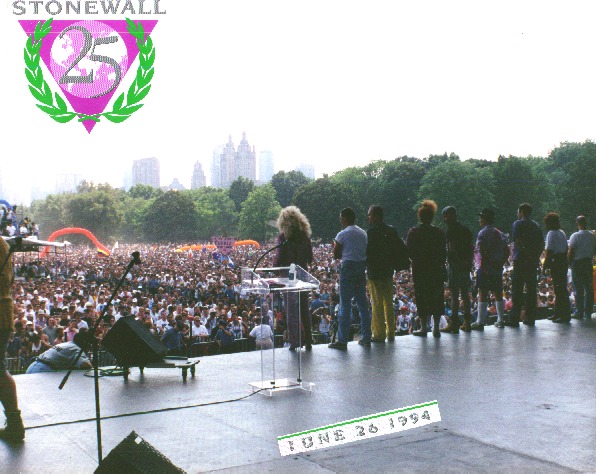 Incredible backstage view of some Stonewall Veterans at "STONEWALL-25" Rally
[Photo by Rockwell O'Neill]




STONEWALL Rebellion Veterans Association

("S.V.A.") members incredibly pictured standing in front of a crowd of over one a million people above (left-2-right) is firstly "The Stonewall Queen"

Allyson Ann

Allante

(grandly statured in a muave sequinced gown and long blonde hair), the second is

Rolando

Ortiz-Torres

(in tight white tee-shirt and tight blue jeans, well-built Puerto Rican originally from The Bronx and now up from Florida and staying in Brooklyn), the third person is S.V.A. Treasurer

Terri

Van Dyke

(wearing yellow pants and carrying his/her ever-present huge shoulder bag), the S.V.A. Secretary

Yvonne

Ritter

(with red hair up) is fourth,

Danny

Garvin

(in tacky shorts, unfit and shady for this momentous occasion) is fifth,

Christian

Holland

the "Stonewall Dutch Boy" (in traditional Hollandaise garb) is sixth,

John

O'Brien

(wearing dark blue shirt and slacks, in from Los Angeles) is seventh.... Also on stage but not shown in this photo are (alphabetically):

Molly Aitken

(down from Massachusetts).....

David Bermudez

and

Bob Isadore

(also Massachusetts).....

Brooke Lynn

(in from Park Slope, Brooklyn)....

Bert

Coffman

(up from the Prince Residential Hotel).....

King Storme

DeLarverie

(from Chelsea's Hotel Chelsea).....

David

Jenkins-

Foxworth

(up from Philadelphia).....

Xavier Harrison

(up from Atlanta, Georgia).....

Cristina

Hayworth

(up from Puerta Rica).....

Willson

L

.

Henderson

(down from his Upper West Side condominium).....

Wayne R. Herndon

(in from Hollywood, CA).....

Carl J. Keller

(in from Connecticut).....

Leigh

P.

McManus

(in from Huntington, Long Island).....

Jeremiah

Jay

Newton

(up from Avenue C in the East Village).....

Ronnie

J. Nieves

(over from Staten Island, NYC).....

Electra

O'Mara

(down from Washington Heights in Manhattan).....

John-Paul

Ranieri

(in from Milwaukee, Wisconsin).....

Sylvia

Rae Rivera

(flew in on her broom fueled by alcohol).....

Jack

Rojas

(from the Times Square Hotel, Manhattan).....

Rita "Rusty"

Rose

(in from Amityville, Long Island).....

Bill

Miranda-Salzman

(over the bridge from Williamsburg, Brooklyn).....

Monsignor Charles Snyder

(the Archbishop of Greenwich Village).....

Richard

J. Strahan

(in from the South Shore, New Jersey).....

Mary S. Twist

(via ferry from Staten Island).....

Ivana

Valentin

(up from the very East Village).....

Dave

F. West

(up from Midtown Manhattan, NYC).....

Ramon F. Bellido

(down from Spanish Harlem)....

Patti Stone

(up from Miami, Florida)..... et al.....

The well-organized

STONEWALL Rebellion Veterans Association

("S.V.A."), which had just led the outstanding and exciting "

Spirit of Stonewall March

" with the metallic blue 1969 convertible "Stonewall Car" up Fifth Avenue, Manhattan, from The Stonewall Club area in Greenwich Village, Manhattan, and, now, finally, after waiting over an hour, broadsided the very high and very wide stage in Central Park, USA. Only one-third of the S/W-Vetz present on stage are shown in this incredible photo. The approximate one million (1,000,000)-plus attendees from all over the world responded with a great, sound-breaking, five-minute chant of "Thank you... Thank you... Thank you... Thank you... Thank you..."! Every Stonewall Veteran -- except one -- was overcome with emotion, lightly crying with pride or just having a few tears of joy or sadness stream from their eyes.

Queen

Allyson Ann

, the President of the

Imperial QUEENS & Kings of Greater New York

and the

Spokesperson of the S.V.A.

, was not having her professionally-done make-up ruined. Anxious to begin her speech, Allyson finally said to the huge millionish crowd (a la Barbra Streisand and invoking a Brooklyn accent): "Thank you from the STONEWALL Veterans' Association of the 1969 Stonewall Rebellion! Thanks! Alright already... enough already. Ohhh! Thank you! Already enough, thanks! Oy! We thank you, too -- for being here today on the 25th! Enough now!" What's a queen supposed to do already? "Thanx! (Convincing one million people to "Stop!" is not easy!) We love you, too!" However, the enthusiastic crowd continued their extraordinary chant: "Thank you... Thank you... Thank you... Thank you.... Thank you...."

Highlights of the entire

Stonewall 25

event, including the S.V.A. segment is/was available on the Heritage of Pride video,

"

The Future is Ours

"

-- a queerly inane title for the hugest Gay event in world history! Celebrities included openly-Gay actor/entertainer

Harvey Fierstein

who stated that none of us would be here today on this stage if not for the Stonewall Veterans. And, another Gay favorite,

Liza Minnelli

who reminded everyone that "It is the 25th anniversary of Stonewall.... and it is also the 25th Anniversary of Mama" -- referring to the great Gay icon of

Judy Garland

, whose funeral was the first day of the rebellion that night June 27th. Coincidence? No!