====Stonewall 35====
starring the
=====National=====
STONEWALL
Rebellion Veterans Association
of the
1969 Stonewall Rebellion
New York City
Gay, Lesbian, Bisexual & Transgender
GLBT Pride Parade

=exact date of the 27th=
Sunday, June 27
2004
The annual G.L.B.T. Pride Parade in NYC is always held on "The Last Sunday in June"!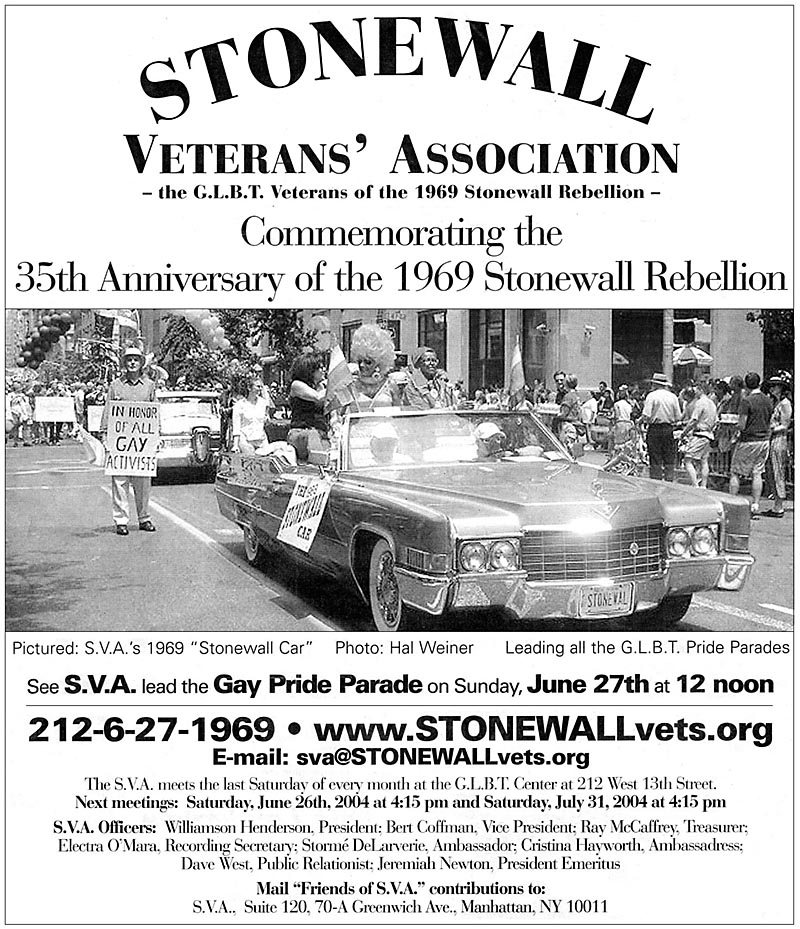 Full-page ad (reduced size shown) in the New York Blade News for the annual "S.V.A. Gay Pride Confrence & Stonewall Veterans Reunion + Testimonials" and 411 on the S.V.A. in the annual New York City Gay Pride Parade

SVA's Parade Permit for the 1969 "Stonewall Convertible"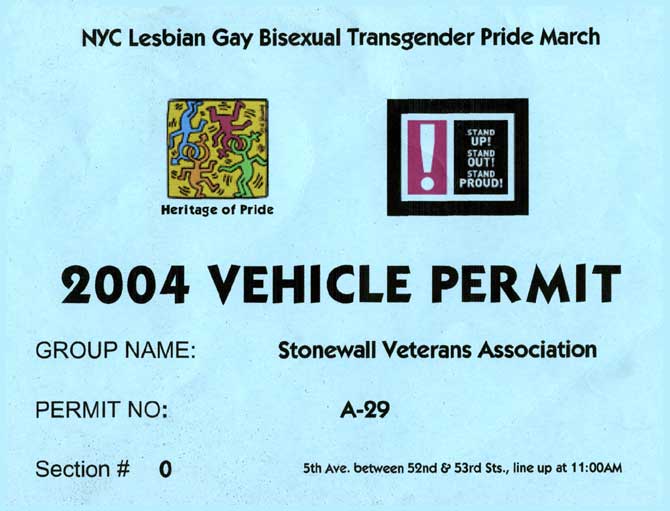 "Vehicle Parade Permit" for the historic, famous and fabulous metallic blue 1969 convertible "Stonewall Car" via the parade organizers Heritage of Pride ("HOP") -- with our name spelt wrong (again) by them, as usual. For Gay history and Gay pride and legally correct reasons, it is "STONEWALL" not "Stonewall".
*
Gaymentary: It's a "Parade" not a 'march' -- the Stonewall Vetz would know!
G.L.B.T. History: Anyone who knew anything about modern Gay "heritage of pride" would know the big hit, now classic, single-release song from the big hit Oscar-winning 1968 movie "Funny Girl" and big Gay favorite of Gay icon Barbra Streisand! Let the S.V.A. Gays give you the 411: Barbra didn't sing "Don't Rain On My March"! It's "Don't Rain On My Parade"! And, a year later, in 1969 was Babs' other "parade" single hit song from her next hit movie "Hello, Dolly!". It definitely was not "Before The March Passes By". It's "Before The Parade Passes By"! Yes, the GLBT community definitely was, and hopefully is, more guided by Barbra than HOP. Well, "Hello, HOP-py". It's a parade! Ask a fifth grader! Just one look and you know it's a parade! Everybody, come and enjoy the P-A-R-A-D-E!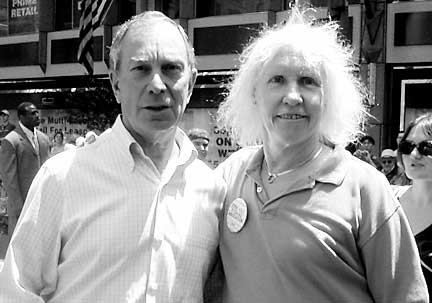 Mayor Michael Boomberg and S.V.A. President Willson Henderson
[Digital Photography by Hal M. Weiner, NPPA]
*
SVA's Leading-the-Parade Guest: NYC Mayor Michael Reubens Bloomberg
New York City ("NYC") Mayor Michael R. Bloomberg ("MRB") follows in the longtime tradition of NYC Mayor Ed Koch in the late 1970s and the entire 1980s and then Mayor Rudy Giuliani in the 1990s in being the semi-regular guest of the STONEWALL Rebellion Veterans Association ("S.V.A.") in leading the annual New York City Gay Pride Parade in Manhattan. Interestingly, Mayor Michael -- at Mayor Rudy's urging -- first marched with the S.V.A. in historic 2001 when he was mayoral candidate Bloomberg. That spectacular event virtually introduced MRB to the Gay, Lesbian, Bisexual and Transgender ("G.L.B.T.") community and hundreds of thousands more at large as parade spectators. S.V.A. Director Willson L. Henderson ("WLH") is always extra accommodating of the SVA's special guests. They are always guaranteed real heritage, original pride, enthusiastic applause, great publicity and fun, fun, fun besides marching with actual legends of the G.L.B.T. community! Congressmember Carolyn Maloney, five years leading the parade with the S.V.A., was also in the NYC Gay Pride Parade. In fact, she is the mayor's congressmember!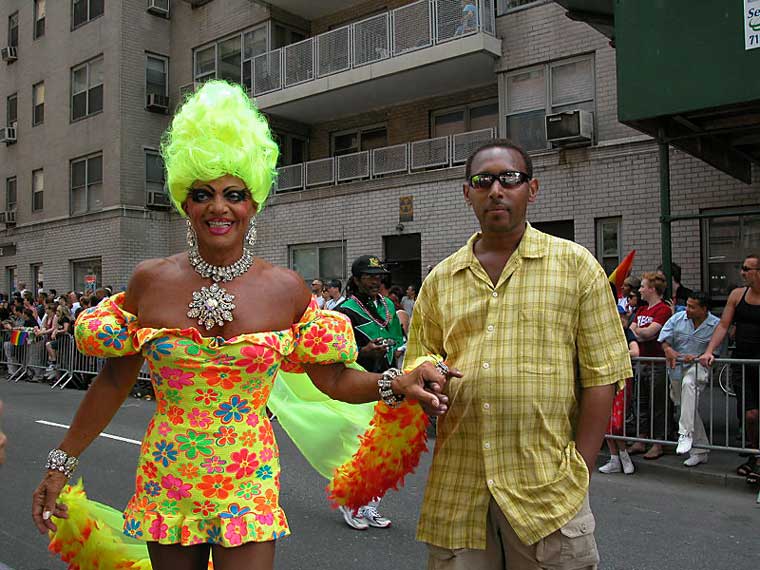 Countess China and Baron Baron
[Photo by Poet Minor]
Stonewall veteran China Fucito (left) and longtime Friend-of-SVA Baron Morris, Jr. (right) are shown with the S.V.A. on lower Fifth Avenue in Greenwich Village, Manhattan, New York. Along with their Gay friend Willson and the Indian chief Dave West plus the 1969 "Stonewall Car", the quintet was shown on ABC-TV news on both their evening and night editions as well as on other local television stations.

The New York Times: Stonewall Copz and Stonewall Vetz and Stonewall Car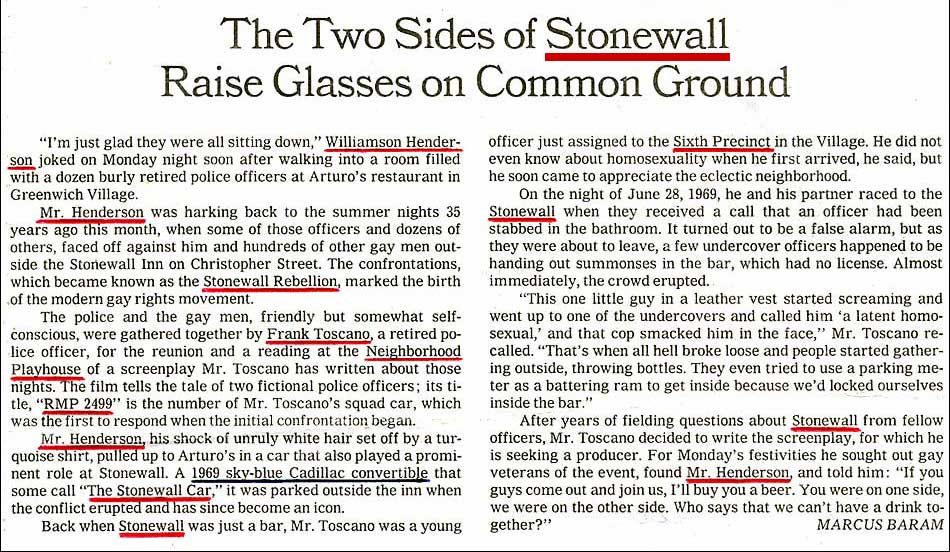 "The Two Sides of Stonewall Raise Glasses on Common Ground" by the NYX's Marcas Baram.
The New York Times ("NYX") started the story with a lively quote from S.V.A.'s Williamson Henderson. They also interviewed the old Sixth Precinct's Stonewall police officer Frank Toscano. At the site of the interviews, the S.V.A. obliged the appropriate request of the NYX in having the famous 1969 Cadillac "Stonewall Car" on display. The NYX reported: "Mr. Henderson, his shock of unruly blond hair set off by a bright turquoise shirt, pulled up to Arturo's Restaurant in a car that also played a prominent role at Stonewall. A 1969 sky-blue Cadillac convertible that many call "The Stonwwall Car", it was parked outside the club when the conflict erupted and has since become an icon." It was a real crowd pleaser for all of the retired New York City Police Department cops.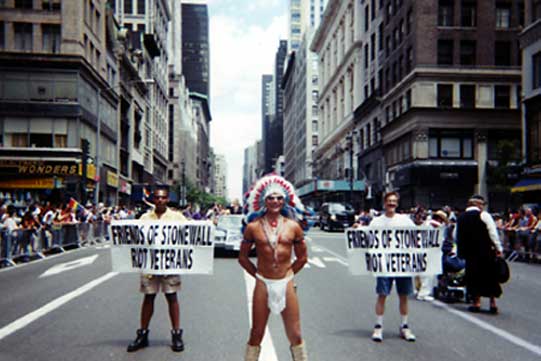 S.V.A leads the New York G=L=B=T Pride Parade
[Photo by Steven L. Gradman]
The STONEWALL Rebellion Veterans Association ("S.V.A.") contingency in the "New York City 35th Annual Gay Pride Parade" is fronted by S.V.A. Public Relationist Dave "Hurricane" West, shown above as the beefy warrior Indian Chief. The chief is flanked on the left by Baron P. Morris of the IQKNY and from Far Rockaway, Queens, and on the right by Robert Frankel of PRIDE Democrats of NYC from Brooklyn, NY. Behind the boys is the unmistakable 1969 "Stonewall Car" on their tails. You can even see Cristina Hayworth standing up in the grand vehicle.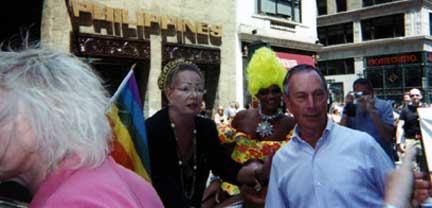 "The Spirit of Stonewall" is sincerely shared by Mayor Bloomberg
[Photo by Robert Anderson]

New York City Newsday: Gay Pride Parade and Politics on Display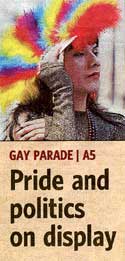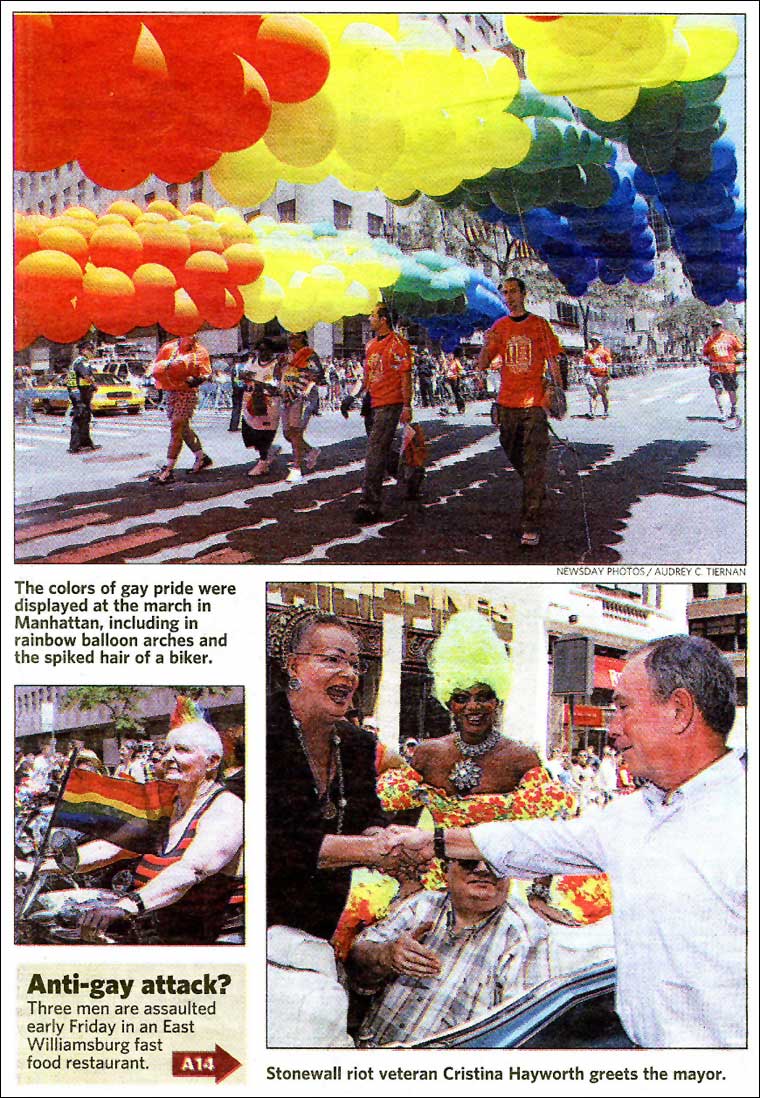 New York City Newsday captures 1st prize photo of the N.Y.C. Mayor with some of the STONEWALL Veterans' Association's veterans and the famous blue "Stonewall Car"!!
"Gay March in The City: Poltics, Pride Mix"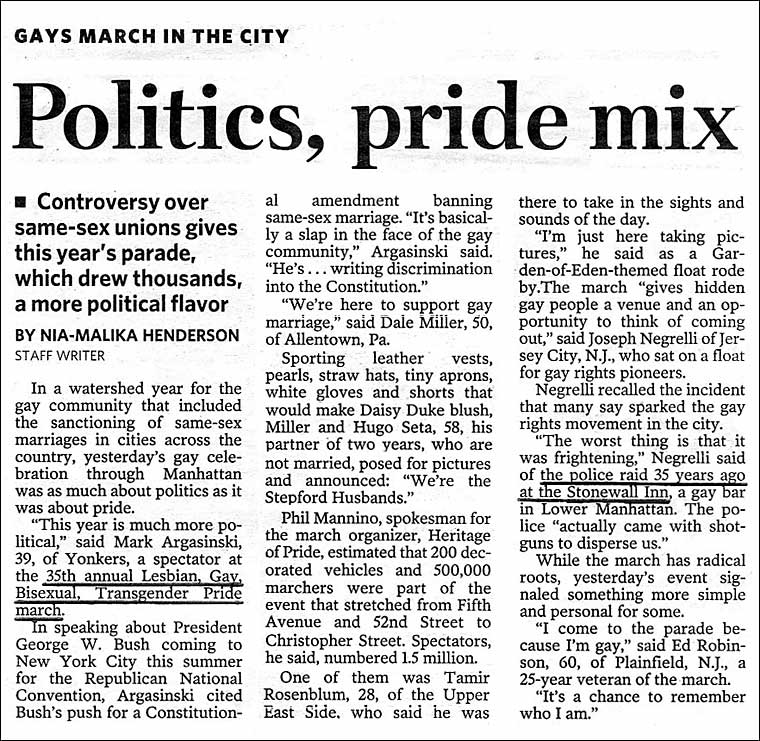 "Gays March in the City: Politics, Pride Mix" by Nia-Malika Henderson
P.S. The Two Hendersons: The SVA's founder and director Williamson "Henderson" is not related to this Newsday story staff writer Nia-Malika "Henderson"! Although, like a thousand others, Miss Henderson was handed the lavender S.V.A. "Stonewall Sunday" flyer listing the S.V.A. officials namely Williamson Henderson, obviously, Henderson the writer did not spot this coincidence because she did not mention the public figure Henderson nor even the parade leaders, members of the STONEWALL Veterans' Association who are the chief reason for the "pride"!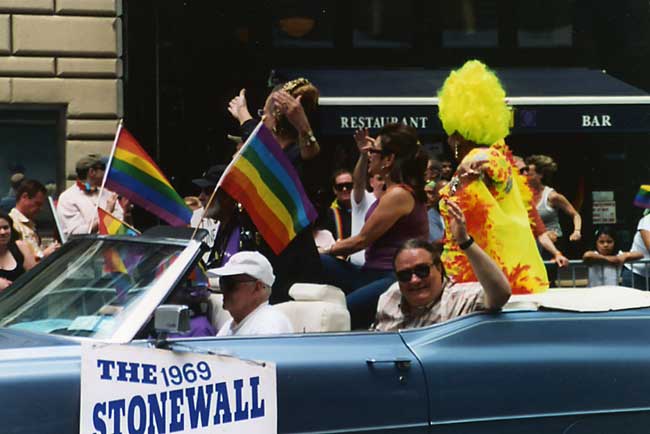 S.V.A. 2nd Veep Big Berti Coffman gives a Hearty Wave to the Happy Spectators
[Photo by Avery St. George]
Clearly pictured are Ray McCaffrey (with white cap and shades) carefully driving, Bert Coffman (waving from the near rear seat) proudly waving and Dianne Yodice (far back seat) smartly posing in the fabulous blue "Stonewall Cadillac" (as one of the small local newspapers inadvertently dubbed it) riding down Fifth Avenue. With yellow blonde hair and colorful back to the camera is 'China' Fucito. Not so clearly pictured but seen is King Storme DeLarverie (in rainbow helmet and purple t-shirt), at the moment, appropriately riding shotgun!

New York Post: A Gay Day for All!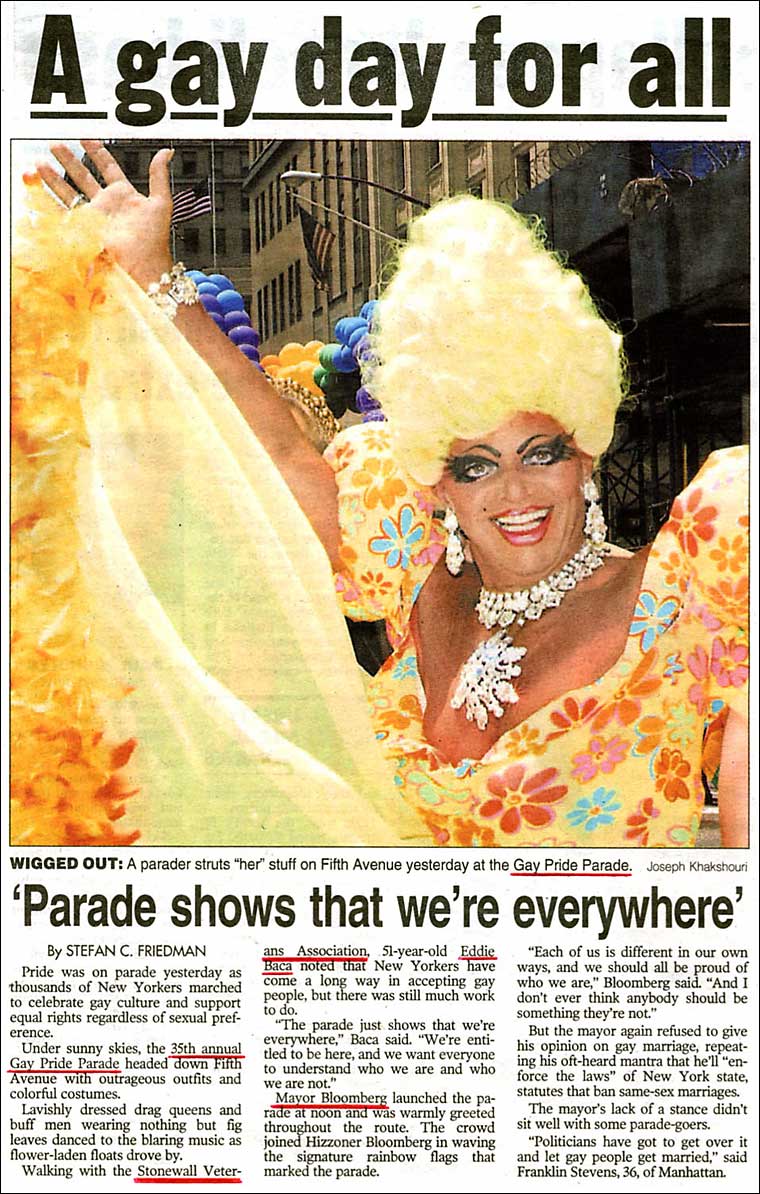 "Gay Parade Shows that We're Everywhere" by the New York Post's Stefan Friedman.
The NYP shows the S.V.A.'s Countess China in vivid, living color in their big photo.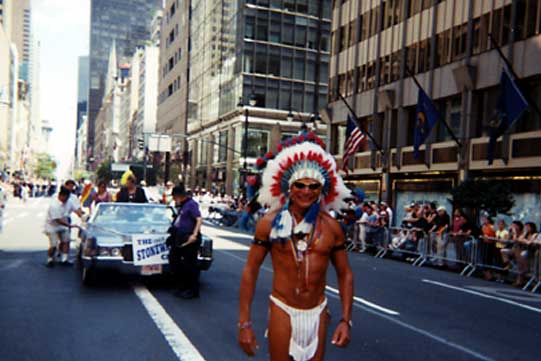 Pre-Stonewall Yesteryear when Manhattan was run by American Indians
[Photo by Jeremiah Newton]
Chief Dave West (clearly shown above) leads the S.V.A. contingency in the Gay Pride Parade down Fifth Avenue. Dave's attention-grabbing attire consists of two pieces; one is his ornate and colorful head covering. The 1969 "Stonewall Car" is shown making a pit-stop!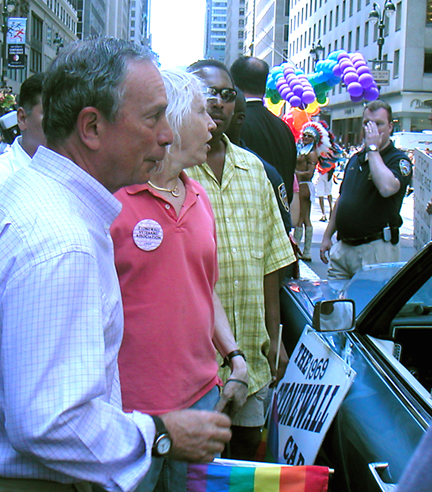 Mayor Michael visits the Stonewall Vetz and the Stonewall Car
[Digital Photography by Hal M. Weiner, NPPA]
Pictured in NYC are (l-2-r): New York City Mayor

Michael R. Bloomberg

("MRB"), the S.V.A. Director

Williamson Henderson

, Friends-of-SVA Manager

Baron P. Morris

, a mayoral security man (back appropriately turned to the camera) and, in the distance, S.V.A. Indian Chief

Dave 'Hurricane' West

. To the left (mostly blocked) is S.V.A. Executive Committee

Bill Salzman

, a Stonewall veteran and the Founding Principal of the Harvey Milk High School. Pointedly introduced by Williamson... Bill and Mayor MRB briefly, yet interestingly, discussed the NYC school system, a top priority of the Mayor. The special policeman in the special black shirt (with his hand up to his face) apologetically approached Stormé and others in the S.V.A. to explain that his being in the Mayor's security detail keeps him from being in pictures. The rainbow Gay Pride flag, designed by a Stonewall veteran,

Gilbert "Rainbow" Baker

(not shown in another S.V.A. convertible), looks like it is being held by Williamson. In fact, it belongs to Mayor Michael!

New York Daily News: Vamps & Vows -- and Dave West!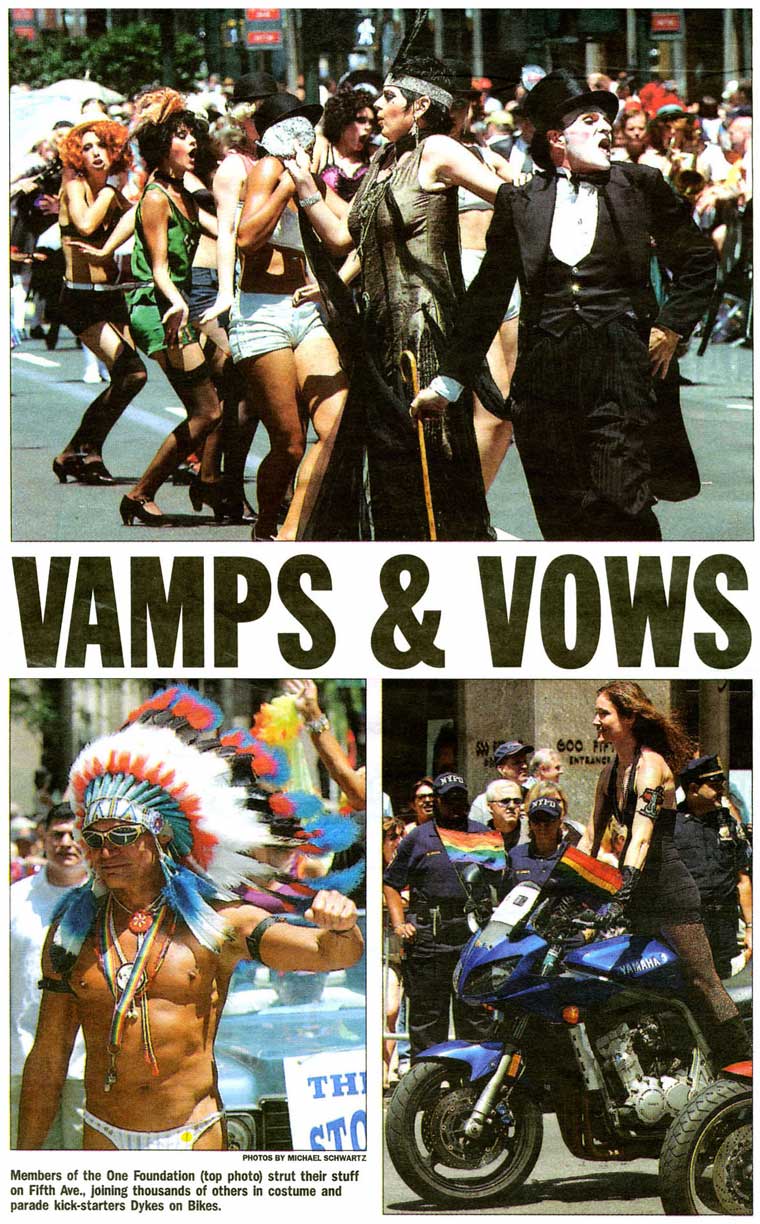 Strongly, colorfully and proudly pictured above (left photo) is Indian Chief "Hurricane"

Dave West

, out-front leading the

STONEWALL Veterans' Association

parade contingency. Behind Dave is the legendary crowd pleaser, the beautiful and blue 1969 "Stonewall Car". To the left is the SVA's

Bill Salzman

.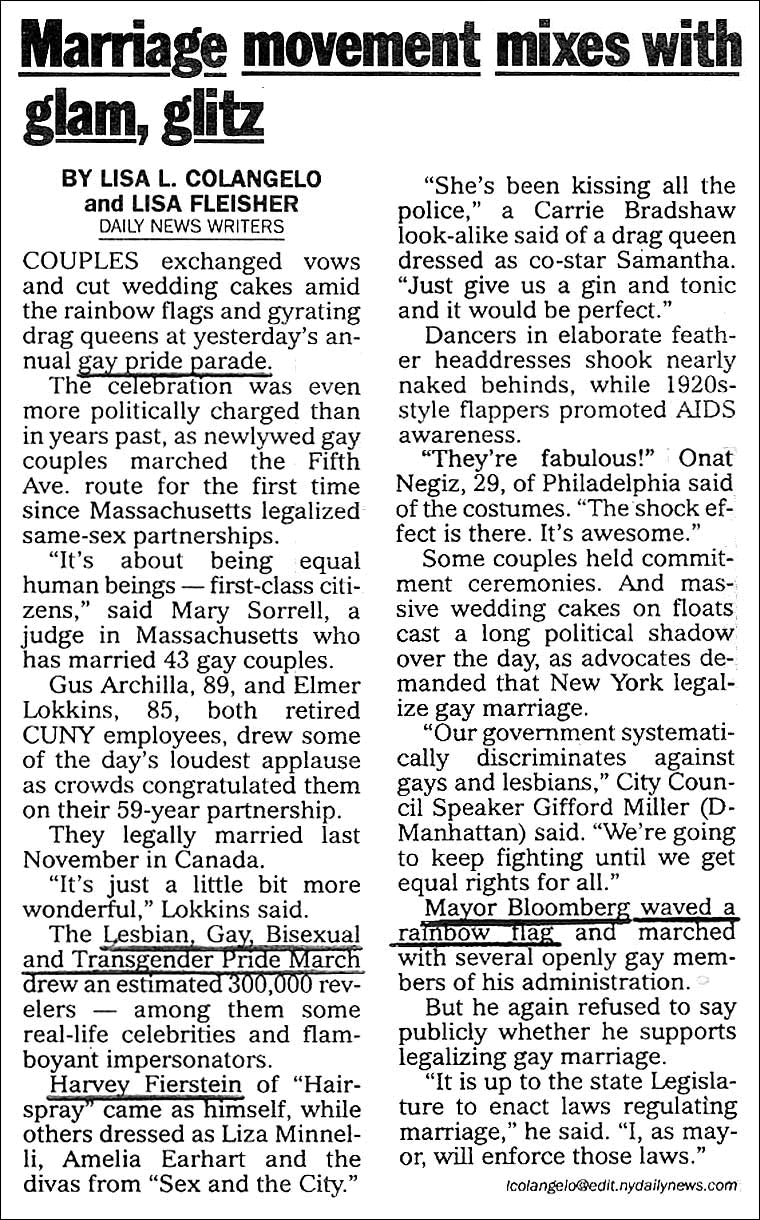 "Gay Marriage Movement mixes with Glam, Glitz" by the N.Y. Daily News' Lisa Colangelo

STONEWALL Rebellion Veterans' Association

officials were in

all

of the major newspapers this year!!!! Certainly one of the best examples is the 'in living color' close-up photo of Dave West in the Gay Indian Chief "Hurricane Dave" as shown above in the

New

York

Daily

News

. Serving as the perfect backdrop for Chief Hurricane Dave is the rightly visible metallic blue "Stonewall Car". Some of his headress feathers match the car color. To the left in the photo is the conspicuous visible Bill Salzman, the charter principal of the Harvey Milk High School. When the popular newspaper's sub-heading mentions the parade had "glitz", they're referring to designing SVA-er Dave West!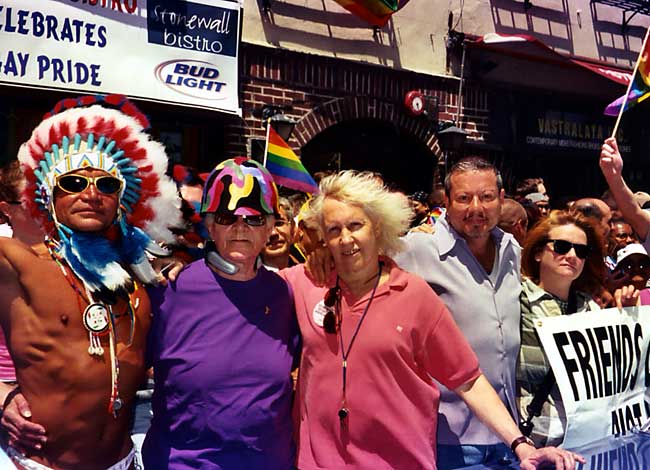 "The Stonewall People" in front of The Stonewall Club
Note: The above 5 Stonewallers are original basis for The Village People
[Photo by AnDre Christie]
Original Stonewall veterans pictured 35 years later exactly in front of The Stonewall Club are (l-2-r): Tanned Indian Chief Hurricane Dave West, rainbow Military Man Storme DeLarverie, wind-blown blond Willson Henderson, tough-lookin' Eddie Baca and sun-glassed Meredith Nelson! They are also many more S.V.A. members not shown.

New York Blade News: Million-(plus) Person Gay Parade!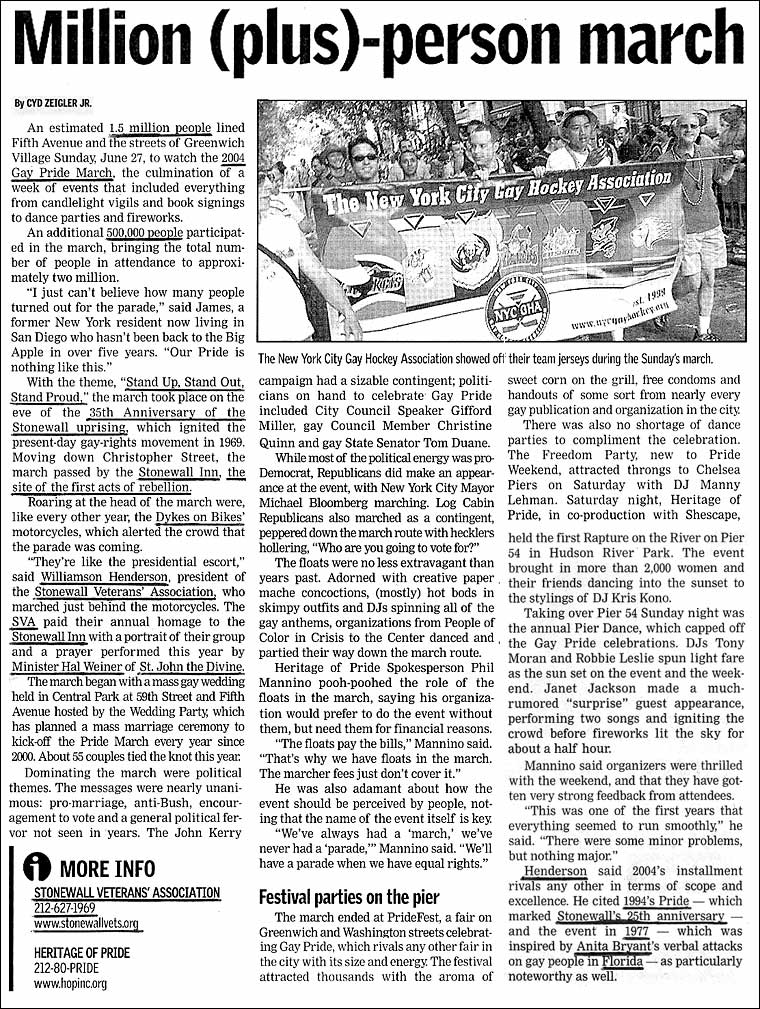 Gay Headline: "Million-Plus Person (Gay) March" by the New York Blade's Cyd Zeigler

Close-Up in Color: Mayor Michael and Stonewall Willson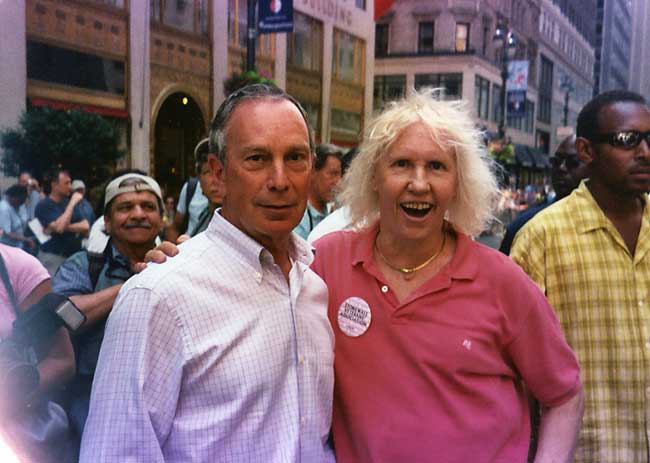 Mayor Michael makes a Funny for Stonewall Willson
[Photo by Eddie L. Baca]
Proudly pictured right on Fifth Avenue in Manhattan are New York City Mayor Michael Bloomberg and STONEWALL Veterans' Association President Willson Henderson plus longtime Friend-of-SVA Baron Morris. They all had been together recently for the Mayor's Gay Pride event at Gracie Mansion.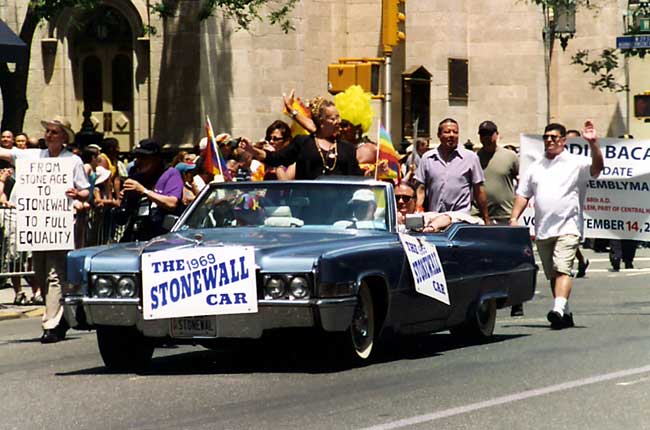 Historic Car, Historic People, Historic Scene
[Photo by Avery St. George]
For many reasons, to many people, this classic car scene looks somewhat reminiscent to a famous American historic scene. Walking on the left is Jack Rojas carrying the clever "Stone Age to Stonewall" sign. In the deep purple shirt and serious black hat is second-career ace photographer Hal "Hally" Weiner. The SVA's Puerta Ricana Ambassadress Cristina Hayworth (up from Puerta Rica) is standing center in the grand "Stonewall Car". Oh, look, you can also see Princess Dianne Yodice (wearing Christian Dior sunglasses). Ray Jay McCaffrey is driving and in the rear seat you can't miss bigga Berti Coffman. Ridin' shotgun (for the moment, as he walked the entire route) is S.V.A. Ambassador Storme DeLarverie. You can recognize his trademark rainbow military helmet. Walking directly behind the car on the left is Eddie Baca (wearing a light lavender shirt). SVA-er Bill Salzman (waving) is on the right. The car has a dramatic look in this photo that none of us ever saw before -- even with as long and as well as we know the many looks of this famous Cadillac. In this photo, brcause the classic Cadillac grille is covered, the convertible ironically appears looking like an early 1960s Kennedy-ish Lincoln-Continental.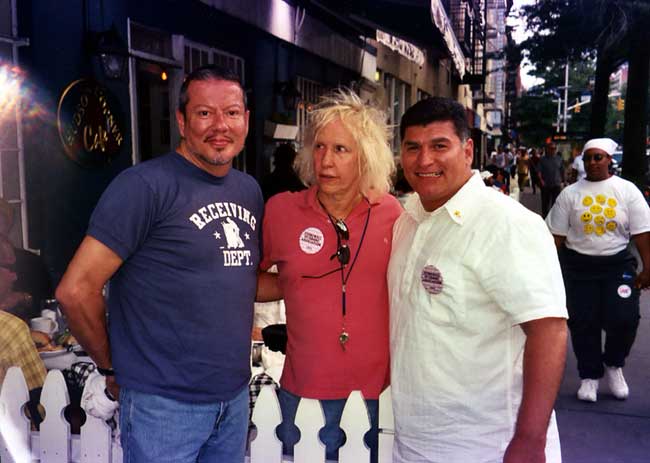 "After the Gay Pride Parade passes by"
[Photo by AnDre M. Christie]
Pictured with pride and fun are (l-2-r): Eddie Baca, openly-Gay candidate for the N.Y.S. Assembly and supporter of the S.V.A.; Willson Henderson, S.V.A. President and organizer of the S.V.A. Gay Pride Parade contingency; and Bill Salzman, S.V.A. Executive Committee and high school principal, in front of the white picket fenced Hudson Corner Cafe restaurant on Hudson Street, where the S.V.A. holds its annual post-parade "Stonewall Duncheon". Xxtra special thanks for a lot, especially the happy person and smiling face to AnDre Christie (off camera) -- too shy for a pic this year!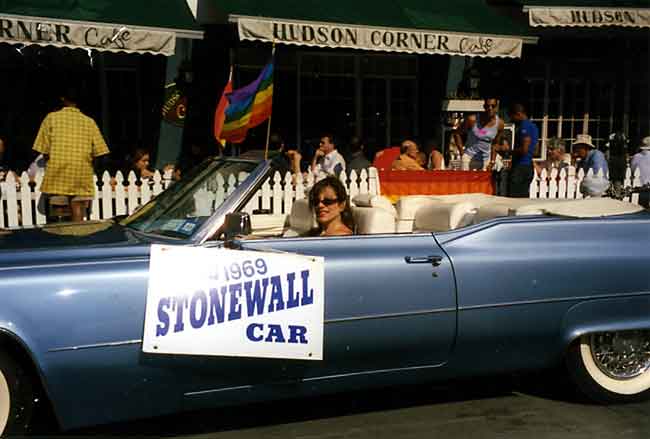 Princess Dianne in the anchored "Stonewall Car" in front of Hudson Corner after the Parade
[Photo by Vinny Stanzione of Bensonhurst]

S.V.A. Secretary and the youngest Stonewall veteran Dianne Yodice (a.k.a. the girl from Benson Avenue) is shown prettily behind the big wheel of the flashy convertible.... but 'dat I-talian goil frem Bruck-a-lin ain't goin' nowheres'! Fahgedaboutit! Only the S.V.A. President Willson Henderson, Treasurer Ray McCaffrey and Assistant AnDre Christie have a set of the three "S/W-Car" keys! Brooklynese description of the above photo: Hey, look, if 'dat Diannne (with 3 'n's) goil from Brook-line tinks she'sa gonna driva dat bigga car she can... fahgeddaboudit'! Besides, goils ain't allowed to drive da big, bad, blue 'vert!"

Continuing Good News Notice:

This informative and exciting "S/W-35" Stonewall Parade file is
still under development several years later with additions of pix
and text (titles, captions, narratives) still in store. Stop back!

2004 Assistant to the S.V.A. Director: AnDre M. Christie


Any information or images extracted from this file must credit:


STONEWALL Veterans' Association
70-A Greenwich Avenue
Manhattan, New York, NY 10011

www.StonewallVets.org/mainpage.htm

Fastforward several years............
2019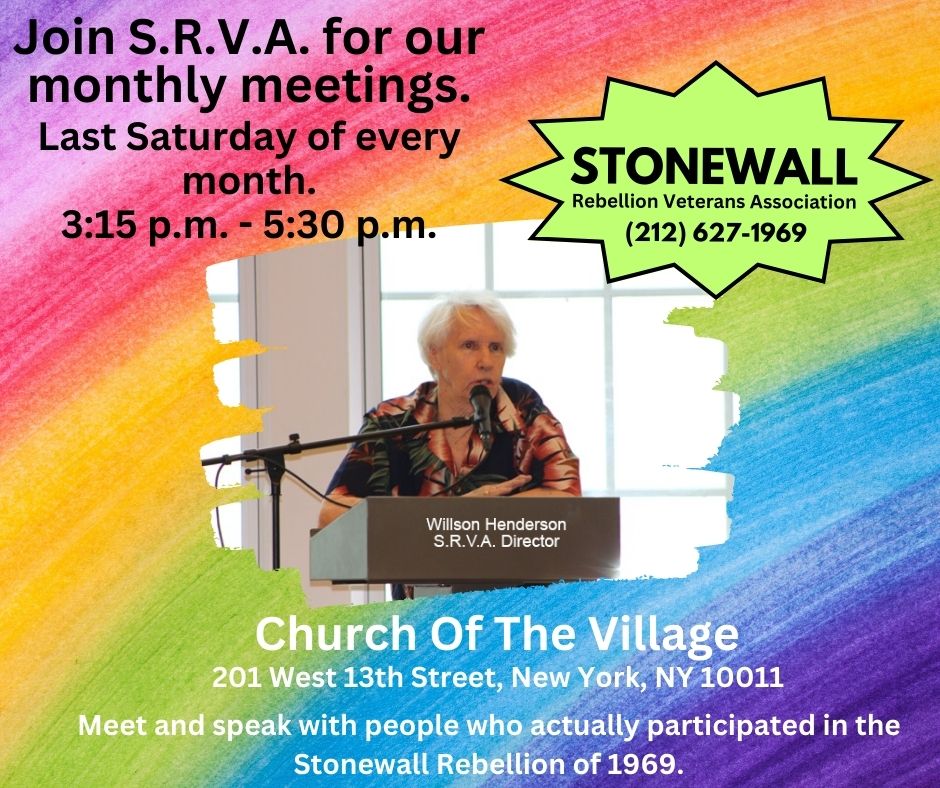 www.STONEWALLvets.org/upcomingevents.htm
---


25 March
2019
*G*L*B*T* "STONEWALL-50"

*

=====2019: 50th Anniversary of the Gay Stonewall Rebellion=====
[Friday night, June 27 ~through~ Thursday evening, July 3, 1969, Manhattan, New York City]