The

National STONEWALL Rebellion Veterans Association

("S.V.A") is the standing and original Gay organization that started giving in mid-1969 and, five decades later, still keeps on "giving, giving, giving" to the

Gay, Lesbian, Bisexual and Transgender

("G.L.B.T.") communities and friends and schools, teachers, students and educational administrators and way beyond -- now via the internet throughout the entire World! The S.V.A. is knowingly, proudly and gayly directed by its founder

Willson Lee Henderson

.




1969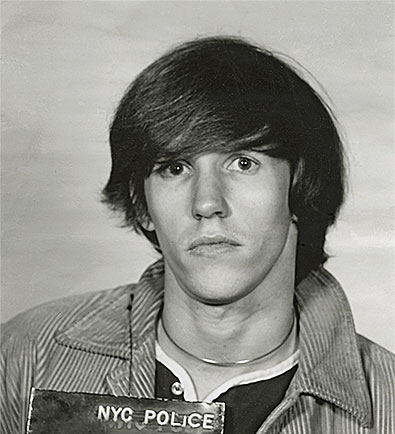 "

The Face of Stonewall!

"
[Mug-shot by N.Y.C. Police Dep't]
Modern Gay education began here!
Credit: STONEWALL Rebellion Veterans Association Archives





---




"

Reflections of the Way Gay Life Used to Be!

"
For an illuminating and uniquely interesting Stonewall Era vignette:


https://www.StonewallVets.org/Reflections-WLH.htm



Note: If you use any and all information or sources from the article, be
sure to 'credit' the author

Willson L. Henderson

and the organization


STONEWALL Rebellion Veterans Association

!





---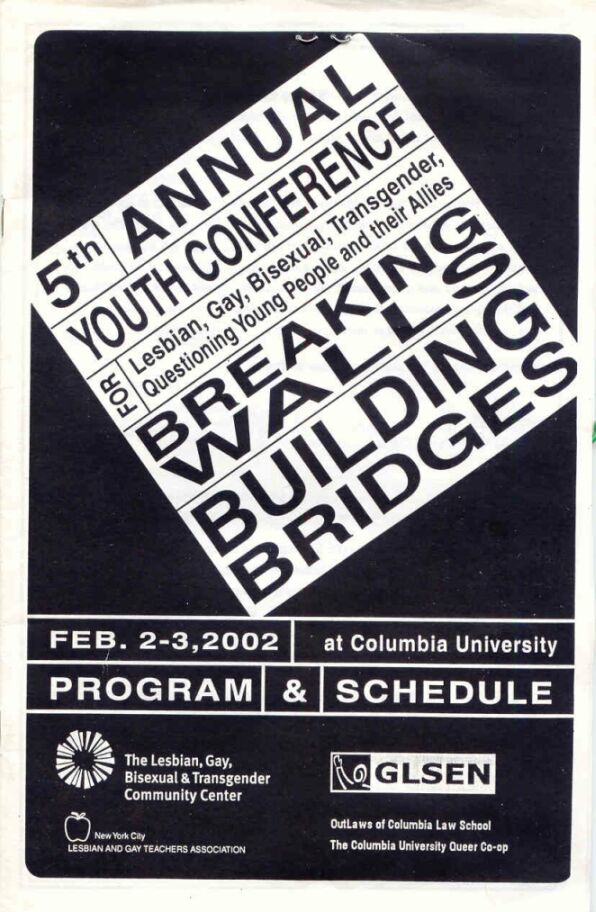 The STONEWALL Rebellion Veterans Association's (S.V.A.) requests to speak at high schools, civic groups, forums, churches, universities, symposiums, political clubs, colleges, labor councils, etc. regarding the late-1960's Stonewall Era and the 1969 Stonewall Rebellion are always in demand! This is a public service that the S.V.A. provides at no charge, however, wherever possible, an honorarium or a sponsorship is reasonably expected, needed and greatly appreciated. The S.V.A. makes arrangements via direct telephone conversations. Requests with details must then be made in writing and the original letter sent via U.S. mail or an express carrier, if needed. A copy of the request can be faxed in advance. The S.V.A. would like to accommodate all educational requests -- especially in the annually international advent of the "Stonewall Celebration Anniversary" in June also known as "Gay Pride Month". The S.V.A. hosts a yearly conference and Stonewall veterans reunion and testimonials on 'the last Saturday in June' at the historic

St. John's Evangelical Lutheran Church

at 81 Christopher Street off Seventh Avenue in Greenwich Village, New York City from 3:15 p.m. to 6:15 p.m. This conference features actual Stonewall Rebellion veterans and their fascinating and revealing stories! For S.V.A. happenings, current news and future events, please visit:

https://www.StonewallVets.org/upcomingevents.htm

.




---



Request from Portland, Oregon, Gay Pride Committee
----- Original Message ----- 
From: Pride NW Media <media@PrideNW.org>  
To: SVA@STONEWALLvets.org
Sent: 27 March 2004, 7:27 p.m. 
Subject: Article for Portland, Oregon GLBT Pride Guide

Hello Stonewall Veterans!
 
With this being the 35th anniversary of the Stonewall Rebellion, we were 
wondering if a Stonewall veteran from your esteemed STONEWALL Veterans 
Association would like to write an article for our Pride Guide.  We would 
truly be honored. 
 
Portland, Oregon's Pride Festival and Parade is June 19 and 20.  Our guide 
is in design now so the deadline is April 30.  We would absolutely love to 
have your historical perspective and comments on the current state of 
affairs that appear in our program. 
 
Also, do you know of any Stonewall veterans who are out here in the 
Portland area?  We are interested in inviting them to our celebration.
 
Thank you in pride,
 
Joe Dressman
Media Coordinator
Pride Northwest, Inc.
503.317.7566
www.PrideNW.org  
    
   



---
The following summarizes the S.V.A.'s information and speaking engagements in a typical year:
Monthly S.V.A. Meetings
__________________________
High Schools

12 (at St. John's Lutheran Church Founders' Room)
____________________________________________
6 (in N.Y.C., Tri-State, New England)

Colleges/Universities

5 (city, state and independent)

Public Symposiums

1 (sponsored directly by S.V.A.)

Historical Seminars

3 (mainly civic seminars)

Discussion Groups

5 (mostly community forums)

Political Clubs

7 (GLBT and non-GLBT)

Block Associations:

3 (all N.Y.C. boroughs)

Tenants' Associations

5 (Manhattan, all parts; Met Council)

Other Schools

6 (e.g., Harvey Milk HS and Hetrick-Martin)

G.L.B.T. Organizations

10 (A to Z from A.R.E.A. to Zappalorti Society)

Youth Groups:

6 (e.g., YES, Live Out Proud and BiGLTYNY)

Testimonial Events:

5 (S.V.A. awards and proclamations)

Religious Institutions:

3 (churches, synagogues, temples)

Public Parades:

2 (Gay Pride, Halloween, World Series)

Interviews:

36 (print, radio, television, phone and internet)

TOTAL:

119 Appearances / Occurrences


In addition, the

National STONEWALL Rebellion Veterans Association

("S.V.A.") has public official staffers, writers, reporters, authors, educators, columnists, researchers and students attend the regular monthly meetings of the S.V.A. at the historic

St. John's Evangelical Lutheran Church

at 83 Gay Christopher Street in Gay Greenwich Village, in Manhattan, New York on the last Saturday of every month -- unless it is a national holiday or national crisis -- from 3:15 p.m. to 5:15 p.m.
Actual media and student interviews happen sometimes right at or after the S.V.A. meeting. Please see the SVA's website homepage for detailed S.V.A. meeting information. Also see the SVA's "Current and Upcoming Events" section for specific details such as monthly meeting dates, guest speakers and times:

https://www.StonewallVets.org/upcomingevents.htm

.




---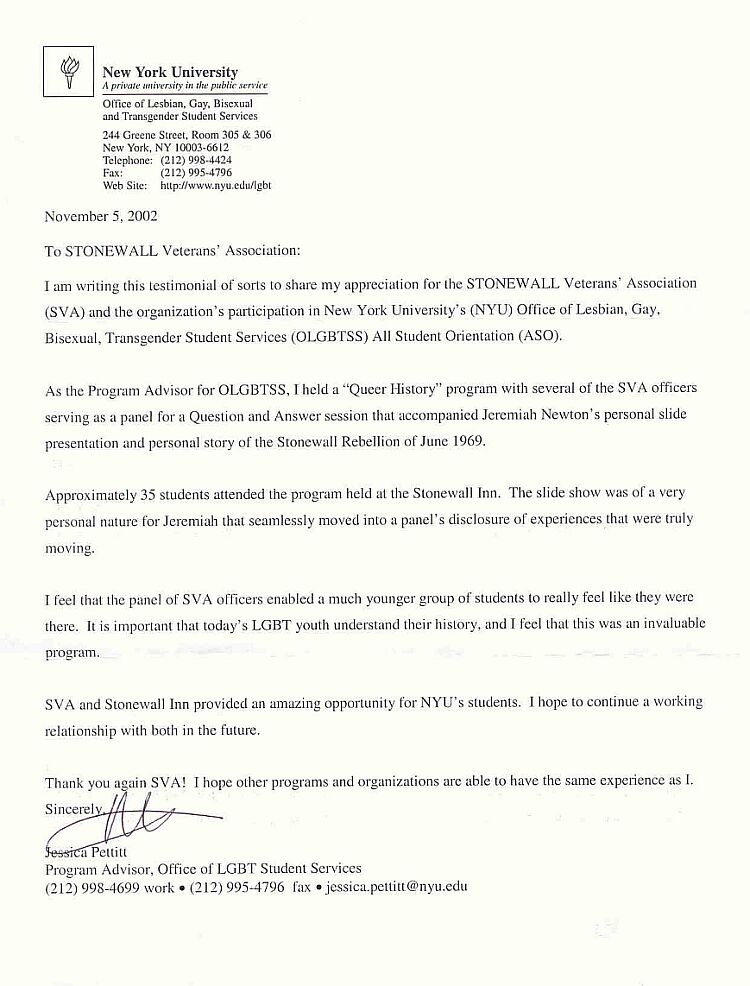 ---
Requests from Schools, Teachers and Students
An example of the SVA's received requests is as follows: A social studies teacher from Hamilton Regional High School in Hamilton, Massachusetts calls on Thursday morning at 11 a.m., November 14, 2002, on behalf of a Gay -- yes, capital "G", we are a "people" -- 16-year-young student, who is doing a term paper on the late-1960's Stonewall Era and the 1969 Stonewall Rebellion. The student wants the teacher to arrange for him to interview an actual person who was present at least one of the five nights of that GLBT event. Immediately, the supportive and interested teacher is taught that the Stonewall uprising was a 'rebellion' not a 'riot'. Our educational program has already begun in this contact! By noon, the student has long-distance interviewed two Stonewall Rebellion Veterans... Jeremiah Newton and Terri Van Dyke, both officers of the S.V.A. All of the above is coordinated by S.V.A. President Willson L. Henderson. Notes of appreciation are received by the S.V.A. We receive these educational requests on a regular basis.
---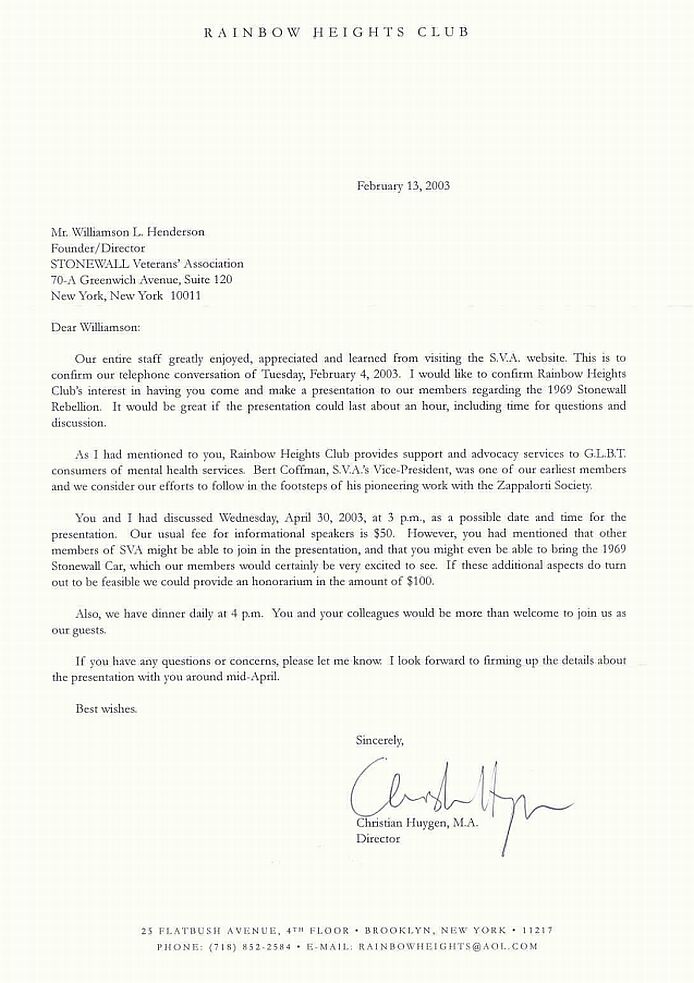 ---



Letter from S.V.A. President to a Community College for G.L.B.T. Event

Wednesday, 24 October 2007

Greetings to All of the Students, Faculty and Friends at
the Cape Cod Community College ("4-C"): in Massachusetts

The purposes of the original Stonewall Inn was to serve
as a Gay meeting place, a same-gender dancing club and, in
effect, a Gay community center. Even if you didn't know
every person, in most cases, you recognized the faces. We
always welcomed new faces. Gay people came from all over.

After the five nights from June 27th to July 3rd, 1969, the
unexpected yet spontaneous Stonewall Rebellion took place.
The uprising was not a "riot". That is a perjorative and
criminalizing term. There was no looting, no burning of
cars, no assaulting passersby and, most telling, there were
no insurance claims! Thus, there was no riot. That was a
negative police term. The Stonewall Rebellion was a civil
rights demonstration. It was akin, in comparison, to the
Boston Tea Party! Stonewall demonstrators unknowingly --
yet literally -- ignited the modern Gay rights movement.

The STONEWALL Veterans' Association ("S.V.A.") formed the
very next month on July 11th, 1969, in a Greenwich Village
deli restaurant. Our mission then -- and now -- was to
unite the Stonewallers of the rebellion and, by extension,
the Gay community. The S.V.A. has been successfully doing
educating and a whole lot more for nearly four decades.

The SVA's main purpose was and is to educate the public
-- both Gay and non-Gay. So, you can imagine how extra
proud I am of our Stonewall veteran David V. Bermudez -- and
his wonderfully supportive spouse Robert "Bob" Isadore --
for presenting this educational forum "The Gay Rebellion
in America:

STONEWALL

" at the Cape Cod Community College.
You will know how the Gay rights movement really ignited!
Despite the real dangers at that time, it was fun doing it
and the music of The Stonewall was great!

To learn more about the S.V.A., the people and the rebellion
-- in addition to the famous blue 1969 convertible "

Stonewall Car

"
and the fabulous "

Songs of The STONEWALL Club Jukebox

", please
visit the Stonewall Era, the people and the club on the S.V.A. website at:


https://www.StonewallVets.org/Stonewall_Era_Club_People_Rebellion.htm

.
Or, you can go to any internet search engine and enter two words:
Stonewall Veterans.

Gayly,



Willson Lee Henderson

, Founder and Director


STONEWALL Rebellion Veterans Association



[This S.V.A. e-mail is crafted to be printed and enlarged.]




---



Invitation from LaGuardia High School, NYC
(event: 6 June 2009)

We are all impressed with your outstanding Stonewall Veterans website.

I've been involved with a major Federal grant focused on curriculum
development, education and outreach for high school American history
teachers since 2006. This grant funds opportunities for teachers through
the New York Historical Society, and has empowered teachers to take part
in experiences as diverse as a field-trip and panel discussion on
Woodstock and travel to Philadelphia and the Constitution Center. The
educators involved in these workshops are all exemplary New York City
teachers working in a wide variety of high schools across the city.

Currently, I am organizing and teaching a mini-seminar on the Stonewall
Rebellion and G.L.B.T. Activism since the 1960s. As a Global Studies
and American history teacher at LaGuardia High School for Music & Art in
Manhattan and the Performing Arts since 2007 and a teacher at Harvey Milk
High School from 2003 to 2007, I have found that while students may learn
about American civil rights movements, the pivotal nature of Stonewall and
the importance of G.L.B.T. actvism frequently is overlooked in high school
history curricula across the city. This seminar will be working to address
this shortcoming with a group of 15 teachers.

My goal is to bring together a panel of 4-5 G.L.B.T. activists, those
who experienced events at or surrounding Stonewall or who have been
noteworthy contributors to and supporers of community activism in the
years since. These individuals would participate in a panel discussion at
the New York Historical Society significantly during Gay Pride Month
between 10 a.m. and 12 p.m. on Saturday, the 6th of June, 2009.
Panel participants should be able to share "Stonewall" experiences
and insight into their lives as both G.L.B.T. individuals and activists,
solidifying the importance of the personal and ongoing struggle for
civil rights for G.L.B.T. people for a group of high school teachers.

While I would really welcome the participation of any member of your
SVA organization, I am aware that you may already have plans for this
Saturday morning. Any assistance you would be able to provide in
provdiing Stonewall veteran participants in the panel would be greatly
appreciated. I can be contacted by email at XxxYyyZzz2009@MSN.com
or called directly at ???-???-????.

Hope you are well and enjoying the beautiful weather this week!

Best,



LaGuardia High School


American History Department
100 Amsterdam Avenue
New York, New York
10023




---





2014 - Public Service Announcement (PSA)



Topic: Gay Homelessness -- only because of who they are!

This is an informative and effective video
produced by Michael Fossat for the
Los Angeles Gay & Lesbian Center.



www.LAGLC.org/youth



The comprehensive video includes a young Gay boy being discovered as Gay after
the parents rummage through his personal possessions when he's at school discovering
another boy kissing him in a photo. Not having sex -- just a mild kiss on the cheek!
After confronting the youth, chastising and shaking him, they unfortunately, wrongly
and sadly decide the punishment to be thrown "Out In The Streets"! FYI, that title is
the name of a song by the legendary female group The Shangri-Las and was popular
and emulated at the original Stonewall Club in Manhattan, NY, in the late 1960s.





---





2015 - Long-Awaited, Full-Length, Big-Budget Movie about "STONEWALL" Era



The main educational tool planned by the

STONEWALL Rebellion Veterans Association

("S.V.A.") during the late Summer and early Autumn of 2015 is the new movie version of "

STONEWALL

"! Although a dramatization, of course, the film is, also of course, based on facts. Several Stonewall veterans from the S.V.A. were interviewed at length in person! The eye-opening and exciting film is directed by the renowned and openly-Gay director and executive producer

Roland Emmerich

.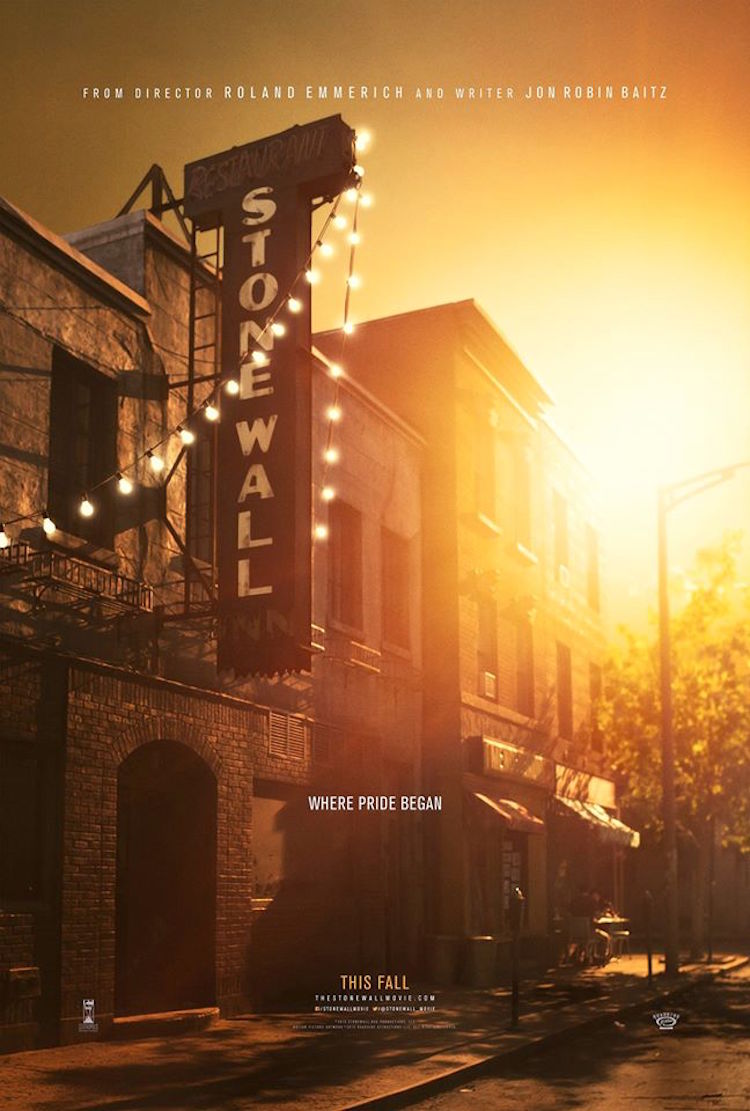 "

STONEWALL!

" movie poster
Film Director: Roland Emmerich
Stonewall Veteran Consultant: Willson L. Henderson





---
2018

Wonderful Letter from a Wonderful Teacher with Wonderful Students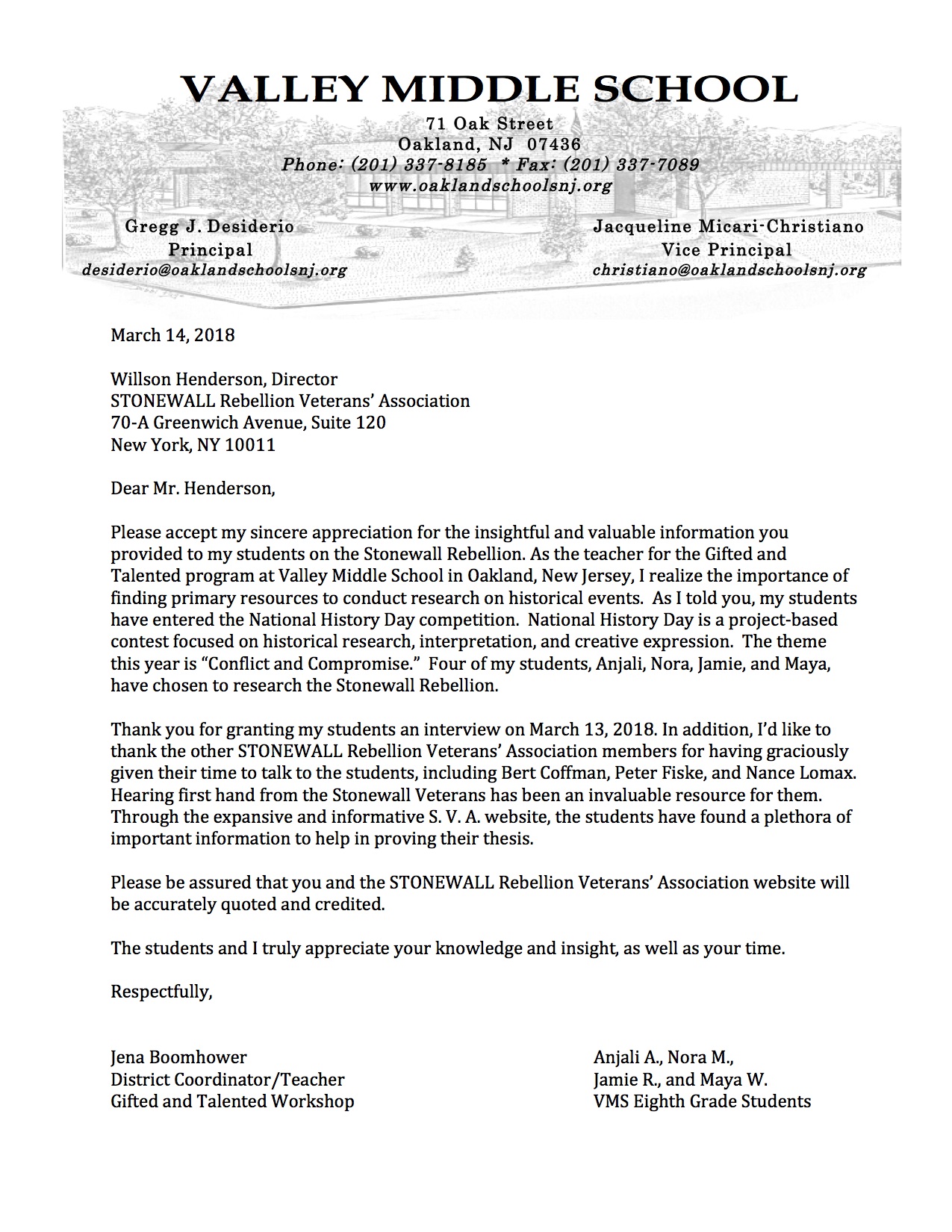 Valley Middle School

of Oakland, New Jersey




---




The

STONEWALL Veterans' Association

is listed as an excellent resource for the
Gay, Lesbian, Bisexual & Transgender ("G.L.B.T.") community, Friends and Supporters:


www.GayellowPages.com






---



"

SVA's 52nd Annual Conference & Stonewall Reunion +Testimonials

"
featuring 'veterans' of the Stonewall police raids and/or the Stonewall
Rebellion on

Saturday, June 26th, 2021

from 3:15 p.m. to 6:15 p.m.
at the historic and grand

St. John's Evangelical Lutheran Church


at 81 Christopher Street off Seventh Avenue in Greenwich Village, NYC
*
Special guests include elected New York City public officials!
Treasured guest speakers are actual 'veterans' of the historic 1969
Stonewall Uprising in Greenwich Village, NYC, for G.L.B.T. rights!

Music includes "

Songs of the Original STONEWALL Club Jukebox

"
featuring many hit songs of:


Diana Ross & The Supremes

, Frankie Valli &
The Four Seasons,

Barbra Streisand

, Frank Sinatra,

The Shangri-Las

,


The Temptations

, Shirley Bassey, Elvis Presley,

Martha Reeves & The Vandellas

,
The Beach Boys, Aretha Franklin, Mick Jagger,

The Marvelettes

and so many more!

For more 411 including highlights, guest speakers and entertainment, visit:


https://www.StonewallVets.org/upcomingevents.htm








---


25th April
2021
Stonewall 52
*
=================Remembrance: September 11th=================

All of the innocent victims, including students and children and pets, and
selfless responders, alive, dying and deceased, of the four crazed, inhuman,
cowardly, terrorist hijackers of American commercial jetliners with the aircraft
as the weapons with sneak attacks on America, twice in New York City, NY;
in Arlington, Virginia; and in Shanksville, Pennsylvania, on Tuesday
mourning the

11th of September

in 2001!!!!



Note

: On Christopher Street in front of

The STONEWALL Club

you could look
South and see the World Trade Center's

Twin Towers

in not-too-far distance!


*
=====2021: 52nd Anniversary of the NYC Stonewall Rebellion=====
[Friday night, June 27 ~through~ Thursday evening, July 3, 1969, Manhattan, New York City]