====Stonewall 22====

*
STONEWALL




Rebellion

Veterans

Association


in the annual
New York City

Gay

Pride Parade

Sunday, June 30th


=always the last Sunday in June=


1991
Manhattan, New York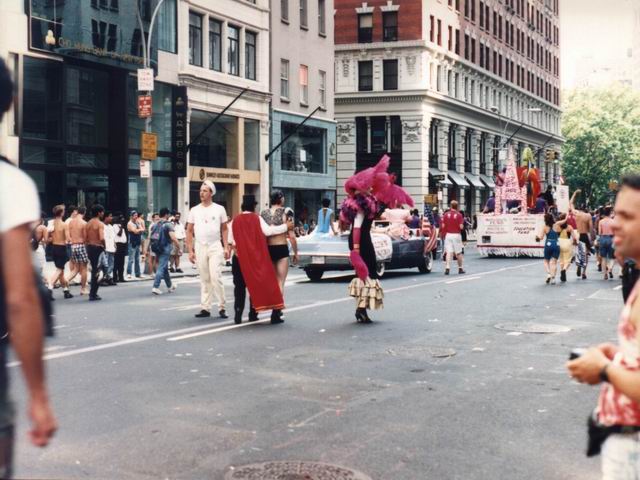 Long rear view of the famous blue 1969 convertible "Stonewall Car"
[Photo by Timothy Zimmer]



Shown above is a far away, interesting, overview picture of the iconic 1969 convertible known as the "Stonewall Car". It has the unmistakable wide whitewall tires. The famous car is travelling slowly down Fifth Avenue at 27th Street in midtown Manhattan in the "

22nd Annual New York City's Gay Pride Parade

" on Sunday, June 30, 1991. Among others (not visible) in the car are Imperial Queen

Allyson

Allante

and SVA-er

Terri Van Dyke

. Walking ahead of the 22-year young car with others is S.V.A. Chief-of-Security King

Storme DeLarverie

and S.V.A. Secretary

Electra Jane O'Mara

. It was a beautiful day in all ways to be on parade -- and visibly on display!


The

National

STONEWALL Rebellion Veterans Association

("S.V.A") owns, maintains, insures and garages the classic and famous 1969 convertible also known as the "Stonewall Car".





30 June
2019


*G*L*B*T* PRIDE MONTH * "STONEWALL-50"

*

=====2019: 50th Anniversary of the Gay Stonewall Rebellion=====

[Friday night, June 27 ~through~ Thursday evening, July 3, 1969, Manhattan, New York City]