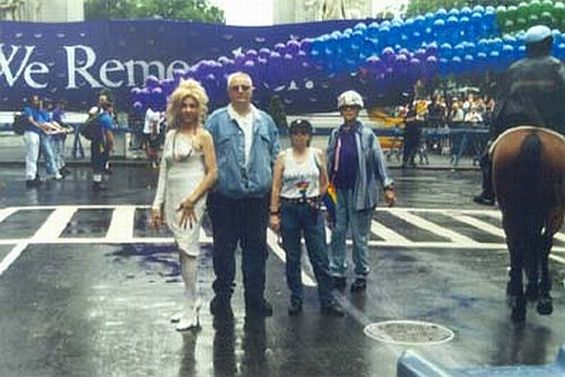 Some S.V.A. Officials at the Washington Square Arch
[Photo by Patti Rene Stone]



New York, New York, Sunday, June 30, 1996 -- "Stonewall 27" is the 27th annual

Gay, Lesbian, Bisexual and Transgender

("GLBT")

Pride Parade

in Manhattan. Traditionally leading the parade is the

STONEWALL Rebellion Veterans Association

("S.V.A."). The day started out with drizzling, a rarity for the blessed New York City Gay Pride Parade, however, thirteen minutes after the huge parade kicked-off on Fifth Avenue at noon, the rain almost miraculously stopped! The white canvas convertible top on the blue 1969 "Stonewall Car" came down. The crowds cheered! Gay guys in blue parading with the S.V.A. wiped down the wet blue car with dry blue towels. The crowds roared! Walking ahead of the car (its front left fender partially visible in the lower right corner of the photo above) are (l-2-r): S.V.A. Director

Queen Allyson Allante

, S.V.A. President

Jeremiah Newton

, S.V.A. Secretary

Rusty Rose

and S.V.A. Ambassador

Stormé DeLarverie

. Not shown above but walking behind the car, framing the S.V.A. contingency, were SVA-ers Leigh McManus, Wayne Herndon, Rose Giordano, Dave West, Shelli Vannelli, Ramon Bellido, Jack Rojas and many Friends-of-SVA. Riding in the open convertible car (see other pix) were

Patti Stone

(up from Florida) and S.V.A. Treasurer

Terri Van Dyke

(in from The Bronx) and some special supportive performance guests from the Imperial Queens of New York ("IQKNY"). Many Stonewall veterans did not attend this year -- 1996 -- due to the widespread predictions of rain and the light rain when they woke up Remember, even the 1969 Stonewall Rebellion was postponed two nights because of rain!

The huge "We Remember" banner at Washington Square Park refers to all of those lost to the A.I.D.S. War, which includes endless veterans of the 5-night 1969 Stonewall Rebellion. The New York City Police Department horse (pictured on the right in the photo above) with the armed, helmeted and mounted policeman conjured up ambivalent memories for the Stonewall Veterans: "We Remember The Stonewall Rebellion". Ironically, many 'men-in-blue' of the NYCPD had their own cameras and were quickly taking their own pictures of the very familiar blue "Stonewall Car".