=====Stonewall 36=====
New York City G.L.B.T. Pride Parade

Manhattan, New York , USA
Sunday, June 26th
~always the last Sunday in June~
2005
@ high noon
STONEWALL
Rebellion Veterans Association
"Leader of the Parade"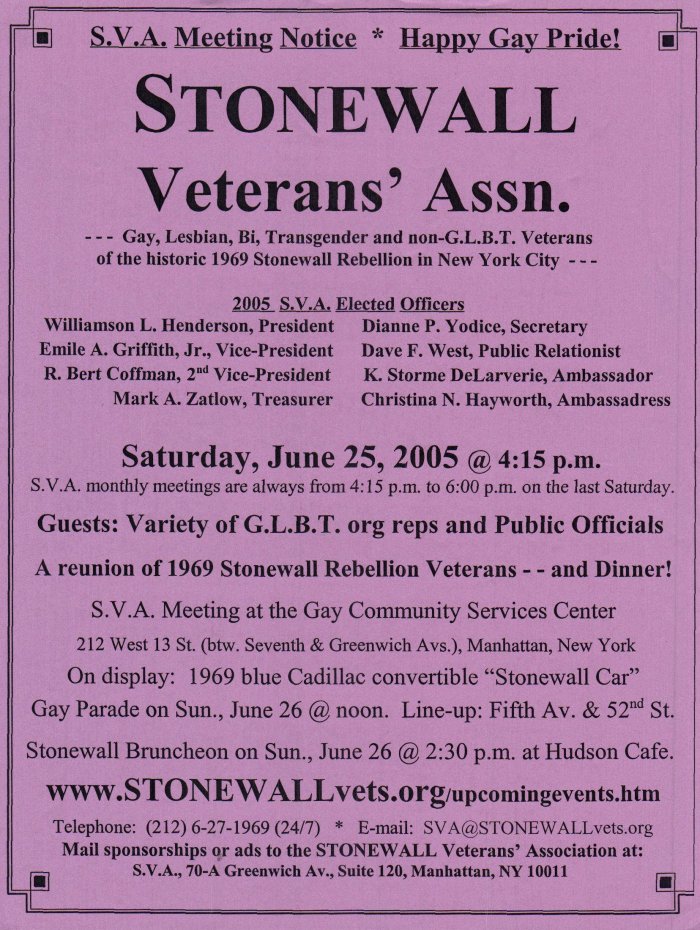 S.V.A.'s June 2005 "Gay Pride Month" Meeting Notice
[Original Design by Leigh McManus]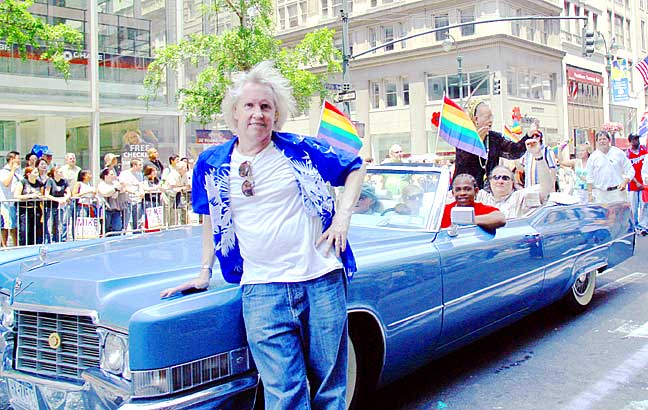 The long, long and long-lived "Stonewall Car" traditionally leads the Gay Parade
[Photo by Hal M. Weiner]

Pictured above, standing alongside the mighty 1969 Cadillac convertible, is S.V.A. Founder and President Williamson Henderson. Riding "shotgun" in the car and partially obscured is S.V.A. Ambassador Storme DeLarverie (wearing a blue hat). "Gay Power" fist-saluting from the backseat is S.V.A. 2nd Vice-President Bert ("Biggi Berti") Coffman. Standing in the car is S.V.A. Ambassadress Cristina Hayworth up from Puerta Rica. Also in the backseat on the far side is S.V.A. Executive Committeemember Rose Giordano. Driving the legendary blue "Stonewall Car" is the proud, red-shirted S.V.A. Assistant AnDre Christie -- who is about a decade younger than the car! Walking behind the "SW-Car" is Stonewall veteran David Bermudez and his spouse (not visble) Bob Isadore, down to New York City from Massachusetts.

For more 411 and pix on the S.V.A. driver, AnDre M. Christie, visit:
www.STONEWALLvets.org/AnDreChristie.htm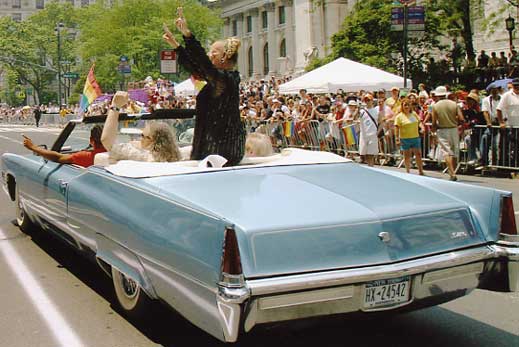 Rear view photo of "Stonewall Car" in NYC Gay Pride Parade
with AnDre Christie (red shirt and brown arm) driving several
Stonewall Vetz such as Bert Coffman, Charles Snyder, Cristina
Hayworth (standing) and Rose Giordano (not shown in this pic)
[Photography by Hal M. Weiner]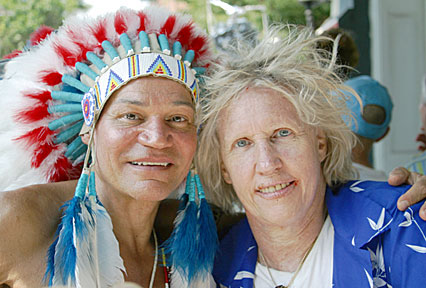 After the Gay Parade: two sun-beat but happy warriors
[Digital photgraphy by DigitalPhotoPro@aol.com]
Proudly pictured above are Stonewall veterans Chief Dave West the S.V.A. Public Relationist and Williamson Henderson the S.V.A. President. The sunny scene is after the Gay Pride Parade at the S.V.A.'s "Stonewall Duncheon" at the Hudson Corner Cafe on Hudson Street in the West Village of Manhattan. By the following year's parade, Dave West was dead!

[Another NYC Pride Parade photo will be placed here soon!]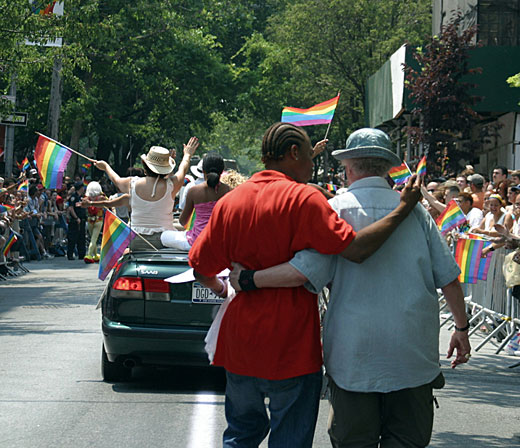 Symbolic photograph of AnDre (20s) Christie and Storme (80s) DeLarverie
walking in the annual New York City G.L.B.T. Pride Parade shown here
on legendary Christopher Street in Greenwich Village, Manhattan, N.Y.
[Super digital photography by Hal M. Weiner]

P.S. The "Stonewall Car" was behind them. AnDre took a driving break!





Notice:
Any photos, images, quotes, information and remarks at this file or
will be added, if used in any form whatsoever, must be credited to:
STONEWALL Veterans' Association (S.V.A.)
-- and, if applicable, also name the photographer.



5 September
2019

*



=====2019: 50th Anniversary of the NYC Stonewall Rebellion=====


[Friday night, June 27 ~through~ Thursday evening, July 3, 1969, Manhattan, New York City]




Photo Album

Home