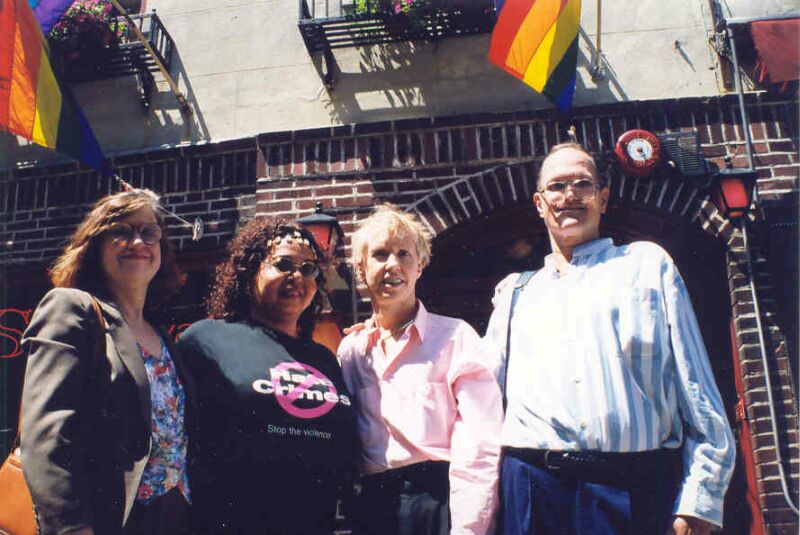 Standing at the Top:

The STONEWALL Club


[Photo by Liz J. Abzug]

Proudly pictured in front of the front doors of the legendary

STONEWALL Club

above are (l-2-r): Stonewall veteran

Electra O'Mara

, S.V.A. Secretary and non-S/W-Vet "

Victor/Victoria

"

Cruz

("V.V."), a known 'hater', a sometimes third-rate fill-in for the

STONEWALL Rebellion Veterans Association

's semi-annual drag show at the upstairs Stonewall Cabaret Room and an always low-down back-stabber and envious liar! In contrast, to her right (pun intended) is wonderful

Willson Henderson

, S.V.A. Founder and Director, and

Terri Van Dyke

, S.V.A. Treasurer and AIDS Activist, who adamantly refused to even stand next to vitriolic "V/V". Such is the G.L.B.T. life! How wonderful is Willson? Besides everything else, he even arranged for this television promotional shoot at

The STONEWALL Club

and the resultant Gay Pride educational project and weekend-long promotion of the history of the Stonewall Rebellion amd testimonials from actual Stonewall veterans ("S/W Vets")!


For the entire Gay Pride weekend in June 1999 and the several days leading up to it,

New York One News T.V.

uniquely and proudly presented three different Stonewall veterans in separate televised segments providing 411 about the 1969 Stonewall Rebellion. The three featured Stonewall veterans were:

Willson Henderson

and

Terri Van Dyke

and

Electra O'Mara

, all of whom are also officials of the S.V.A. There was also an alternating fourth segment as NY-1 News wanted to have one person who was a non-S/W Vet to comment on the on-going historic significance and educational purposes of the

STONEWALL Rebellion Veterans Association

. That special person, chosen by Willson, was

Liz J. Abzug

(a.k.a. "Lizala"), the Gay daughter of the SVA's prior Honorary Female Chairperson Bella S. Abzug. All of the promotional Gay Pride segments were shown many times twenty-four hours, around-the-clock for five days! The feature segments commemorated the 30th anniversary of the Stonewall Rebellion.

Willson

and

Terri

and

Electra

told of what the Stonewall Era, the Stonewall people and the Stonewall dance bar were like in the late 1960s. All of them explained the happening of the blue 1969 convertible in front of The STONEWALL Club on the first night of the rebellion, Friday, June 27th, 1969. The NYCPD improperly impounded the 'trophy' car for three nights and two days. The S/W-vets pointed out that the "Stonewall Car"'s grand significance to the G.L.B.T. worldwide community today and for the future! Lizala explained the worldwide relevance and current importance of "Stonewall". New York One is televised throughout the five boroughs of New York City on Channel 1. It is also accessed through cable television in many other parts of New York State.