Alan Gifford "Giffy" Miller

is no friend of the S.V.A. Born in November of 1969, he was not alive for the Stonewall Rebellion yet he ridiculously pretends to know all the 411. Based on his rude and foolish behavior, Giffy is an enemy of the SVA's mision, purposes, goals and existence. In his ten City Council years, he received over one hundred S.V.A. notices and flyers via mail, phone, fax and emails yet Giffy failed to attend any S.V.A. monthly meetings (he missed 120 of them) nor any S.V.A. symposium, tribute or forum. Giffy shamefully never visited the SW-Vetz at the annual NYC Gay Pride Parade line-up. Yet, Giffy never saw a Gay Parade that he wasn't in and waving a little Gay rainbow flag! How hypocritical! How phony! Nor has Giffy invited the S.V.A. to City Hall. Giffy insults the Gay, Lesbian, Bisexual and Transgender (G.L.B.T.) community, our history and the spirit of Stonewall!



-----

Mayoral Campaign 2005-----

Anytime that anyone

in the S.V.A. ran into Giffy during the 2005 primary election season, they were fibbed to that Giffy's office was going to phone us. Next time we ran into Giffy, it was the same baloney! Fool us once, shame on you; fool us twice, you won't fool the Stonewall Vetz again! In contrast, Giffy has been relentless in courting every GLBT vote and every GLBT political group. The exception is PRIDE Democrats, the sponsor of the largest candidates' forum in N.Y.S. history! PRIDE is an independent offshoot of the S.V.A. Giffy foolishly singled out PRIDE Dems with active honorary members such as former

Mayor

Koch, former

Mayor

Giuliani and current

Mayor

Bloomberg to give PRIDE his exclusion. Bad judgment by Giffy!


-----

Gay Snide @ City Hall-----

During Gay Pride Month 2005, Giffy had his political opportunist "celebration" at City Hall but he rudely did not invite the S.V.A. or

any

of its legendary members from the historic 1969 Stonewall Rebellion. How disrespectful and ignorant is that? Very, especially if you are running for citywide office. Miller had others' bad advice coupled with his own bad judgment. Thus, a political trainwreck! Giffy's misconception of "pride" was walking down Gay Boulevard in Chelsea with several paid, suited, bureaucratic Gays. As a councilmember, Miller repeatedly abused his position to discriminate against and insult the Stonewall veterans and, thus, ignore many of his constituents. What's most pathetic is that Giffy allowed anyone to convince him of such shameful behavior.

-----Stonewall Day 2005-----
On "Stonewall Sunday" 2005, Miller used the Gay, Lesbian, Bisexual and Transgender (G.L.B.T.) historic day to, once again, shallowly exploit the G.L.B.T. communities. Instead of paying homage to the STONEWALL Rebellion Veterans Association at the Gay Pride Parade line-up, Giffy held a crass press conference to accept the Gay kiss endorsement from an equally disrespectful group. The poisonous combo resulted in failure. Once again, Giffy exploited a Gay Pride event as a selfish political opportunity. Giffy came to the Gay Pride Parade scouring for GLBT support, GLBT volunteers, GLBT money, GLBT applause and GLBT votes. Sadly, the Giff disrespectfully and rudely failed to visit the Stonewall veterans -- the only reason that there are Gay pride parades. FYI, Giffy has been this rude way for years through three very different S.V.A. presidents.

-----Moneybag$ Giffy -- $$$ for Everyone GLBTQ except S.V.A.-----
Miller & Co. is savvy at collecting million$ of dollar$ for his self-interest$ and wrongly spending a million-and-a-half dollar$ for taxpayer-paid glossy promotions of Giffy-4-Mayor mailings but he is too selfish to support the non-profit S.V.A. When queried, Giffy stated that he doesn't give to other 'political Gay clubs' either! Giffy was corrected as (a) S.V.A. is not a 'political club' and (b) his statement was false. Giffy donated to many Gay groups over many years including via fund-raising dinners. The Stonewall vets, who fought the abusive police and launched the Gay rights movement, do not throw 'dinner parties'. Campaigns rooted in discrimination, exclusion, hypocrisy and hate should be rebuked rather than victimizing the targets of such shame.

-----S

ummation: Nothing from nothing leaves nothing-----

Mr. Miller has exhibited undemocratic and unsmart lack of judgment -- dangerous traits for a politician. Who would support someone who ignores you? The realistic advice that the Giff was given never resonated. To quote the S.V.A. assistant AnDre, who has witnessed Giffy's false words and rude actions, "He's a hater!" On Primary Election Day 2005, we Stonewall-ingly urge that the majority of New York City voters -- especially GLBTers and their supporters -- join the S.V.A. and untold others in dishing out a losing one-digit defeat to Alan "Giffy" Miller of ending dead last! The S.V.A. has been here long before Giffy and we'll be here so long after Giffy.




Special

Acknowledgment

:
The sitting N.Y.C. CouncilmemberS who read this page, called the S.V.A. and concluded that it could be variably entitled: "What a candidate should not do in the G.L.B.T. communities".




Post-Primary

Election

2005

Note

:
Thank you so very much, again, New York City -- including the mere one-digit!


2005

Democratic

Primary

Results

1. Fernando F. Ferrer (staff ignored the S.V.A. and he lost the City)
2. Anthony D. Weiner (could have won if not for Marc Bent-oyt, et al.)
3. C. Virginia Fields (thanks to the S.V.A. and others, she beat Giffy!)
4. A. Giffy Miller (bottom)


NYC Mayoral Historical Fact: Since the STONEWALL Veterans' Association's (S.V.A.) and its sister group the Imperial QUEENS & KIngs of New York's (IQKNY) supportive meeting with then sitting Mayor and re-election candidate John V. Lindsay at City Hall in hot late August of 1969, no one ever won Mayor of New York City without the non-political support of the S,V.A. A four-decade coincidence? No one! That includes non-mayor Marc "Gang" Green and anyone who disrespectfully ignores the S.V.A. The last letter that Mayor Lindsay wrote to any Gay group was in June 1994 to the S.V.A. and the IQKNY on their 25th anniversary!
---
2004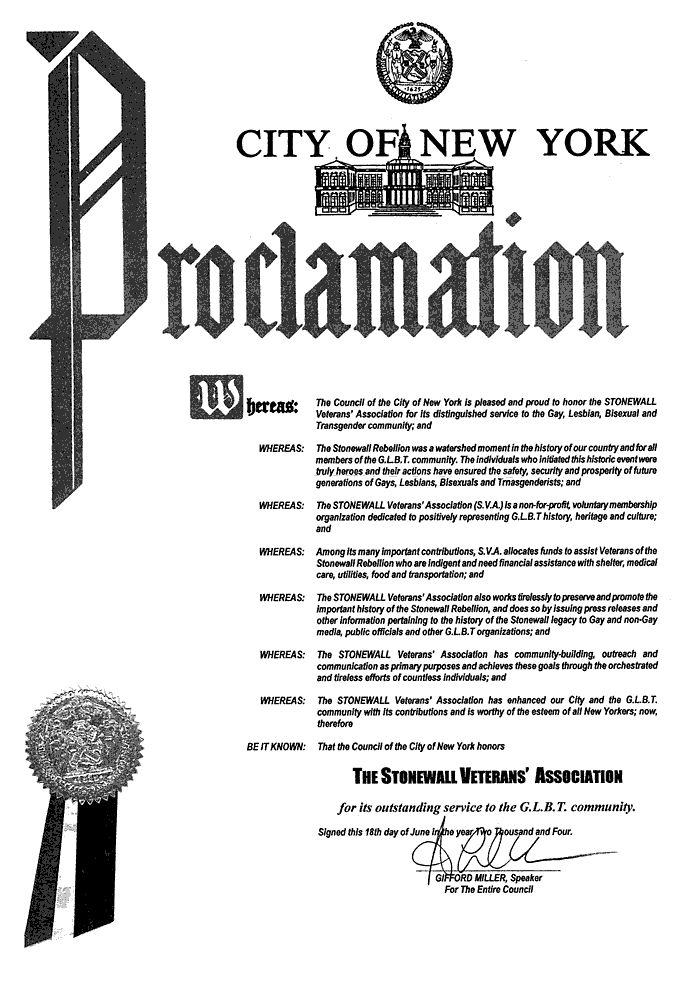 The Miller's Tale Note: While this insincere "proclamation" looks good, Giffy rudely and foolishly refused to present it to the STONEWALL Veterans' Association at his Gay pride celebration. S.V.A.'s disabled V.P. Bert Coffman was told that "If you want it, you have to pick it up at the front desk". The S.V.A. refused to demean itself to fetch it. A tube mailer arrived a month later with the belated 'proc'.
---
2002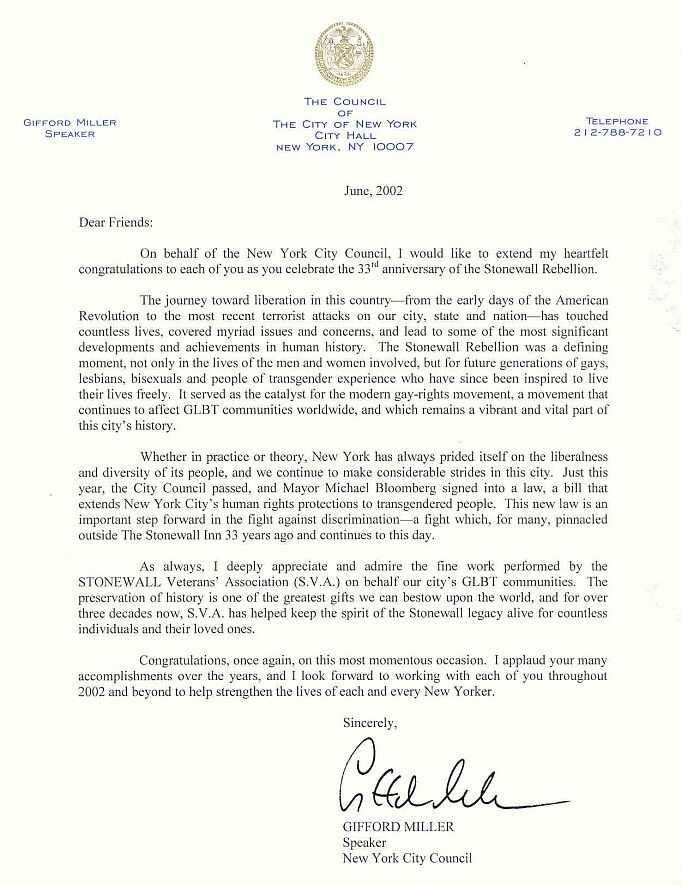 P.S. Whatever happened to the "A." in Alan Gifford Miller? Just asking!
---
2002 - Note from AGM Staffer to the S.V.A. Director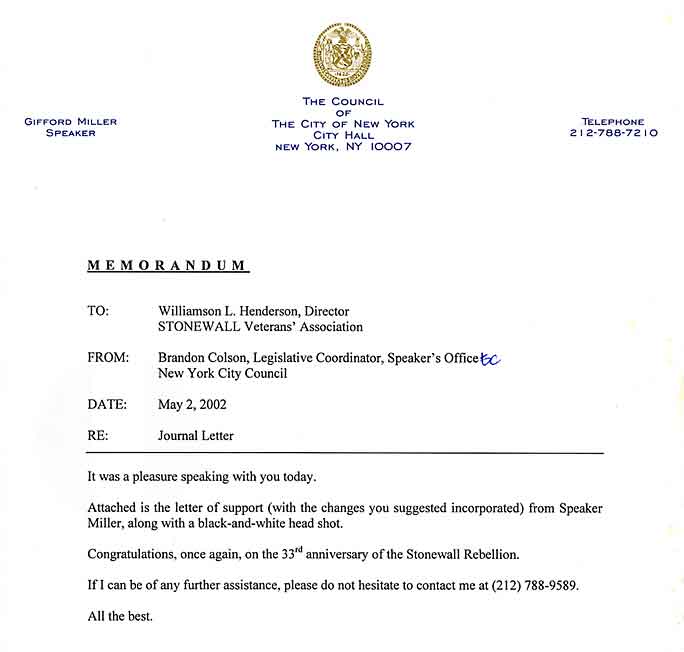 The Miller's Tale: Every other S.V.A. Journal letter -- including the ones we received from other Councilmembers -- was accompanied by a contribution and/or an ad -- except for Giffy's! Everyone knows that journal ads are not 'comps'!
---
1999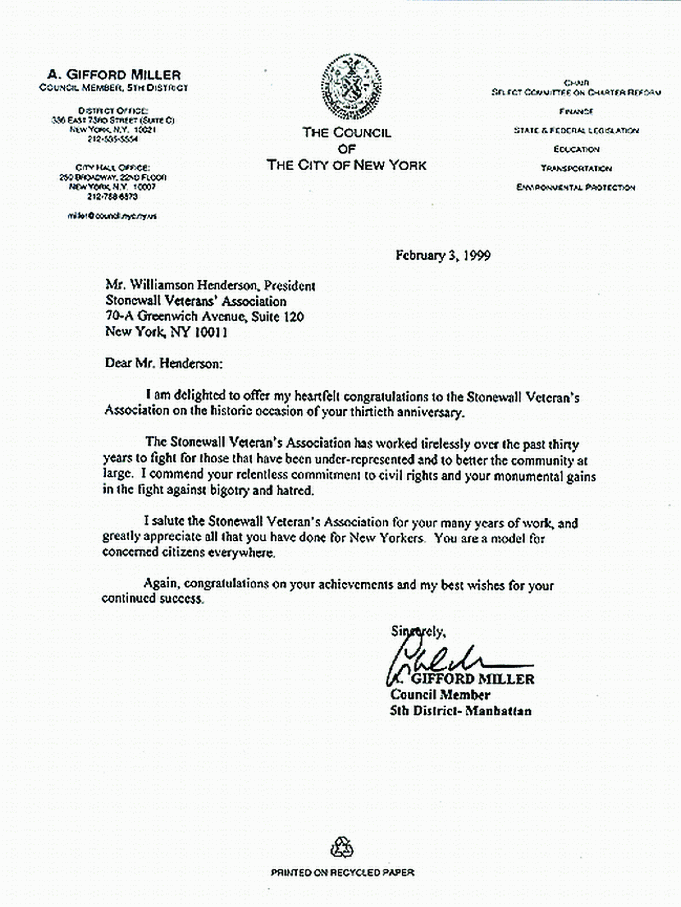 Notice: The STONEWALL Veterans' Association's name is spelled wrong in this letter not in just one out of three words but in two words and in two places! That is inefficient and careless. Giffy is not even consistent in the spellings (such as Veterans' and Veteran's). It's annoying when you have corrected the person on prior occasions. It leads some who have read this Giffy letter to believe that maybe he didn't even read it! All he -- or they -- had to do was copy the correct data from the S.V.A. letterhead. Hey, would Giffy like his name spelt wrong, e.g., "Gaffy" or "Goofy"? The letter was free and clear of a cent. What goes around comes around.