STONEWALL

Veterans'

Association


S.V.A. Supporter Quarter-of-a-Century
(1969 to 1994)

New York City Mayor John V. Lindsay
(New York City's 103rd Mayor)
---


2000

Former Mayor John V. Lindsay -- the handsome knight with the shining sword on the white horse -- died from pneumonia and dealing longtime with an unwelcomed illness known as Parkinson's. The former New York four-term Congressman from the Upper East Side in Manhattan and two-term New York City Mayor passed away not in his beloved NYC but at a medical facility in Hilton Head, South Carolina, where he had moved with his wife Mary a few years prior. Born on November 24, 1921 in New York City, the Mayor died on December 20, 2000 at the age of 79.

The first Gay organization that Mayor Lindsay met with was the STONEWALL Veterans' Association -- then known as the "Stonewall Veterans Club". On the S.V.A.'s first visit to City Hall, the Stonewall veterans did our increasingly known "knock, knock" approach -- we did not have an appointment. But because of our timely civil rights mission, our visible numbers and our undeterred determination, a scheduled appointment was quickly arranged for the following week -- directly with the Mayor and some of his staffers. (All the while we believed that his brother Jonathan was fiercely rumored to be Gay.) That historic and momentous meeting occurred at City Hall in late August 1969 less than two months after the Stonewall Rebellion ended. Mayor Lindsay was the perfect mayor for an incereasingly and openly Gay City of New York. The first Gay Pride march in 1970 had many logisitc and legal problems which caught both the City and us by surprise. This included but was not limited to some abuse and much harassment by the NYC police. Mayor Lindsay was rightly displeased with this and he personally ensured that such would not repeat the next year. In 1971, the Mayor negotiated sensible guidelines and safety measures for the second Gay Pride March. (They were not parades at that point.)

Politically, John V. Lindsay was a progressive Republican, then he became a Liberal Party candidate for his mayoral re-election on 1969 (after as a sitting Republican mayor he incredibly did not receive the Republican nod) and in 1971 Mr. Lindsay rightly retaliated by switching to the Democratic Party. In 1972, he was a Democratic presidential candidate.

Most appropriately, the last two letters that Mayor Lindsay gave to any Gay, Lesbian, Bi or Transgender ("GLBT") organization -- twenty-one years after he completed his mayorality in 1973 -- were to his favorite group the STONEWALL Veterans' Association and its sister group the Imperial QUEENS of New York ("IQNY"). Both organizations are headed by someone the mayor knew long, well and harmoniously: Williamson Henderson. Please see a Mayor Lindsay letter below on the historic occasion of "Stonewall 25" mailed to Williamson as well as a letter sent to the IQNY.




---


1994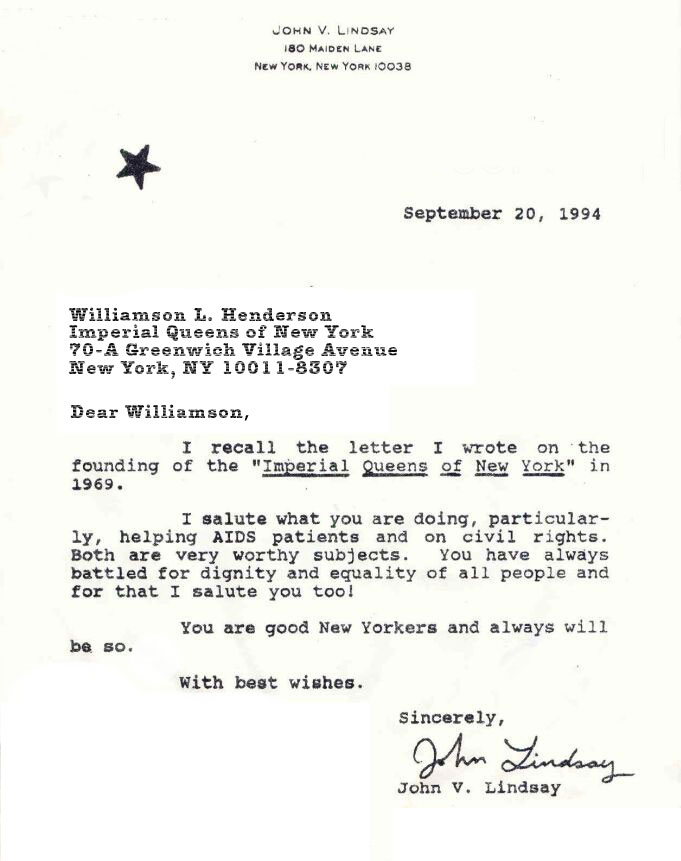 ---





1989



Mayor Koch Applauds Mayor Lindsay's Gay Rights Success

In a Gay history and Gay rights commentary, Mayor

Ed Koch

stated: "The Stonewall incident in late June 1969, which happened under Mayor

John V. Lindsay

, when Gays and Transgender people at The Stonewall Club in Greenwich Village fought back against New York City police attempting to harass and arrest them proved to be a watershed in the Gay civil rights movement, and Mayor John Lindsay was responsible for changing the City's direction". In fact, the very first Gay group that Mayor Lindasy met with was the

STONEWALL Veterans' Association

, which demanded the meeting. Said historic meeting was held at New York City Hall in mid-August of the Summer of 1969. Besides the Mayor and several mayoral aides, it was attended by the SVA's Williamson Henderson, Steven Konigsberg, Emile Griffith, Bobby Albano, Storme DeLarverie and Sonia Attkiss -- reflecting in all ways a full G-L-B-T diversity!




---





S.V.A. Honorary Member Mayor John V. Lindsay





John V. Lindsay

("JVL") was elected Mayor of the City of New York in 1965 on the Republican and Liberal political party lines. Prior to being mayor, JVL served in the New York City Council from 1962 to 1965. He went from being a NYC councilman to NYC mayor over all of the other 50 councilmembers! JVL was the mayor when the Stonewall Rebellion occurred in the evenings/nights of late June into early July of 1969. He wsas the fiorst public official to officially meet with the STONEWALL Veterans' Association. Popular Mayor Lindsay was re-elected the Mayor of New York City in November of 1969

only

on the Liberal Party line -- a rare and successful third party candidate -- only four months after the historic Stonewall Rebellion.




*






24 November
2017
Remembering NYC Mayor

John V. Lindsay




-- on what would have been his 96th Birthday!