Sylvia Rae Rivera

had her Gay wish come true: get out of the institutional facility and lead the "Stonewall 25 Anniversary March" with her long ago Stonewall associates. "So Emotional", as the Gay-favorite song bi Whitney Houston goes, describes this triumphant and reunited moment shown

below

in the picture with two of the legendary "Queens of Stonewall": Queen Allyson Allante and Sylvia Rae Rivera. That's why they are together!! Both are officials of the legendary

STONEWALL Rebellion Veterans Association

("S.V.A."); Allyson the elected S.V.A. Spokesperson and Sylvia the newly-added member of the S.V.A. Stonewall Committee. Just before the

below

photo was taken, both Stonewall legends had just given a very comprehensive and emotional interview to two of

The

New

York

Times

reporters, among many other journalists from all around the World. Allyson was holding back tears (thus without her expected charismatic smile) and Sylvia clearly just released an emotional moment and slightly opened her mouth simply to exhale! Shown in the photo below, Queen Allyson Allante, who contributed, continued and greatly expanded the

Gay, Lesbian, Bisexual and Transgender

("G.L.B.T.") movement for a quarter-of-a-century at this point in 1994, is joined, since the outset of the "Spirit of Stonewall March" down at

The STONEWALL Club

site, by Sylvia Rae Rivera, who had been out of New York City for about 20 or 21 years! Clearly, she couldn't have gotten anything done then. Sylvia was quick to tell you that she was "tripping" for a lot of years. Nonetheless, to help out the Stonewall veteran, the

STONEWALL Veterans' Association

sent Syvia an S.V.A. check for better living several times a year. During the same period of Sylvia's NYC absence is when the G.L.B.T. community really was expanded on top of the foundation established as of the

1969 Stonewall Rebellion

. As shown in the photo, both Allyson and Sylvia are sitting atop the back seat of the blue historic 1969 "Stonewall Car" -- which led the entire historic "Spirit of Stonewall March" and right into historic Central Park! For Sylvia it was "...really the happiest day of my life"!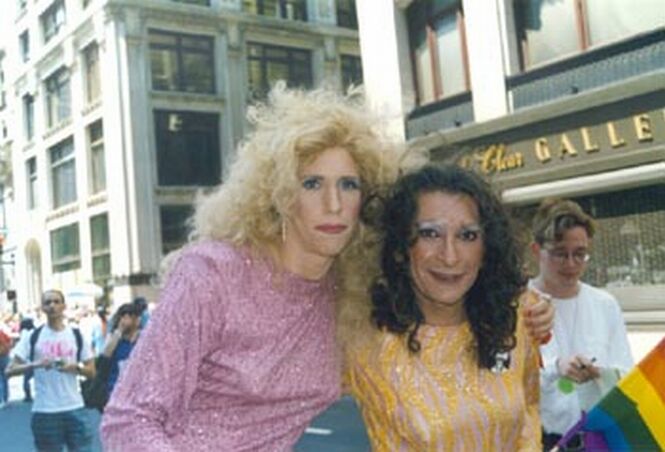 Emotional moment: Queen Allyson (muave) and Sylvia Rivera (yellow) leading "SW-25" March


[Photo by ACT-UP and S.V.A. member John O'Brien]




Sylvia Rae Rivera was very calm and appreciative this special "Stonewall" day as she had just been freed from a controlled physical and mental situation institution, St. Joseph's in Westchester. She was now "clean and sober" -- free of drugs and alcohol and many of her demons. Sylvia was only released from the treatment hospital days before "Stonewall-25" thanks to the perservering and successful efforts of longtime Gay activist

H. Randy Wicker

and S.V.A. founder

Willson L. Henderson

, also the director of the

STONEWALL Rebellion Veterans Association

("S.V.A.")! And, thanks to Randy and Willson, everything was taken care of for Sylvia -- including a temporary home (inconveniently in New Jersey by Randy) and a part-time job (conveniently in Greenwich Village by Willson). Since the Stonewall veterans chose Allyson to speak on stage, Sylvia did not even have to worry about public speaking -- much less ranting or raving! Further, Randy gave Sylvia the money to buy a dress, lingerie, pumps, a wig, lashes and cosmetics whereas Willson gave her a hundred dollar bill to have as her own spending money as well as an SVA-arranged and pre-paid facial, manicure and pedicure at Randee Elaine Salon in Greenwich Village. Plus, via Willson, he treated Sylvia, and many other Stonewall Vetz, to a five-course dinner and drinks after the march and rally and reunion at an A-1 Greenwich Village restaurant.

By the way, unlike Allyson, Sylvia, Beverly, Electra and Brooke Lynn, all of the other "Girlz of Stonewall" such as Mary Twist, Yvonne Ritter, Eleanor Rigby, Ivana Valentin, Rona Bellida and Terri Van Dyke made the big, non-united and disloyal mistake of marching in the 'official' bureaucratic Heritage of Shame-backed Gay Pride March up First Avenue. That march was supposedly protesting past the closed-on-a-Sunday United Nations building. They -- and thousands of other people -- were duped into falsely believing that the alternative "

Spirit of Stonewall March

" would not occur! They should have asked Willson! After being invited by the S.V.A., many Stonewall veterans telephoned the S.V.A. whining that they did not want to be left in the dust of a non-march? Too bad for them that, in the 'official' march, those legendary Stonewall girls literally had to hotly schlep in pump heels on the "Shoe Leather Expressway", not ride with grandeur and ease on "Gay Pride Boulevard" in an eye-catching, candy blue, classic 1969 convertible known as the "Stonewall Car".