Unfortunately, there rarely are any real Gay-oriented songs in the 1990s or beyond. Worse yet, Gay people (and their non-Gay counterparts) basically do not even ask each other to dance anymore. Fortunately, there are the timeless "

Songs

of

The

Stonewall

" which do and must live, sing and dance on and on and on....

Willson L. Henderson

.

Willson L.

Willson L. Henderson

and

Karen S. Burstein

. The S.V.A. had a disc jockey play some "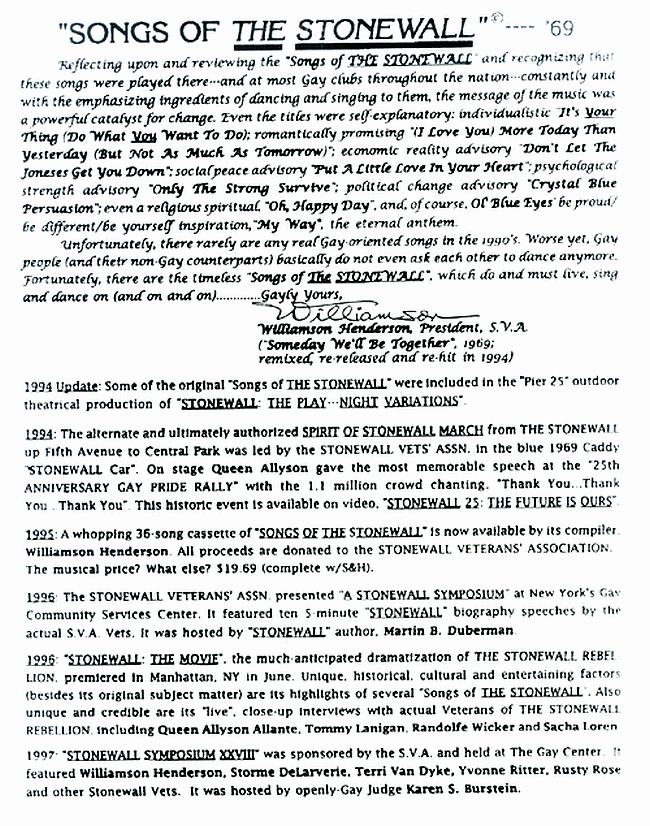 "Songs of The STONEWALL Jukebox" **** Page Four {original}
---


*


Stonewall

Songstress

Tribute

!


* Cilla Black *

Songstress Cilla Black, born Priscilla White, is from England. Like The Beatles, she was born in Liverpool and in the same era. In fact, The Beatles' openly-Gay manager Brian Epstein (of NYC) got Cilla her first record contract. Cilla's powerful remake of Dionne Warwick's hit "Anyone Who Had A Heart" went to #1 in England. The Beatles were friends of Cilla's for decades. Her first single and many others were written by Lennon & McCartney. One of her other powerful songs, "You're My World" was number one in Europe and charted in America. Originally, the Italian song was entitled "Il Mio Mundo". It was a huge hit especially in the Gay bars. At The Stonewall Club the song was frequently acted out. It's a very dramatic song. With lyrics like, "You're my world, you're my night and day... without you I would die!", how could it not be? Cilla belted it out! Her original version of the Burt Bacharach movie song "(What's It All About) Alfie" was also big hit in Europe. In America, the song belonged to Dionne Warwick in 1967. Yes, it was a favorite at The Stonewall Club. As a matter of fact, Cilla's book is entitled "What's It All About?". In addition to her singing career, Cilla remained in the entertainment industry as an actress and as the host of a few popular British television shows. She had her own popular variety show "Cilla" on which she sang and had musical guests. Recently, "YMW" was submitted as a possible finale song for the upcoming new "STONEWALL" film. Cilla passed at her other home in Spain. Paul McCartney and Ringo Starr released separate heartfelt press releases on the sudden loss. Miss Cilla Black was a real showbiz icon in the UK and a singing sensation especially at The Stonewall and every Gay bar and club throughout the World! Cilla, here's your tribute song: "You're Our World"! See a Cilla album cover photo and her discography at SVA's website at the "Songs of The Stonewall Club #5" at: www.STONEWALLvets.org/songsofStonewall-5.htm.

Princess Cilla Black grandly performing "You're My World" on TV in a full-length dress:
www.Ask.com/youtube?q=Cilla+Black+%22You%27re+My+World%22&v

[Cilla Black's Sunrise: 27 May 1943 ***** Cilla's Sunset: 1 August 2015]

*


The STONEWALL Rebellion Veterans Association
earns, needs and appreciates your support!





"Touch" the above button to participate donating via secure

PayPal

.


You can download the S.V.A. support form below and mail it to the S.V.A.
STONEWALL Veterans' Association has the highest level of validation and security.


*

Continue with......


More

"

Songs Of The Stonewall Club

"

,

Volume 4,

with pictures,
variety of artists including

Frankie Valli & The Four Seasons

, at:
www.STONEWALLvets.org/songsofStonewall-4.htm




16 September
2019
*
==2019: 50th Anniversary of the Stonewall Rebellion==
[Friday night, June 27 ~through~ Thursday evening, July 3, 1969]
*
O=O=O=O Stonewall Song O=O=O=O
"Apples, Peaches, Pumpkin Pie"
by Jay & The Techniques
See the lively 'n' hot Jay Proctor & The Boys perform their hit song "Strawberry Shortcake":
www.Ask.com/YouTube=Jay+The+Techniques+Strawberry+Shortcake=474