Willson L. Henderson is a unique, educated, talented, energetic, innovative, effective and unsinkable Gay, Lesbian, Bisexual and Transgender ("G.L.B.T.") community leader. It runs in the immediate family to be civicly involved. When Willson receives an acknowledgment or an award, it is earned and deserved and not from a pretentious bureaucratic position, merri-go-round organization or party. For determination, who else do you know who could keep a car -- and in great condition -- for over five decades? That reality is motivated mostly by the car's historical G.L.B.T. significance from the 1969 Stonewall Rebellion making it one of the most famous automobiles in America! The vehicle is simultaneously a classic car! Willson can accuratetly boast that he has literally been a G.B.T. person and leader and innovator for an intense, diverse and extensive several decades, giving him the pragmatic experience rarely found in the Gay community. There is much more to Willson than his daring 1969 Stonewall Rebellion history on the very first night of the spontaneous uprising. That was the day of international entertainment, acting and singing star and Gay icon Judy Garland's funeral in Manhattan, New York. That was Friday, June 27th, 1969....... Anyone who knows Willson Henderson is not surprised at his courage, outspokenness and leadership. Personally, he does not regard his successful efforts at the rebellion as "heroic", though many others do. Some, queerly enough, are even envious! Willson regards that watershed event as "...destined happenstance but reacting in a right, just and forceful way. Look, with as much as I was at The Stonewall -- my favorite Gay club then, and now -- if anyone was gonna get caught up in that invasion, the odds were that it would be me! That was my meeting place. It was my second home. When my friends from all five New York City boroughs, Long Island and New Jersey were going out any given night and we had to decide where to meet, I always said: We'll meet at The Stonewall Club -- analagous to "We'll meet at the Yellow Brick Road". If you want to see me, that's where I'll be. And, trust me, the straight ones went, too!"

* * * * * * * * * * * * * * * * * * * * *
=Education of Willson Lee Henderson=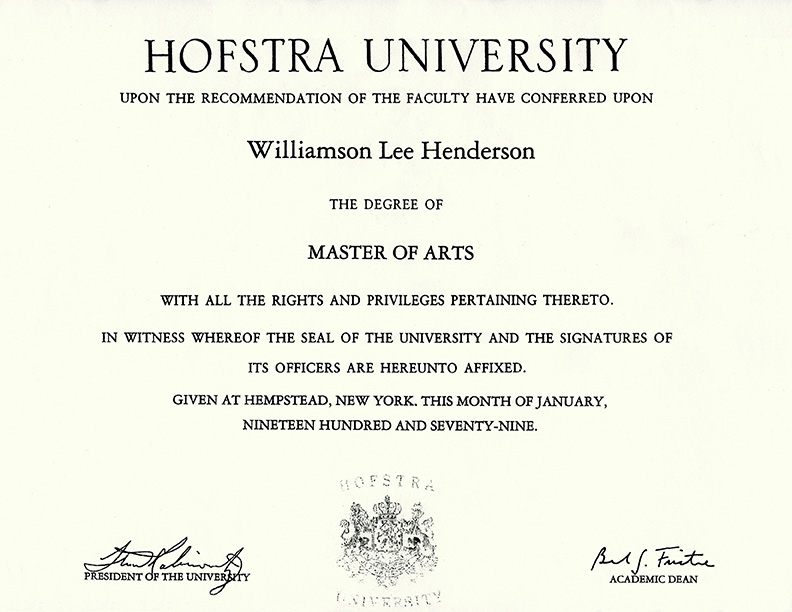 Education was always a prime focus of Willson L. Henderson as instilled by his mother Helen since he was a young child. He was aware of his higher intelligence at a very early age when he was tested by a parochial school in Brooklyn, N.Y. He was deemed as "too smart" to start school in any kindergarten. He already, for example, knew how to read books and write well. "Willson", as he was called by his neighborhood friends in the streets of Flatbush, was skipped to the first grade at a Catholic school. Willson transferred from one Catholic school to another when the family relocated from Brooklyn to Long Island. His parents separated (to Willson's preference and encouragement) after he completed elementary school proudly with a Regent's Diploma. More happiness emerged when his parents officially divirced precluding any talked about reconciliation. Although Willson and his mother and her new husband moved a few times resulting in Willson attending three different high schools, a task unto itself as it was obviously disruptive, he remained focused on education along with commercial modeling work in New York City and, of course, Gay fun mainly though the excitement of and dancing at Gay clubs in Long Island and ultimately the Big City! The Gay clubs were clearly a primary familial relationship and a second home. Notwithstanding, Willson was adamant about attending a college that was in the New York City or Long Island area. The reason was not the usual. It was that he did not want to move away from his longtime friends, especially Gays, established modeling career and a happy Gay life. For undergraduate study in liberal arts majoring in political science, he chose Long Island University at their C.W. Post campus in beautiful Brookeville, LI. Willson joined Zeta Beta Tau fraternity. WLH received a Bachelor of Arts degree in social science! At the urging and partial financing by his mother (his father refused to give a dollar for his offspring's education), in addition to student loans and working, Willson went on to graduate school majoring in social science. He completed his graduate thesis about "The Role of the President: Truman to Carter" -- graded an "A" -- in the Autumn of 1978. The next graduation ceremony was in January of 1979. Willson graduated with a rare dual Master's Degree in political science and psychology from Hofstra University. Interestingly, it was the last dual Master's Degree issued by the uniuversity!


* * * * * * * * * * * * * * * * * * * * *
Professional name Williamson Henderson modeling composite in the early 1980s
[Photo by Bruce Morgan with assistance of Donald Ray Williams of Long Beach, Long Island]
* * * * * * * * * * * * * * * * * * * * *
Willson Lee

Henderson

went on to do more history-making in the Gay, Lesbian, Bisexual and Transgender ("G.L.B.T.") community and beyond. Willson formed more G.L.B.T. organizations than anyone in G.L.B.T. history! There is no one even close! The vast, diverse and long-lasting roster include (in chronological order):


1)

Imperial QUEENS & Kings of Greater New York

("IQKNY"), 1968. The first (and still a relative rarity) transgender ("T/G") organization (light years ahead of its time) representing a complete, diverse variety (D/Qs, D/Ks, T/Ss, C/Ds, et al.) and their friends and admirers to wisely increase its appeal and acceptance, the first transgender ("T/G") group to appear before any New York government body or agency and the first to meet with any public official. View New York City Mayor

John V. Lindsay

's letter (below) to the IQKNY's founder Willson L. Henderson, commemorating the 25th anniversary of the Stonewall Rebellion in 1994. Since 1969, Mayor Lindsay was a dedicated supporter of the IQKNY and the S.V.A.!





2)

STONEWALL Rebellion Veterans Association

("S.V.A."), 1969. The legendary organization that only Willson Henderson ('the proof is in the pudding') would have the wherewithal and the foresight to 'organize' -- like a union -- the actual Gay and non-Gay veterans of the New York City Police Department ("NYCPD") raids on the ~original~

STONEWALL Bar & Dance Club

on good ole Gay Christopher Street in Greenwich Village, NYC, and the now historic 1969 Stonewall Rebellion! And, only Willson did! He typically gives exaggerated 'credit' to many others; however, he was the backbone founder and the innovative director! Among the SVA's many milestones are their periodically leading five annual Gay Pride parades in New York City -- Manhattan, Brooklyn, Queens, The Bronx and Staten Island -- and sometimes in Ling Island or New Jersey, virtually every June during Gay Pride Month. The S.V.A. provides actual Stonewall veterans to high schools, colleges, universities, public forums, civic associations and other groups through its S.V.A. Speakers' Bureau.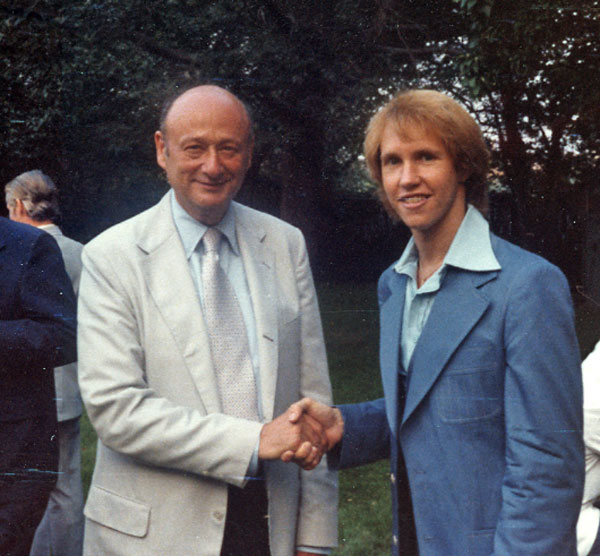 Willson with S.V.A. Honorary Male Chairperson Mayor Ed Koch in 1978
[Photo by Leigh McManus at Gracie Mansion]
*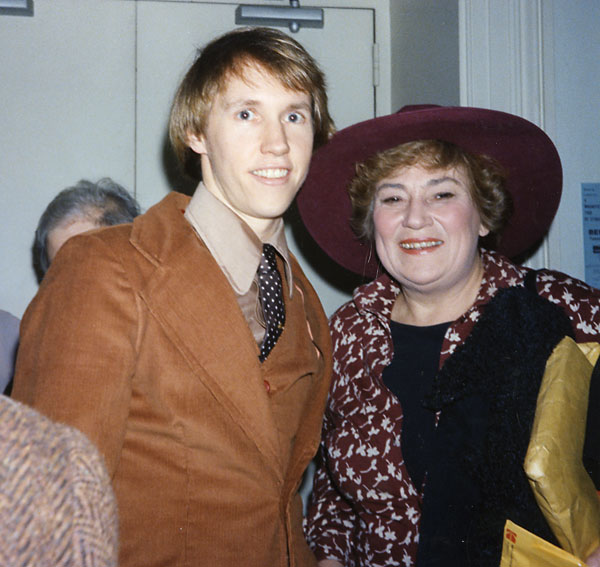 Willson with S.V.A. Honorary Female Chairperson

Bella Abzug

in 1978

[Photo taken by Bella's husband Martin Abzug on WLH's camera]

*****


3)

Stonewall Republicans

("S/R"), 1972. Strategically for the Gay community,

Willson Henderson

, whose parents were both lifelong Republicans, inventively founded Stonewall Republicans -- as a Democrat -- which ultimately and surprisingly benefitted Republicans, Democrats, Liberals and Independents to this very day in the form of Gay-first, political party-second coalitions, volunteer squads, fund-raising, endorsements and, the bottom line: Votes! Willson's out-of-the-box approach and all-inclusive outreach has still not caught on with all other political Gay groups, for which Willson is uniquely thankful. The

Gay, Lesbian, Bisexual and Transgender

(G.L.B.T.) communityies are notoriously lock-step with certain political ideoligies and reluctant to anyone or anything that doesn't collectively agree with them!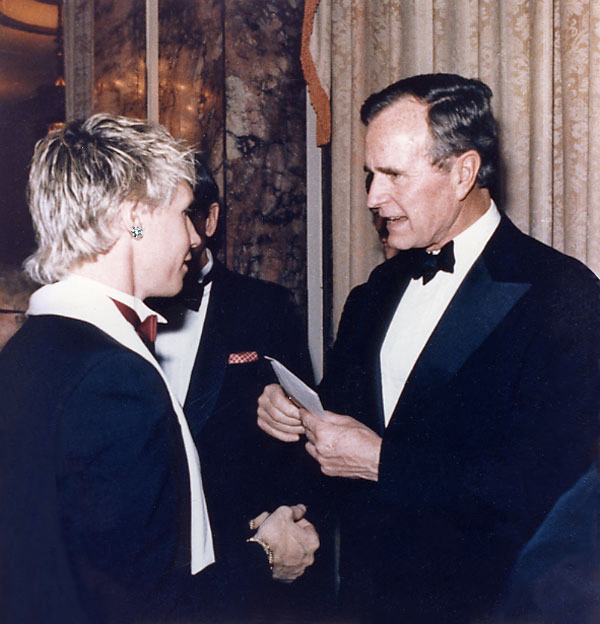 Willson L. Henderson with President George W. Bush, Sr. in 1989
[Photography by the Official Photographer of The White House]
The occasion of this surprising and impressive photo of U.S. President George H. Bush, Sr. and handsome Willson l. Henderson ("WLH") was the annual Lincoln Day Dinner grandly held at the famous Waldorf-Astoria's also famous Empire Room in Manhattan, New York. Long before there were any big million-dollar budget Gay rights organizations like the Human Rights Campaign (HRC) or the Empire State Pride Agenda (ESPA) or million-dollar national political groups like the National Stonewall Democrats (NSD) or the Log Cabin Republicans (LCR), Willson Henderson was -- and is -- out there promoting Gay people and Gay history without any budget and doing it his effective way -- starting at the top! Prior to the official event, there was a special pre-event which honored ten, privately owned (not corporate) New York City businesses! Willson Henderson's outstanding and unique Proofreaders Unlimited, Ltd. was selected! In fact, that's how the invitation evolved. Observe that the President of the United States is holding a blue S.V.A. flyer (and sponsor form on the reverse). Of course, none of the other few hundred special guests would dare to bring much less distribute their information; however, Willson knows that the S.V.A. is uniquely worthwhile and deserves special consideration. President Bush, Sr. and the First Lady agreed! Barbara Bush even complimented WLH's diamond ear stud. It is clearly seen in the photo. For your info, although Willson looks great in it, this is the first -- and last -- time that WLH wore a tuxedo! Willson commented, "I only dress up formal for American presidential affairs"!


4) Long Island Gays United ("LIGU"), 1974. Raised in Long Island ("L.I."), with a vast network of L.I. friends and always having a second home in L.I. since 1969 to this day, it surprised no one who knew him that Willson L. Henderson("WLH") formed a Gay group from Long Island based in his hometown of Long Beach, L.I. Over the decades, besides Long Beach, Willson lived in the Nassau County, Long Island towns of East Meadow, Merrick, Jericho, Freeport and Lido Beach! He knows Long Island quite well! Reportedly, this is the first G.L.B.T. organization in L.I. -- way before any 'Long Island Gay Network'!


5) Dethrone Anita Bryant Etc. ("DABE"), 1977. The only intentionally limited, short-term group that Gay activist Willson L. Henderson founded, with one great reason and one strong goal: get rid of the Gay hate monger and Orange Juice Queen Anita Bryant aka Ant-eata Bry-ant with a local, effective, grassroots Gay, Lesbian, Bisexual, Transgender and Straight Allies ("G.L.B.T.S.") group.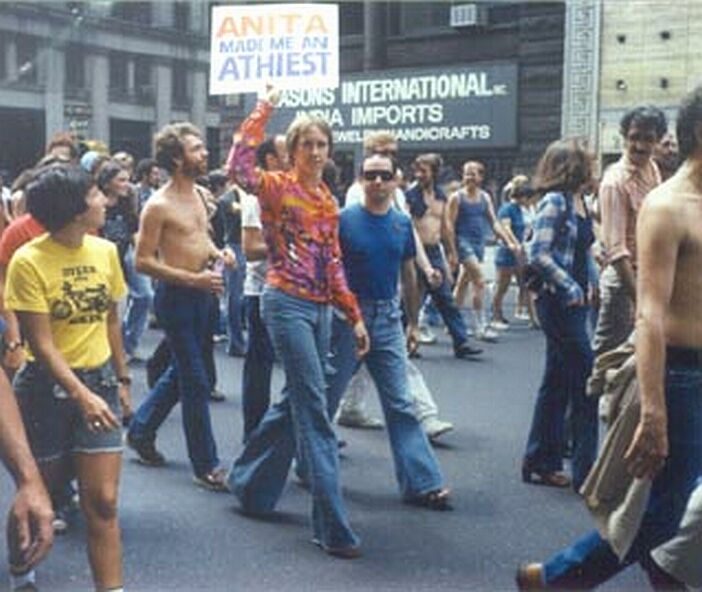 Willson Henderson marching in NYC Gay Pride Parade and against Anita "B" the hater in 1977
[Photo by the SVA's Christopher Falco]



6)

Stonewall Car Club

("SCC"), 1984. The famous year 1984 started when

Willson L. Henderson

simultaneously owned three -- 1969 (blue), 1970 (black) and 1984 (burgundy) -- Cadillac convertibles, with a fourth added in 1985 (black).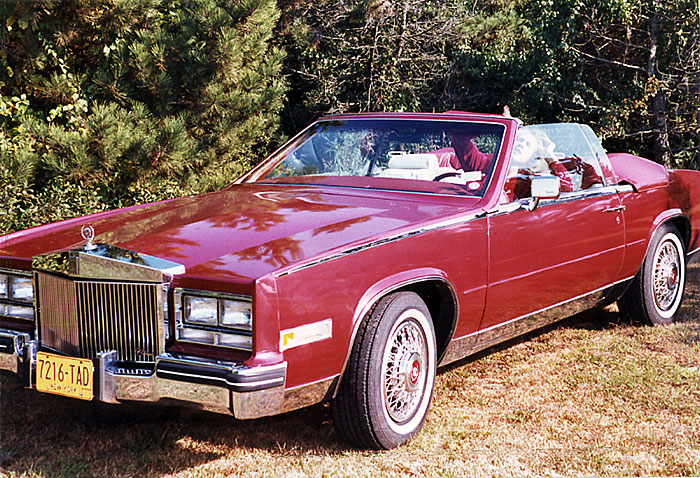 WLH's stunning burgundy 1984 Cadillac Biarritz convertible
Note: Photo taken alongside the Meadowbrook Parkway in Merrick, LI.
[Photo by Donald Ray Williams]
*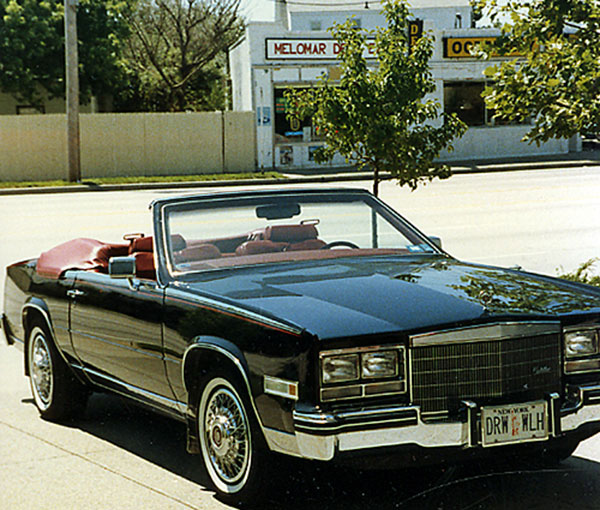 Willson's knock-out and rare roadster 1985 Cadillac Eldorado

Note: WLH and his partner Donald R. Williams' initials in license plate!
[Photo by David R. Ali]
*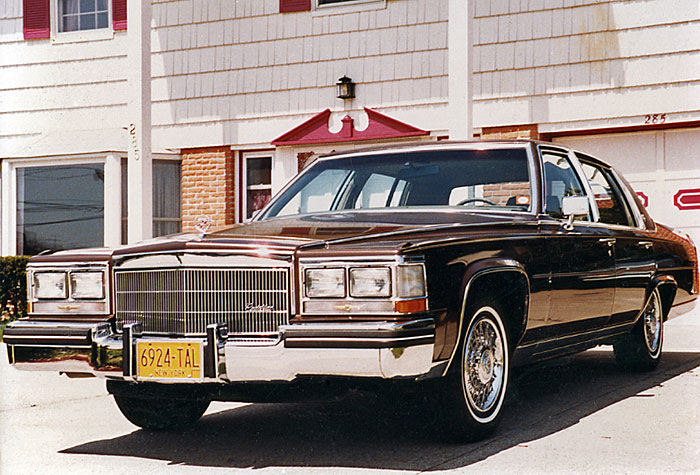 WLH's 1986 Cadillac Brougham known as the "PRU-mobile" for Proofreaders Unlimited
Note: Soon after, WLH got NYS custom license plates of 'PRU-fer'!
[Photo by Darren P. Taylor]
*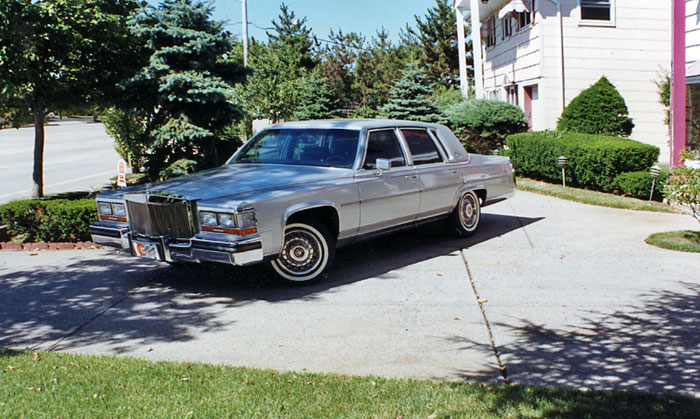 Mr. Henderson's suburbs-to-city car: silver 1988 Cadillac Fleetwood Brougham
[Photo by Marlon W. Hurt in Lido Beach, LI]
*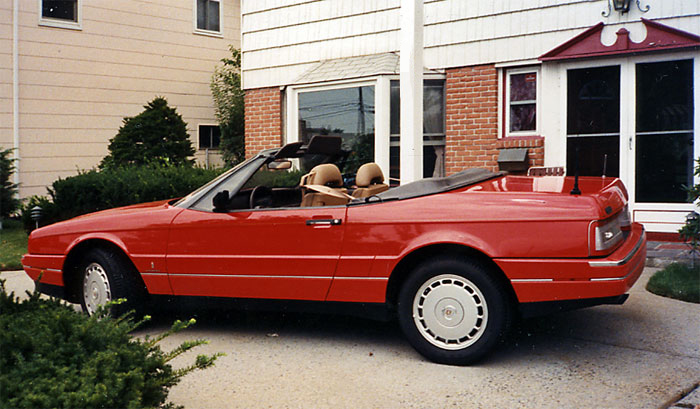 Willson's vehicle for out-of-state excursions: Cadillac Allante (1993)
Notes: The Allante was the most expensive American car by far!
The Allante was the first car to have a compact disc (C/D) player!
[Photo by Baron P. Morris, Jr., Lido Beach, LI]


7)

PRIDE Democrats

of New York City

. An intentional acronym

PRIDE

for "

Pride Rainbow Independent Democrats Etc.

" -- (a.k.a. "P/D"), which, like many babies, began nameless as the political arm of the STONEWALL Veterans Association. PRIDE Democrats was founded by

Willson L. Henderson

and a handful of Stonewall veterans who were Democrats and did not appreciate the unrepresentative approaches and unreasonable attitudes of the other local G.L.B,T. political clubs. PRIDE Dems has been independent since "Stonewall 25" in June of 1994. PRIDE's biggest year was 1998 with the largest candidates' forum in the history of New York State! Over twenty years later in 2020, that New York State record still holds! Some of the many New York public officials who have jpoined PRIDE Dems and paid their dues and made a contribution include NYS governors Mario Cuomo, Eliot L. Spitzer, David A. Patterson and Andrew M. Cuomo and NYC mayors Ed Koch, Michael Bloomberg and W. Bill DeBlazio. And a quarter-of-a-century later, Willson impressively, loyally and significantly remains the chairman of PRIDE with an independent slate of elected officers including Steven Gradman, Dylan Cepeda, Shari Clemons and Sanjay Peters!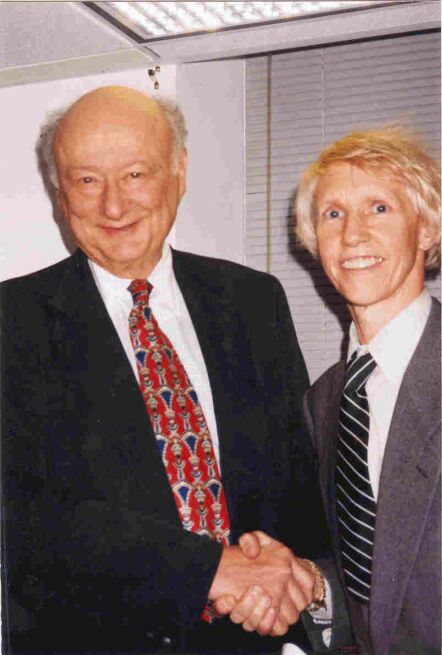 Mayor Ed Koch hand-in-hand with Willson in 1998


[Ironically, photo by Bella's daughter Liz Abzug]


Under

Willson Henderson

's leadership, innovativeness and productivity,

PRIDE Democrats of New York City

made history on Thursday, August 27, 1998, for hosting the largest political candidates' forum in the history of the State of New York. Besides on stage, there were public officials and political leaders in the audience. The participants roster was like a "Who's Who" list including former U.S. Congressmember and herstoric only-woman (at that time until a decade later) Vice Presidential candidate

Geraldine A. Ferraro

, who was also celebrating her birthday. After the Congressmember spoke and took questions, Willson had a total surprise for her and everyone else! He had the entire audience, including her opponents and their supporters, sing a rousing "Happy Birthday" to Gerry! That is typical, thoughtful and unbothered Willson. The New York City Council Speaker

Peter A. Vallone, Sr.

, was there as a candidate for N.Y.S. Governor. So was former Lieutenant Governor

Betsy McCaughey

now as a gubernatorial candidate. New York State Senate candidates for the Upper West Side

Eric Schneiderman

and Danny O'Donnell participated (Eric won!). The then-current N.Y.S. Attorney General

Oliver Koppell

was there as a candidate. So was A/G candidate Brooklyn District Attorney

Charles J. Hynes

. And, A/G candidate N.Y.S. Senator

Catherine Abate

, a semi-supporter of the S.V.A. WLH officially introduced the G.L.B.T. community to the soon-to-be N.Y.S. Attorney General

Eliot L. Spitzer

, who subsequently hired Willson as his campaign Gay Liaison and, at times, surrogate speaker, for both the Primary and General elections in 1998 in New York City!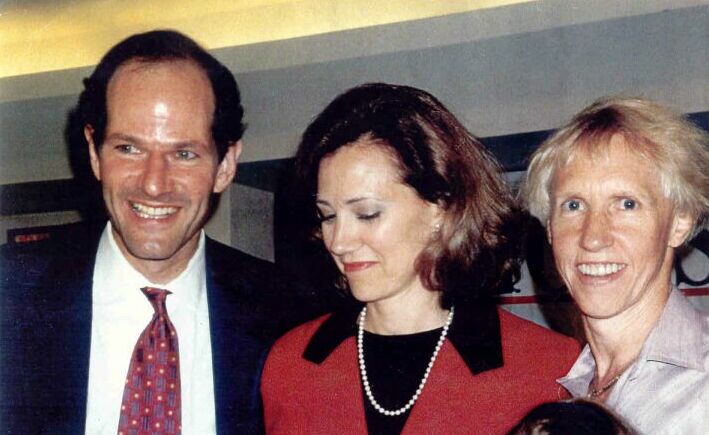 NYS Attorney General Candidate

Eliot Spitzer

, lovely wife Silda and G.L.B.T. liaison Willson Henderson

[Photo by Princess Jenni Egan]



And where did

Willson Henderson

stage this largest-ever, four-hour candidates' event? He held it loud and proud in the big Assembly Hall at the New York City G.L.B.T. Community Services Center in Greenwich Village! That's what's called "giving back big time". The Center benefitted financially, too, as Willson thoughtfully made the P/D event a candidates' take-it-or-leave-it fund-raiser for The Center. Some Gays (of all people) 'queeried' how WLH could have candidates pay a fee to speak to promote themselves? Duh! Willson quoted former U.S. Senator Robert F. Kennedy from New York in his reply: "You ask why! I ask, Why not?" Barely anyone at the event knew that, in fact, Willson previously turned a one thousand dollar start-up investment into a multi-million dollar personnel agency! Interviewed by

STONEWALL

Newz

letta

reporter

Vito Abzuzzoluccione

if WLH had any plans to form any other G.L.B.T. organizations, Willson retorted, "Yes, in reality, I already have! I did it several years ago and I do not pin my name on it -- yet! And, yes, it is certainly listed, involved, active and successful."

* * * * * * * * * * * * * * * * * * * * *
=Willson L. Henderson founded the first Proofreading Agency in the World=
Willson L. Henderson, as an expert proofreader and editor, besides a writer in his own right, is conasidered an expert and has been deemed such many times for the past few decades. Willson transitioned from modeling and acting into no-stress proofreading. Years later when asked what his reaction was to the perception that his Stonewall history was his claim to fame, he issued: "That is quite understandable considering the fact that I co-founded the STONEWALL Rebellion Veterans' Association ("S.V.A.") and all of the publicity, particularly since the worldwide event "Stonewall 25"; however, the reality is that founding, building, advertising and directing Proofreaders Unlimited, Ltd. ("PRU") and its becoming a legendary and successful personnel agency getting thousnsd of people jobs is by far my greatest achievemnet to date! The S.V.A. has costed me hundreds of thousands (and counting) of dollars; the PRU has made me many millions which I've generously shared with so many others by hiring them!"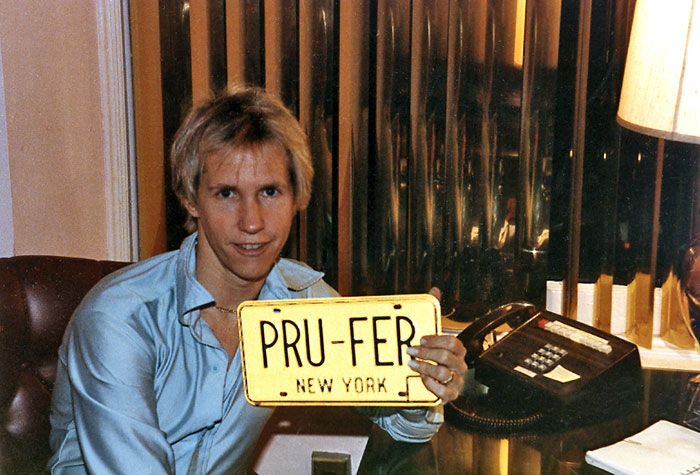 Willson in his private corner office on the twelfth floor at Proofreaderes Unlimited
on Fifth Avenue at 42nd Street (business crossroads of the world), New York City,
holding New York State license plate "PRU-fer" for the company's PRU-mobile
Note: Willson coined the term PRU-fer for any proofreader working for PRU!
[Photo by PRU day office manager William A. "Billy" Morrison]


* * * * * * * * * * * * * * * * * * * * *


=New York City: Political Capital of the World=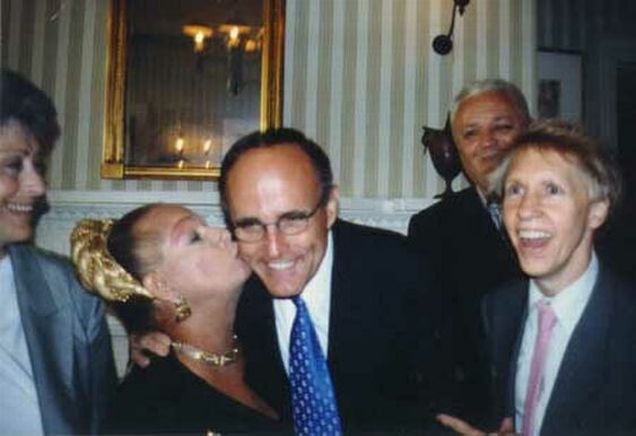 New York City Mayor Rudy Giuliani (2nd term) with S.V.A. President Willson Henderson
and other SVA-ers Cristina Hayworth (left) and Jeremiah Newton (right) im 1999
[Note: This fun and semi-famous photo also appeared in the New York Post.]
[Photo by SVA-er Raymond McCaffrey]
*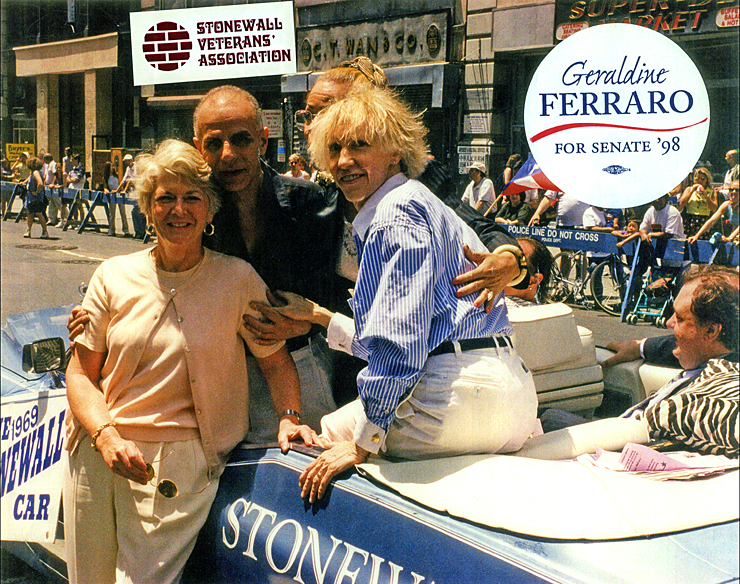 Willson hosted Congresswoman

Geraldine Ferraro

as Guest of the S.V.A.
Stonewall Editor's note: Nice butt on WLH in those white Irish linen pants!
[Photo by Leigh McManus]



* * * * * * * * * * * * * * * * * * * * *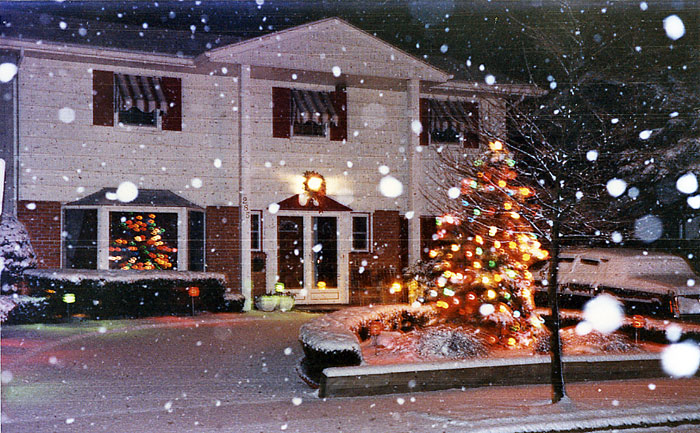 Willson L. Henderson's splended Lido Beach, L.I., House at Christmastime
On the right is WLH's big brown Cadillac Brougham sedan covered in snow.
[Christmassy photo by co-inhabitant Donzel Williams]




* * * * * * * * * * * * * * * * * * * * *


Willson in the Atlantic Ocean one block from his House in Lido Beach, L.I.
[Beachy photo by Donzel Williams]
*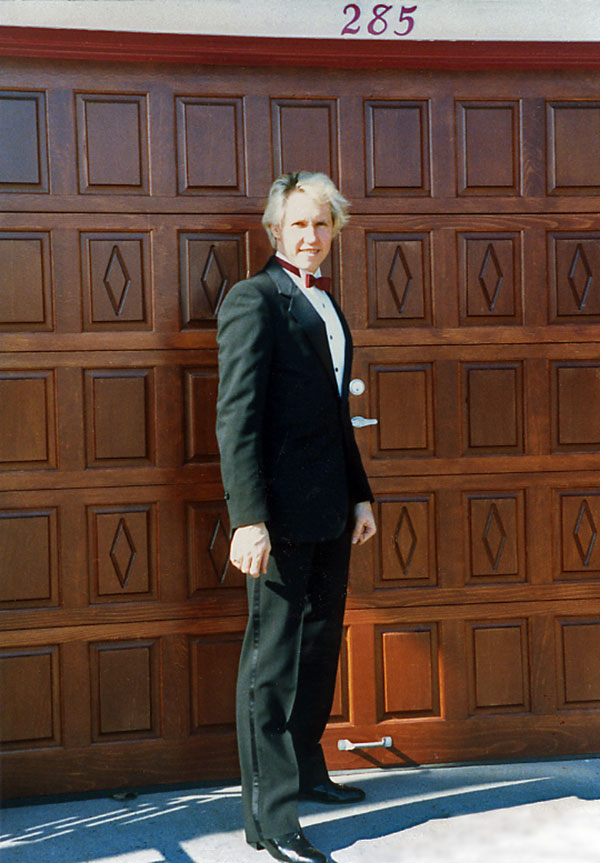 Willson Henderson in a tuxedo -- looks great yet it's first and last time
[Photo by Donzel Williams before their GWB Waldorf-Astoria event]
*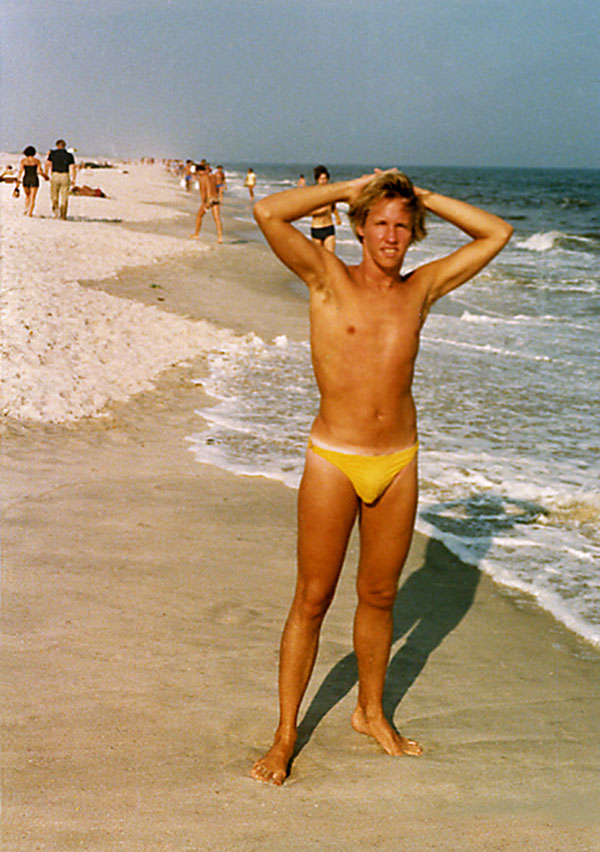 Ohhh! Another sun-tanned beach boy' photo of Willson Henderson
[Summery photo by Donzel Williams in Long Beach, LI]
* * * * * * * * * * * * * * * * * * * * *



=WLH Interviews=
Newspapers, magazines, journals and newsletters have been requesting, and usually granted, interviews with Willson Henderson since 1969. Willson's favorite interview result is the three-page spread in the New York Daily News in 1994 on "Stonewall Sunday" celebrating the huge 25th anniversary of the Stonewall Rebellion. Willson and a few other Stonewall Vetz such as Jeremiah Newton, Leigh McManus and Terri Van Dyke were profiled relating to the original Stonewall Club and the rebellion. The tribute story included a great head-on photo of the 1969 "Stonewall Car" shown with Queen Allyson Allante. Over one million copies of that newspaper were sold!
For "Stonewall 25", Willson Henderson also interviewed for national CBS-TV News "Eye On America"
CBS-TVnews.EyeOnAmerica/Vanderbilt.edu/program
*
="Family Reunion"=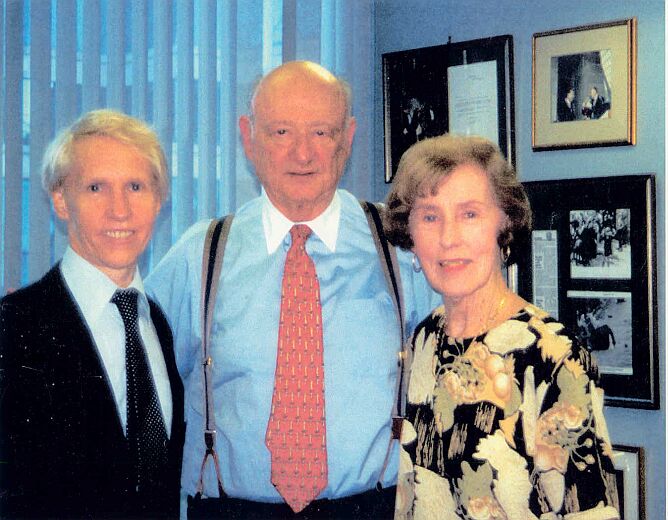 Willson Henderson, Mayor

Ed Koch

and Mrs. Helen Henderson
[Photo by Jodi Getman-Smith of EIK Office]


*

One of the most interesting stories from a historical point and recertifying Willson Henderson's expertise was displayed ten years later in 2004, again on "Stonewall Sunday", entitled "The Two Sides of Stonewall Raise Glasses on Common Ground". The relevant and timely subject wa the 1969 Stonewall Rebellion and the incredible, thirty-five year reunion of the Stonewall vets and the Stonewall cops! The unthinkable story was published on June 27, 2004, in The New York Times. "'I'm just glad that they were all sitting down', Willson Henderson joked on Monday evening (June 21) soon after walking into a room filled with about two dozen burly retired police officers at Arturo's Restaurant on Houston Street in Greenwich Village. Mr. Henderson was harking back to the summer nights 35 years ago this month, when some of those officers and dozens of others, faced off against him and hundreds of other Gay guys outside the Stonewall Inn on Christopeher Street. The confrontations, which became known as the Stonewall Rebellion, marked the birth of the modern Gay rights movement." The story concluded in a "reach out" mode with retired NYPD Sixth Precinct Sergeant Frank Tuscano relating how he sought out Stonewall veterans and was directed to Mr. Henderson and told him: "If you guys come out and join us (for the reunion), I'll buy you a beer. You were on one side, we were on the other side. Who says we can't have a drink together?" Willson famously responded: "Okay, I'll do it -- but I don't drink beer!" They've been 'pals' ever since that call. Tellingly, many of the vintage Sixth Precinct cops recognized Willson from The Stonewall scenario. One former detective publicly remarked, "Willson doesn't look that much different"! A retired Sixth Precinct "Stonewall" officer commented, "It's not my thing to remember any of The Stonewall kids from then but I sure remember that beautiful blue 1969 convertible. And that definitely looks exactly the same"!




*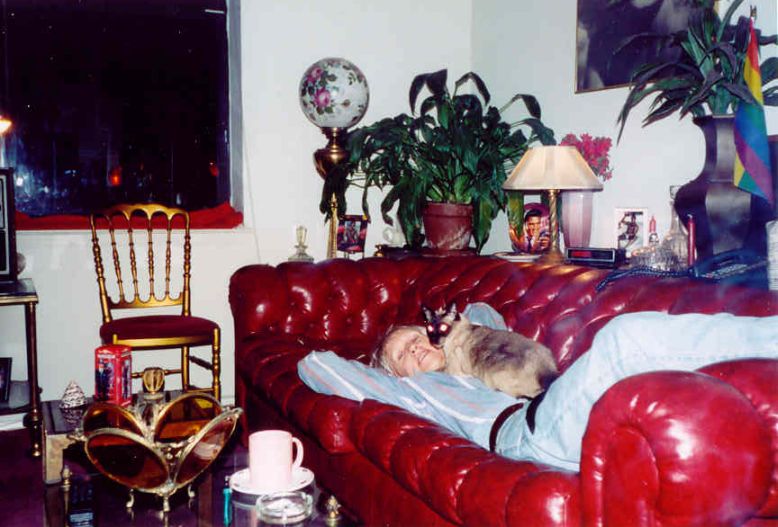 Willson Henderson relaxing at home in West Greenwich Village, Manhattan on his burgundy leather sofa with one of his cats "Quiksand" (like the MRV song). Notice the Gay pride flag in a brass planter (on the right). On the glass-topped coffee table is a red picture bank shaped like a British telephone booth. Mostly obscured on the wall is a brass-framed poster of Bette Davis as Margo Channing in "All About Eve".
[Photo by Terri Van Dyke]
* * * * * * * * * * * * * * * * * * * * *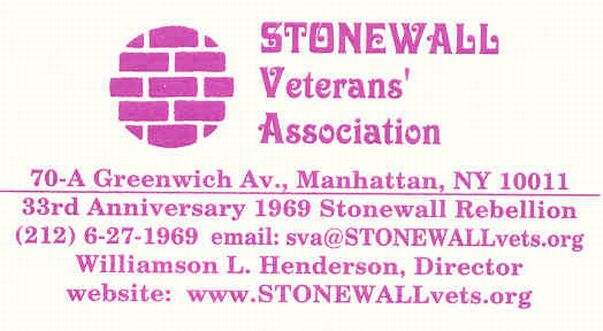 Barely any so-called leaders in the

Gay, Lesbian, Bisexual and Transgender

("G.L.B.T.") communities have ever created anything, not a department, not a division or even an expansion of something already established by somebody else. In a historical perspective and summary overview, this is greater testimony to

Willson L. Henderson

's enduring leadership, effective accomplishments and selfless contributions to the G.L.B.T. communities and beyond. Willson broke down the political doors for Gay access to and communication with New York public officials when it was literally non-existent. Today, it is taken for granted, usually without any regard to 'the long and winding road' and all the volunteer work and creative ingenuity that led to this point. There is probably not one notable public official in Manhattan (NYC) who doesn't know Willson or hasn't worked with him on matters, issues, concerns or events of the Gay community. Willson has actually had many of them as guest speakers for the various G.L.B.T. organizations which he founded.



* * * * * * * * * * * * * * * * * * * * *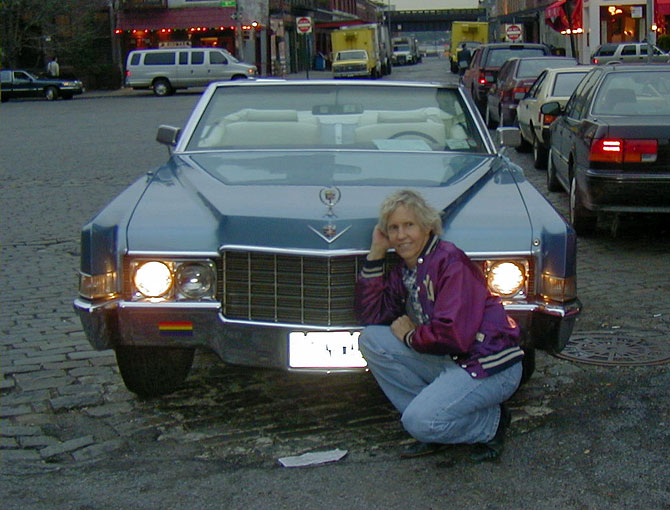 "A Stonewall Boy and His Stonewall Car"
[Photo (C) by NYCPD Sergeant / GOAL Officer Tommy T. Jeans]



In 2000,

Willson Henderson

was finally The One in the G.L.B.T. community who had the power and wherewithal to legally sue some scurrilous poison pen blowfish who many people wanted to sink but no one had the hooks! Willson made himself the Will-ing and determined plaintiff against a debased, dubious, debted, bakrupted and now-defunct "Gayragpaper" known as LGBT New York. One of the obsessed with Willson lowns was known as "Druncan Ozburn". Besides slanderers, congenital liars and creeps, they were notorious crooks. WLH took 'em on! As a matter of fact, after several inconsecutive days spanning two months of sworn testimonies by several actual veterans of the 1969 Stonewall Rebellion, the Court decisively concluded that

Willson L. Henderson

was and is the "

Gay Rosa Parks

"! The

Stonewall veterans

of the S.V.A. were likened to the famous

Suffragists

in this landmark Court decision -- the first to ever involve the subject of the historic 1969 Stonewall Rebellion. Based on the plentiful testimony by actual Stonewall veterans such as Storme DeLarverie, Jeremiah Newton, Terri Van Dyke, Dave West, Keith Lonesome, Raymond McCaffrey and Rev, Magora Kennedy, and overwhelming document evidence, including official letters from prominent New York public officials, as a result of that landmark New York City court case, Willson was prominently declared a "public figure"! That distinction was news to him, though not to many others. The landmark seven-page decision concluded that "Mr. Henderson continues to educate and fight for the Gay, Lesbian, Bisexual and Transgender community"! Hey, let's more of us join him in those genuine efforts!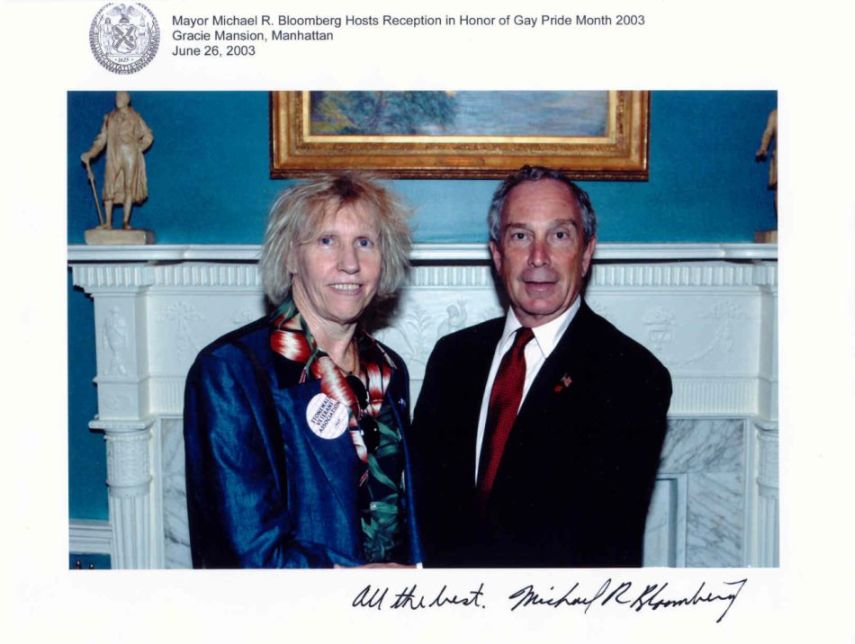 S.V.A. Willson Henderson and N.Y.C. Mayor Michael Bloomberg
[Photography by the Office of the Mayor of the City of New York]
All officials of the STONEWALL Veterans' Association ("S.V.A.") were traditionally invited to Gracie Mansion for the New York City Mayor's "Gay Pride Celebration". Willson Henderson considerately coordinated the inviting of the S.V.A. members and others. NYC Mayor Michael R. Bloomberg thoughtfully accommodated the photo-op with him and each of the invited guests. This year 2003's event was held on Thursday evening, June 26. The mayor knows Willson since the latter welcomed NYC mayoral candidate Michael Bloomberg as a guest -- along with Mayor Rudy Giuliani -- of the influential S.V.A. leading the "New York City 32nd Annual Gay Pride Parade" back in landmark 2001.
* * * * * * * * * * * * * * * * * * * * *
Newsworthy Reunion: Willson Henderson and NYC Stonewall Cops
This incredible reunion -- after 35 years -- was between the New York City Police Department's Sixth Precinct "Stonewall cops" and the STONEWALL Veterans' Assocation ("S.V.A.") of the Gay, Lesbian, Bisexual and Transgender ("G.L.B.T.") communities and their straight friends participants in the historic 1969 Stonewall Rebellion in Greenwich Village, New York!
www.GayPasG.org/Press/2004/June/Two_Sides_of_Stonewall.htm
* * * * * * * * * * * * * * * * * * * * *
S.V.A. Chairperson Carolyn Maloney with SVA's Willson Henederson
[Photo by Ray McCaffrey]
For 2005, Willson Henderson was re-nominated as President of the STONEWALL Rebellion Veterans Association ("S.V.A."). He won re-election again unanimously! Reflecting on the S.V.A.'s history, Willson observed, "The S.V.A. has had many important years -- in addition to 1969, there was 1977, 1994, 1999 and 2004 -- and this coming year 2005 should be another of significance. Unfortunately, we've turned the deadly corner on having more veterans of the 1969 Stonewall Rebellion deceased thn alive. In the past year or so, we sadly lost key Stonewall vets such as Terri Van Dyke, Charles Snyder and Electra O'Mara, all of whom were ideally active with the S.V.A. We also passed the thirty-five year milestone of the rebellion. Each subsequent year must be celebrated, protected and cherished." The RDP Group has once again invited Willson to be the host of the Opening Ceremonies of the New York City Gay Business Expo at the N.Y.C. Javits Convention Center in February. Willson accepted as he has done literally since the last Century! Congressmember Carolyn J. Maloney has personally invited Willson and all of the S.V.A. officials and, especially, the SVA's handsome and happy office manger, AnDre M. Christie to attend her annual St. Patrick's Day Breakfast and join her marching in the big St. Patrick's Day Parade. Willson greenly accepted both! In the Spring of 2005, actor Willson Henderson marked over three decades as a union member of the prestigeous Screen Actors Guild ("SAG"). The last movie that he was professionally involved with was, appropriately, "STONEWALL!". He nearly was in the 2005 film "Ring of Fire" about his longtime, 'intimate' friend championship boxer Emile A. Griffith. However, at the time of the filmed interviews, producer Dan Klores was curiously unaware of the well-known Willson connection. Dan finally met Willson with members of the Griffith family at a special screening of "ROF". The Summer of 2005 (an important election year) had Willson again involved in politics, something in which he is educated, self-trained, experienced and savvy. He helped defeat -- in last place -- a tacky citywide candidate who was a shameless user of the G.L.B.T. communities and a convicted enemy of the S.V.A. In a separate contest, with the back-up of PRIDE Democrats and the support of S.V.A. individuals, WLH was crucial in the narrow win of a female NYC Council candidate, Melissa M. Viverito, who is SVA-supportive and personally nice. "Double delight" was Willson's proud reaction to these two outcomes. When S.V.A. election-time rolled around again in November of 2005, although members pleaded, Willson decided not to be a nominee for President. One Stonewall veteran senior woman declared, "We'll elect you anyway!" (Yes, she's Italian.) Willson explained that "If I'm not a nominee, I can not be elected; and, if I am elected, I will not serve". By the next month, Willson was convinced of the need for his being the head Stonewaller. After all, who does the World think that people contact or source when they want to know about the actual Stonewall Rebellion and its real participants? The S.V.A. and its active elected officers -- who else?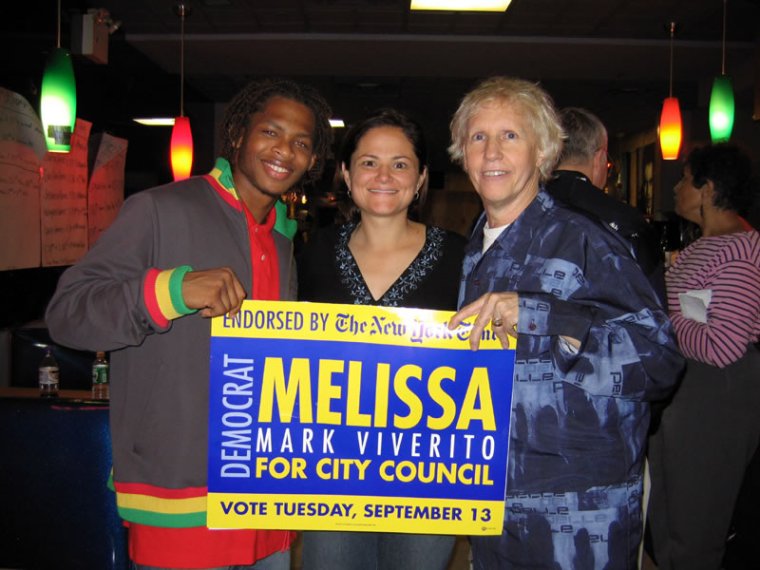 City Council winner
Melissa Mark-Viverito
with Willson and
AnDre M. Christie
at Election Party 2005
Note: "Meli-Mar" would have never won without the S.V.A., PRIDE Dems, WLH and AMC
[Photo by one of MMV's gay brothers Randolph Mark]
* * * * * * * * * * * * * * * * * * * * *
Willson L. Henderson guest speaks at the National Equality Forum
representing Stonewall Veterans in Philadelphia, Pennsylvania
www.EqualityForum.com/2005/GLBTorgs
* * * * * * * * * * * * * * * * * * * * *
For Willson Henderson, personally, there is always plenty of fun, games and action, too, with his longtime, good-looking, intense, well-built, lively, jealous, athletic, singing, protective, humorous, dancing, mouthy, voguing, outspoken, laughing, sometimes overwhelming, sexy, music-loving, possessive, home-cooking, cohabiting, straight boyfrriend -- and possessing many of the combined characteristics and attributes of several of WLH's prior significant lovers -- and their three lovable felines at their top-floor, penthouse apartment, in a high-rise apartment building on a river in New York City. By circumstance, one of their favorite theme songs appropriately is Paula Abdul's "Opposites Attract"! They have most of the "opposites" going on: color, age, culture, religion, education, orientation, employment, upbringing, friends, experiences, values, hobbies, etc. -- all opposites!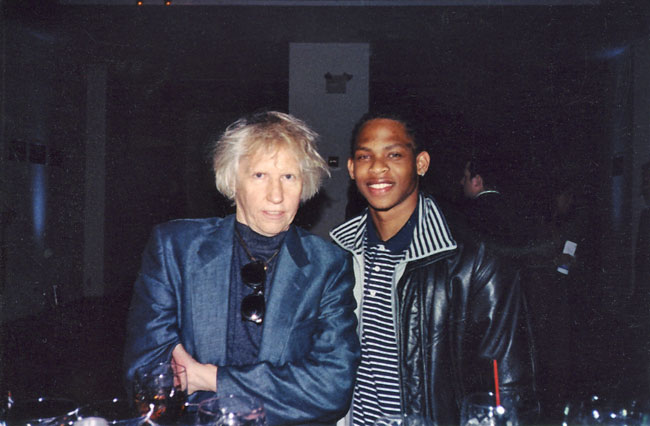 S.V.A. Director Willson Henderson and Youth-4-SVA Organizer AnDre Christie
at Andrew Cuomo Birthday Party at the Metopolitan Pavillion, in Chelsea, NYC
[Photo by Chris Cuomo aka Andrew's younger brother]
* * * * * * * * * * * * * * * * * * * * *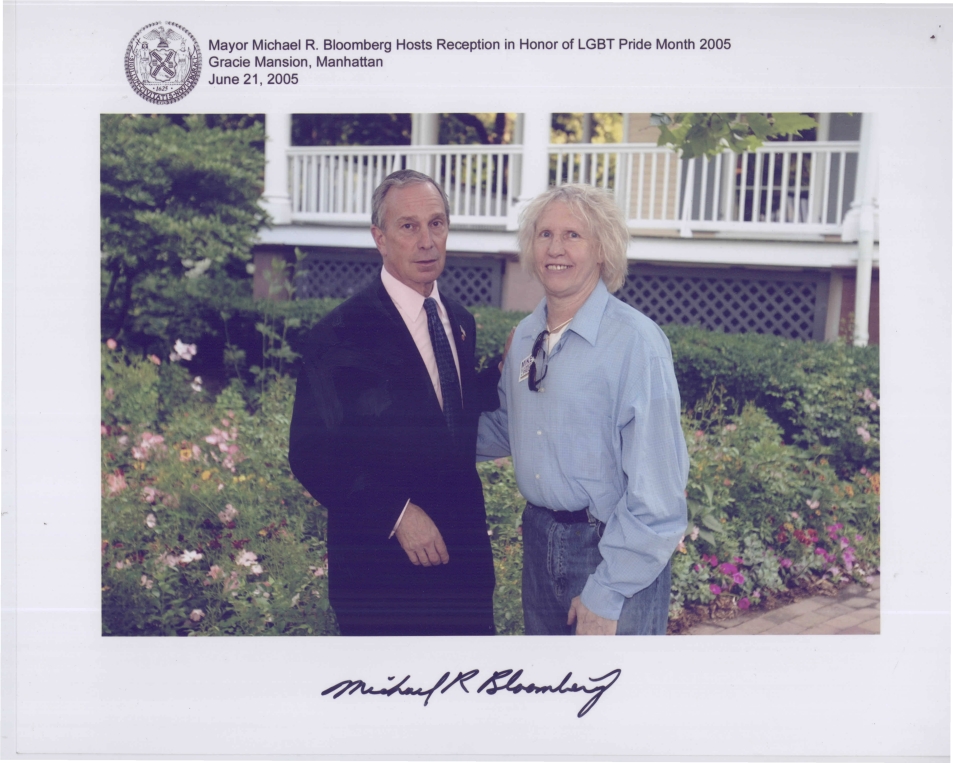 In honor of Gay Pride Month: Mayor Michael Bloomberg with Willson Henderson
[Photography by the Office of the Mayor of the City of New York]
* * * * * * * * * * * * * * * * * * * * *
The year 2006 started theatrically on the 13th of January with urban cowboy 'Will' Henderson rounding up a posse of SVA-ers to go see the top-rated Gay story movie "Brokeback Mountain". It was a nice way to kick-off the new social year together. Although Willson sincerely intended to take a reprieve from being an S.V.A. officer, to quote from one of Willson's other favorite 100 films, "The Godfather, Part III", by the Godfather himself: "Just when I thought that I got out, they pull me back in"! While considering the "offer" he could easily refuse, WLH decided to grant the will of the unanimous SVA-ers and remain as the S.V.A. President. Within one day he had a solo rendezvous with a public official and the result was a platinum sponsorship for the S.V.A. A sad task for Willson was, as the chosen DFW Memorial Chairperson, to arrange the service for SVA-er and friend Dave West at the New York City Gay Community Center. The event on April 27th proved a huge turn-out, entirely planned and hosted by WLH. Next up, "Save the Stonewall Car" was the new meow from the S.V.A. Without Willson's effective leadership, communications network and fund-raising, the famous car would have been lost to the gavel of an auctioneer! The prominence and prospects for the famed organization once again changed for the better throughout the year. By year's end, Willson was nominated again at the December election meeting. He won unanimously as S.V.A. President for crucial 2007!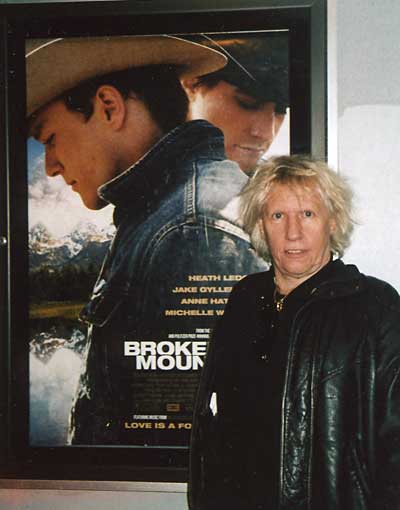 Willson is stunningly stunned after seeing "BBM"
[Photo by Princess Jenni Jan; witnessed by AnDre Christie]
"Brokeback Mountain" ("BBM") is the popular movie and compelling story about two intriguing cowboys (one 'straight', one bisexual) who coincidentally meet in the Summer of 1963, simultaneously get jobs and work together herding sheep in the scenic mountains of Wyoming, unexpectedly but passionately have sex the first time in a tent and fall deeply in love with each other! However, one is totally straight, the other is slightly bisexual. Both Ennis and Jack marry women and have children. All of that and much more does not stop their twenty-year secret relationship. The BBM phenomena kicked up such steam that Willson Henderson could not wait to see a beyond-Gay film that in many ways describes his current partner. When a newspaper story came out with the "From Stonewall to Brokeback" headline, Willson organized a "Bareback Mountain Dinner & Movie Party" for Stonewall veterans and sponsored by the S.V.A. Besides Willson, S/W-Vetz attending included Emile Griffith, Leigh McManus, Storme DeLarverie, Bert Coffman, Ramon Bellido and Dave West and some Friends-of-SVA such as Michael Livote, Anton Ohlin, Jenni Egan, Luis Rodrigo and, of force, AnDre Christie. In fact, BBM's Ennis and Jack were into their sixth year together when the Stonewall Rebellion occurred in June of 1969. The phenomenal movie BBM went on to be nominated for eight Academy Awards among winning many others such as the Golden Globes and the Screen Actors Guild, of which Willson is a longtime member. Willson was a creative moderator and an avid member of a BBM internet board for the entire 2006 year. Upon his arrival, he created the immensely popular, largest-viewed and most-enduring game known as the "ABC'z of Brokeback Mountain". For example, "G" is for "Gay" and "C" is for "cowboys". The BBM-themed word game at last report incredibly continues for years after Willson cast the first "A" for "Academy Awards"!
Willson proudly posing during Gay Pride parade with the 1969 "Stonewall Car" driven by AnDre Christie
[Photography by Hal M. Weiner]
In 2007, Willson Henderson commenced the year at his posilutely favorite place in the world: home! With his mostly secret 'non-Gay' lover of several years and their two cats with him and his Mother on the phone long-distance, WLH was not "home alone". On the first Sunday in January, he rounded up an S.V.A. posse to attend the "Swearing-In" of SVA-supporter Andrew Cuomo as New York's new Attorney General. Mr. Cuomo strongly, publicly and sincerely stated his great appreciation for Willson's effective support and longtime loyalty. He thanked the S.V.A., too. This event at the Metropolitan Museum of Art was political happiness and another reunion with political colleagues. Moviewise, a year ago it was "BBM"; now it is "Dreamgirls" -- loosely based on the worldwide number one girl group Diana Ross & The Supremes!
* * * * * * * * * * * * * * * * * * * * *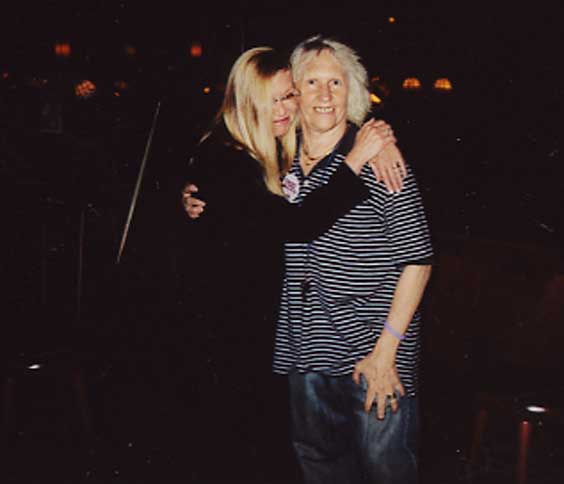 "Leaders of the Pack": Mary Weiss with Willson at The Stonewall Club
[Photo by Ed Ryan, manager of Mary Weiss]

Mary Weiss

, the inimitable lead singer of rock 'n' roll's

The Shangri-Las

, is the special guest of the

STONEWALL Rebellion Veterans Association

at the "Stonewall Anniversary Party" at the original Stonewall Club. The SVA's director

Willson L. Henderson

thought of this remarkable idea and he made it happen! "Remember, Walking In The Sand". It was so exciting to have the original "Sweetheart of The Stonewall" actually present at the original Stonewall. Only Willson would have thought of such an authentic and unique Stonewall idea and then actually make it happen. Miss Weiss was thrilled to be at this special event. She did it historically because of the world significance of "Stonewall"! The lead singer of The Shangri-Las graciously spoke at the mic. She also expressed her "'Great Big Kiss" appreciation for Willson getting five of The Shangri-Las' songs in the original "Stonewall" movie in 1996 -- including the film's theme song: "Past, Present And Future"! Mary Weiss looks stunning and youthful as evidenced in the photo.

* * * * * * * * * * * * * * * * * * * * *

For Gay Pride Month 2007, besides all the extra activities of the S.V.A., Willson Henderson partied with the NYC Mayor Michael Bloomberg for his Gay Pride Celebration at Gracie Mansion, was feterd as the "Gay Rosa Parks", spoke on stage accompanied by other Stonewall veterans for the Heritage of Pride's Gay Pride Rally in Bryant Park, Midtown Manhattan, and, later that day, Willson was a featured speaker at the "Stonewall: From Persecution to Pride" celebration at St. John's Evangelical Lutheran Church on Christopher Street in Greenwich Village and attended the New York City Council Gay Pride celebration in the Council Chamber at City Hall. For the exact annniversary of the Stonewall Rebellion on June 27th, the S.V.A. sponsored and Willson hosted the celebration at The Stonewall Inn. WLH arranged for the beloved "Stonewall Sweetheart" Mary Weiss, the lead singer of the legendary #1 girl group The Shangri-las! On Stonewall Sunday, Willson proudly led the N.Y.C. Gay Pride Parade down Fifth Avenue and Christopher Street with the STONEWALL Veterans' Association -- including Emile Griffith, Storme DeLarverie, Jeremiah Newton, Chyna Fucito, Tom A. Viola, Dr. Dyane Karron, Hally M. Weiner, Cristina Hayworth, Leigh McManus, 'Papa' Jean Devente, Keith Lonesome, Mary S. Twist, Ramon Bellido, Tony Viera and Jack Ramos -- and the famous blue 1969 classic convertible "Stonewall Car"! After the wonderful event on a perfect day, Willson and his significant other co-hosted the annual outdoor "Stonewall Duncheon" for Stonewall veterans at the outdoor Hudson Corner Cafe in Greenwich Village, Manhattan.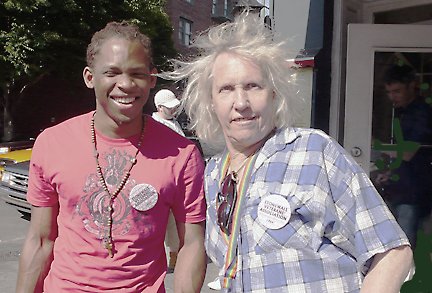 AnDre Christie sun-blinded and Willson wind-blown after a lead-the-parade fun-filled day
[Digital Photo by Hal M. Weiner]

Summer of 2007 slow for the S.V.A.? Not with Willson Henderson leading it! Besides daily multi-communications and education programs plus the ever-popular S.V.A. website, the S.V.A. meetings and SVA-invited events headed by Willson include a barbeque and live-band dance party with Governor Eliot Spitzer in late July and mid-August meetings with several public officials. At a function hosted by Mayor Michael Bloomberg on August 15th at Gracie Mansion, the Mayor astutely commented to the SVA-ers how the S.V.A. is clearly "year-round". The Mayor then personally thanked Willson for the interesting S.V.A. mailings and said "I personally receive all of your notices and enjoy reading them all"! The next day it was a Municipal Building meeting with Manhattan Borough President Snott Stringer and his staff contingency about a grant for the S.V.A. (Nothing happened with those false promises by "The Schlub".) The day after that it was a meeting with a N.Y.S. assemblymember. By Saturday, WLH and the Stonewallers were leading a civil rights march with the 1969 "Stonewall Car". On Saturday evening, there was a special "10/10" party planning committee supper hosted by Willson at the outdoor Les Halles Restaurant on Park Avenue in Manhattan. And so on and so forth with the unique and interesting S.V.A. events.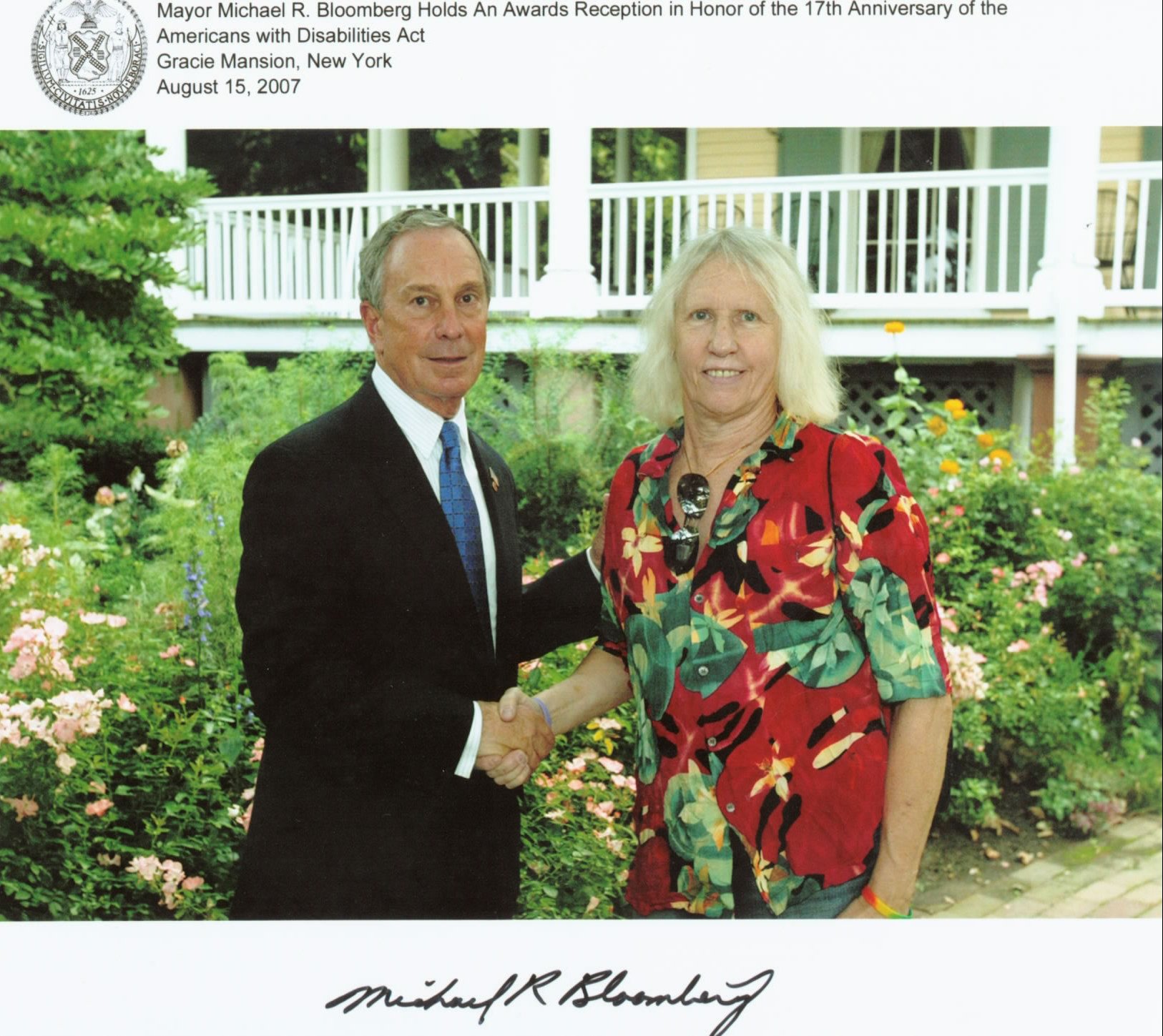 Mayor Michael welcomes Willson -- and publicly compliments his hair
[Photography by the Office of the Mayor of The City of New York]




* * * * * * * * * * * * * * * * * * * * *


Last year, Willson L. Henderson was unanimously re-elected (mid-2007/mid-2008 tenure) one more time by the STONEWALL Rebellion Veterans Association ("S.V.A.") membership as the creative leader of the S.V.A. organization. WLH started the year of "Stonewall 39" representing the S.V.A. solely at a special one-on-one meeting with a N.Y.C. borough president, Adolfo J. Carrion of The Bronx, on the very first morning of the very first business day of the new year. "The meeting went totally well as expected" and Willson further declared: "But this will be my only morning conference of the year"! At one S.V.A. monthly meeting, Willson hosted three members of the New York City Council. There have been many others since. On the national political scene, a half-dozen major Primary presidential campaigns directly contacted 'undeclared' Willson. During the year, he hosted many other public officials and organization heads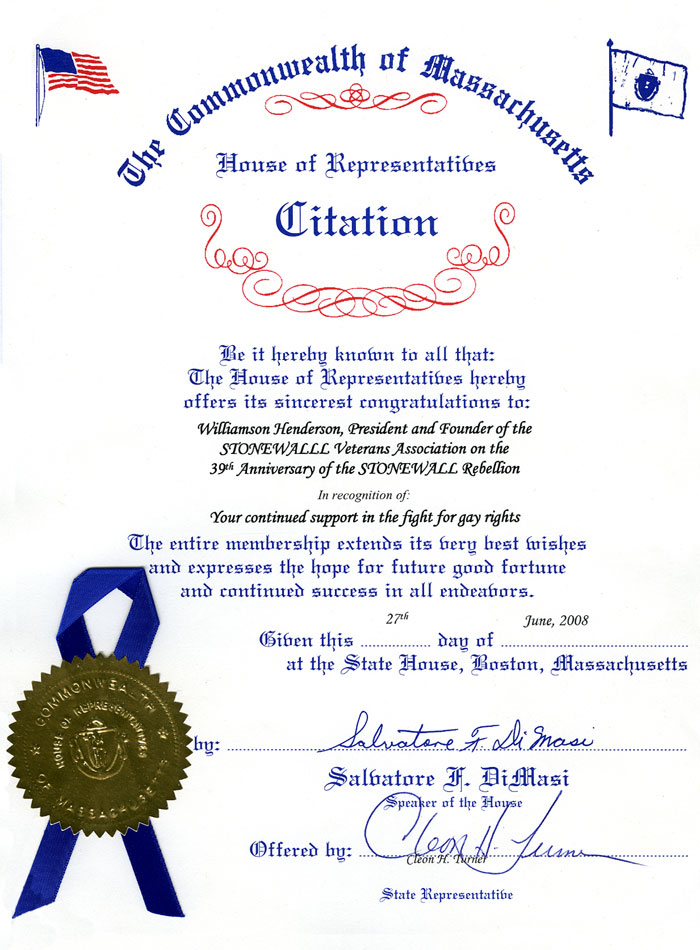 On the literary scene, Willson L. Henderson is included in the unrevealing book about one of his past and celebrity intimate friends (a.k.a. ex-boyfriend) and mutual S.V.A. official, former world boxing champion Emile Griffith, Jr. The book title amusingly mixes a boxing and a Gay term: "Nine... Ten... Out! The Two Worlds Of Emile Griffith". Initially, Emile and Willson were introduced, at Emile's demand through a mutual, be-wigged, fag-hag friend, Sonia Jane Attkiss, at The Stonewall Club in the Spring of 1969! Willson and Emile's eye-catching and on/off again relationship -- when it was mutually convenient spanning several years -- was considered a Gay power couple. "Basically", Willson reveals here (nothing is revealed in the clandestine book), "we calmly went with each other when we weren't going with some usually hot drama guy". The fashion pot was sweetened since Willson was an alluring commercial model (with a Gay flair off the set) and Emile's best buddy Charlez was a daring designer. That threesome produced some wild outfits, mostly body-fitting jumpsuits and many with fringe. Oddly, none of this nor any of their Gay parties or Gay events are mentioned in the soft book. In the bookletee, Willson is pictured twice yet only identified once. The S.V.A. is mentioned several times but never defined for the unknowing reader. The "Stonewall Car" is barely shown once with Emile exiting it after a Gay Pride parade but the famous car is not identified! You do not have to look Willson up in the index as the book does not even have an index! WLH was bolded to help defeat the boring bogus book and to get it "knocked out".
In total literary contrast is the intelligent, worthwhile and successful book -- which has an index -- "Rumors Of Our Progress Are Greatly Exaggerated (Why Women's Lives Aren't Getting Any Easier)" by Willson Henderson friend and U.S. Congressmember, Carolyn J. Maloney. Willson and many friends were at "1-2-3" of Carolina's book forums and signings. Locations included the landmark National Arts Club and Cornell University. The Congressmember inscribed WLH's hardcover book and with his special nickname for her: "To my dear friend Willson, You are always there! Love, Carolina".
During the "Stonewall-39" Gay Pride season, due to vast responsibilities and commitments, Willson streamlined Gay event appearances in 2008. One occasion was the Manhattan Borough President's Gay Pride commemoration honoring the SVA's corporate counsel and WLH's longtime friend Judge Karen S. Burstein and acknowledging the S.V.A. Willson and several SVA-ers happily partook in NYC Mayor Michael Bloomberg's Gay Pride celebration at Gracie Mansion. The Mayor only mentioned one Gay organization: the STONEWALL Veterans' Association. Mayor Michael also mentioned Willson stating their knowing each other seven years and praising WLH's extensive work for the Gay community. The Mayor conclusively declared: "Willson Henderson is the real Rosa Parks of the G.L.B.T. community!" For the "S.V.A. 39th Annual Conference & Stonewall Veterans Reunion" on June 28th, the worthwhile event was covered by New York 1 television and The New York Times. Willson and other SVA-ers were shown on NY-1's recycled news about 20 times for Gay Pride weekend. On the S.V.A. frontline, Willson decided for several reasons that he would not be a candidate for S.V.A. president for its mid-year election meeting. When STONEWALL Newzletta reporter Vito Abzuzzoluccione queried WLH about reversing his decision on the S.V.A. president candidacy, Willson stated: "My term ends on the last Gay day of this Gay Pride Month! As a result, with no qualified, effective, available and viable candidate, the S.V.A. membership agreed with WLH and voted to change the group responsibilities and format. For the new season, Willson will be uplifted to S.V.A. Director, a new position, with the S.V.A. Executive Committee making day-to-day decisions.
* * * * * * * * * * * * * * * * * * * * *
In a change of position,

Willson Henderson

is the passenger and

AnDre Christie

is the driver of the iconic "

Stonewall Car

"
[Photography by Hal M. Weiner]




* * * * * * * * * * * * * * * * * * * * *




=New Era for Willson Henderson, Stonewall & the S.V.A.=

Guess what? The STONEWALL Veterans' Association could not elect another president! This seemed to only surprise Willson. As such, the S.V.A. transitioned to Executive Committee format without any titled officers. Nonetheless, public officials and their staffs and G.L.B.T. organizations and their reps and other groups and individuals and the print, radio and t.v. press continued to contact Williamson Henderson. With 39 years completed and celebrated, this stage is now in the 40th year since the Stonewall Rebellion. Long story short, Willson agreed to be the S.V.A. Director chorused by the Executive Committee. In mid-July, he spearheaded the new fiscal S.V.A. fund-raising year namely Stonewall 40! In mid-August, Willson emceed a tribute to legendary SVA-er Storme DeLarverie and hosted a sponsoring art show by Susan Olmetti the abstract artist at the landmark Chelsea Hotel. In mid-September, Willson and his special assistant promoted and attended a book forum and reception for the S.V.A.'s Honorary Chairwoman and their personal friend, U.S. Congressmember Carolyn Maloney, in Manhattan. At the S.V.A.'s end-of-year meeting at the New York GLBT Community Center, besides accommodating out-of-state Gay Pride committee representatives, foreign jourmalists and statewide students among many others, Willson hosted the 88th birthday bash for King Storme DeLarverie and, unofficially, kicked off the forthcoming celebratory milestone of "Stonewall 40"!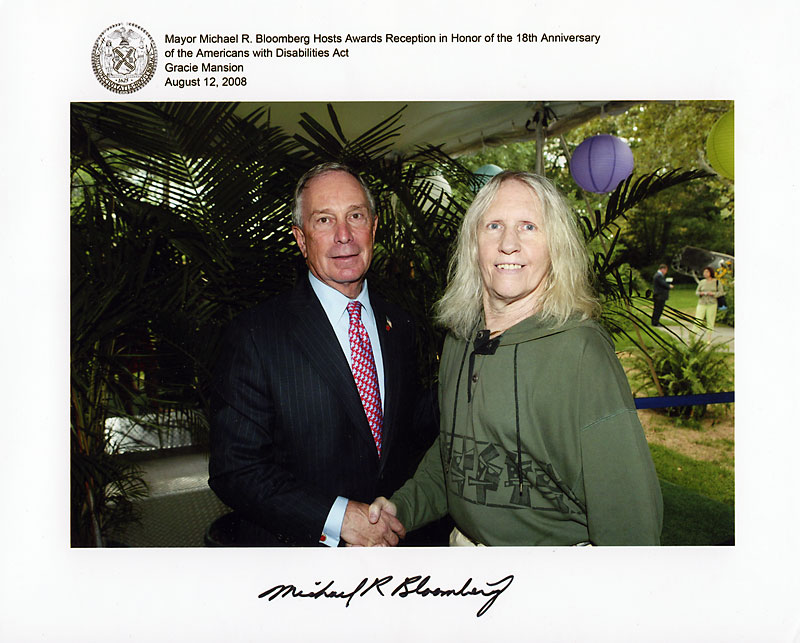 Mayor Michael Bloomberg greets Willson Henderson at Gracie Mansion
[Photography by the Office of the Mayor of The City of New York]

* * * * * * * * * * * * * * * * * * * * *

For the occasion of "Stonewall 40", among other G.L.B.T. organizations, Willson L. Henderson spoke at, for example, committee and general meetings of Heritage of Pride ("HOP"), organizers of the New York Gay Pride Parade, and the Gay Officers' Action League ("GOAL") regarding a mutual "SW-40" law enforcement conference. He also testified at a New York City Community Board in Manhattan for the SVA's annual "Stonewall Streetfair" and taught at Harlem United for an educational program comprised of disadvantaged Gay youngsters. Moreover, Willson was formally invited to speak at the renowed St. John the Divine Cathedral in New York, and in several American cities from Maine and Florida to several cities in California and in addition to Europe such as Amsterdam., Berlin and Copenhagen. And that's just the "A-B-C" of it. At one of the stateside events honoring the 40 years since the Stonewal Uprising, they announced: "Willson L. Henderson puts an actual and real, and may we say nice, face on the happy Stonewall Club, the exciting Stonewall Rebellion and the entire Stonewall Era and all that it represents and symbolizes!" For the STONEWALL Veterans' Association's celebrations of "Stonewall 40", Willson produced, promoted and hosted the "S.V.A. Annual Conference & Stonewall Veterans Reunion" at the New York City Gay Community Center on Stonewall Saturday. Two days later -- with the NYC Gay Pride Parade in between -- Willson did likewise for the yearly "Stonewall Rebellion Anniversary Party" in the Stonewall Cabaret Room at the original Stonewall Club in New York City's Greenwich Village. In the notorious New York City political world, all three citywide candidates -- mayor, public advocate and comptroller -- which Willson supported each from the outstart and pulled out all-the-stops... won!!! Interestingly, besides being the most-qualified, the best and the nicest persons, all three candidates prior shared the designation of "unlikely to win"! As the decade raps up, the S.V.A. will have to be ruled by its Executive Committee as Willson completes his extemperaneous, extended and exciting term as director of the S.V.A and refocuses on his own business and exciting personal life.....


* * * * * * * * * * * * * * * * * * * * *

=Willson interviewed in N.Y. Post about "Transgender Chaz Bono"=

==== Willson Henderson in N.Y. Post re: Chaz Bono ====
The subject is newest celebrity transgender Chaz
Bono. Many thought that Chaz could now marry in
all 50 states? No! WLH explained that Chaz is
actually a Drag King not a transexual. If U did
not see the lively story in the New York Post on
Monday, May 16, see the link. Check out Andrea
Peyser on Sonny & Cher's new-made son Chaz Bono!
www.NYPost.com/p/news/national/Chaz_real_Drag_for_Gay_Community





* * * * * * * * * * * * * * * * * * * * *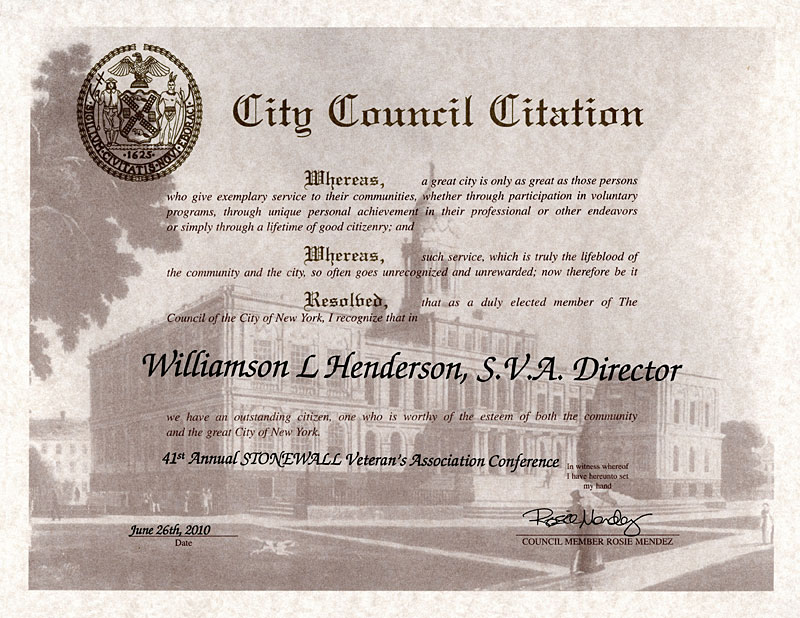 Willson L. Henderson receives another deserved accolade from the New York City Council
=another new decade=
For Willson Henderson in the new decade, the "Twenty 10s", besides active business -- reactivation of Proofreaders Unlimited -- in Manhattan, social (invited to many worthwhile and prominent events) and personal life commitments (with a lover several years (decades) younger plus their two cats aged 11 years and 11 months) and still requested for interviews, forums and events, Willson produced and promoted the STONEWALL Rebellion Veterans Association's "41st Anniversary Conference & Stonewall Veterans Reunion" on Saturday, June 26th at the GLBT Community Center in Greenwich Village. The stellar guests included a U.S. congressmember Yvette D. Clarke, a N.Y.S. supreme court justice Doris Ling-Cohan, a N.Y.S. senator Eric T. Schneiderman, a N.Y.S. attorney general candidate Kathleen Rice, several N.Y.C. councilmembers and all was uniquely hosted by Willson! As this season's Gay icing for the Gay seven-layer cake this 2010 year, Willson ultimately agreed to do an exclusive "Stonewall 41 Reflections" of the Stonewall Era, the Stonewall Club, the Stonewall People and the Stonewall Rebellion for the British Broadcasting Company ("BBC"). He decided to do it from home: a top floor in a high-rise apartment tower with a spectatular NYC view! They agreed! Hear some of the educational, interesting and unique program. Through the advances of modern technology since the Stonewall Era, you can now also hear Willson -- in his inimitable, laid-back yet precise for interviews style, flavored with a Brooklynesque spice. At Willson's suggestion, BBC introduced the piece with a background song from the original late 1960s Stonewall Club. BBC chose which song; unknowingly one of WLH's all-time, favorite Stonewall songs at: www.BBC.co.UK/iplayer/WillsonHenderson/p0087s22
*

=Willson Henderson Hosts SVA's 42nd Annual Conference & Reunion=
For "Stonewall-42", Willson L. Henderson, like nobody else could, produces, directs, manages, promotes and hosts the STONEWALL Veterans' Association's "42nd Annual S.V.A. Conference & Stonewall Rebellion Veterans Reunion" at the New York City Gay Community Center at 212 West 13 Street off Seventh Avenue in Greenwich Village, Manhattan from 4:15 p.m. to 7 p.m. It is an exciting time and a unique event. Highlights always include the testimonials of former patrons of The Stonewall Club, actual veterans of the Stonewall Rebellion, appearances by public officials, GLBT organization guest speakers, Marriage Equality spokespersons and the surprise arrivals of old and new friends! Entertainment is a must for Williamson, so he provides the enjoyable and original "Songs of The Stonewall" featuring most of his favorite singers including Diana Ross, Michael Jackson & The Jacksons, The Shangri-Las, Frank Sinatra, Barbra Streisand, Frankie Valli & The Four Seasons, Martha Reeves & The Vandellas, Marvin Gaye, Shirley Bassey, The Beach Boys, The Marvelettes, Chris Montez, et al.! For much more 411, visit June 2011 at: www.STONEWALLvets.org/SVA_Events_2011.htm
Willson is actively involved in the Marriage Equality movement in New York State. Wherever he attends or speaks on this subject, he has yet to find anyone who has promoted Gay Marriage anywhere as long as he spanning four decades. In his unwritten remarks, he educates and inspires the audience or the public official that Gay Marriage started at the second through fourth nights of the 1969 Stonewall Rebellion. One of the popular signs besides "Gay Power" and "Gay Rights" was "Gay Marriage" and there were many of them! With a Master's Degree in Political Science, it is relevant and easy for Willson to explain why Marriage Equality is guaranteed in the U.S. Constitution under the provision of "equality"! At the beginning of Gay Pride Month 2011, Willson attended and spoke at Marriage Equality in New York symposiums, press conferences, forums, rallies and meetings and spoke at all of them effectively promoting Gay Marriage. The S.V.A. and MENY co-sponsored one of the events in Manhattan. Willson's passionately delivered closing remarks is paraphrased as follows: "In the state that I was born and the state that launched the largest civil rights movement in the World -- the historic Gay Stonewall Rebellion in Greenwich Village on June 27 through July 3, 1969 -- it is statewide embarrassing, legally wrong and socially shameful that 42 years later that the truly great state of New York, also known as "The Capital of The World", still has not provided equality to ALL of its American citizens.... equality to get married! When do we want it? Now! Gay Marriage! Equality!" On Friday, June 24th, late evening of Gay Pride Weekend, the State of New York Senate at last voted in favor of Marriage Equality, joining the NYS Assembly which has approved Gay Marriage five times over the years! Governor Andrew M. Cuomo, who knows Willson over three decades, quickly signed Marriage Equality into law that same night! The very next celebrating day of "Dancing In The Street" in New York State, Willson proudly hosted the STONEWALL Rebellion Veterans Association's three-hour "S.V.A. 42nd Annual Conference & Stonewall Veterans Reunion" in the top-floor auditorium at the GLBT Community Centre in Manhattan, New York City!
On the New York State Gay Marriage front and center, once same-gender marriage was signed into law on June 24th, Willson L. Henderson and his Partner registered for a marriage license on the first eligible day, July 5th! (There's that "5" again.) On July 19th, Willson and his partner entered the New York City Gay Marriage Lottery to be married on the first day that the new marriage law takes effect! Because of the literally overwhelming response for Gay couples to be married on that historic day, July 24th, a NYC lottery was thoughtfully created so that no Gay couples would be disappointed on that very special day. On July 21st, Willson and his partner received a happy call from Mayor Michael Bloomberg's office that they won! Willson whipped out the Phil Spector Artists Box Set to play (Gay) marriage songs like Darlene Love's "Today I Met The Boy I'm Gonna Marry", The Crystals' "And Then He Kissed Me (And Always Be Right By His Side)" and, of course, Ronnie Spector & The Ronettes' original version of "Chapel Of Love"! Considered a high-profile Gay couple, a profile story was done on them for Marriage Equality in several media including "Newsweek"! Who's the intended spouse?
www.TheDailyBeast.com/galleries/2011/07/23/New-York-Same-Sex-Marriage-Four-Couples.htm
* * * * * * * * * * * * * * * * * * * * *
=====
"
Williamson Henderson
"
is a Screen Actors Guild member for 5 decades=====

* * * * * * * * * * * * * * * * * * * * *
=====Willson Hemderson does segment interview commentaries yearly=====
Here's one regarding Oprah Winfrey: Is she Gay or isn't she?
www.NYPost.com/news/Oprah_sets_the_record_'straight'
Willson firmly believes that Oprah is Gay (with 20-plus-year girlfriend Gayle King) or, at the very least, bi and for some reasons(s) keeps it a secret. "Oprah and Gayle is a wonderful and enduring relationship to be proud of in anyone's book! Why leave a significant part of it out of the success and as an inspiration for others? Remember when some people didn't think that President James A. Buchanan, Rock Hudson, Johnny Mathis, Michael Jackson, George Michael or Ricky Martin were Gay? Next up: a Smith named Will!"
* * * * * * * * * * * * * * * * * * * * * * * * *
Willson Henderson helps The Bronx, N.Y., Gay Community Center
To help make their "2012 Gayla" fund-raising party success, The Bronx Pride Committee reached out to Stonewall veteran Willson L. Henderson. As director of the S.V.A., he also has a long track record of promotion and visibility in The Bronx. Back when The Bronx used to have Gay Pride parades (1998 to 2002), they were all led by Willson and the S.V.A. with the 1969 "Stonewall Car". To help get things back on track, Willson agreed to be on the Bronx Pride Host Committee. True to form, WLH presented creative ideas and actually did things. He also personally edited and proofread the "Gayla 2012" commemorative journal -- including letters from public officials. Willson's business Proofreaders Unlimited has a full-page ad in the journal. As a direct result of that, Willson subsequently placed a dozen G.L.B.T. people in jobs in NYC as legal proofreaders!
www.NYRealEstateLawBlog.com/2012/03/Bronx GLBT Gala in Manhattan.html
* * * * * * * * * * * * * * * * * * * * *
=Willson Henderson Hosts annual "Stonewall Showtyme"=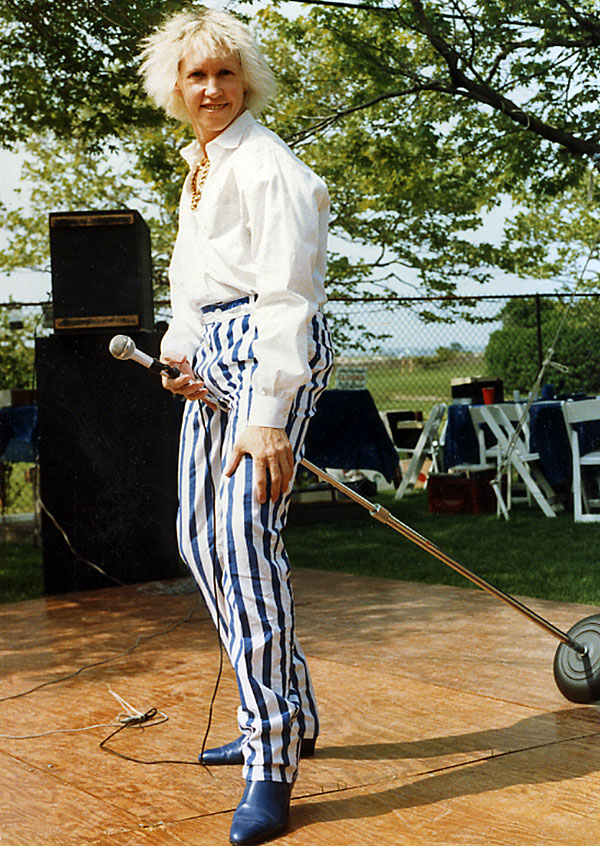 Vintage photo of Willson Henderson hosting an S.V.A. show!
The photo evokes success, creativity, style, humor and fun!
It is one of his favorite photographs out of over 1,000.
[Photo by Kevin "Rockwell" O'Neill]
* * * * * * * * * * * * * * * * * * * * *
=====2013=====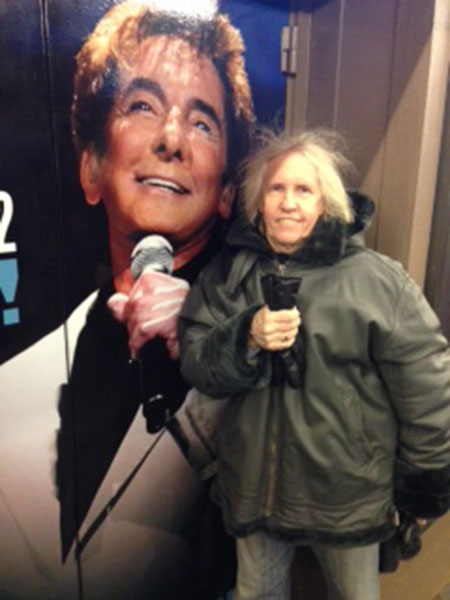 Willson attends Barry Manilow Show on Broadway
[Photo by co-attendee AnDre M. Christie]


* * * * * * * * * * * * * * * * * * * * *


*


Coming soon in the Spring of 2019: A vintage, red-hot
revealing beach photo (never-before published) of

Willson

!





* * * * *

=Willson Henderson interviewed in New York Post re: Bisexual Guys=

In a series of interviews with Willson Henderson over the years, reporter Andrea Peyser of the New York Post contacted him on her latest informative and revealing article relating to the GLBT communities: Bisexual guys! This is a subject that Willson knows very well since he was a bisexual youth in high school and, especially, in college which was accompanied with going to Gay clubs which always had a high percentage of bisexuals. In this article, it re-introduces "Willson Henderson as the founder of the STONEWALL Rebellion Veterans Association whose members launched the modern Gay rights movement in 1969". The story "Bi the way..." is mostly about celebrity males who acknowledge that they are bisexual but do not fully come out as Gay. Willson's reaction was "Nonsense!" to guys who are bi but claim straight. "I believe that every guy has it in him" to be bisexual, said Henderson, who lives with a man who fathered two children by two (different) women during their 10-year union. "It doesn't bother me at all. If he went with a male, there'd be a serious problem." Chirlane McCray, the 20-year wife with two children of current New York City Mayor Bill De Blasio, who both know Willson and his 'partner', i.e., boyfriend, for a decade, is mentioned in the piece as a former bisexual. In the telephone interviews, WLH interestingly explained to the Post's Miss Peyser how virtually all of his boyfriends over the decades were bi and, some, in fact, were straight until they met! The last time that he went with an out-and-out Gay guy was in the Stonewall Era!
NYPost.com/2014/01/13/Gays-should-embrace-not-mock-Bisexual-Brit


* * * * *




=Willson Hosts the SVA's 45th Yearly Conference & Stonewall Vets Reunion=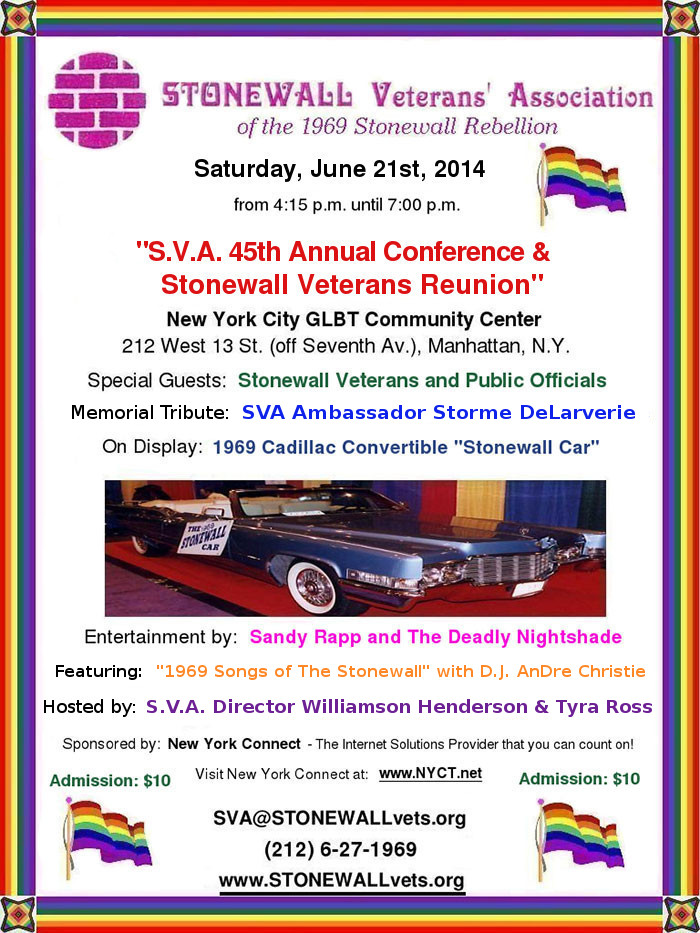 * * * * * * * * * * * * * * * * * * * * *
Willson Henderson Emcee'ing a STONEWALL Rebellion Veterans Association Conference

An S.V.A. annual event is hosted by SVA's elected director Willson Henderson
STONEWALL Veterans' Association * S.V.A. Board and Executive Committee

*


Willson L. Henderson profiled in The New York Times series "NYC Character Study"

Read the newest, interesting and revealing article on Stonewall veteran and G.L.B.T. leader

Willson L. Henderson

("WLH"). The comprehensive story spanning several decades is by The New York Times seasoned (twenty years) investigative and feature reporter

Corey Kilgallon

. He did the five interviews on separate occasions including at WLH's office, via recorded telephone conversations, at WLH's office, on location with the classic 1969 convertible "

Stonewall Car

", via many e-mails and even at WLH and his partner's home! The reporter, who got to meet Willson and his partner's two beautiful Siamese cats, described their apartment as on the top 42nd floor of a residential skyscraper and commented on their long deep red leather sofa and dark red broadloom. Relating to the beginning of the story, Willson proudly pulled out his original and eye-catching modeling portfolio from the late 1960s and his acting portfolio from the 1970s. WLH is still an active member of the

Screen Actors Guild

("SAG"). Speaking of Hollywood and other SAG members, the well-written and encompassing story mentions Willson's references to Joan Crawford, Lana Turner, Judy Garland, Elizabeth Taylor and Diana Ross. And musically, citing The Supremes in the Stonewall Club jukebox! The NYX pulled out all-the-stops to make this multi-faceted interview comprehensive, interesting and accurate.


www.NYTimes.com/2015/06/07/NYRegion/a-Defender-of-STONEWALL-and-Himself.htm=section-news



*


Newest "STONEWALL" movie has Willson Henderson as Consultant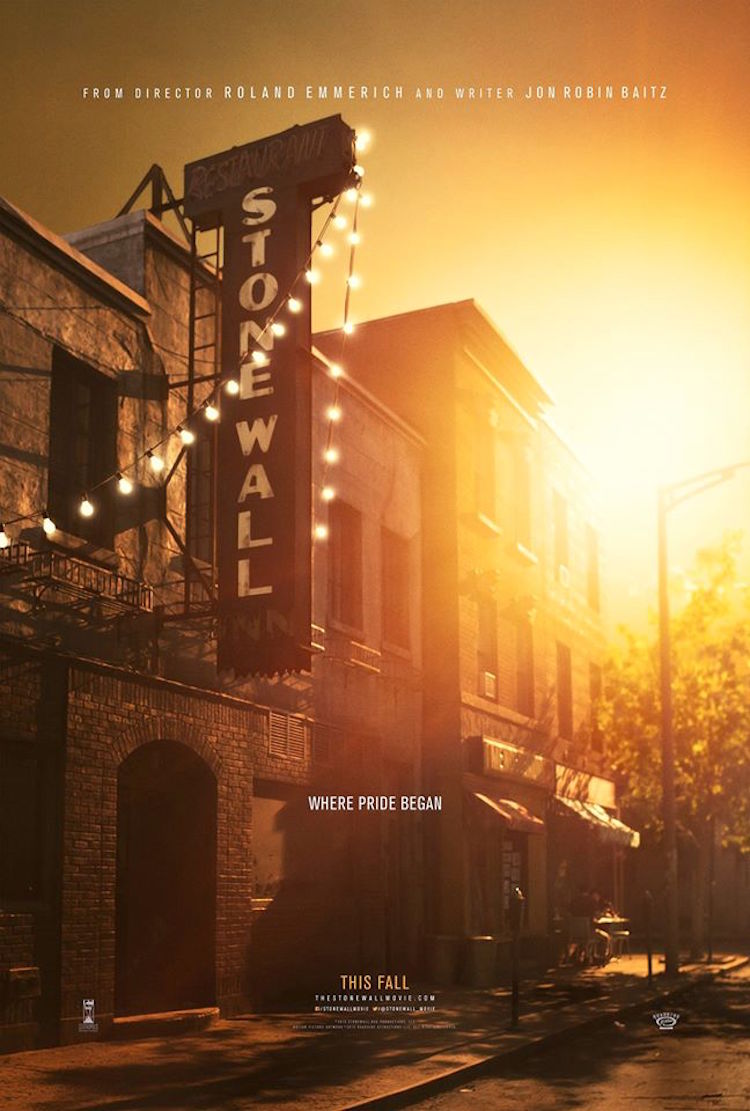 Incredibly authentic and reminiscent poster from set of "STONEWALL" movie
www.StonewallVets.org/Stonewallmovie.htm




Willson L. Henderson

is uniquely, the only 'Stonewall' consultant on both the original "

Stonewall

" movie in 1996 and the much-expanded and bigger budget "

STONEWALL

" film in 2015. The film companies, for authenticity via the

STONEWALL Rebellion Veterans Association

and for accuracy, Willson, had to rely on former Stonewall patrons who were at The Stonewall Club frequently, were not alcoholic with diminished memories, have an excellent memory for detail, were not drugheads with scrambled brains and were present spanning a long period of time. In this case, that was 1966 when the Stonewall bar opened until the very end of 1969 when the club closed. During the entire fact-gathering for the film, there were several in-person meetings with the director

Roland Emmerich

and various film producers and other key personnel such a set, wardrobe, hair and prop directors. Willson inclusively arranged for several other actual Stonewall veterans including, but not limited to,

Jeremiah Newton

,

Bill Salzman

,

Leigh McManus

,

Rusty Rose

,

Bert Coffman

,

Ray McCaffrey

,

Ruthybird Campbell

,

Jitters Greenfield

,

Ramon Bellido

and

Joani Sobel

and the SVA's civil rights counsel

Hally Weiner

to be present and provide factual input. He even arranged for an original NYCPD Sixth Precinct Stonewall cop

Frank Tuscano

. The movie is unquestionably powerful, greatly-directed, informative, well-acted, super-filmed, illuminating, emotional, sharply-edited, authentic and unforgettable!

*

Willson L. Henderson Moves Up to S.V.A. Chairman

At the annual

STONEWALL Rebellion Veterans Association

(S.V.A.) gathering of S.V.A. officials and members, the founder of the S.V.A. and its current director,

Willson Henderson

, was unanimously elected ads the new S.V.A. Chairman. The secret S.V.A. Chairman for decades was Willson's longtime friend and mentor Congressman and Mayor Ed Koch. "Ed was fully on board (pun intended) in all ways and ready if needed to divulge his real S.V.A. title in addition to the publicly-stated and widely-printed "S.V.A. Honorary Male Chairperson". For the past couple of years since the mayor's passing in February of 2012, the S.V.A. had a series of 'acting' chairmen. Appropriately, the "Stonewall Veterans Return to The Stonewall Inn", the public name of the event, happened at The Stonewall in Greenwich Village, NY. Willson described it as a "kinda homecoming" but pointedly acknowledged the change of ambiance and tributed the loss of so many former Gay patrons and friends of the club, including subsequent S.V.A. officers and members. WLH's longtime boyfriend was popularly present and, later, he drove home a few of the S/W-vets in his new car. Several Stonewall vets and supporters spoke from the microphone on the little stage. The official voting for S.V.A. Chairman-of-the-Board was unanimous in electing Willson with two 'l's!!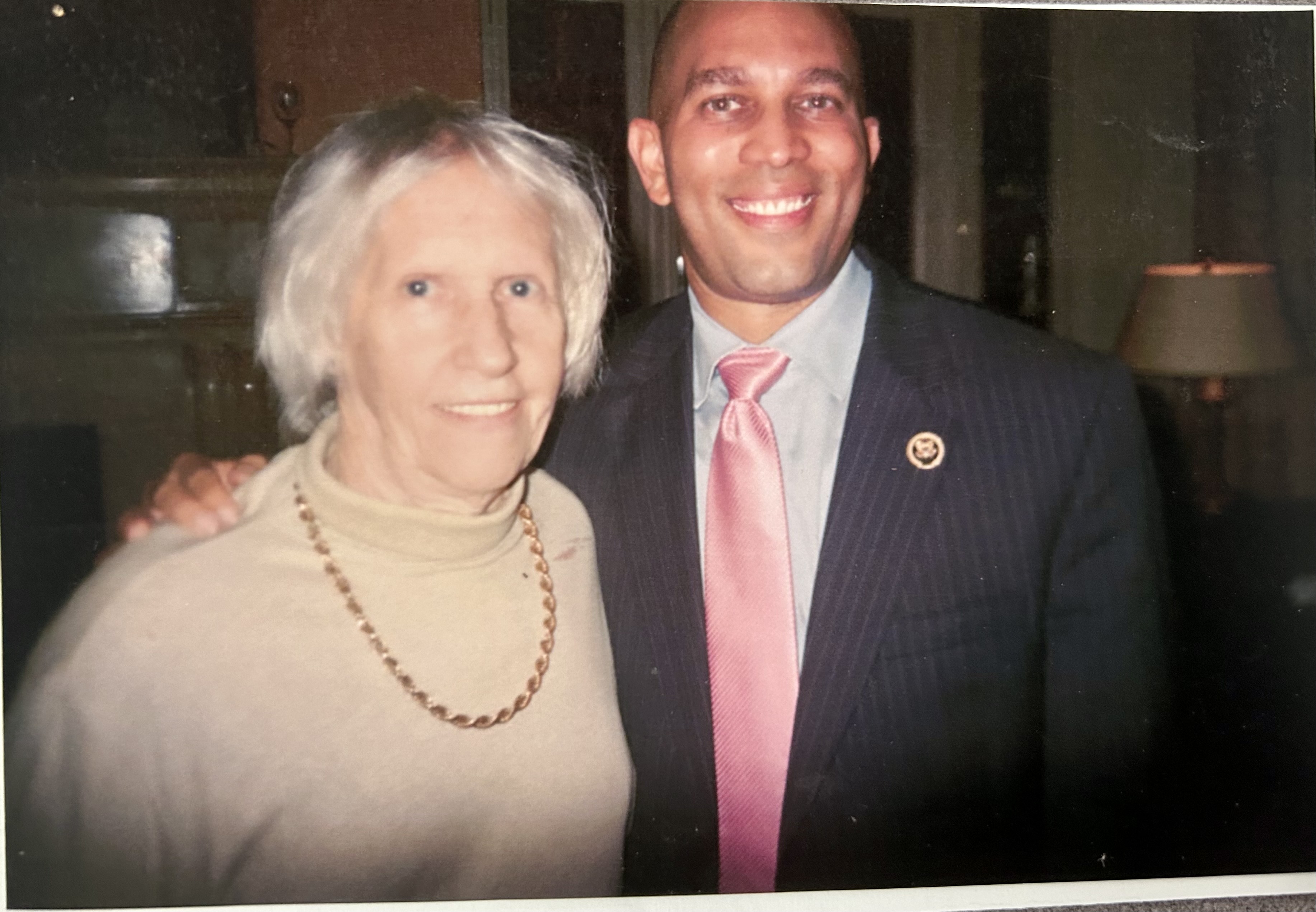 STONEWALL Rebellion Veterans' Association director Willson Henderson with
Brooklyn Representative and Congressional Minority Leader Hakeem Jeffries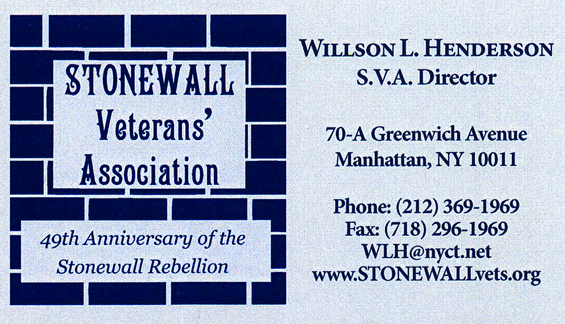 To contact Willson Henderson for S.V.A. 411 or interviews, e-mail S.V.A.
at SVA@STONEWALLvets.org or telephone S.V.A. at (212) 627-1969.
For personal contacts, high school classmates, out-of-touch friends,
college alumni, former employees, or ex-intimates, e-male Willson
at WLH@nyct.net or call WLH at his NYC office at (212) 369-1969.
If you receive the voicemail, simply leave a message with your call-back phone number.
*
=Willson Henderson Presides over the SVA's Special Events and Monthly Meetings=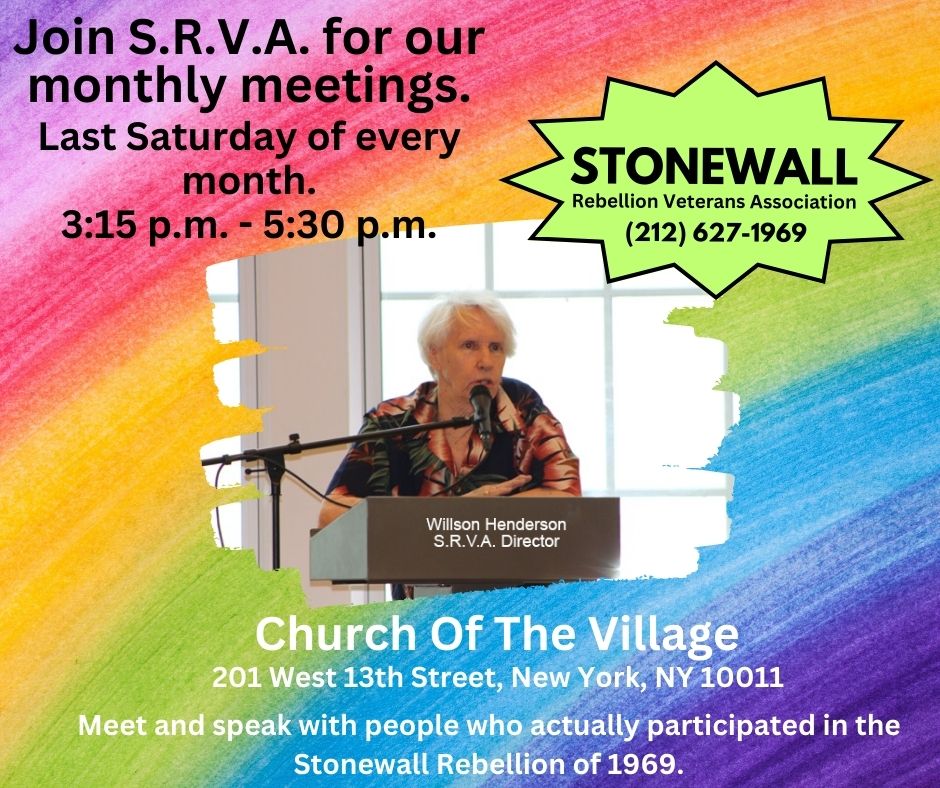 S.V.A. flyers are designed by Leticia Remauro of The Von Agency or Kush Malik from Kush's Pixels

*
To view a biographical nutshell of Willson on-line, visit:
www.Zoominfo.com/People/Henderson_Willson_34131160
*
WLH's Boyfriends!!!!!!!!!!!!!!!!!!! His "Top Twenty" Favourites

Willson Lee Henderson recognizes the fact that he cannot and does not wish
to place all of his boyfriends -- and several others not mentioned -- in order
of importance; however, Willson shall proudly and passionately mention all of these
special guys with endless great experiences, adventures and memories, alphabetically:
David Raphael Ali*, Farrell Jeante Armstrong, Jed E. Davis, Gregory Lee Demps,
Joey A. Destio*, Emile A. Griffith*, Ross D. Holloway*, Jon Jay Lux, Marlon W. Hunter,
Eldon R. Johnson, Brian M. Molese*, Kevin 'Rockwell' O'Neill, Gilbert 'Gil' Pettis, Tommy L.
Salliendo*, Michael Ira Swerdlow, Darren Prince Taylor, Michael Dallas Toney*, John Robert
Watts, Jr., and, lettuce not forget the 'DRWs': Donzel Ray Williams and Duran Rey Wilson!
* Note: As of this printing, sadly to WLH, at least eight are known to be deceased (*).
One is buried in the
Henderson
Family
plot at Holy Rood in Westbury, Long Island, N.Y.


5th March
2023

Original STONEWALL Club Jukebox Song:
"I Can Hear Music" by Ronnie & The Ronettes


*

===== 2022: 53rd Anniversary of the NYC Stonewall Rebellion =====
[Friday night, June 27th ~through~ Thursday evening, July 3rd, 1969]

*

Remembering Mrs. Helen A. Henderson
24th November 1921 to 13th November 2012 @ 91






===============================================



Reflections

of

...

The

Stonewall

Era


title inspired by the #1 Motown song "

Reflections

"
(

Reflections of... the

Gay

Life Used to Be)


by

Willson L. Henderson





In the incredible year that the ~original~ Gay

STONEWALL BAR & DANCE CLUB

opened to kick off the exciting new year in January of 1966, AVON chose ME as the boy with "the most stylish American hairstyle" -- after they conducted a much-publicized national campaign! The top model agency for youth, which I was exclusively contracted to for many years, WILLAM SCHULER AGENCY of New York, NY, and Los Angeles, CA, and my personal acting career manager, KUNO SPONHOLZ, both thought my "hair was too long" (code words then for "looked Gay"). KUNO, bi the way, with an authentic German accent, was a character actor in movies and Gay himself! Whatever happened to that fag-hag actress that I met through KUNO, whom I called SUNNY? Anyway, much to everyone's surprise, especially mine, I won the hair contest with my hairstyle! In other words, "Mr. Straight All-American Boy". Butt... MARY, I was rather secretly tres Gay, Mon Cherries. School, commercial modeling and going to Catholic church on Sundays were just the "Daytime ME".

Nighttime -- with all of my Friends (strait, bi and Gay) and my Boyfriend(s) -- was the real ME, especially "livin' for the weekend". On Friday evenings, in particular, this (usually) blond, crystal blue-eyed, Gay boy, with a naturally smooth and sexy chest, perfect skin, great teeth, melting smile, seductive walk, 27" waist, pronounced derriere and Hollywood hair (regardless of color), motored out of LONG ISLAND and into "THE BIG APPLE". Even the name of the 25-cent toll tunnel was/is Gay: "QUEENS MIDTOWN". Alllllllright!

A few Gay comrades (very suburban high schoolish) drove with ME in my brand-new, metallic blue 1969 CADILLAC convertible with white, leather, power, high-back with head-rest seats; wide, whitewall tires; an attention-getter and, of course, the convertible top was "D-O-W-N". The main idea was to be seen and, trust me, we were! There is no better American car to catch boys with than a CADDY ragtop -- with the top down! This classic and dreamboat car since the STONEWALL REBELLION became known as the "STONEWALL CAR" -- and I still have it for that very Gay and historic reason (and 'always will so long as we both shall live').

ZUCKIE (nee ZUCCI), co-owner with MARIO TOMASI and FAT TONY, gladly greeted us -- especially ME -- at the solid, carved wood, castle-like door at THE STONEWALL. Originally, it was a British, pub-type inn and it still had (and has) that intriguing look. He really liked ME ("fresh chicken") and he unabashedly loved my CADILLAC ("a dreamboat"). EDDIE MURPHY, middle-aged gay guardian of the gate was too frantic for me and, besides, he preferred the "trashy" and fringe boys. To ME, he always embarrassingly announced that "You little, under-aged, rich boys are gonna get this place busted one day". "Rich" meant that we arrived in a car not via subway or bus -- nor on foot.

We also went to other Gay clubs, such as, THRUSH, near the famous Flatiron Building just east of Broadway at 18 East 22nd Street, where I also was earlier the evening of Friday, June 27, 1969, before returning to THE STONEWALL in time for the invasion; DR. FEELGOOD'S on Waverly Place at MacDougal Street in the gay-ly tricky HOTEL EARLE (and trust me, 'the doctor' did make you feel good); THE HAVEN across the street from The Stonewall at Sheridan Triangle on Grove Street (a little hectic): THE GRAPEVINE (drag queen fun in midtown Westside); NINTH CIRCLE (though it was on West 10 Street and very promiscuous -- too aggressive for me); KOOKY'S (gals from the Isle of Lesbos galore and whose SHELLEY WINTERS/BABY JANE HUDSON-combo owner gave "fruits" (sic) a hard time to get in but not ME because I was "so sweet" and, moreso, was always entering with her dreamgirl, SONIA JANE ATTKISS); and, after hours, THE GOLD BUG (2 late nite and 2 druggy), THE TWELFTH OF ALWAYS (2 ditto) and TELE-STAR (3 ditto), among many others. I recall rarely visiting WASHINGTON SQUARE -- the club not the arch -- on Broadway and Third Street in the East Village with SONIA and DEE DEE CROCKETT. However, THE STONEWALL was always our first stop with the car parked within view of the club on Christopher Street for the entire evening and into the night. STONEWALL was typically our loyal, return stop -- as it was on Friday night, June 27, 1969, after midnight. That night we never got to the 24/7 HOWARD JOHNSON'S RESTAURANT (luved the ice cream) at the corner of Avenue of the Americas and West 8th Street. Up the street on West 8th was the downstairs Gay nightclub BON SOIR. Meow, as in "Cry Me A River" BARBRA STREISAND.

Everyone at THE STONEWALL CLUB was so gay-ly alive. It was fascinating, real, living Gay theatre. A documentary, ensemble play, docudrama, musical or film could have been staged there any night of the week -- and without a script! Every time I went to THE STONEWALL, once inside, I instantly had the simultaneous triple feeling of happy, safe and fun (about to begin). At "THE WALL", we had our own cast of inimitable characters (and support players) with a Gay variety of attire. THE STONEWALL, like most Gay clubs, had its individual atmosphere and its own feeling. It was a full-people mixture of Gay, bisexual, straight and closet-case; white, beige, brown and black; Christian, Protestant, Jewish and atheist; male, female, D/Qs and D/Ks; teens, 20s, some 30s, few 40s plus; all classes (lower, all levels of middle and I suppose some undercover upper class) and pot luck stew of every role imaginable. Besides my blue CADILLAC convertible, I was also known to arrive in bad boy BRIAN MOLESE's canary yellow 1966 IMPERIAL Crown convertible or PATTI STONE's bright red 1967 CORVETTE Stingray convertible (that her father IRVING bought for her). From Memorial Day weekend forward, FIRE ISLAND was a frequent destination. I know that JOHN WATTS, STANLEY DUNNE, PATTI STONE, a black college girl named DYANE WINDSOR and I were there a few times in 1969! We all have wonderful pix from F.I. In the summertime, the I-won't-take-no for an answer BRIAN sometimes snatched me in LONG BEACH, LI at my MOTHER's ocean-front home (his parents live on Guy Lombardo Boulevard -- kinda I-talian -- in FREEPORT, also in LONG ISLAND) and he'd speed-drive us out to the Gay resort of CHERRY GROVE. He thrived on isolating ME from all of my friends. Nonetheless, whenever possible, ELECTRA O'MARA from the city and I from the suburbs would rendezvous out on "THE ISLAND", as it is gay-ly and inanely called, actually referring to (Gay) FIRE ISLAND.

I made many friends at THE STONEWALL CLUB with all types of interesting people, including "fag hags" (though I usually brought my own from high school with me). In fact, it was a combination of suburban/urban friends that loosely created the IMPERIAL QUEENS OF NEW YORK (& LONG ISLAND) circa Halloween 1968 and officially on New Year's Day 1969. Its seven charter founders included Blond, Irish, Jewish, Italian, Hispanic, and Black. It was a multi-faceted group integrated literally via THE STONEWALL.

I met several celebrities there, too, or should I say, that they made sure to meet ME. There was a popular New York City local soul group, TOP SHELF, who matchmaker SONIA introduced to me (at his request) the hot lead singer, REGGIE McCOY, who was a 10%-er bi, good looking and very sexy (our special fire was star-crossed and burnin' like a "HEAT WAVE" yet very short-lived as we were both already 'married'); a start-up rags designer (I don't have a 'type' but he's not my 'type' yet his un-shy, polite, complimentary opening sentences such as "You are very cute!" and "Do you wanna dance?" caught my Gay ego attention) named RON, who 'apparelly' became a men's clothing designer (with an Iranian-type last name ending in "ian" or "kin") and was gay-ly referred to as (I guess because of where he shopped) "MISS BLOOMINGDALE" (only one half-date or less with that too boring for ME); an exciting -- and excitable -- entertainment field Mafia guy who had even been singing group JAY & THE AMERICANS' "manager", BRIAN MOLESE (of Guy Lombardo Boulevard in Freeport, L.I., by the scenic canals missing only the gondolas) -- the first really wild guy that I went with but definitely not the last, oh, no -- called "MR. IMPERIAL" as he owned an IMPERIAL convertible (I was the last to find out that he was mob-connected and all the "GALZ" gasped that I got him without even trying and that I could handle him -- last I heard, he and a new Gay lover were shot in GREENWICH VILLAGE, but not to death, by an ex-cellmate of his known as MAD DOG SULLIVAN); a very tall (as I recall), older (much 2 old 4 me), wealthy, Jewish, hot-shot entertainment lawyer, introduced to ME by my best Gay friend STEVEN "KAYE" KONIGSBERG from QUEENS, with definite business ties to THE BEATLES and singer CILLA BLACK, et al. and rumored to have other 'ties'... NAT WEISS, who had a big, luxurious UPPER EAST SIDE apartment (East 77th?) who held lavish, all-male, fascinating parties which included, among other name names, the entire singing group THE CYRKLE ("Red Rubber Ball") -- but, for ME, he was another "right track, wrong train"; an Irish cop "KEVIN" from DA BRONX who to ME was drop-dead gorgeous, "straight" (that's exactly my 'type'), flawless looks and nice appointments (dieingly dumped by ME after I was bluely informed that he was married -- with a 3:00 a.m. call from his wife cryin' and beggin' and my MOTHER HELEN asking, "Why is a woman calling you at this hour?"); the very Gay half of HINES & HINES dance duo, MAURICE (his celebrity brother is the un-Gay GREGORY, who I'd get to know years later via the S.V.A.); and my favorite STONEWALL celebrity, unquestionably the best-built with the biggest... and the best... EMILE A. GRIFFITH, JR., a six-time middle-weight and welter-weight boxing "Champion-of-the-World", as we dated heavy post-STONEWALL and I attended with special attention his big MADISON SQUARE GARDEN boxing matches, family events, Gay clubs, concerts, etc. and we are still in contact to this day! In fact, recent NEW YORK DAILY NEWS boxer ratings placed EMILE a notch above heavyweight boxing champion MUHAMMED ALI! The most famous celebrity to go to THE STONEWALL (who I personally never happened to have the thrill to witness) was confirmed by TERRI VAN DYKE, JEREMIAH JAY NEWTON, BILL MIRANDA SALTZMAN, et al. She arrived very late at night and in disguise with a guy's poor boy-hat and Carnaby clothes and granny glasses: the inimitable JUDY GARLAND! Remember the #1 pop music hit and unique STONEWALL song: "JUDY IN DISGUISE (WITH GLASSES)"?

After JUDY GARLAND's funeral that Friday, June 27, 1969, right here in MANHATTAN, NEW YORK, at FRANK E. CAMPBELL'S "CHAPEL", there was a tremendous outpouring of sympathy, a lot of strong and sad emotion and a deep frustration in the warm air. A legend, a talent and, to us GAYS, a friend and inspiration was lost. Plus, school was out! ALL schools were "OUT"! People, especially Gays at this time in history with all of the civil rights movements, were feeling our oats. "Coming out" and "standing up" were growing. One #1 song was literally named "STAND!", by the mixed gender and multi-racial SLY & THE FAMILY STONE.

Raid rumblings rumored that infamous hot, hot summer night when THE STONEWALL CLUB quietly spread word to a select some that "there might be a quick raid but no problems". The detectives, the vice squad, the liquor authority, the state fuzz, the local cops, ultimately the tactical patrol forces and whoever else the authorities had that night picked the wrong time (1 a.m. Gay time) and the wrong place (Gay club) and, for sure, in the wrong section - Gay GREENWICH VILLAGE - of the wrong city (Gay MANHATTAN of N.Y.C.) for any further Gay oppression. A cop named "KEVIN" who had "nabbed" ME before in and out of THE STONEWALL zoomed right to me inside the club and I knew that I would be held -- he told ME! Yet, I felt comforted thinking that I'd be protected by him. My scuffle occurred outside the club once I scented an opportunity to break away and escape. After a little scuffle, I momentarily broke loose but with "nowhere to run, nowhere to hide" (a prior #1 song by MARTHA REEVES & THE VANDELLAS) was surrounded by 3 cops: an un-uniformed big brute who tackled and pulled me down, a neutral, dumbfounded, uniformed 'dick' and, of course, the sympathetic NYCPD cop. "Everybody knows" STORME DeLARVERIE was right there! He was watching my scene and yelled for the cops to "Leave that young boy alone!" STORME had to soon respond to his own self-defense scene with a cop. With things quickly escalating, I then revealed that the blue 1969 CADDY convertible was mine. My car (my baby) was therefore then illegally "impounded" by the NEW YORK CITY POLICE DEP'T. It was driven to the 6th PRECINCT by guess who -- no, not ME. I was first taken to the emergency ward of ST. VINCENT'S HOSPITAL on Seventh Avenue and West 11th Street with a shoulder injury, 'escorted' by, not one but, two cops!! Then to the old 6th PRECINCT police stationhouse on Charles Street early the next morning, where I was rather intimidated and insulted as well as finger-printed and mug-shotted. That's the place where the desk sergeant sarcastically asked, referring to ME, "Is it a him or a her?" Trust ME, he should have known that I wasn't interested in anything that looked like him -- or "it"! I was also 'interrogated' there like I had orchestrated some big 'riot' (which it wasn't) at some freak sexual snakepit (none of that) or was involved in some conspiratorial "Revolution", a popular song by THE BEATLES at THE STONEWALL CLUB. Those are just some of the scarey impressions that I got from some of the NYCPD COPS. Ultimately, I was driven downtown with two other cops in a bubbletop police car to THE TOMBS (jail), where I was held until late that Saturday evening for night court. Guess which gal (mentioned somewhere above) -- and her parents MAX and HELENE -- I had meet ME there? My "Stonewall" case was called after midnight!

"Rebellion, Riots and Ruins" (the name of a political book) are not, however, the main ingredients of what is uppermost on my mind and memories when I think of "THE Original STONEWALL CLUB". It was the place itself, the location, the music, the ambiance, the dances, the clothes, of course, the gaity, and, mostly, the people.

ROBERT J. ALBANO, SONIA J. ATTKISS, LEROI N. CARR, 'King' STORME DeLARVERIE, 'PAPA' JEAN DEVENTE, STANLEY M. DUNNE, CHRISTOPHER B. FALCO, DREW A. HOLBROOK, MARSHA P. JOHNSON, STEVEN M. KONIGSBERG, ELECTRA J. O'MARA, BRIAN M. MOLESE, TERRI J. VAN DYKE, ADRIENNE M. SEIDEN, DAVE LaMANNA WEST and EDDIE J. WRIGHT would be hurt if I did not miss them and mention them herein.


"Proudly Yours", forever,

WILLSON LEE HENDERSON
STONEWALL Veterans' Association
("REFLECTIONS of...
THE STONEWALL ERA",
originally written in 1974,
5th Anniversary Stonewall,
for The Village Voice)

Updated: 30 June 2020

Endnotes: This original article in its original form, with only minor additions as more happenings were recalled, actually ended in the middle of the tenth (last) paragraph with the word "people" (as in Barbra). In 1979, the Gay Stonewall Rebellion's 10th anniversary, after unofficially starting Proofreaders Unlimited, Ltd., later that year, Williamson finally 'proofed' his own article! The "Names Tribute to Personal Stonewall Friends Lost" was added in 1984 (after three had died), when the article was re-published on the 15th anniversary of the Stonewall Rebellion and again (after the loss of a few more to AIDS) in 1989 on the 20th "Stonewall" anniversary, when it was submitted to be excerpted in the New York (Gay) Native newspaper in the "Stonewalled" feature column. In 1994, on the international "Stonewall 25" anniversary, the tribute was updated again. And, so it will go.... A New York City newspaper is still interested in having the "Reflections of... the Stonewall Era" article by Willson Henderson expanded for a feature "Gay History & Pride" story. After a half-century since the Stonewall events, updated the 30th of June in 2020 This year we lost

Willson's 2nd favorite theme song -- then and now: "

Reflections

"

(You can now hear the song and read the posted WLH commentary.)



---

Willson's All-Time Gay Favorite Movies (as of Stonewall 1969):


"

All About Eve

" (1950)
.......starring Academy Award-winning actress Bette Davis in a tour-de-force as the inimitable Margo Channing who is an aging yet powerful, effective and glamorous stage actress (those facts already makes this film a Gay teaser) opposite a sneaky snake, envious bitch, congenital liar, back-stabbing, trouble-making, double-dealing, acting-wanna-bee Eve "Evil" Harrington in the most Oscar-nominated movie ever!
"

Mildred Pierce

" (1945)
.......starring the definitive Joan Crawford in her unforgettable Academy Award-winning role which started with her making cherry pies at home to ultimately owning a chain of popular, money-making restaurants with a greedy, unsatiable, scheming, bitchy daughter Ann Blyth as Vita, who even stole her mommie's man Monte (he gets his) and a memorable, ultra-dishy supporting role by hilarious Eve Arden.

Mildred

Note

: A whopping 65 years later in 2010, Hollywood is remaking "Mildred" as a televison mini series starring capable Academy Award winner Kate Winslet ("Titanic")!
"

Madame X

" (1966)
.......starring beautiful and riches-to-rags Lana Turner married to a wealthy politician John Forsythe with a scheming mother-on-law Constance Bennett in a riveting, victimized, tragic, multi-changing ultra-Lanaish performance replete with a super-emotional 'twist' (enter Keir Dullea as her grown son) which didn't leave a dry eye in the entire theatre or after the end!
"

A Star Is Born

" (1954)
.......starring the Oscar-nominated, incomparable acting and passionate singing Judy Garland in a monumental showcase vehicle for Judy's great multi-talents in a tailor-made role as an aspiring talented showgirl en route to movie actress #1 Esther Blodgett (oy, what a name!) while she is bittersweetly married to an alcoholic, paranoid, increasingly problematic, desperately depressed fading movie star (James Mason) and she performs such unforgettable musical numbers as "The Man That Got Away" all the while as the film powerfully indicts the entire entertainment industry for callousness and, in the end, star Judy professionally, emotionally and socially triumphing with her Academy Award statue-of-strength held high declaring: "I... am... Mrs.... Norman... Maine!"
"

Whatever Happened to Baby Jane?

" (1962)
.......starring the ultimate female film duo of way-over-the-top, Academy Award-nominated Bette ("Baby Jane") Davis and bed-ridden Joan ("Blanche Hudson") Crawford as the notorious -- then and now -- Hollywood Hudson Sisters.
"

The Postman Always Rings Twice

" (1946)
.......starring the very hot, fiery, sexy duo of Lana Turner, who is the stunning, femme fatale, blonde bombshell Cora, and John Garfield, who is the handsome, strong and brooding drifter Frank -- who meet when she deliberately drops her tube of lipstick which seductively rolls his way -- and the instantly subsequent and compelling intrigue of lust and deceit and romance and schemes and adultery and crime and obsession and murder and car crashes (planned and accidental) and double-dealing and trust-too-late -- all with the erotic movie tag line: "Their love was a flame that destroyed!"
"

Gone with The Wind

" (1939)
.......starring the brilliant, determined, beautiful, talented and Academy-Award-winning 'Best Actress' Vivien Leigh as the dexterous, willful and gorgeous Scarlett O'Hara (originally named Pansy) and ruggedly handsome Clark Gable as the ruggedly handsome and take-no-prisoners Rhett Butler in the film based on the literally best-selling (second only to the Bible), Pulitzer Prize-winning book "GWTW" by reverently-acclaimed Margaret Mitchell in the longest, most commercially-successful and greatest-awarded movie in American history.
"

Homicidal

" (1961)
.......starring the strangely unknown and gender-questionable 'Jean' Arliss in the produced and directed by William ("House On A Haunted Hill" and "Strait-Jacket") Castle's unpredictable, psychological mystery thriller starting with the opening scene of an in-your-face brutal murder in a most unsuspecting setting, long-ago family secrets, deep deception, confusing sexual identities, unforgettable characters, unique murders (such as the beheading of a physically disabled and mute woman while she is helplessly sitting in a moving stairway wheelchair and told that she "talks too much", before her severed head rolls down the rest of the long flight of stairs), and an attractive blonde yet dangerous, psychopathic transgender personna back-dropped with an urgently-needed investigation which reveals a totally twisted triangle -- all of which combined have guaranteed surreal fascination with this suspense film since its release with a "fright break" in movie theaters!

"Imitation of Life"

(1959)
.......starring a beautiful, captivating and Academy Award-nominated lavish Lana Turner who is so kool (once again way ahead of her time) as an ambitious, motivated-for success actress named Lora Meredith missing a man but with a teenage down-to-earth daughter perfectly portrayed by Sandra Dee and their refined, religious, hard-working, Negro housekeeper and overly self-sacrificing mother Annie Johnson (played spot-on by humble Juanita Moore) whose pretty racey daughter (in all ways) Sara Jane (played perfecftly by Susan Kohner) insists on passing for white -- all of this and much more in one of the ultimate women's movies, in fact, with four diverse women here comprising of two widows and two daughters living together until ultimately things seem to head in different directions and/or fall apart for some of the women most melodramatically!!



Brooklyn

Note

: The film starts on a busy, sunny, fun-filled beach in Coney Island when worried Lana on the Boardwalk momentarily loses sight of her 7-year-old blonde daughter who she relievingly spots playing on the beach with a similiar-aged girl who Lana understandibly thinks is white but whose mother soon turns up and is black! That's when Lora and Annie -- the two mothers -- meet and remain friends for life!



Stonewall

Note

: This film incredibly inspired a hit song for Diana Ross & The Supremes in 1969 entitled "I'm Living In Shame". The powerful and kicky song was fiercely popular especially in the Gay community and particularly at The Stonewall Club. It's about a girl who pretends to be something else from the better part of town.

"Who's Afraid of Virginia Woolf?"

(1966)
.......starring fierce Elizabeth Taylor as the ultra-dramatic and super dishy Virginia Woolf and her real-life, co-boozing trouble-stirring husband Richard Burton as George and the monumental non-stop dish session seasoned with booze galore and a hapless couple who were their semi-trapped 'guests' with revelations such as that The Woolf's son was only a figment of their imaginations and all culminating with an incredible answer to the movie's title question!
"

The Wizard of Oz

" (1939)
....starring teenage Judy Garland as wholesome, imaginative and vulnerable Dorothy Gale (as in storm) and co-starring Auntie Em, Uncle Henry, the Wizard, the Lion, the Tin Man, the Scarecrow, the Wicked Witch of the West, Glinda (the Good Witch of the North), the Munchkins, the Mayor of Munchkinville, the Winged Monkeys, Nikko and, of course, Toto -- plus incredibly inspiring songs such as "We're Off to See the Wizard", "Ding! Dong! The Witch is Dead!" and the Academy Award-winning, timeless, classic "Over the Rainbow" -- a worldwide Gay community theme song long before there was a Gay "community" and it was even featured in The Stonewall jukebox!
"

Peyton Place

" (1957)
....starring beautiful, superb, Academy Award-nominated best actress, Golden Laurel winner Lana Turner as an attractive, popular, assumedly widowed (later revealed never wed) mother with a challenging daughter (Diane Varsi) in the #1 film based on the #1 talk-of-the-world, steamy, controversial (Gays love controversy; we invented it) novel set in a behind-the-scenes of scandalous events, endless dark secrets (including gushing gossip, destructive slander, languishing libel, teen sex, back-stabbing, sexual looseness, double standards, sexual aggression, promiscuity, sexual repression, indifference, sexual assault, opportunism, adultery, illegitimacy, rape, pre-marital pregnancy, intolerance, incest, triple standards, nervous breakdowns, suicide, murder, classism, prejudice, war and more -- all the taboo-on-film subjects of the 1950s except Gay!) -- in a small New Hampshire town and Lana's famous, emotional, mother-love, riveting, past transgressions confessed courtroom scene on the witness stand in a homicide trial (no, not hers)... plus the memorable, fulcrum-pointed, picture postcard, white picket-fenced New England colonial house.



Stonewall

Note

: In reference to Lana's "Peyton Place", Williamson humorously used to refer to The Stonewall Club as "Gayton Place", though it had far fewer sins than its heterosexual namesake. In The Stonewall's "Private Club Guest Book", although there were always a dozen "Judy Garlands", many "Bette Davises", several "Joan Crawfords", a half-dozen "Marlene Dietrichs", a few "Mae Wests" and a Gloria Swanson" or two, I loyally signed-in as the one-and-only "Lana Turner". Many people knew not to dare use "my" name! FYI, only someone new to town, very naive or an imbecile would use their real name signing-in at a 1960s, police-watched, Mafia-run, forbidden Gay dance club.
"

Hello, Dolly!

" (1969)
....starring Brooklyn-born Barbra Streisand in a musical song and dance and dishy

tour de force

as "Dolly Levy" the nosy and ultra dishy matchmaker and her ultra beat-the-band down main street showstopper "Before The Parade Passes By" and the knock-out title performance including a huge descending, grand entrance staircase, dancing (Gay) waiters and a partial duet with jazzy legend Louis Armstong in the unforgettable climatic number "Hello, Dolly!"
"

Harriet Craig

" (1950)
....starring the ultimate, demanding homemaker and suburban control master Joan Crawford in the title role, who holds high regard for her physicaal possessions and little regard for her human husband, friends, cousin, servants, et al. -- thus, what a bytch!
"

Psycho

" (1960)
....starring the very convincing (and Gay) obsessed mama's boy (and Gay) Anthony Perkins and co-starring perfect Janet Leigh as the doomed pretty victim in this multiple-murder, scarey suspense film -- plus the infamous, off-the-main-road, check-in/don't check-out Bates Motel, the bloody shower scene and let's not ever forget anorexic "Mother" Bates and that frightful hair and those cemetery teeth in her rocking chair in the stank fruity fruit cellar!
"

Funny Girl

" (1968)
....starring Brooklyn-born and now Academy Award-winner Barbra Streisand as unique comedienne Fanny Brice in a totally entertaining tour-de-force and co-starring Omar ("Hello, Gorgeous") Sharif -- plus #1 songs like (People who see "Funny Girl" are the luckiest...) "People", (the signature taxi/train/tugboat travel and Gay independence anthem) "Don't Rain On My Parade" and (the torchy, emotionally-driven, over-the-top finale) "My Man"!
"

Hush... Hush, Sweet Charlotte

" (1965)
....starring Bette Davis, this time as the victim, in an eccentric tour-de-force as a wilted (and unknowingly wealthy) Southern belle spinster living in a plantation-style old mansion with a mesmorizing (particularly through smokey and mirrored flashbacks) and chilling unraveling of what caused her demented mind (or is it?) and co-starring a convincing Olivia deHavilland as an evil conniver in an out-of-character role (intended for, cast and started filming with Miss Joan Crawford) who ultimately gets 'potted' -- plus a disturbingly disheveled Agnes Moorehead as Miss Charlotte's fiercely loyal though fatally pushed down the curved flight of tall stairs housekeeper!
"

Portrait in Black

" (1960)
....starring glamorous Lana Turner (who is chauffeured in a big 1960 Imperial) as an emotionally abused -- but not for long -- woman by her contemptuous, wealthy husband, whose easily-persuaded doctor (and her secret lover) Anthony Quinn, comforts Miss T by 86-ing her inconvenient old hubbie as well as a vicious would-be suiter in this who-is-doing-it suspenseful film!
"

Double Indemnity

" (1944)
....starring Brooklyn-born Barbara Stanwyck as a deadly b*tch who cunningly seduces smitten insurance agent Fred MacMurray to kill her husband for the policy proceeds to benefit them (correction: her)!
"

Valley of the Dolls

" (1968)
....starring Brooklyn-born Susan Hayward (her role originally cast, and started filming, with Judy Garland) and co-starring Patty Duke, Sharon Tate and Barbara Parkins as the "dolls" (the bathroom wig scene was a pluck even for Gay audiences) -- plus Dionne Warwick's #1 movie title song, which was also a slow-grind favorite at The Stonewall!
"

Some Like It Hot

" (1959)
....starring brilliantly-played, sexy, convincing, beautiful Marilyn Monroe -- and co-starring both Tony Curtis and Jack Lemmon in drag -- plus the surprise, philosophical, romantic Gay ending!
"

Dark Victory

" (1939)
....starring sympathetic and tear-jerking Bette Davis and loyal and handsome Ronald Reagan (later to be President for real) and a doctor who serves Bette an untimely and devastating medical order of "prognosis negative".
"

Where The Boys Are

" (1960)
....starring Connie Francis -- plus her Gay-identifiable #1 title song and bathing-suited, yum-yum beach boys.



Stonewall

Note

: This great popular and Gay favorite song was the last song played at The Stonewall -- and, from what I understand, most other Gay clubs -- every night. When you heard this song, you knew it was the "last call for alcohol" and the end of that night's fun at the club. The S.V.A. has been attending Connie Francis concerts ever since and as recently as April of 2008!

"

Ziegfeld Girl

" (1941)
....starring 3 Hollywood beauties: luscious Lana Turner (my overall favorite actress), gorgeous Hedy Lamarr and young Judy Garland (and her Gay-flavored song "I'm Always Chasing Rainbows") and co-starring zaney Eve Arden (much later "Our Miss Brooks" on television) -- plus the famous, dramatic L.T. staircase scene!
"

The Anniversary

" (1968)
....starring grande dame and grande disher, the only-she-can-do-it inimitable Bette Davis with an eyepatch and a

queer

Gay son -- plus B.D.'s famous sofa scene line to her daughter-in-law: "Please move over, body odor offends me"!

_____________________________________________________________________
=Definite Honorable Mention=
"

Suddenly Last Summer

" (1959) starring stunning Elizabeth Taylor and grand Katherine Hepburn
"

The Bad & The Beautiful

" (1952) starring femme fatale Lana Turner and toughie Kirk Douglas
"

Bunny Lake Is Missing

" (1965) starring pretty Carol Lynley and gay Keir Dullea
"

A Night To Remember

" (1958) starring the great and memorable R.M.S. Titanic
"

Die, Die, My Darling

" (1965) starring the inimitable Tallulah Bankhead
---
WLH's Favorite Movies "Since Stonewall"

"Titanic" (1997/98) starring the R.M.S. Titanic and Leo Decaprio
"Brokeback Mountain" (2005/06) starring Heath Ledger and Jake Gilenhaul,
"The Godfather" (1972) starring Marlon Brando and Al Pacino
"Dreamgirls" (2006/07) starring supremish Beyonce Knowles
"The Boys In The Band" (1970) starring seven Gay guys
"Mommie Dearest" (1981) starring fab Faye Dunaway as great Joan Crawford
"The Godfather, Part II" (1974) starring Robert DeNiro and Al Pacino
"Funny Lady" (1975) starring Barbra Streisand
"Towering Inferno" (1973)
"The Wiz" (1978) starring Diana Ross
"Moonstruck" (1989) starring Cher
"The Godfather, Part III" (1990)
"Lady Sings The Blues" (1972) starring Diana Ross
"Earthquake" (1974) starring Ava Gardner
"Psycho IV" (1990)
"La Cage Aux Folles" (1979)
"Murder On The Orient Express" (1974)
"A Star Is Born" (1976) starring Barbra Streisand
"The Crying Game" (1992)
"Cabaret" (1972) starring Liza Minnelli
"Tootsie" (1982)
"Philadelphia" (1991)
"Airport" (1970)
"Psycho III" (1986)
"Torch Song Trilogy" (1988) starring gay Harvey Feirstein
"Mahogany" (1975)
"To Wong Foo With Love" (1995), "Klute" (1971), "The Mirror Crack'd" (1980), "The Birdcage" (1996), "The Hindenburg" (1975), "New York, New York" (1977), "Dressed To Kill" (1980), "The Poseidon Adventure" (1972), "Psycho II" (1983), "Can't Stop The Music" (1980), "Boys Don't Cry" (1999), "Chicago" (2002), "Death On The Nile" (1978), "Saturday Night Fever" (1977), "Airport '75" (1975), "Priscilla, Queen of the Dessert" (1996), "Evita" (1997), "Monster-In-Law" (2005)
and the super special movie "Stonewall" (1996) at which many veterans of the Stonewall Rebellion were present and, after the premiere showing, some Stonewall veterans ("SW-Vetz"), notably Williamson Henderson, also the film's 'Stonewall' consultant, were presented on stage!
*
Television
Williamson's Favorite Episode of "Cold Case" Television Series
entitled "Best Friends" -- code term back then for "Gay Lovers"!
This episode is widely applauded as one of the best! It's about two down-low
happenstance gay lovers -- both girls; one white, one brown. It takes place
historically during the Prohibiton Era, which plays into the 1930-ish story.
The story fast forwards a whopping 70-plus years. It is the series' oldest
cold case and one of its most emotionally compelling! Unique too, at its
conclusion, instead of the victim making just a brief appearance and fading,
Billie appears in front of old Rose sitting on a bench in Central Park and
the two romantically walk off together hand-in-hand. It's very emotional.