STONEWALL Rebellion Veterans Association
2............0............1............9
Events 2010 * 2011 * 2012 * 2013 * 2014 * 2015 * 2016 * 2017 * 2018 * 2019
"STONEWALL-50" in 2019
"2019 S.V.A. Newz and Events"
S.V.A. website: www.StonewallVets.org/mainpage.htm
* e-mail: SVA@StonewallVets.org * telephone: (212) 627-1969 *
SVA's color theme for February is red for Valentine's Day and Heart Month
Updated: 20 February 2019 @ 4 p.m. EST


---
Saturday, February 23, 2019 --

S.V.A. MONTHLY MEETING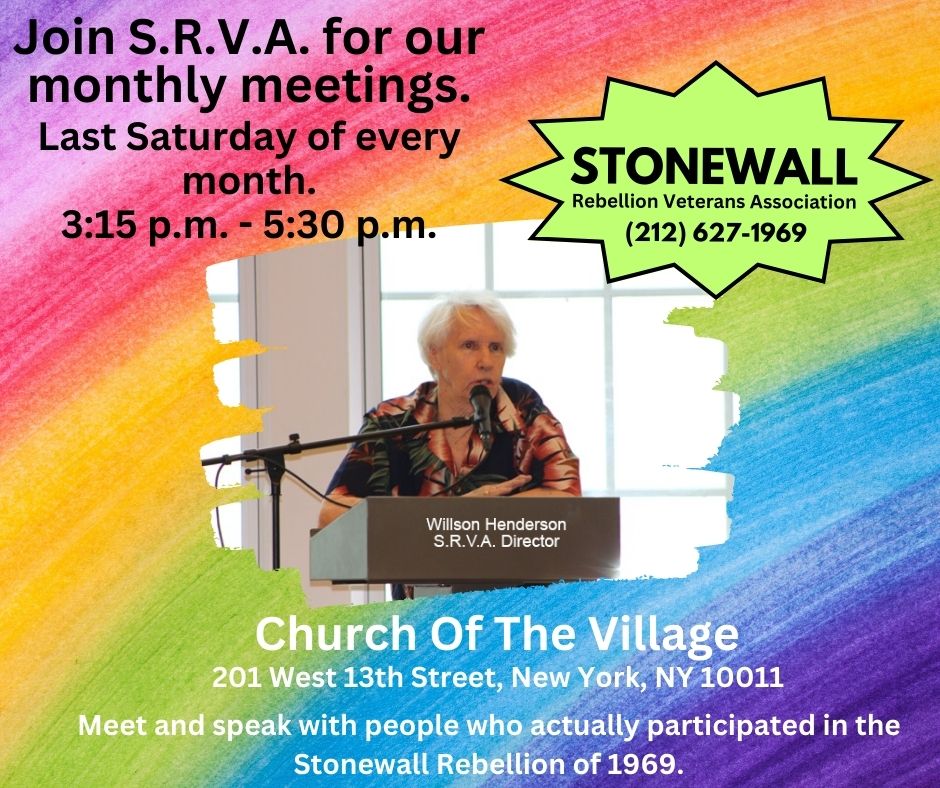 SVA's February 2019 Monthly Meeting with a Surprise Brooklyn Male Public Official Guest!
---


Wednesday, February 20 --

S.V.A. SPONSOR PARTY in MANHATTAN @ 6 p.m.





---

Tuesday, February 19 --

NEW YORK CITY PUBLIC ADVOCATE FORUM




This important forum, exactly one week before the special election of a new
N.Y.C. Public Advocate
, is sponsored by the
Manhattan Black Bar Association
("MBBA"). Confirmed candidates include
Jared M. Rich
, Esq.,
Dawn Smalls
, Esq. and
Michael A. Blake
. Currently, the public advocate position is vacant. The impressive venue is in the state-of-the-art auditorium of the Fordham Law School at 150 West 62nd Street opposite Lincoln Center in Manhattan, NY. Program commences @ 6:30 p.m. followed by a catered reception!
---


Monday, February 18 -- SUPPER MEETING with a NEW YORK CITY PUBLIC OFFICIAL @ 5 p.m.




---
Tuesday, February 5 -- PUBLIC ADVOCATE DEBATE at MEDGAR EVERS COLLEGE @ 6 p.m.


---
Tuesday, February 5 --
S.V.A. BOARDMEMBER BIRTHDAY: SANJAY PETERS of BROOKLYN, NY
---
Saturday, January 26, 2019 --

STONEWALL VETERANS ASSOCIATION MONTHLY MEETING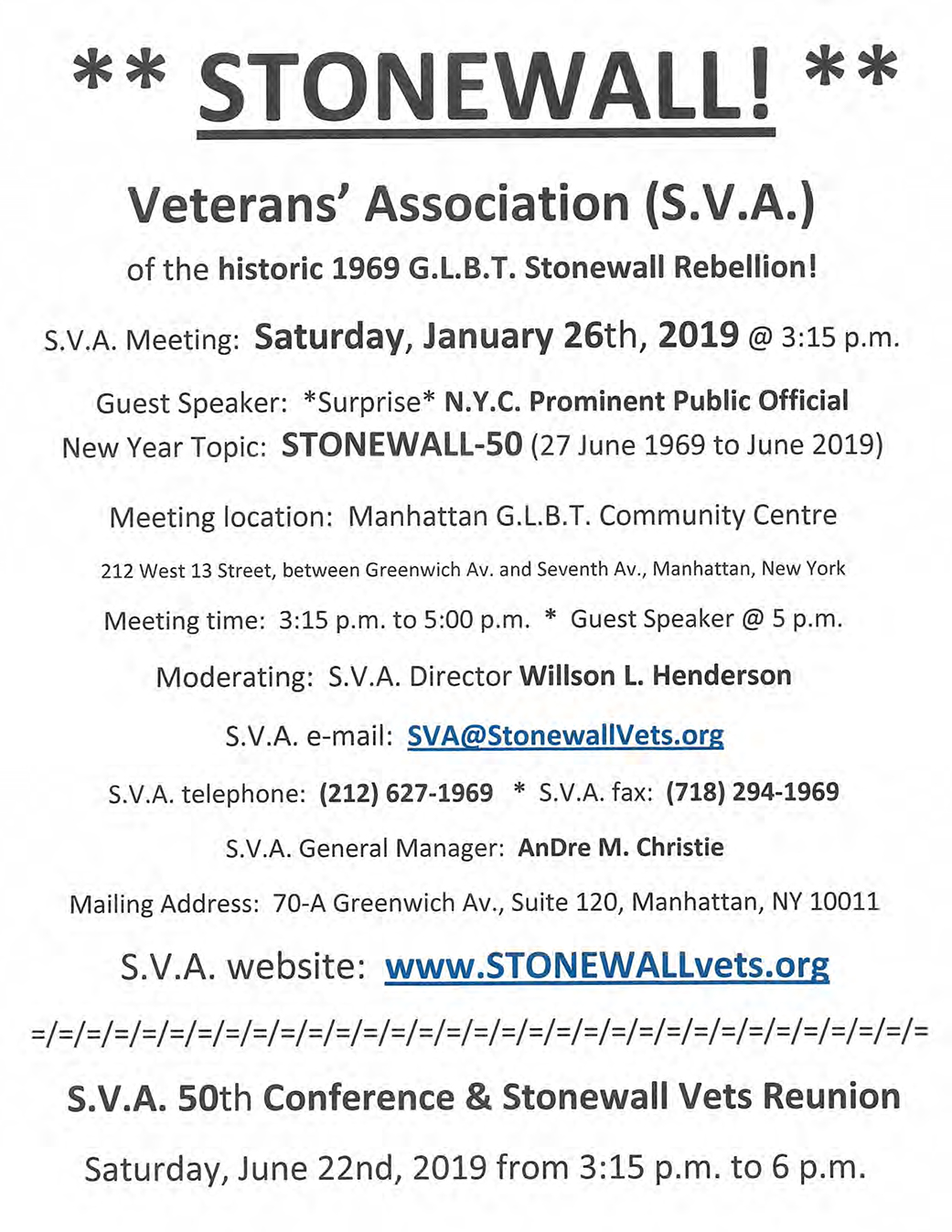 STONEWALL Rebellion Veterans Association does not meet on holidays or holiday weekends. The SVA's
next monthly meeting is on 'the last Saturday of the month', January 26th, 2019 @ 3:15 until 5 p.m.
There is a surprise New York 'elected' guest speaker! This meeting features 'select' candidates for the next NYC
Public Advocate (P/A). Candidates must schedule a specific time with S.V.A. P/A election is Tuesday, February 23th!
Post-Event Update: The special public official guest speaker was New York State Senator
Dyane J. Savino
!
---
Saturday, January 19 --
STONEWALL VET BIRTHDAY: LEIGH P. McMANUS of HUNTINGTON, LONG ISLAND
---
Wednesday, January 2 --
S.V.A. FORMER STAFFER BIRTHDAY: DONALD RAY WILLIAMS of LONG BEACH, LI
---
2019:

HALF-CENTURY ANNIVERSARY of 1969 G.L.B.T. STONEWALL REBELLION
---

Updated:
18 February 2019