Spell "Gay" with a capital 'G'. We are a people, too!
German! Grecian! Guamanian! Gorgonzolan! Gay!
This clear, correct, common sense and respectful concept
was inaugurated exclusively by Williamson L. Henderson V
when he spelled "Gay" with a capital 'G' in the Stonewall Era
and, officially, when he founded Proofreaders Unlimited in 1981.
Gay with a capital "G" is standard practice and simple courtesy!
Williamson has regularly promoted this correct Gay people spelling
"Gay" with a 'G' on everything that the S.V.A. has ever published.
Quoting WLH: "The Gay community is typically slow to catch on
to almost anything, even when it is read to them in black and white.
Respect for a person or a people starts by correctly spelling their name!"
---
End-of-Year 2010 -- S.V.A.'S POPULAR SITE SCORED 8 1/3 MILLION VERIFIED VISITS to its WEBSITE for 2010
---
Friday, December 31 -- NEW YEAR'S EVE: HAPPY and GAY NEW YEAR to S.V.A. MEMBERS, FRIENDS, ADVERTISERS and SUPPORTERS!!!!
---
Tuesday, December 28 -- "GIVE HER A GREAT BIG BITHDAY KISS": MARY WEISS -- LEAD SINGER of THE SHANGRI-LAS, STONEWALL SWEETHEART and "LEADER OF THE PACK"
---
Saturday, "December 25th", 2010 -- CHRISTMAS DAY (international holiday)
---
---
---
---
---
---
---
---
---
---
---
---
---
---
---
---
---
---
---
---
Saturday, November 27 -- STONEWALL THANKSGIVING DINNER, DRINKS and DESSERTS ("3-D") MEETING for S.V.A. EXECUTIVE COMMITTEE and SW-VETZ in GAY STANDING at GREENWICH VILLAGE RESTAURANT in MANHATTAN, NY @ 5 p.m.
---
Thursday, November 25 -- THANKSGIVING DAY (American National Holiday - the oldest)
---
---
---
---
---
---
---
---
---
---
---
---
---
---
---
---
---
---
---
---
---
---
---
---
---
---
---
---
---
---
---
---
---
---
---
---
---
---
---
---
---
---
---
---
---
---
---
---
---
---
---
---
---
---
---
---
---
---
---
---
---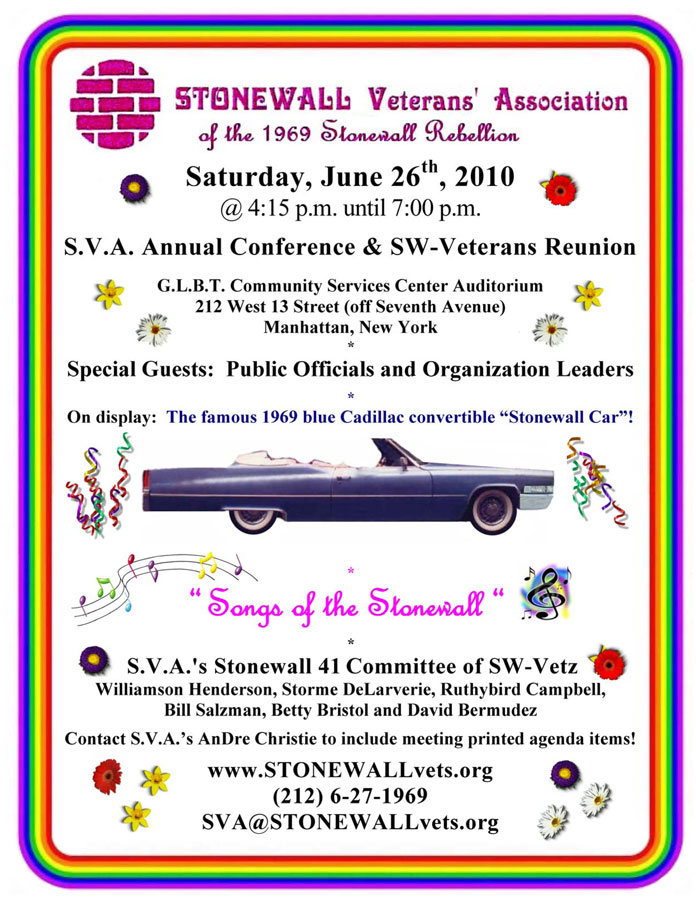 You can download the June 26th S.V.A. Conference Flyer (PDF)



=+=+=+=+=+=+=+=+=+=+=+=+=+=+=+=+=


S.V.A. Keynote Speaker

Legendary Civil Rights Attorney Hal M. Weiner, Esq.


S.V.A. Special Guest Speakers

New York State Justice Doris Ling-Cohan
Congressman Anthony D. Weiner
Congresswoman Yvette D. Clarke
Former NYC Parks Commissioner Henry J. Stern
Manhattan Surrogate Judge Nora S. Anderson
New York State Senator Eric T. Schneiderman
New York City Councilmember R. Rosie Mendez

*


G.L.B.T. Political Coalition Chairperson Shari L. Clemons
Stonewall Democratic Club Vice-President Yetta Kurland
PRIDE Democrats 2nd Vice-President Steven Gradman
T/G Activist & Cable T.V. Host Miss Diana Montford
Imperial QUEENS of New York Secretary Brooke Lynn
New York City Gender Alliance Chair Dr. Dyane Karron
AfterEllen.org Event Reporter Grace Chu
"Storme" Film Documentarian Sam Bassett
Chelsea Artists Spokesperson Hilary Farrell
*
Reading of Proclamation from NYS Attorney General Andrew M. Cuomo
*

S.V.A. Conference event select listings at:

New York City Up And Out Calender
www.NYCupAndOUT.com/current.php

New York GLBT Community Center
www.GayCenter.org/node/5287

The Village Voice
www.VillageVoice.com/events/41st-Stonewall-Veterans-Assoc-Conference
Room Eight: New York Politics
www.R8NY.com/Stonewall/153557
S.V.A. Conference & Stonewall Rebellion Veterans Reunion
excerpts were shown on New York 1 News TV and now on-line
=+=+=+=+=+=+=+=+=+=+=+=+=+=+=+=+=+=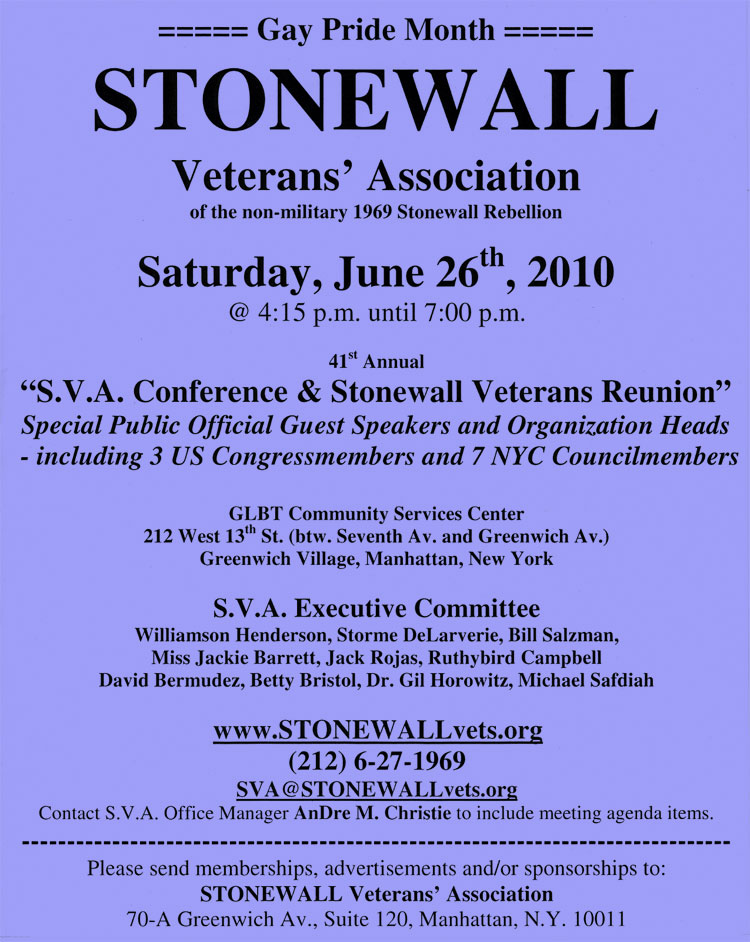 ---
---
---
---
---
---
---
---
---
---
---
---
---
---
---
---
---
---
---
---
---
---
---
---
---
---
---
---
---
---
---
---
---
---
---
---
---
---
---
---
---
---
---
---
---
---
---
---
---
---
---
---
---
---
SVA's over 1/2 Million Website Verified Visits for December 2010

See complete statistics at:
www.STONEWALLvets.org/stats/2010_12.html
---
Stonewall Site Crew & S.V.A. Staff
S.V.A. Editor: Leigh P. McManus
Webmistress: Babsala Lynne

S.V.A. Office Manager: AnDre Christie


www.STONEWALLvets.org/AnDreChristie.htm




Computer Gyrl: Brooke Lynn
Stonewall Newzletta Reporter: Vito Abzuzzoluccione

Youth-4-SVA Coordinator: Elton Johnson

Assistant-to-the-Director: Beyon Jarju

---