* * * * * * * * * * * * * * * *

S.V.A. Synopsis
The National STONEWALL Rebellion Veterans Association ("S.V.A.") is comprised of the actual, surviving and active veterans of the historic 1969 Gay, Lesbian, Bisexual and Transgender ("G.L.B.T.") monumental 1969 Stonewall Rebellion at and the former regular patrons of The Stonewall Club (no one called it the "Inn") who were subject to New York City Police Department raids at 51 and 53 Christopher Street off Seventh Avenue in Greenwich Village, New York, U.S.A. The rebellion (it was never a 'riot') lasted five inconsecutive nights (they were not 'riots') from Friday, June 27th, to Thursday, July 3rd, 1969. June 28th was the second (not the first) night of the uprising. On two nights (Monday, June 30th and Tuesday, July 1st) it rained. So, no one wanting to get wet, the rebellion was postponed until Wednesday, July 2nd! Symbolically, it was on the 'seventh day', July 4th, American Independence Day, that the united G.L.B.T. community triumphantly celebrated our historic Gay independence -- although not our full civil rights, not all of our freedoms! However, the long G.L.B.T. community process ignited in earnest!
The S.V.A. was founded on the following Friday, July 11th, 1969, literally just a stone's throw from The Village in a big New York delicatessen / restaurant known as The Victoria Kosher Deli Restaurant on 14th Street just off Fifth Avenue. The S.V.A. organization is a cultural, historical, educational, advocacy and politically-aware, non-profit, volunteer organization primarily, but not exclusively, for the G.L.B.T.S. communities. That's why the S.V.A. added an "S" for straight! It includes the SVA's non-Gay members, sponsors, friends, supporters and advertisers. The S.V.A. is registered (since 1969) with the New York State Attorney General's Charities Bureau and listed with the City of New York's non-profit organizations.
The "STONEWALL Newzletta" is the popular publication of the S.V.A. Originally a two-sided news flyer, it grew to a 16-page newsletter with commendation letters from public officials and political candidates as well as Gay and non-Gay organizations. The newsletter includes business, non-profit groups, public service and public official advertisements. An "S.V.A. Stonewall Veterans Speakers Bureau" of actual Stonewall veterans is available to other organizations and groups and for official events and public forums. The Stonewall veterans of the 1969 Stonewall Rebellion led the annual New York Gay Pride parades in Manhattan (the first in 1970 to the 49th in 2018 with S/W-50 pending in 2019), Queens (through 2004), Long Island (until 2000), Brooklyn (from start in 1998 through 2008), The Bronx (1998 to 2002 when they queerly ended their parades after five years) and sometimes across the huge Verrazzano Bridge into Staten Island, New York City. The S.V.A. has also been the guest leaders of Gay Pride parades throughout America. The S.V.A. leading any New York City parade is always with the classic, eye-catching and now famous blue 1969 convertible also known as the "Stonewall Car" -- with the wide white wall tires, white leather interior and the colorful magnetic signs that read "1969 Stonewall Car"! Spanning a few decades, the S.V.A. periodically partakes parading with its SVA-owned "S/W Car" in the annual nighttime, legendary Greenwich Village Halloween Parade in Manhattan, New York City.
For in-person information, the STONEWALL Rebellion Veterans Association regularly meets monthly on the last Saturday. See details below. For more 411, telephone the S.V.A. at (212) 6-27-1969 (the exact date of the first night of the Stonewall Rebellion, June 27, 1969). You may also visit the S.V.A. on the worldwide web at their several million verified 'visits' a year, informative, interesting and fabulous website at: www.STONEWALLvets.org.
* * * * * * * * * * * * * * * *
S.V.A. Meetings
The National STONEWALL Rebellion Veterans Association ("S.V.A.") meets every month (rain or shine, snowstorm or heatwave) on the last Saturday -- unless, of course, it is an American national holiday such as Christmas or a holiday weekend such as Thanksgiving. The time of the monthly S.V.A. meeting is from 3:15 p.m. to 5 p.m. and beyond, if needed. (Note: S.V.A. meetings were previously @ 4:15 p.m. for several decades.) The location is at the Lesbian, Gay, Bisexual and Transgender Community Centre ("The Gay Centre") at 212 West 13 Street (between Greenwich Avenue and Seventh Avenue) in Manhattan, New York. The Gay Centre is accessible by car with free street parking or many paid garages. New York City Transit ("NYCT") bus routes in Manhattan near The Gay Centre are the following: M-14-A and M-14-D (14th Street), M-20 (Seventh and Eighth Avenues) and M-11 (Ninth Avenue). The Gay Centre is also convenient via the following NYCT subways: #1, #2, #3, "A", "B", "C", "D", "E", "F", "L" and "Q" (for "Queen"). If you need more "411" about the LGBT Centre or to see their "Gay Groups" listing for the S.V.A., visit: www.GayCentre.org.
* * * * * * * * * * * * * * * *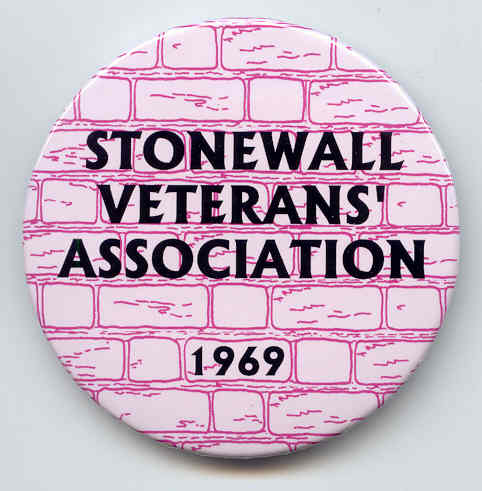 STONEWALL Veterans' Association Button


[Note: Only the first word "STONEWALL should be all capital letters.]



The official

National

STONEWALL

Rebellion Veterans Association ("S.V.A.") large button is round with a symbolic, dark pink outline of brickwork stones creating the "stone wall" effect. The impressive button includes the S.V.A. name and the year of its inception in 1969. New York City District Leader

David B. Reck

from Greenwich Village, NY, who was commissioned by the SVA's founder

Willson L. Henderson

to create this unique item, is the exclusive designer. Mr. Reck is also the sole producer of the limited edition, optional pin-on or clip-on button. The eye-catching S.V.A. button is distributed

only

to: (a) the actual veterans of the 1969 Stonewall Rebellion registered as S.V.A. members; (b) the S.V.A. Board of Directors elected by the S.V.A. membership; and (c) the significant S.V.A. Honorary Members approved by the S.V.A. Board of Directors. The unique S.V.A. button is truly treasured!
* * * * * * * * * * * * * * * *




STONEWALL Veterans' Association
Suite 120
70-A Greenwich Avenue
Manhattan, New York, U.S.A.
10011

S.V.A. Office telephone: (212) 6-27-1969
Historic Note: S.V.A. telephone number is the exact date of the first
night of the Stonewall Rebellion: 6th month (June) - 27th day - 1969 year

S.V.A. Auxiliary Office phone: (718) 901-1969

S.V.A. fax: (718) 294-1969 (S.V.A. requires a fax cover sheet)

S.V.A. website: www.StonewallVets.org

S.V.A. e-mail:

SVA@StonewallVets.org

*

STONEWALL Veterans' Association Office Hours

S.V.A. Open: Monday to Friday: 12 noon to 9 p.m. (EST)
Saturday (1/2 day): 12 noon to 4:30 p.m. (EST)


S.V.A. Closed: Sundays and all U.S.A. holidays including New Year's Day, Martin Luther King, Jr. Day, Presidents' Day, Memorial Day, Independence Day, Labor Day, Veterans' Day, Thanksgiving Day and Christmas Day and holiday weekends such as Memorial Day Weekend, Labor Day Weekend and Thanksgiving Weekend in addition
to half-days on Easter Good Friday, Election Day, Christmas Eve and New Year's Eve!